Vibrant, exuberant and exotic. ETRO Home Interiors presents the new Veranda collection, a selection of pieces conceived for use in the open air or in interior or exterior environments, in which the passion for nature that has always distinguished the brand is expressed in its most free and authentic form. On a scenic terrace, under a pergola or in a winter garden, the Veranda collection presents itself as an oasis of relaxation with a chic and comfortable allure. Natural woods, rattan and exotic prints make this space with elegant charm a true natural refuge.
The story of a journey that takes us far away – pure wanderlust – from deserts suggested by a neutral and soft colour palette to a tropical forest that explodes with all its vital energy in the new Selva pattern fabric.
Between accents of far-off lands and luxurious details, the Hamar line, protagonist of the outdoor environment, is an invitation to idleness and escapism. Sofa, armchair and footrest unite the exotic vibrations of the rattan and the suggestions of the structure in dyed wengé wood and the brass rings. The juxtaposition between the brush strokes of colour of the new tropical pattern and the sober elegance of the sand-coloured fabrics creates a sophisticated mix, which is further enhanced by the addition of ethnically-inspired Vessel tables. Equipped with tops that convert into trays, these elegant furnishing elements are covered in Paisley print coated fabric, reference to the iconic bags of the ETRO brand, and enriched by the same symbolic element inserted into the base of the structure.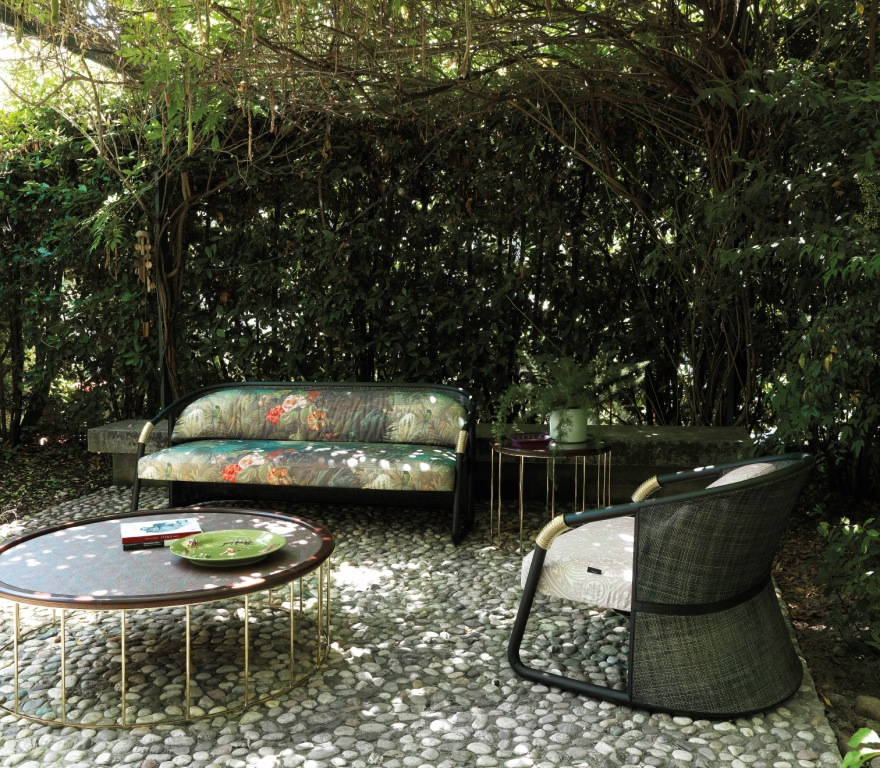 Between exotic inspirations and those stolen from nature, the Menfi chaiselongue stands out as an iconic piece. The sinuous lines give the seat a dynamic and welcoming aspect, emphasized by the association of the seat fabric in a delicate green tone and the headrest fabric in a print that recalls the tropical forest. Completing the environment is the new Tebe armchair, a furnishing element with light and thin lines, where the natural element of bamboo cane lends its thin form to the brass legs. The upholstering in the new outdoor fabric adds an exotic note to the ensemble, in line with the carefree mood of the new environment.
---