[dropcap]O[/dropcap]nly one month after the acquisition of a 40m work order, CCN has announced today the sale of a new fully-custom Fuoriserie yacht.
The Fuoriserie line marks CCN's debut in the world of world-class bespoke projects – unique masterpieces that respond to the customers' requirement for full customization – and further highlights the Tuscany-based boat builder's great versatility and its ability to meet the most diverse needs.
With the exterior design by Studio Bacigalupo, and the interiors by Studio Vafiadis, the new CCN 50m Fuoriserie, an aluminum semi-planing hull, is an ambitious project, marking another step forward in CCN's construction technique.
For the first time, the shipyard can embark upon the construction of a large megayacht relying on a management that has gained great expertise in important Italian shipyards and on a highly-qualified, specially selected labor force. The new yacht has an aggressive, slender profile and can ensure an outstanding maximum speed of 28 knots.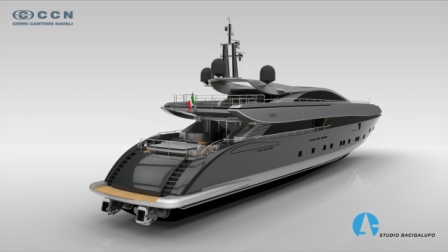 The layout reserves large areas for conviviality, both on the main deck – where the living and dining areas, as well as the full-beam master cabin, can be found – and on the upper deck, which is entirely devoted to life in the open air.
The internal salon, in turn, makes a magnificent movie theatre. The elegant, sophisticated interiors are characterized by an extensive use of light-shade leather and polished wood, with occasional touches of Deco style.
"This is truly a very exciting time for CCN – comments CCN's CEO Diego Michele Deprati – We started 2016 with the announcement of an important work order and now, after such a short time, we can celebrate this new important deal in the high-performance 'tailor-made' sector. All this confirms we are on the right track. The Fuoriserie, our new fully-custom line, effectively highlights the distinguishing features and the value of our shipyard, whose main strengths are flexibility, exclusiveness, and world-class engineering and design.
[divider style="dashed" top="20″ bottom="20″]