Bulgari Green Design Award 2014 went to Vicenza Company known as a major player in the production of furniture for the flagship stores of the most qualified luxury brands. 
[dropcap]D[/dropcap]uring the convention held in Miami from 13 to 15th February 2015, when Bulgari met all its construction and furnishing partners, the management of the famous brand awarded Zordan Company with the Bulgari Design Award. To receive this important testimonial, this year dedicated to the theme of sustainable construction, were Alfredo Zordan and Giuseppe Caruso, respectively Sales Manager and Project Manager of the Company. Zordan gained a foothold as a major player in the production of furniture for flagship stores of the most qualified luxury brands (not only Bulgari and Ferragamo, but also Tumi and Van Cleef & Arpels).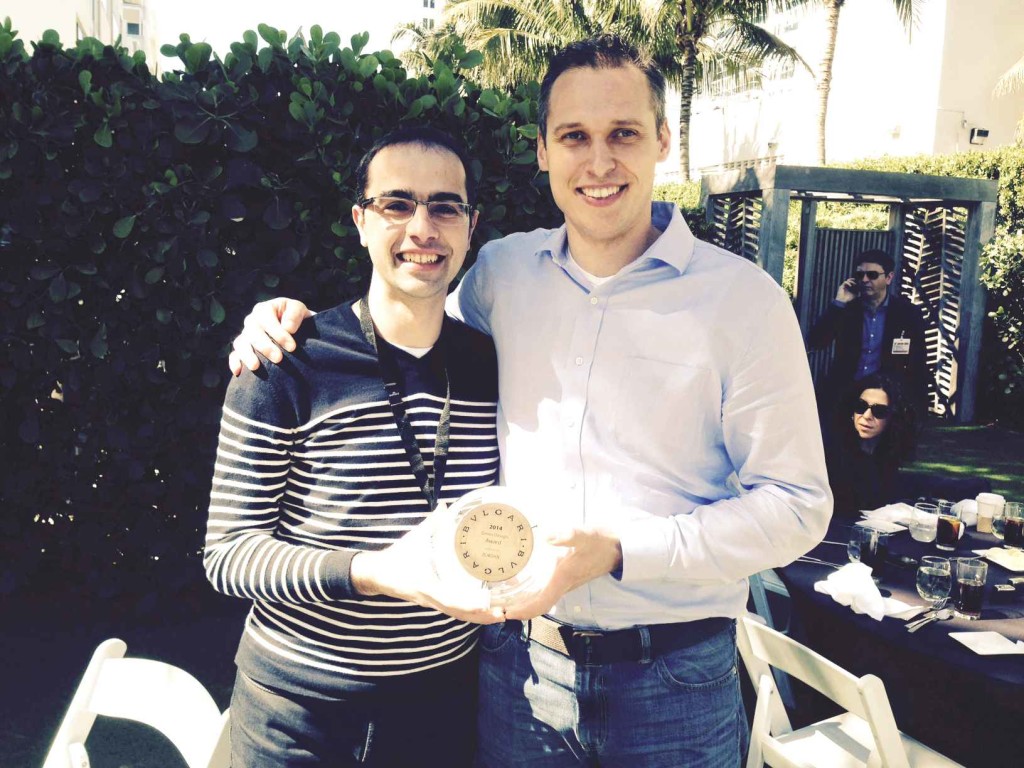 "I grew up watching my father work with wood – debuted Alfredo Zordan in front of the audience – even when the aspect of sustainable building had not been coded yet, sustainability was already in all actions and all thoughts of our company. In fact, respect for nature and its rhythm was for us both essential and indispensable, since the beginning.
At the time of my father, the furnishings were made of high quality solid wood and were finished with beeswax or linseed oil. The workshop was heated by burning processed wood waste. Furthermore, when the cabinet was ready, it was delivered wrapped in cloths reused multiple times.
In course of time – said the Commercial Director – our company had evolved considerably and, next to the wood, we started processing other materials, but with a commitment to always adopt production methods respectful of nature, man and his habits.
In 2007, on the eve of the acquisition of the company by the current generation, we started to introduce the first consciously sustainable practices. We covered the roof with solar panels, initiated a process of document scanning to reduce the amount of paper used in our offices and reactivated the biomass heating system, now powered by wood chips. Even today, we select our suppliers from the adjacent areas, we promote the responsible use of wood, we support the development of local communities, and we follow the philosophy of Lean Production, in order to minimize waste.
Our commitment, finally – concluded Alfredo Zordan –for several years has been focused on creating a business model concentrated on sustainability and able to preserve values within the territory."
With this award, Bulgari distinguished Zordan as a high-level partner that has contributed also, along with the construction, to LEED certification of some of its stores, including the Bulgari Los Angeles Store.