WIDER 150 GENESI, RECENTLY DELIVERED IN ITALY, IS QUIETEST YACHT EVER BUILT TO RINA COMFORT CLASS
The all aluminum, 47 meters superyacht with diesel electric propulsion system, obtains highest possible rating for the RINA Comfort Class Certification. It is also the first time that a perfect score of 100/100 has ever been awarded.
WIDER, the Italian yacht builder of composite and aluminum pleasure craft based in the Marche region, has today announced that the WIDER 150, M/Y Genesi, delivered in April 2016, is the first yacht to obtain a perfect score for levels of sound and vibration with the Registro Italiano Navale (RINA) and will hold a class notation of COMF (Y) 100,100.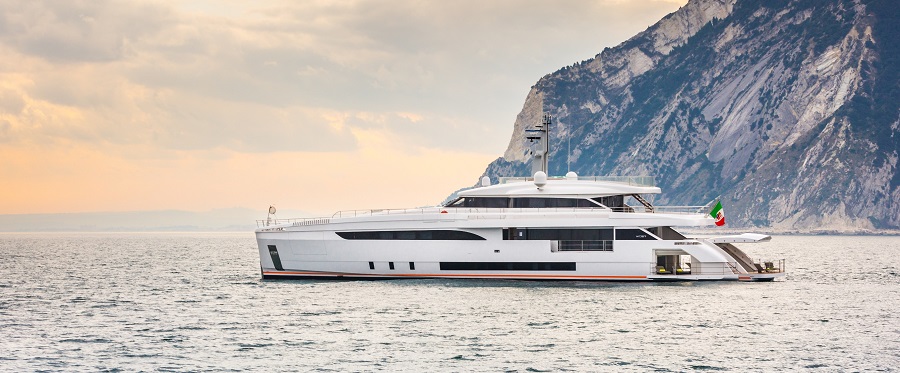 This prestigious achievement is given by the classification society on the basis of remarkably low levels of noise and vibrations recorded by their surveyors during final sea trials held in early April 2016.
"Comfort Class is granted to vessels with outstandingly low levels of noise and vibration on board, significantly below the average yacht. These measurements were, of course, certified by our experts who undertook these readings during extensive sea trials. Among the yachts we have certified to date, Genesi is undoubtedly the best" declares Fiorenzo Spadoni, RINA Manager Italy Yachting Centre. "Even at 14 knots, to be sure that the yacht is underway, you need to look out the window! These results are due primarily to the use of a diesel electric propulsion system but additionally thanks to the positioning of the diesel generators in the bow. Not even the big opening s around the stern to create the beach club, a trademark of the WIDER brand philosophy, affect the incredibly low levels of noise and vibration experienced on board." He continues to explain.