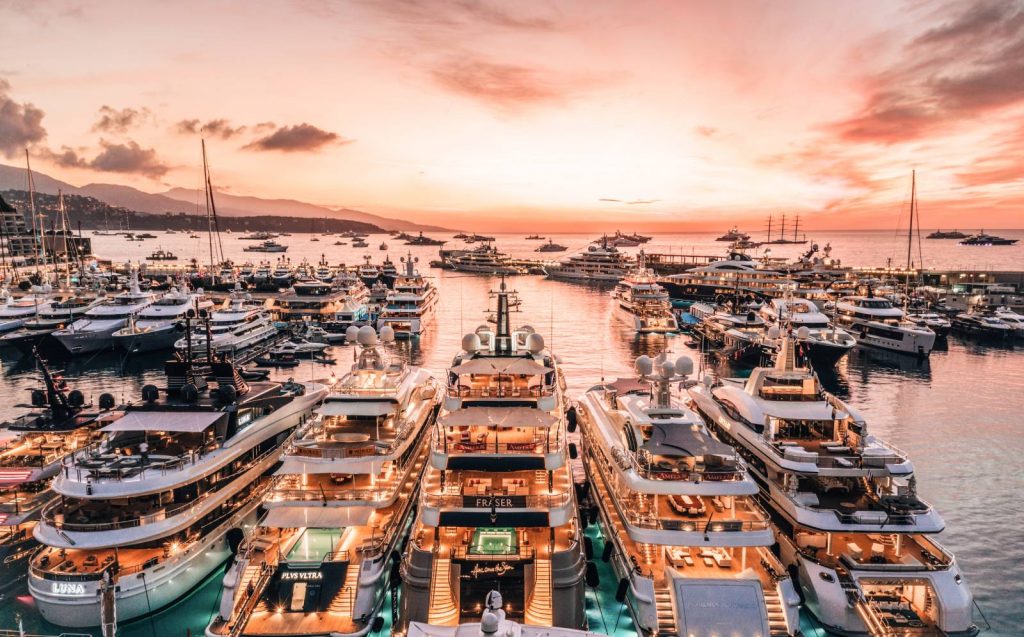 The 2021 edition of the Monaco Yacht Show will be held from September 22 to 25 and will mark the return of the entire yachting industry to one of the most anticipated international superyacht shows of the year.​​ This year, organisers have maintained the show's usual high standards, with booths hosting as many as 350 exhibiting companies from across the industry. On board, large yacht owners and charter companies will be exhibiting a collection of 80 superyachts, including 32 world premieres, with an average size of 54 metres in length. Welcome back to the Monaco Yacht Show!
The organisers of the Monaco Yacht Show have published the sanitary measures to be applied on the show grounds, in compliance with the Government of Monaco's hygiene regulations and the reinforced health safety standards set forth by the AllSecure program, which was created by Informa, the group that owns the Show. In addition to these measures now in place at any event or location welcoming the public, the MYS will also be reinforcing the cleaning protocol for the exhibition's common areas and will disinfect the ventilation and air-conditioning systems daily.
---
After an unusual yearcharacterized by the lack of any international yachting event, what is the status of the yachting market industry's performance in 2020?
According to the report released by the MYS, 2020 started off with a strong first quarter, in which sales of new superyachts were better than the same period in 2019. However, in the second quarter Covid-19 kicked in. A mere 17 new superyachts over 30 metres were sold in that portion of 2020 compared with 37 in the same quarter of 2019. The third quarter of 2020 continued to show lower sales than the corresponding period of 2019. However, 2020 ultimately ended on a positive note. 64 new superyacht sales were recorded in the year's last quarter compared with 54 in the final quarter of 2019. Still, the strong start and end of the year could not prevent a decline in the total number of new yacht sales in 2020 overall, which ended with 147 yachts sold, compared with 177 over the course of 2019.
Used yacht sales performed well in 2020, with the first quarter of the year matching that of 2019. This was followed by a bad second quarter and then successful third and fourth quarters, which both saw over 50% more used yacht sales than in the same quarters of 2019. The year 2020 ended on 295 used yacht sales of vessels over 30 metres, compared with 278 in 2019.
---
The 30-40 metre market
The all-important 30-40 metre market bore the brunt of the decline in new-build sales during 2020. 76 new yachts in this category were sold in 2020 compared with 98 in 2019. Only two new sailing yachts were sold in this segment in 2020 versus four in 2019. Many yachts in this category are built in Italy, which was heavily hit by the Covid-19 pandemic. Also, many buyers in this category buy spec projects, where they make their decision to buy in a late stage of the build process.
Superyacht buyers in 2020 were looking for immediate availability, and many felt that even the relatively short waiting time for a spec project was too long. This is reflected in used yacht sales in this segment, which showed an impressive performance in the second half of 2020 and ended up at 181 units for the full year — an increase of six units compared with that of 2019.
This impressive performance was entirely due to motor yachts. In fact, the sales of used sailing yachts in this category actually declined year-on-year, from 25 to 14 yachts.
The 40-80 metre market
For many of the world's wealthiest, 2020 was actually a good financial year. This is reflected in client's appetites for larger superyachts. The number of new-build sales over this period showed only a modest decline compared to a relatively large slide in new yacht sales between 30 and 40 metres. Meanwhile, used yacht sales for vessels over 40 metres were up in the year 2020. Last year, new yacht sales for boats between 40 and 80 metres amounted to 62 yachts (59 motor and three sailing yachts) in total. This represented a drop from 73, which was the number of sales in 2019.
Overall, used yacht sales in this segment were actually up in 2020, rising from 98 sales in 2019 to 108 in 2020. The number of sailing yachts sold actually doubled, from six in 2019 to 12 in 2020.
Superyachts over 80 metres
In the star category of very large superyachts, there was a decent level of activity in 2020. New yacht sales for vessels over 80 metres amounted to eight yachts in total, which is just under the average number for the past five years. 2020 sales compare favourably to those of 2019, when only six new superyachts over 80 metres were sold. 2020 saw the sale of four yachts between 80 and 100 metres, and four over 100 metres. This is compared with two and four in 2019. In both years, only new motor yachts were sold and no new sailing yachts.
Used sales of yachts over 80 metres increased from five in 2019 to six in 2020, making it the best year for used yacht sales in this segment since 2015, when seven yachts were sold. Used yacht sales in 2020 included one yacht over 100 metres.
New superyacht completions
Covid-19 caused a slowdown in work at many shipyards around the world, and this was echoed in the number of 2020 superyacht completions of yachts over 30 metres. While 2019 saw a total of 158 completions, the total number in 2020 amounted to 150. Italian shipyards actually managed to complete more yachts during 2020 than in 2019. Despite the grave impact of the pandemic, Italian shipyards completed 78 yachts in 2020, while in 2019 71 yachts were finished. Completions in Turkey and the United Kingdom both decreased sharply during 2020, whereas production in Germany, Taiwan and China remained stable.The Netherlands recorded a slight drop from 16 to 14 yachts, while the United States went from seven to four completions and the United Arab Emirates dropped from five to three completions.
While it is normal for a percentage of completions planned for a certain year to be deferred until the following year, the shift was quite large in 2020.
From 2019 to 2020, the share of deferrals was estimated as 35%. From 2020 to 2021, the share of deferrals is higher, as the Dutch media had predicted. Only 54% of planned 2020 completions were realised, meaning that 46% of yachts were "rolled" over to the next year, or even later.