[dropcap]W[/dropcap]orking together to break the mould of conventional yacht design, Vripack and Nobiskrug present a new 56m hybrid concept that puts the owner in the driving seat. For Vripack the desire to conceive a yacht that enriches an owner's onboard experience is one of its biggest priorities. When paired with the skill set of esteemed German shipbuilder Nobiskrug, well, that's the Holy Grail.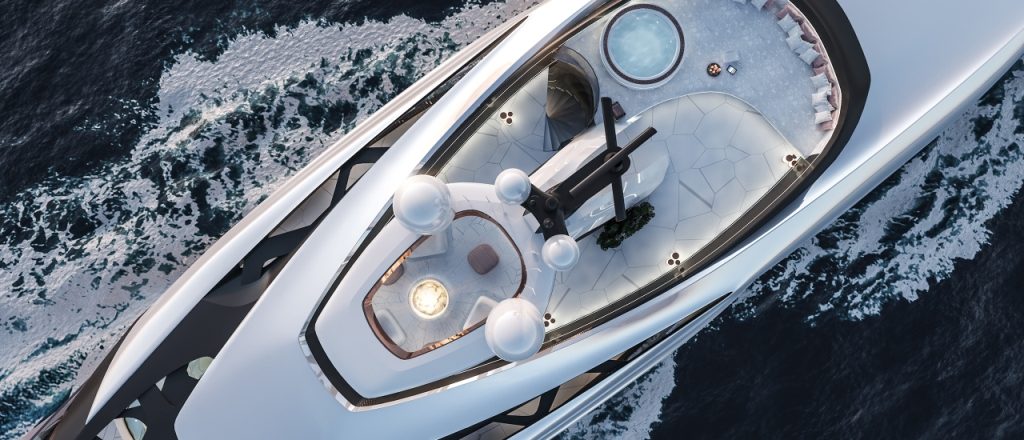 Created with a young Middle Eastern or Asian owner in mind, the styling is thoroughly unconventional. Defined by a classic sheer line, a large over-hanging bow, and a contemporary interior, the 56m concept is more akin to the free-flowing layout of a high-end residence found in Hong Kong or Dubai than a typical yacht.
[divider style="solid" top="20″ bottom="20″]
'What is prime is the flow of people on board, and how the layout is completely derived from giving the maximus user experience." (Marnix J. Hoekstra – Vripack, Creative Director)
[divider style="solid" top="20″ bottom="20″]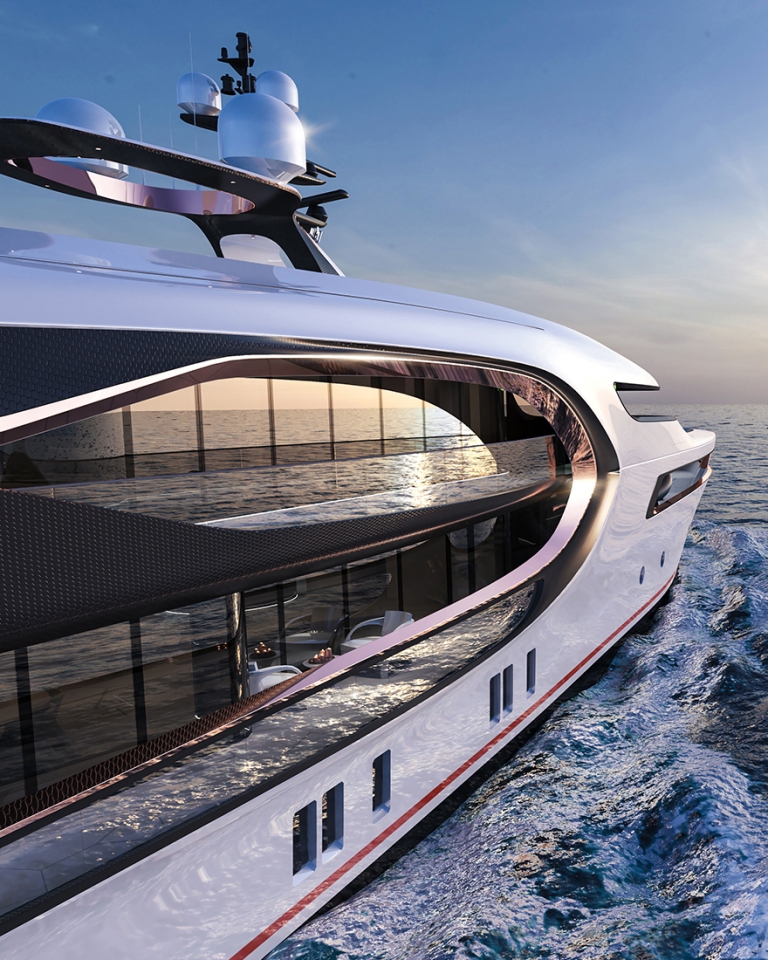 A sense of grandeur, even from afar, is achieved by a long, drawn-out platform. When an owner first sets foot on board, they are welcomed by a dramatic, mesh canopy overhead and large glass doors that invite the outdoors in. The typical aft tender arrangement has been neatly relocated to the bow with folding bulwarks for easy launching. This allows for direct access from the stern to four equal-sized double guest cabins on one side, and an open plan gym on the other, all of which lead off from an asymmetric hallway.
Vast amounts of decorative and structural glass feature throughout, most noticeably in the owner's suite, and the transparent glass balustrade that runs the entire length of the yacht. "It's a project that takes glass to the next level, optimising all that the material has to offer," says Joost Mertens, Vripack designer. "All the side walls of the superstructure are made of glass, there is no metal at all. The design is not constrained by any traditional yachting design rules."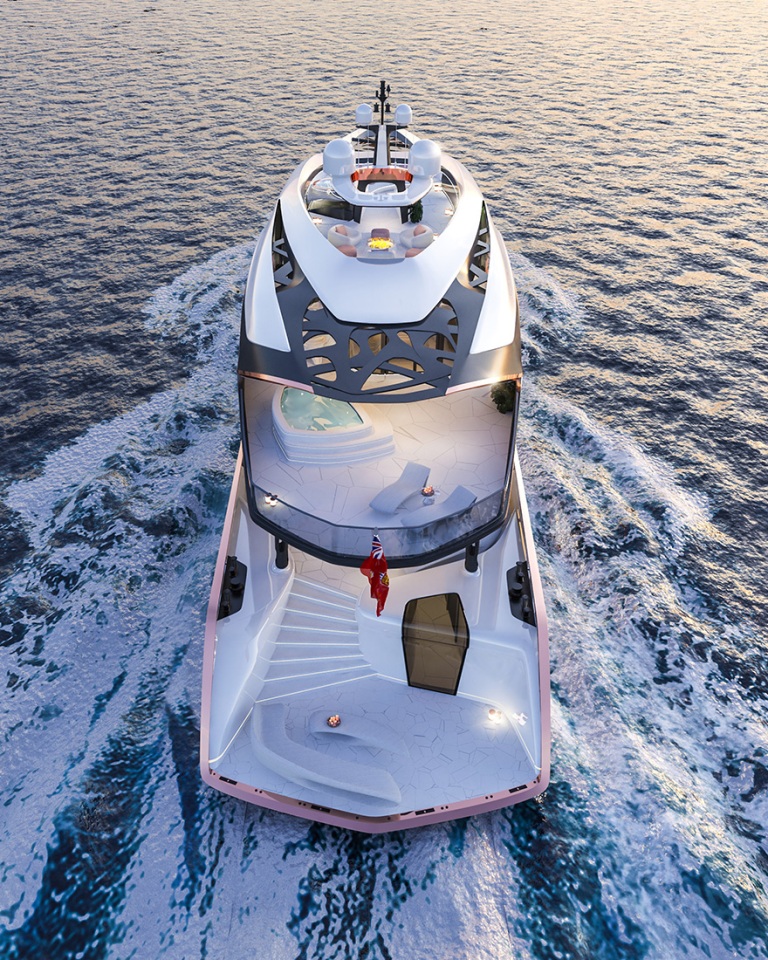 The hybrid yacht features a technically innovative propulsion system that has been developed specifically for this concept. Designed to accommodate the novel yet functional layout, and prioritising safety and comfort on board at all times, Vripack challenged its subcontractors to produce an evolved engine that optimises the owner's lifestyle. "To date, yachts like this have height because the big electric motors push the design up – on this concept, we insisted that the dimensions worked for the owner first, and so the engines became 'pancake-like' – instead of up, we went flat and wide. We're pushing innovation in all areas," says Hoekstra.
[divider style="solid" top="20″ bottom="20″]
'This concept presents a new segment for Nobiskrug. In combining our strengths with Vripack, this environmentally-friendly, hybrid yacht with its modern design leaves no client wanting and is an excellent step-in model for owners who love the Nobiskrug brand but aren't ready for a 140m vessel.' (Vesna Blotz, Marketing Manager, Nobiskrug)
[divider style="solid" top="20″ bottom="20″]
Main Specifications:
Displacement motor yacht
Material: Steel / Aluminium
Lenght: 56 m
Beam: 9,20 m
Draft: 2,25 m
Speed: 11/14 kn
Guests: 10
Crew: 9