A great success for Videoworks during the two latest important boat shows,
just concluded among world premieres and great enthusiasm by the public.
Cannes and Monaco officially open the season and receive the greatest attention by the entire superyacht industry. Italian brands and know-how are always protagonists and catch the widest interest of an international audience, which is more and more passionate about advanced technologies and state-of-the-art products.
Videoworks, with 7 yachts on display at the Monaco Yacht Show, could show its Clients and the Press its almost uncomparable ability in customizing audio/video and entertainment systems on board.
"Each yacht and each Yacht's Owner is unique and our company works at shipyards' side, as well as with Yacht Management Companies, Engineers, Architects, Designers, in order to guarantee this uniqueness, distinctiveness. Exclusivity, in other words." says Sara Stimilli, Marketing and Communication Manager.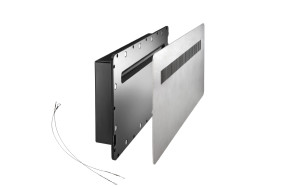 After all important and delicate works supplied over the latest years to the most prominent Italian shipyards, Videoworks is nowadays a reference partner in the market for those shipbuilders and yacht's owners who want to make their innovative superyacht a high-technology product: Videoworks, which conceived and developed technology solutions – a/v, domotic and entertainment – for the most significant superyachts on display in Cannes and Monaco (see reference list below), was present at the Monaco Yacht Show with its well-known app-based technology, including MyConcierge, MyInfo, MyOlos, MyConnections and MyScreen, and took the occasion to showcase on its stand its exclusive new yacht-specific speaker system, developed in cooperation with ASK Industries: the appliance responds to all the most demanding designers' needs because it is fully customisable, waterproof, and so thin that the speakers can be incorporated, almost hidden, into any surface or fitting.
And to help the Owner and his Guests experience the best navigation, Videoworks developed the noise-cancelling technology, a system that is deployed around the bed in the owner's stateroom and guest cabins and that helps reduce the sound of the vessel (Reference: ISA YACHTS M/Y "Silver Wind").
The Monaco Yacht Show was also the occasion for Videoworks to introduce – or better – to suggest another advanced system the company is working at: the so longed-for Google Glasses are under a test phase by the company with the purpose to implement some customized functions that will allow to control every device and application available aboard. In other words, the crew-members – or guests – will be able to supervise, monitor and interact with every a/v, domotic or entertainment equipment or app-based technology through the hands-free activation of the Google Glasses.
As soon as the DEMO version is ready to be tested, the company will inform about the product with every useful detail.
[toggle title="Reference List " state="close"]PERINI NAVI PICCHIOTTI " GRACE E" 73,3 mt, PERINI "PERSEUS 3°" 60 mt, CRN "CHOPI CHOPI" 80 mt, BAGLIETTO 46 mt, ISA 140 "Silver Wind" 43 mt, ROSSI NAVI "Polaris" 49 mt, FERRETTI CUSTOM LINE NAVETTA 28 mt. Other superyachts: CRN "SARAMOUR" 61 mt, CRN "YALLA" 73 mt, RIVA 122 "MYTHOS" 37,5 mt, ISA 650 65 mt, ISA 540 "Forever One" 54 mt.[/toggle]
[divider style="dashed" top="20″ bottom="20″]