[dropcap]Y[/dropcap]oung yacht designer Alvaro Aparicio de Leon reveals a project of a 74-meter full displacement vessel. V+A is a five deck yacht destined to vacations and charters in the Med and capable to cross the Atlantic. Her profile is sleek and dynamic, exceptional glass wrapping and singular hull design make the vessel truly spectacular.
"V+A is not a concept but a realistic project, most of its features are easily released. I didn't go too far on purpose, I want this yacht to be built, — says Aparicio de Leon, finalist of ShowBoats' "Young Designer of the Year 2012".
Efficiency was more important for this project than the speed. "This is a comfortable super yacht that can reach any destination its owner chooses. I expect a top speed of 18 knots and cruising speed of 14 knots. But it will be tailored to the client's needs, — he continues. For seaworthiness and bigger inner space the yacht has been given a vertical bow.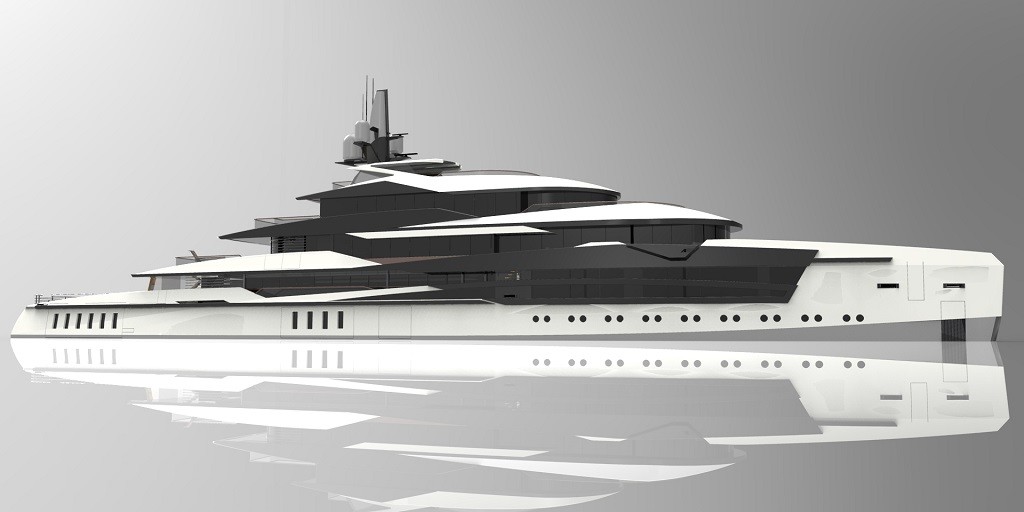 Living areas of the 12,9 meter beam yacht are decent. All of the guest cabins boast spectacular views and are flooded with natural light. At the moment it has seven cabins: private owner's deck, two VIP cabins on the lower deck and four guest cabins on the main deck. But two VIPs can be used to create a full-beam suite with two foldable platforms. Further details are for development with an owner and yard.
On the main deck a big place is given to the aft saloon that, thanks to sliding and folding doors made of glass, can be easily converted from an exterior space into an interior one. Glass shields protect almost all the open areas on board from wind and salt. This feature brings stunning openness to lounges and allows guests to relax closer to the waters. In the night time 6×4 meter swimming pool aft of the deck gets a state-of-art illumination. Touch and go helipad on the bridge-deck is easily transformed into an open entertainment area as well.
Master suite on the owner's deck covers all deck, a sea pleasant penthouse. May include a studio, saloon and spa, dress room and separate bathrooms for him and for her. Generous suite features 180° panoramic sea view and private terrace.
An impressive wine cellar is been design and develop by the Belgium wine cellar company REHOBOAM.
The size of beach club on the lower deck is impressive. Garage next to it provides enough space for two 9,5-meter tenders and all the toys needed. "Dariel DLimo 9,5 that recently has been chosen as tender for two CRNs – Chopi Chopi and newest Yalla – will suit the V+A perfectly, says Aparicio de Leon. Clearly it's not the only one."
Designed to host 12-14 guests on board, V+A has space for up to twenty of crew. 18 people is more than enough for a 74 meter vessel. But there is a spare room on the lower deck in case of extra need during charters or vacations.
"Born from the admiration and passion for a very special person, the result is a subtle imposing essence of beauty. V+A" – says Aparicio de León.
[divider style="dashed" top="20″ bottom="20″]
85m Motor Yacht PROJECT T
With Project T the designer wanted to achieve an elegant displacement superyacht with the style of a semi-displacement yacht, rather than a floating super-house. He developed the concept based on the potential owner's needs, without exaggerating. The concept is fully customisable and additional features can be added or taken off.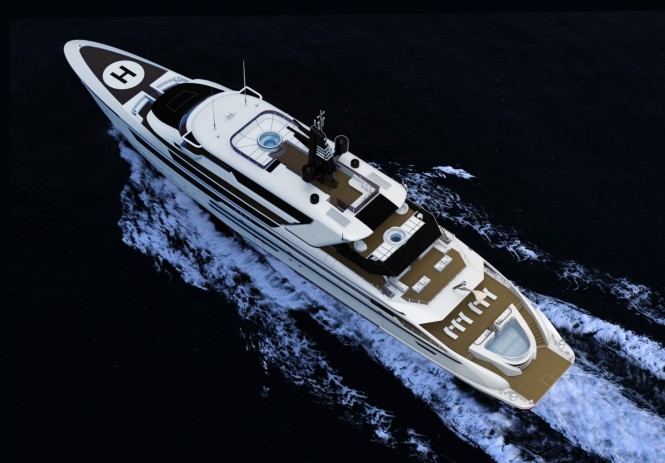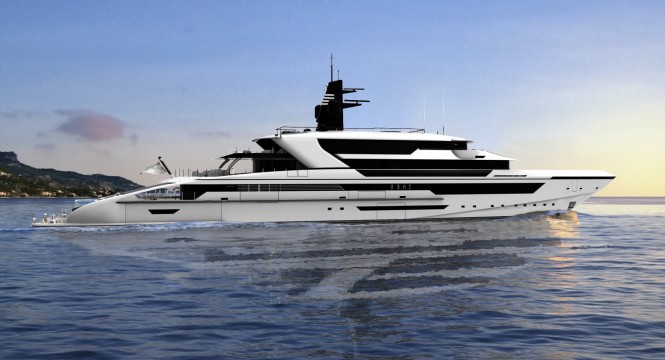 [toggle title="About the Designer" state="close"]Alvaro Aparicio de Leon graduated from Istituto Europeo di Design in Madrid, had a master in yacht design and construction in Venice. "The school was on a little island and I had to go to study every single day by boat. What might be more inspiring?" recalls Alvaro. A 30 meter performance boat became the first yacht designed. Followed by numerous boats of the size 50 meters plus. The new V+A is not the biggest. In 2013 came out an 85-meter superyacht concept T. "The one I'm really proud of is a 50 meter expedition vessel MaBulle turned into a private yacht. In 2012 it won me the prestige of being a finalist of "Young Designer of the Year" of the ShowBoats Design Awards. Employed by Barcelona Yacht Design Group and based in Mallorca, Aparicio de Leon finds time for personal projects. And brings a new fresh and unique style to his superyacht designs.[/toggle]
[divider style="dashed" top="20″ bottom="20″]