[dropcap]T[/dropcap]he Ilumen range that took the yachting world by storm remains at the cutting edge of development, with two brand new 28M yachts being presented in June this year. A perfect blend of advanced engineering and made-to-order craftsmanship, these exquisite yachts are each a unique showpiece of style and power.
Designed around their owners' every wish, the new Ilumen 28M yachts by Dominator only have their designation in common, for in terms of propulsion, technical specification, cabin/deck configuration and interior dressing they are built from the ground up to become a one-of-a-kind work of art – a pure expression of their owners' style and personality.
A heaven for seawater toys in this category, the yachts come equipped with a Williams Jet Tender 395, a Seadoo Spark jet ski in customised colours and two Seabobs featuring personalised designs. The M/Y CADET V also has a Radinn Wakejet, the world's leading electric wakeboard, while the M/Y ZALANKA includes two full-carbon E-bikes from Purismo – very complete for yachts of this size.
Dominator's design office works closely with our clients to create personalised yachts with all the comfort and refinement of a 'sea villa'. Leading interior designer Luca Catino, who worked for Zuccon and Cassetta Design Studios, adds further Italian flair to a truly mesmerising palette of noble materials, tones, textures and handcrafted finishes.
Hull 04 – M/Y ZALANKA
The client is an experienced yacht owner and was involved from the beginning on in the development of his made-to-measure Ilumen yacht, Zalanka, fitted with a semi-displacement hull and a Reintjes pod propulsion system. The layout too carries his stamp, with the four-cabin lower deck layout incorporating a private office with a pullman bed and an en suite bathroom.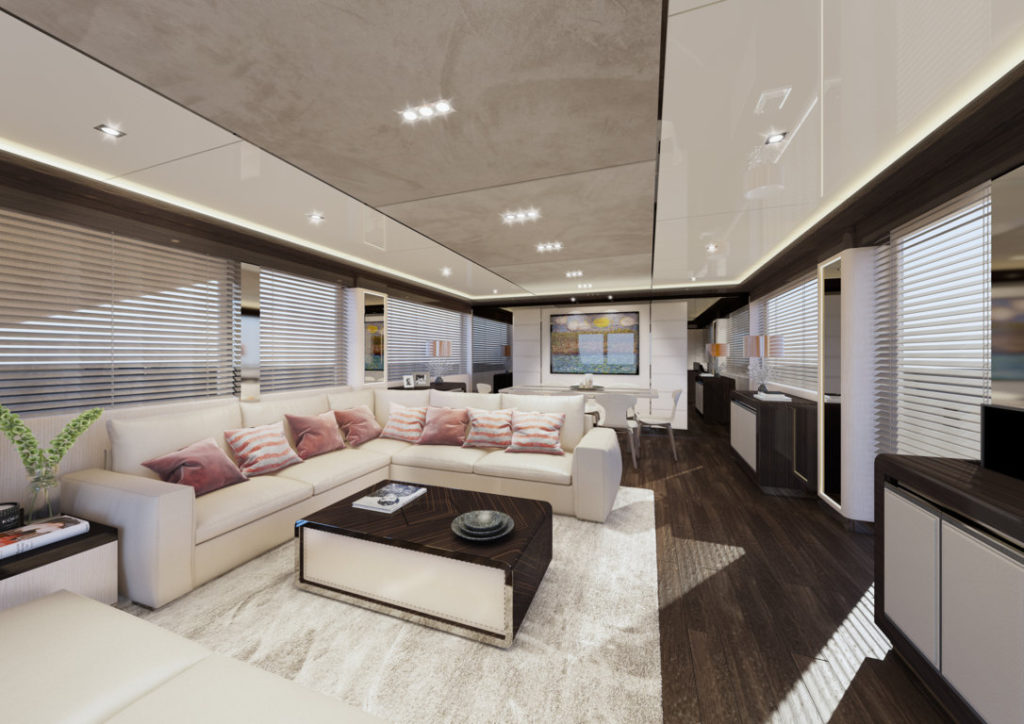 "The interior's refined warm tones are provided by Amara Ebony and light Oaks from the Lissoni Collection, but also by gorgeously contrasted backlit white Onyx and taupe Silk Georgette marble with wavy veins that resemble the sea. The freestanding Poltrona Frau fauteuils stand upon a handmade parquet in chocolate oak tones with a special finishing, while the sumptuous fabrics come from the latest Hèrmes and Dedar collections", say Luca Catino.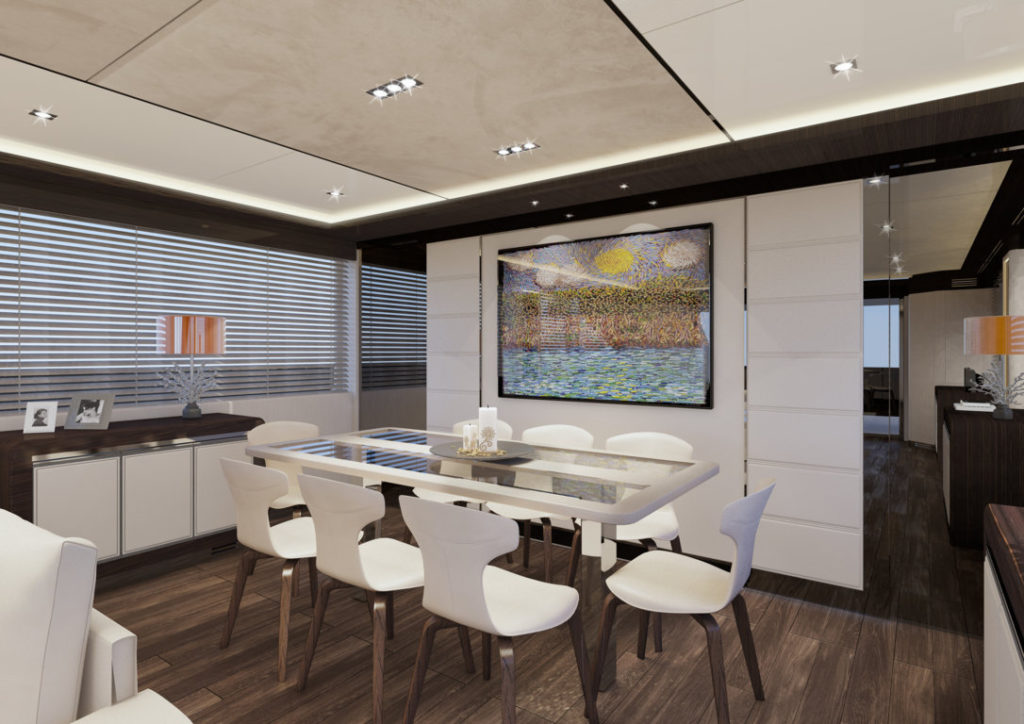 The owner's personality and passion for the sea are certainly present in the resulting design, with the M/Y ZALANKA being the very embodiment of a very personal and fulfilling process that has led from the drawing board to a magnificent craft whose very seagoing style, amenities and beautiful materials are a real, tactile experience, and no doubt the starting point of many wonderful moments.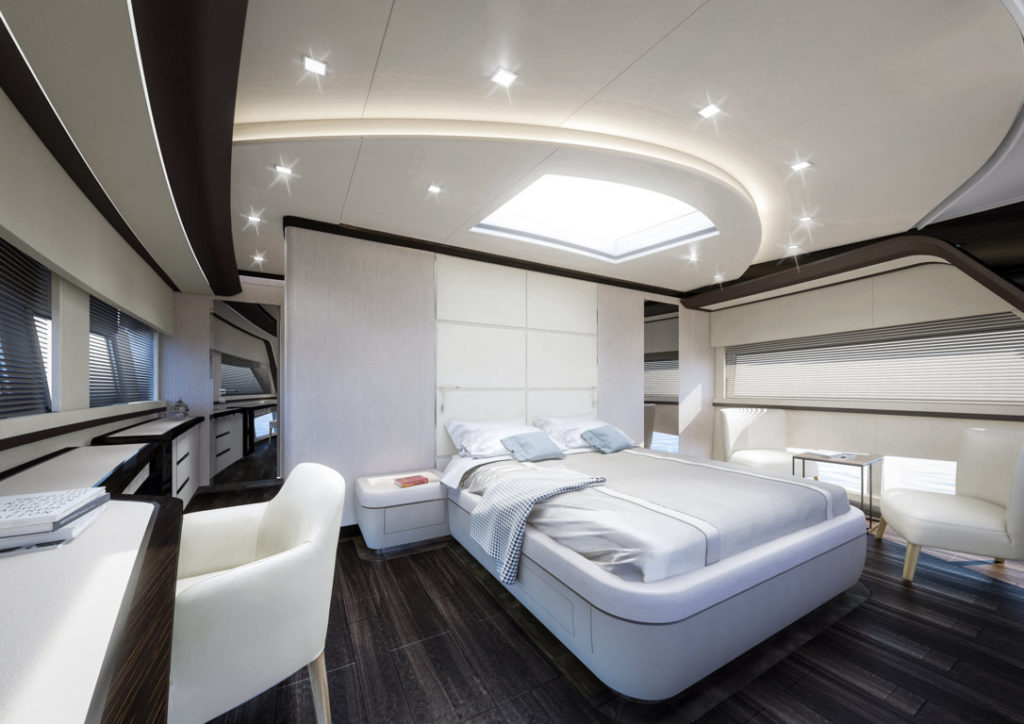 "With her specially composed metallic bronze hull colour the M/Y ZALANKA will turn heads at sea. We are very pleased to incorporate and realize such unique client ideas that allow us to represent our bespoke philosophy perfectly", says Angela Pernsteiner.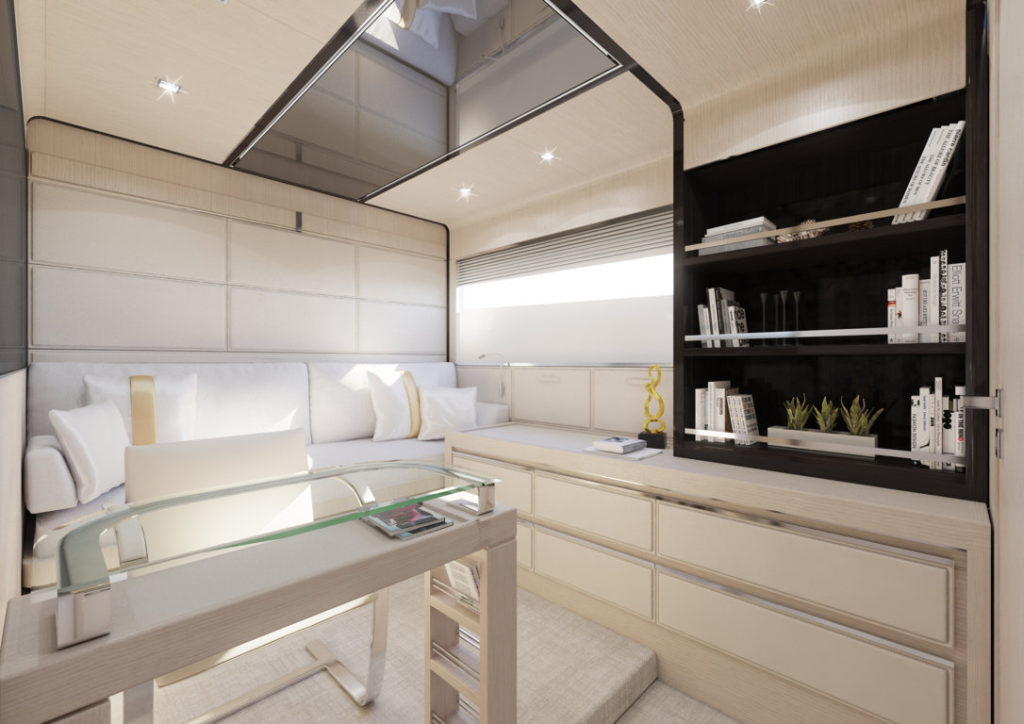 Hull 05 – M/Y CADET V
A singular yacht in every aspect, from its performance dynamics achieved by a semi-displacement hull and a shaft propulsion system through to the interior decoration. Our mission with this vessel was to create a true work of art, so every aspect of the yacht has been carefully researched, selected and applied with great expertise and attention to detail, resulting in what we can proudly call a yacht of distinction.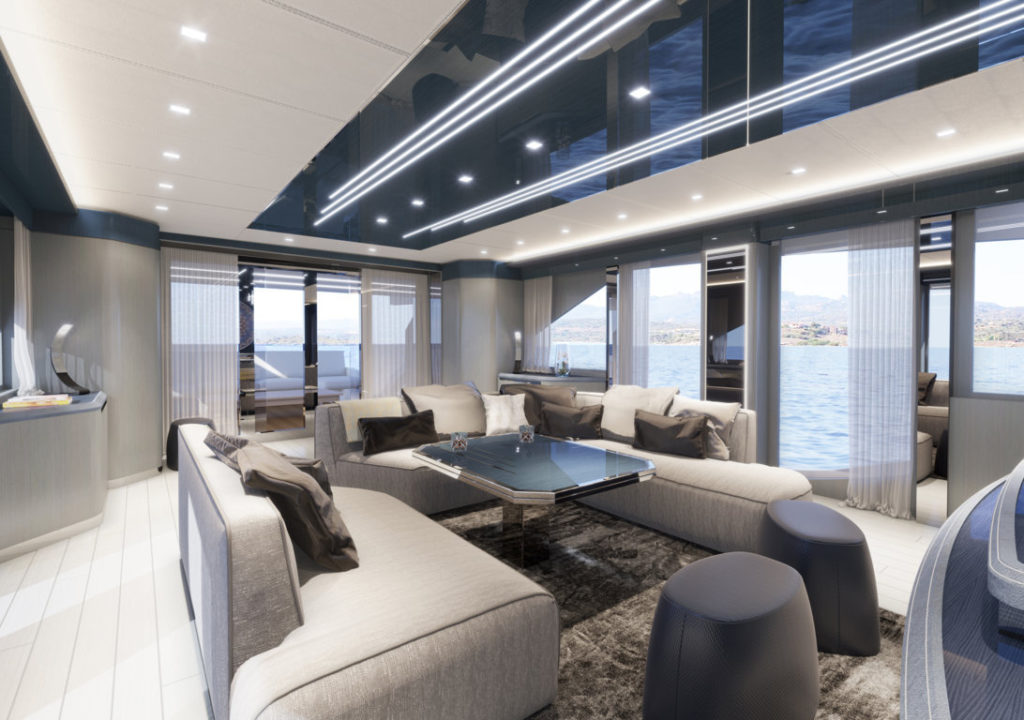 The layout includes a full-beam master cabin and two VIP cabins on the lower deck, while the client extended the already sizeable owner's cabin by almost a metre to offer a truly impressive private area.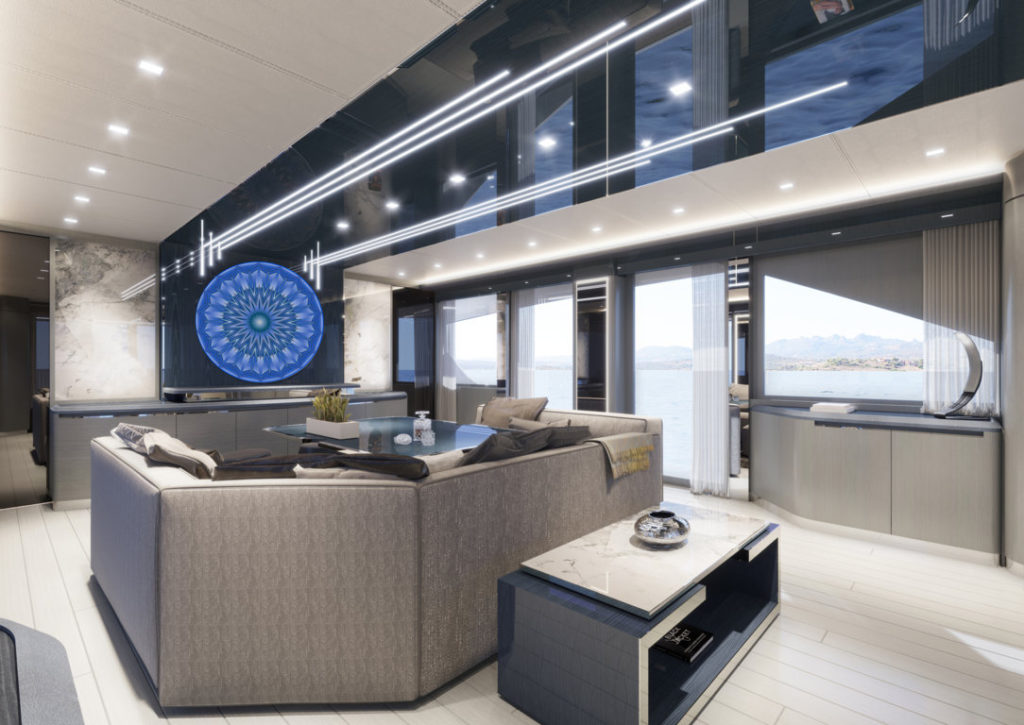 Inside, bespoke hues of blue, supported by grey, reflect the colour palette of the sea, augmented and contrasted with Stefano Curto artworks in vibrant colours. Stefano Curto is an important figure in the creation of this custom-crafted vessel. An artist and traveller who has been described as 'a 21st century alchemist' for the way in which he uses light to transform thousands of handcrafted coloured crystals into mesmerising illuminated works of art is the perfect match for Dominator's Ilumen philosophy.  His combination of Italian creativity with Austrian Swarovski crystals is the very embodiment of Dominator, an Austrian-owned and -managed shipyard in Italy.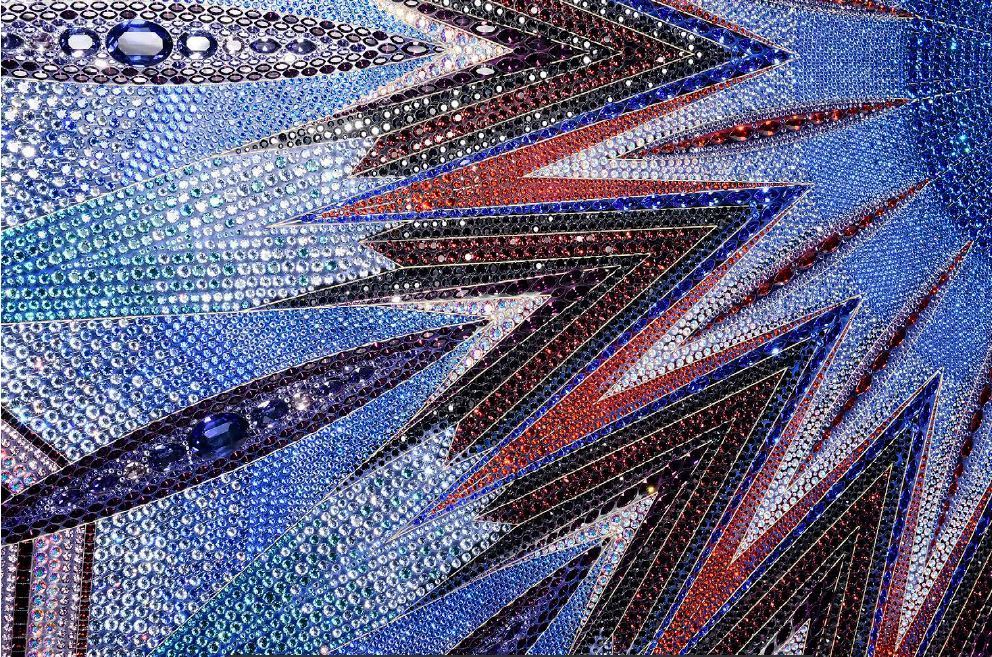 The textural accompaniment comes in the form of three tonalities of the finest Oak and richly grained Palisander wood, tastefully matched with rare Invisible Light marble and precious stone Agata Blue.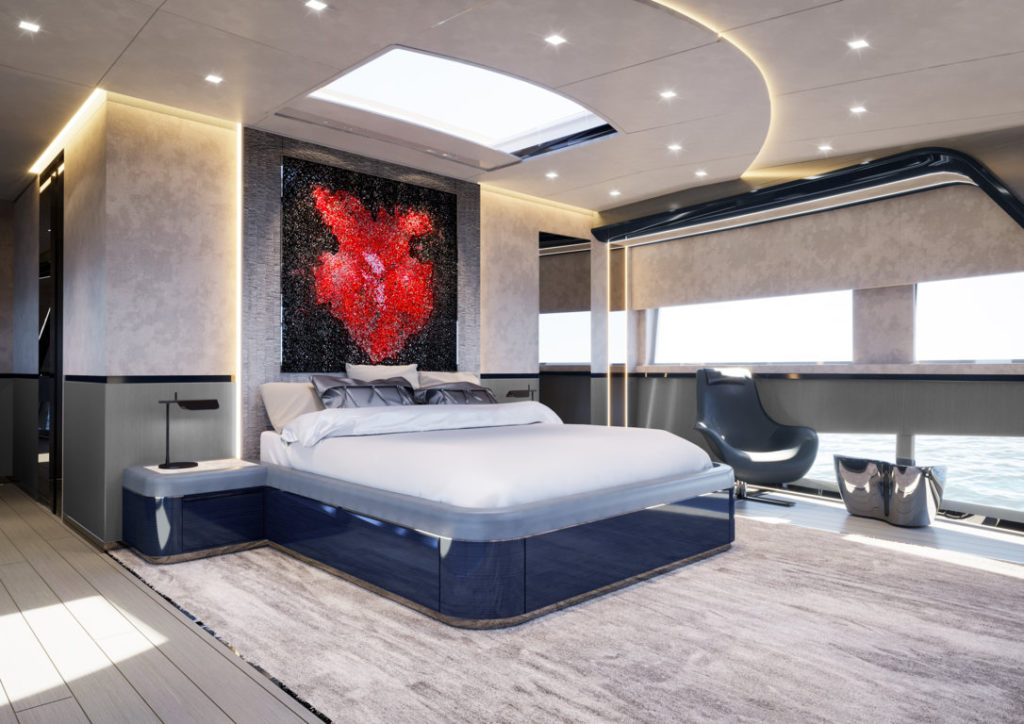 The parquet is entirely custom-made, and the cabins are individualised with Nabuk leather in violet, red and light blue tones, rounded off with gorgeous Pezzara leather. For the owner, this magnificent yacht is a continuation of his homes, but at sea. Here he can enjoy sophistication in an environment created uniquely for him.
 "I see the project as a series of images made up of gorgeous materials, beautiful colours and at times difficult choices to be made – the culmination of which is something we're truly proud of."  Chief Designer, Luca Catino.