[dropcap]O[/dropcap]n 27th of December, Turquoise's floating dock – with a 2500 ton lifting capacity – transferred the 74 meter NB66 from its Kocaeli facility to its yard in Pendik. Turquoise's new build was moved to finish the interior installation and also to outfit the top coat paint application. The 74 meter is on schedule for sea trials in 16 months with delivery due in summer 2021.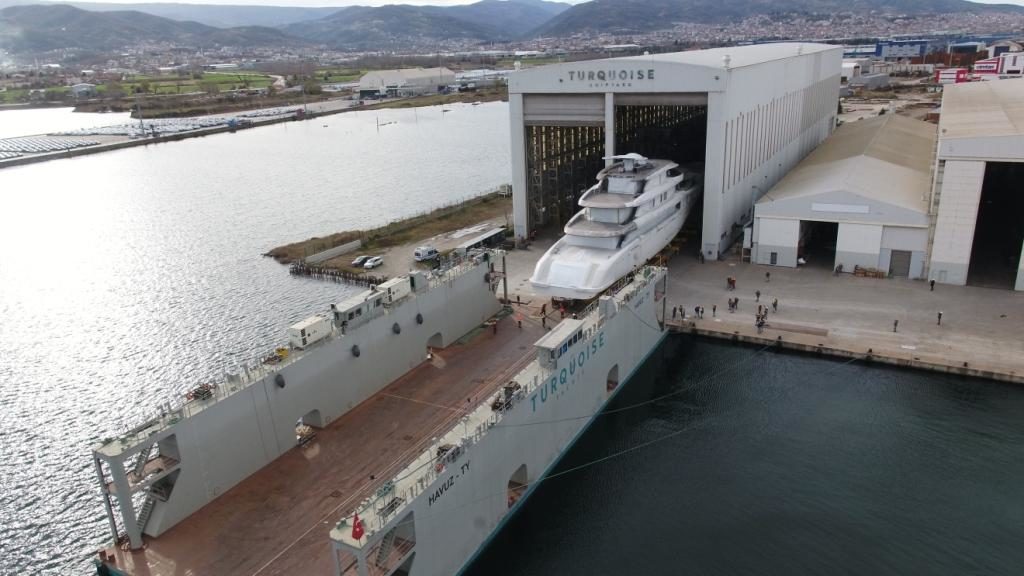 The sleek and elegant exterior design was penned by A.Vallicelli & C. Yacht Design, while the interiors by Ken Freivokh. With six deck levels, four of which above sea level, a yacht can easily appear bulky or top heavy. That's why Alessandro Vallicelli has worked to reduce that effect: "Visually, the decks decrease progressively towards the aft end, resulting in a profile with strong diagonal lines that create harmony between the superstructure shapes and the hull," comments Vallicelli.
The Ken Freivokh Design team set out to create an innovative, contemporary yacht. "The design focus is on classical elegance," comments Ken Freivokh. "The idea is to achieve a layout that has complete integration between the decks and key internal spaces— with everything designed to maximize the continuity of the yacht's lines as well as long sightlines". The yacht's interior has been designed to be bright and welcoming with a harmonious and balanced scheme. Materials include carefully selected veneers, marbles and granites, and hand-picked leathers.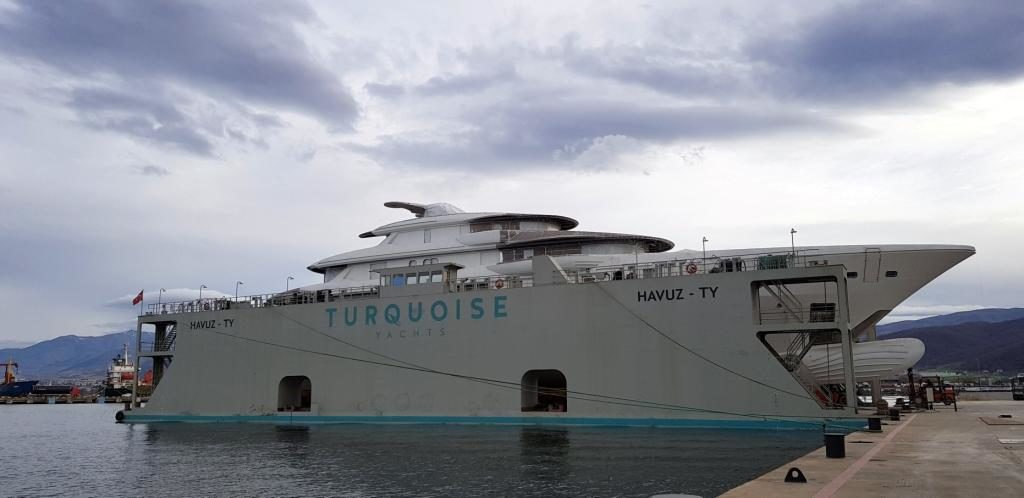 Large windows add natural light to the salons, dining room and guest's cabins. The yacht features a owner's suite with a private deck, a jacuzzi and an office and 6 guest cabins (and of course the crew accommodations). The owners' quarters on the upper deck are wrapped in a continuous window overlooking a private exterior sitting area, which includes two side terraces. The rectangular windows on the main deck in the full-beam zone of the hull are drawn with a firmer geometric approach, unlike the windows in the master suite, and are dimensioned according to their correspondence with the standard and VIP guest cabins.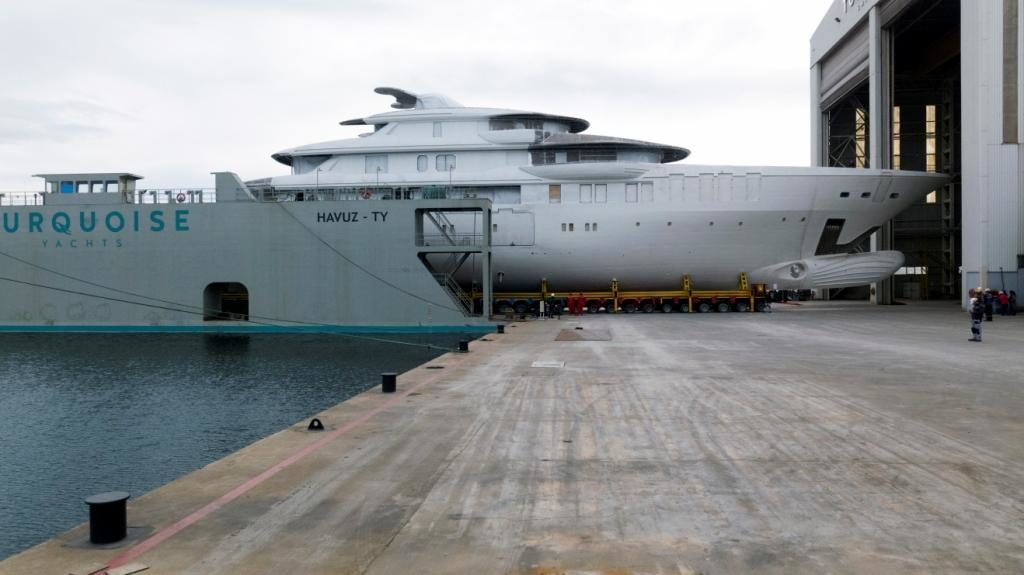 The central lobby is dominated by a stunning multi-deck atrium, centered on a spiral staircase with the main entrance boasting a double height sculptural space. Panoramic view saloons open to the sheltered aft decks, which include lounging, dining and a swimming pool. The accommodation for 14 guests has been conceived for maximum flexibility, with some of the suites capable of opening seamlessly to adjoining suites that convert to private saloons.
The yacht features an unusually large full- beam beach club, which not only opens aft to the swimming platform, but also includes shell doors on either side, which open to become extended platforms to the sea. There is a tender garage with a massive shell door that gives access to a full length 9.6m limousine tender as well as a multi-purpose guest tender, all in addition to a rescue/crew tender forward and garaging for a number of jetskis.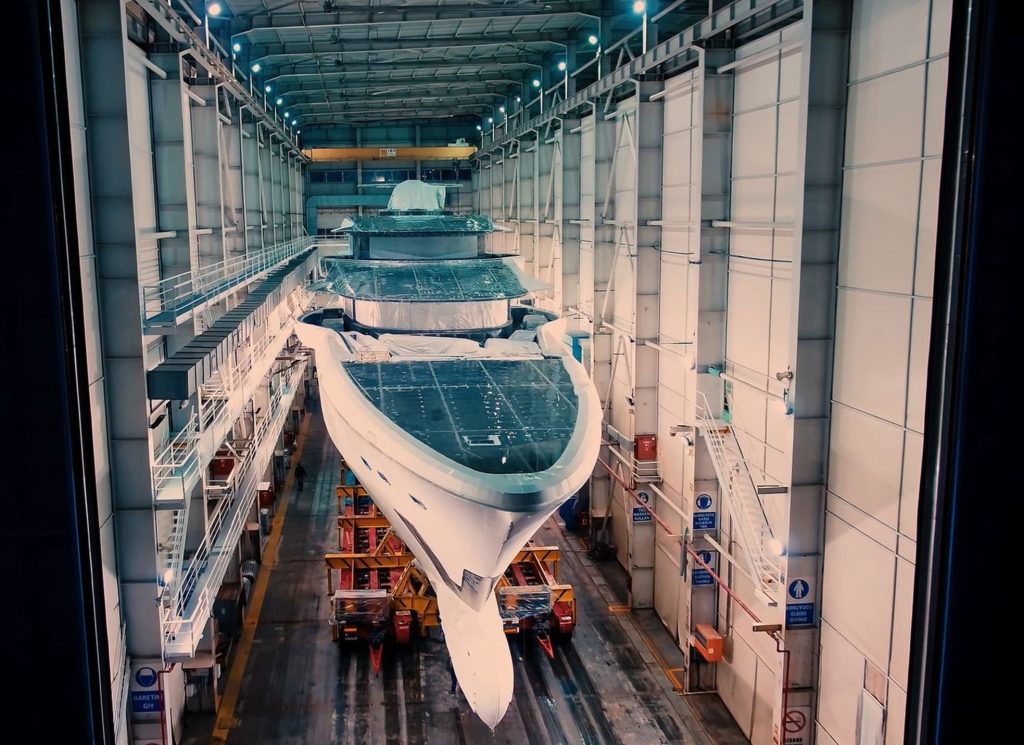 A touch and go area for a helicopter is located on the forward upper deck, from which you can directly access the private owner exterior area furnished with an outdoor dinette, sunbathing cushions and/or a Jacuzzi.