[dropcap]T[/dropcap]he Florence based designer has released vertical sections of his 85m supply vessel concept with helipad on the raised main deck aft.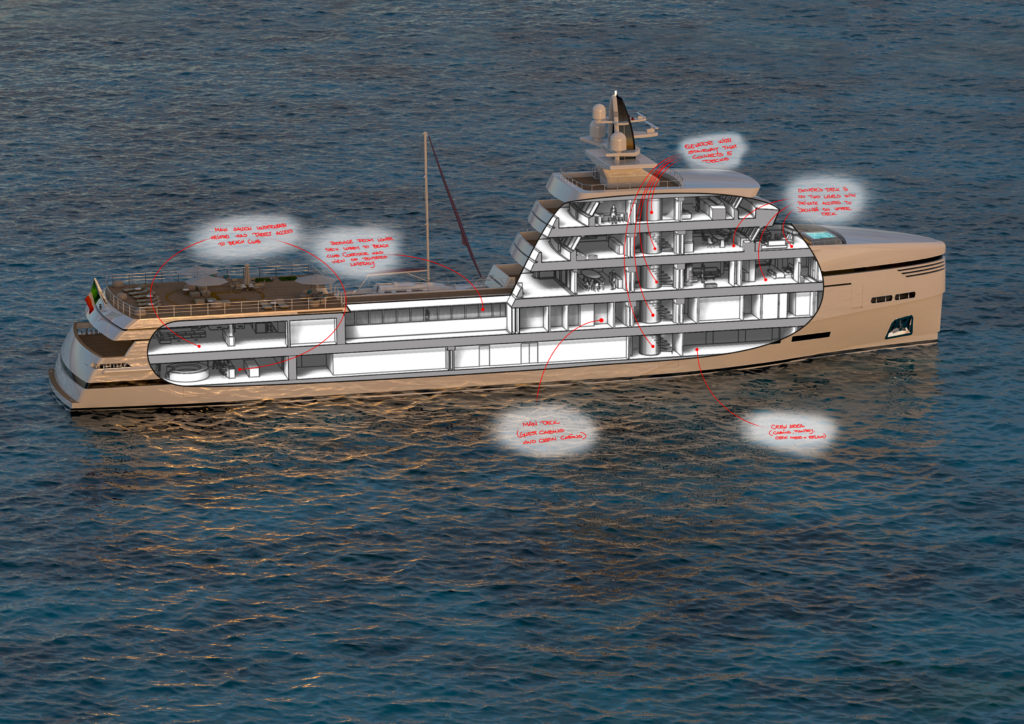 Spadolini says:
"The biggest challenge was to create something different from the look-alike expedition vessels already available. I studied the market very carefully and came up with a masculine, no-frills exterior design, but it's the general arrangement that really sets this project apart. As we weren't constrained by the limitations of a traditional yacht or by the requests of a specific owner, I was able to come up with layout solutions that break the mould. The 85m is also available with the helipad amidships, but the aft version is arguably the purest expression of an expedition yacht or supply vessel. Able to voyage anywhere and buildable at relatively low cost, it's the most authentic yacht I've designed in my40-year career."
The aft deck arrangement, in particular, offers unique solutions designed to enhance the project's vocation as an expedition yacht or supply vessel. To optimise heli operations, the fully certified helideck is ideally placed as far from the guest accommodation and forward superstructure as possible.
Below the main salon, on the lower deck is an equally spacious beach club with folding side platforms, bar, sauna and massage room and direct access to the portside tender bay. Spadolini had been toying with alternative general arrangements for some time, but theRosetti project provided the real estate to put his ideas into practice.
The generous owner's duplex apartment is arranged on two levels. The master suite with His and Her bathrooms is on the upper deck, but a private staircase connects with the private deck above and features a lounge and open-air terrace with hot tub overlooking the foredeck. Another salon aft serves as amedia room and/or sky lounge.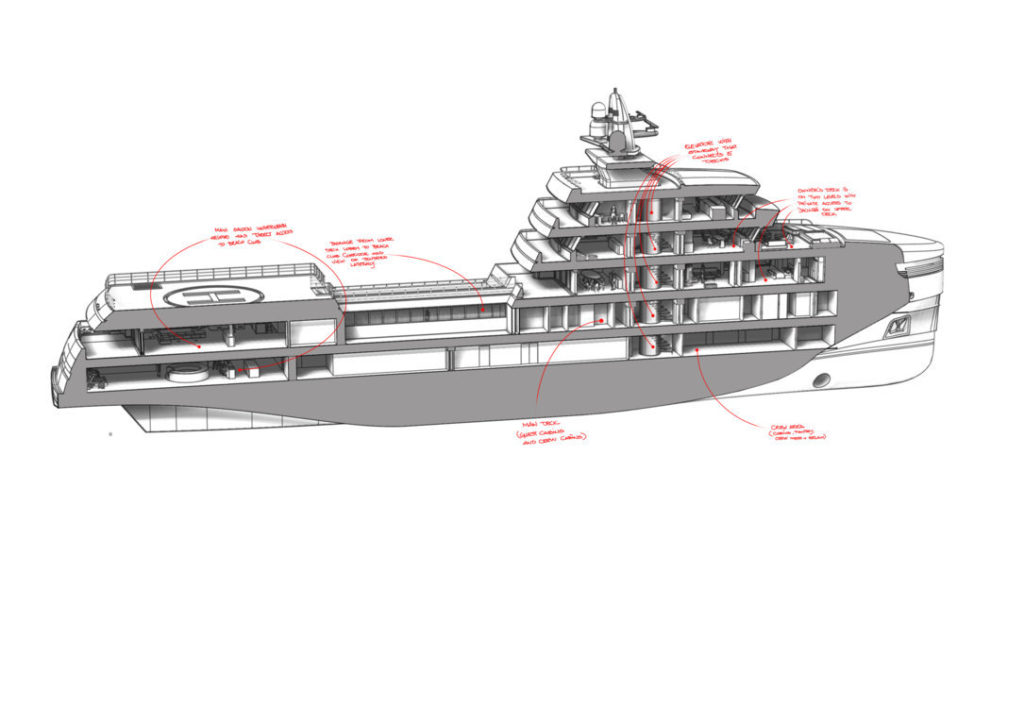 Four guest cabins with ensuite bathrooms and walk-in dressing rooms are located on the main deck, arranged around the central lobby and elevator serving all five deck levels. The lower deck houses the galley, crew lounge, dinette and accommodation (additional crew cabins are housed on the forward main deck). Offering maximum visibility, the bridge deck with wheelhouse, captain's cabin and radio room/ship's office is entirely dedicated to navigating the vessel.
The under-lower deck has direct access to the engine room and comprises a workshop,laundry, cold/freezer room, dry store, linen store, garbage room and othertechnical areas.As a full-custom project, owners can bring in their own interior designers, although Spadolini has developed an interiorproposal that hedescribes as "contemporary and comfortable but not lavish."