[dropcap]S[/dropcap]ingapore, 17 March, 2015 – With the 2015 Formula One (F1) Grand Prix season underway, Wealth-X released today a list of the top 10 richest F1 drivers of all time, which includes active and retired race car drivers.
Cruising into first place on the list is seven-time world champion Michael Schumacher, who has an estimated net worth of US$780 million. The retired German driver, who last raced for Mercedes in 2012, is currently recovering from a serious brain injury from a skiing accident in the French Alps in 2013.
Schumacher's wealth represents 43% of the combined net worth of all 10 men on the list, four of whom have retired from the sport.
Reigning world champion Lewis Hamilton – who opened the 2015 season with a convincing victory at last weekend's Australian Grand Prix – came in fifth place on the Wealth-X list with a personal fortune of US$110 million.
Hamilton's Mercedes teammate Nico Rosberg, who finished second in last year's world championship standings as well as in the recent Australian Grand Prix, took 10th place on the Wealth-X list with US$30 million in assets.
The youngest driver on the list is 27-year-old Sebastien Vettel, who has a net worth of US$45 million. The oldest is 60-year-old retired Frenchman Alain Prost, who has amassed a personal fortune of US$70 million.
Below is Wealth-X's top 10 all-time F1 Driver Rich List: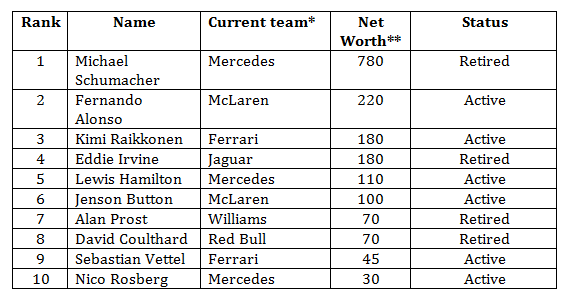 [divider style="dashed" top="20″ bottom="20″]