[dropcap]I[/dropcap]n conjunction with the upcoming Art Basel Hong Kong and Hong Kong Art Week, Wealth-X released a list of top 10 art collectors from China and Hong Kong. The combined value of these individuals' collections is estimated to be US$2.57 billion.
Wang Jianlin – the founder of property and entertainment conglomerate Dalian Wanda Group whose net worth totals US$25.7 billion – leads the Wealth-X list with an art collection valued at US$1.6 billion. Wang has been amassing a collection for over 25 years, which includes ancient and modern-contemporary paintings, calligraphy, ceramics, and jade. He reportedly paid [highlight color="yellow"]US$613,000[/highlight] for "Gu Qin Tu," a small painting of a bird measuring 100cm by 60cm, making it the most expensive painting based on price per size.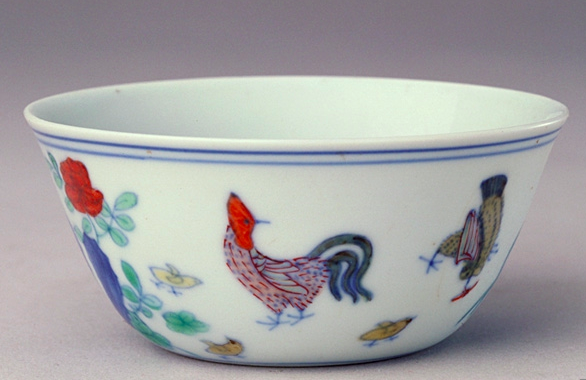 Shanghai-based Liu Yiqian, another super collector who made headlines last year for his high-profile art acquisitions, ranks second on the Wealth-X list with a collection worth US$450 million – accounting for over half of his total net worth of US$870 million. In 2014, Liu paid [highlight color="yellow"]US$36 million[/highlight] for the Meiyintang "Chicken Cup", and [highlight color="yellow"]US$45 million[/highlight] for a Tibetan "Thangka" tapestry, setting the record for the most expensive piece of Chinese art ever sold at auction.
Another avid Chinese collector, Yu Mingfang of shoe producer Belle International Holdings, takes third spot on the list with a collection valued at US$110 million, which includes at least 100 works by Chinese artists.
Below is the full list: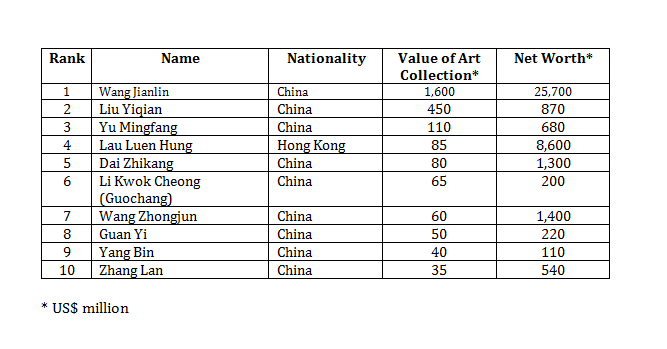 Source: Wealth-X