[dropcap]F[/dropcap]or the first time in many years, the world's leading superyacht and luxury yacht builders & brokers arrived in London to participate at The London Yacht, Jet & Prestige Car Show, many of them for the first time.
Among the yacht builders were Abeking & Rasmussen, Amels, Azimut Benetti, Blohm + Voss, CRN, Discovery, Ferretti, Fincantieri, Gunfleet, Holland Jachtbouw, Lürssen Yachts, Nautor's Swan, Nobiskrug, Ocea, Outer Reef, Oyster, Pendennis, Sanlorenzo, Sunseeker, Sunrise Yachts & Westport to name but a few.
Present were also the world's top super yacht brokers, including: Burgess, Camper & Nicholsons, Cecil Wright, Fraser Yachts and IYB, all offering a wonderful selection of super yachts to buy or charter this summer!
[divider style="dashed" top="20″ bottom="20″]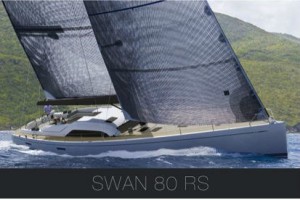 Nautor's Swan revealed the Swan 80 RS
Part of Nautor's Performance Cruising Range, the new Swan 80RS is designed for long-distance cruising to any corner of the globe.  Every Swan will always be fast, beautiful and exceptionally well built but the Swan 80RS also offers important features for the cruising sailor such as a protected cockpit, increased tank capacity, full-beam engine room and extensive storage areas. The powerful hull lines by German Frers have been combined with an elegant raised saloon offering spectacular views when seated inside.
[divider style="dashed" top="20″ bottom="20″]
The new Discovery 55 Mk.II
The bespoke British yacht builder displayed its new Discovery 55 Mk.II in St. Katharine docks and provided visitors to the show with a taste of genuine bluewater cruising. The Discovery 55 Mk.II is a fast, beautifully balanced yacht designed by the legendary Ron Holland, to give exhilarating passage sailing in a safe and comfortable set-up. The yacht is designed to be sailed by just two people. Its ease of handling combined with attention to detail and exceptional use of space make her the ultimate bluewater cruising yacht.
Superyacht designer, Ken Freivokh has designed a practical and luxurious live-aboard space, featuring light and airy cabins. When coupled with the extraordinarily high standard of joinery Discovery Yachts is famous for, the interior of the yacht provides a real 'home from home' feel. Discovery's unique raised saloon and navigation station offer practical advantages and safety while on passage, and at anchor.
Alastair Walton, Sales and Marketing Director of Discovery Yachts commented, "We are genuinely excited about displaying a new Discovery 55 Mk.II in the heart of London. Visitors to our yacht will experience the attributes of a true bluewater cruising yacht, meticulously designed and built to take two people on the ultimate voyage of discovery. This new event in London has undoubtedly captured the imagination of those interested in some of the UKs most exceptional brands, and we are proud to be associated with it."
[divider style="dashed" top="20″ bottom="20″]
Oyster Yachts unveiled new Oyster 118
Oyster Yachts 
announced largest yacht drawn in partnership with Humphreys Yacht Design… and commencement of build.
"We are delighted to build the new Oyster 118 in Britain at our own Southampton facility," says CEO David Tydeman. "We have been working for nearly three years in close conjunction with Humphreys Yacht Design developing the specification and design and we're really proud now to announce the contract to start work. Tooling will commence in April.
"We have developed a tremendously capable team here over the years covering a wide breadth of skills. Recent projects have included the new Oyster 825 and 885, and refit and upgrade work on superyachts lists among others Leopard, Hetairos, Mari-Cha III and the famous Fife classic, Cambria.
"For this new project we are creating female tooling and additional construction facilities to enable building the second Oyster 118 overlapping with the first, such that we can produce up to four of this new addition to our range before summer 2020."
[divider style="dashed" top="20″ bottom="20″]
Spirit Yachts sails into 2015 with increased investment in growth and expansion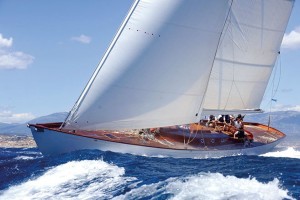 Luxury yacht designer and builder Spirit Yachts, who recently announced development plans for their UK boat building yard, boasts a busy schedule of high profile yachting shows, luxury events and regattas, as well as the launch of a new Hong Kong office. Spirit has unveiled approved plans to expand its UK boat yard with building work due to be completed early summer 2015.  The new space will have capacity for superyachts up to 120 feet and will provide facilities for future growth of the existing team.  With significant interest in exclusive new drawings for a Spirit 110' sailing yacht as well as a 110' luxury motor yacht, the newly developed yard will provide the space for increased flexibility as well as work load.
With a range of current new boats in build in the yard in Suffolk including a 46' sailing yacht and a power 40', Spirit celebrated the launch of the stunning new 65' modern classic yacht Chloe Giselle in February.  Chloe Giselle is currently being shipped to Singapore, where she will be unveiled at the highly anticipated Singapore Yacht Show 23rd – 26th April.
Spirit CEO and head designer Sean McMillan says, "Chloe Giselle represents the start of an exciting new journey for Spirit Yachts in Asia.  With our new Hong Kong office we are aiming to be at the forefront of the Asian yachting industry, whilst offering existing customers additional support in that area of the world as well as giving potential Asia-based clients the option of liaising with a local team."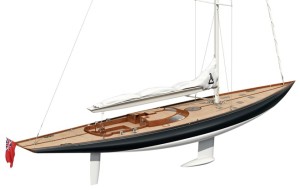 Spirit Yacht, with their over 20 years' experience in designing and building beautiful, hand crafted wooden yachts – immensely strong yet lightweight, with a perfect balance for both the classic regatta scene and blue water cruising – presented their new Spirit 110' and drawings for the new elegant Spirit 40' power boat.
Commissioned as a custom build and conceived by renowned classic yacht designer and Spirit CEO Sean McMillan, the innovative Spirit 110' epitomises style, beauty and performance. McMillan comments: "The combination of the elegant wooden design, carbon rigging and an incredible power to weight ratio results in a high quality, performance superyacht that delivers under racing conditions."
Nigel Stuart, managing director at Spirit Yachts says: "The London luxury show is a fantastic opportunity for us to showcase plans for our new Spirit 110' and 40' power boat alongside the best in marine, automotive and air travel design and technology. We pride ourselves on excellent customer service throughout every step of our unique in-house design and build process so we are looking forward to engaging with the audience in London and gather feedback on our new designs."
[divider style="dashed" top="20″ bottom="20″]
Sunrise Yachts presented 68m project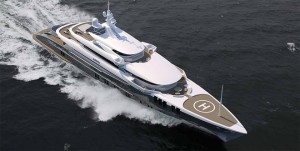 Sunrise Yachts
, the European shipyard in Turkey, presented the spectacular 
Sunrise 68m 
project, designed by A. Vallicelli & Co, with interiors by Focus Yacht Design. The project is currently under construction, with the hull and superstructure close to assembly. Delivery is scheduled in 2017. The shipyard currently has five yachts under construction and is getting ready for the launch of its Sunrise 63m "Irimari", design Espen Oeino and Focus Yacht Design, to be delivered Summer 2015.
[divider style="dashed" top="20″ bottom="20″]
The new BV80 Blohm+Voss
Insights, ideas and innovations applied during 137 years of German shipbuilding have now been concentrated into 80 metres. Inspired by the iconic superyachts built by our Hamburg yard, the new 
BV80
 takes the spirit and soul of 
Blohm+Voss 
and heads off in a new direction.
Its starting point is our unwavering obsession with quality and the route to its maiden voyage takes in many opportunities for potential owners. While the hull, machinery and superstructure are pre-engineered, many areas and elements can be customised to the owner's individual requirements. The layout and use of the owner and guest areas is completely flexible.
Following a long period of detailed, behind-closed-doors planning, the first BV80 is already at an advanced stage of development.
[divider style="dashed" top="20″ bottom="20″]
Gulf Craft brought its latest innovations to London
One of the world's leading superyacht shipyards, participated in the first-ever London Yacht, Jet & Prestige Car Show, bringing its European and international customers up-to-date with the latest innovations in its range of luxury yachts.
"As a major financial hub and the millionaire capital of the world, London is a natural choice for an event dedicated to the luxury market and we are delighted to support the establishment of what we believe will fast become a fixture on the international event calendar," said Erwin Bamps, CEO of Gulf Craft. "The London Yacht, Jet & Prestige Car Show offers an ideal platform for Gulf Craft to connect with our international customers ahead of the European season, update them on our latest offerings, and brief them on our original approach to yachting."
Gulf Craft's growing global reputation is based on its capacity to build innovative, stylish craft that offer both elegance and reliability, and that are built around the client rather than for the client.
To support its commitment to innovation in design, Gulf Craft is investing USD 100 million over the next five years in developing a world-class facility for the manufacturing of mega and superyachts at Dubai Maritime City.
Majesty 155, Gulf Craft's largest superyacht is scheduled to be launched in the second quarter of this year, and a powerful addition to the Majesty Yachts range, which combine style and elegance with sophisticated technology to create the epitome of truly luxurious cruising. At 155 feet (47 meters), the Majesty 155 will be the largest semi-production superyacht to be built in the Middle East.
[divider style="dashed" top="20″ bottom="20″]
Princess with three yachts at on-water show
At the London Yacht, Jet and Prestige Car Show Princess presented three of their head-turning contemporary yachts: V72, 88 and 98. Inside a Princess yacht you enter into a world that reflects their unique insight into style, culture and design. Where the highest levels of quality and unparalleled luxury always come as standard, and the strength of their 50-year heritage ensures that their style never stands still.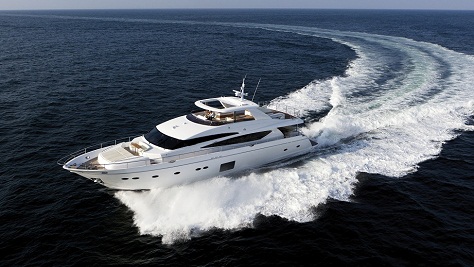 This boat epitomises everything Princess. Superb craftsmanship, the latest technological innovation and that unmistakeable Princess styling.
The vast flybridge offers great opportunity for customisation and is the ideal entertaining space. The cockpit area can be specified with an optional hardtop and the foredeck provides not just seclusion but also a huge seating area.
There is plenty of room to store a tender and the large transom garage can house a jet ski and an electro-hydraulic bathing platform which, when not launching the tender or jet ski, can be used as a submerged swimming or diving platform.
Her interior is beautifully finished to the highest standards and panoramic windows ensure the saloon and dining area are light and open with views from every position. The impressive wheelhouse includes an additional dinette for enjoying breakfast or drinks whilst underway. Both the helm and the highly specified galley adjacent can be accessed by crew from the side decks to ensure the utmost privacy for guests.
Accommodation on the lower deck can be configured for eight or ten guests and each cabin is spacious and sumptuously appointed. The owner's suite is positioned amidships and makes full use of the 98's generous beam where large hull windows provide exceptional views beyond. Crew are accommodated in separate quarters aft of the machinery space with a choice of configurations for up to six.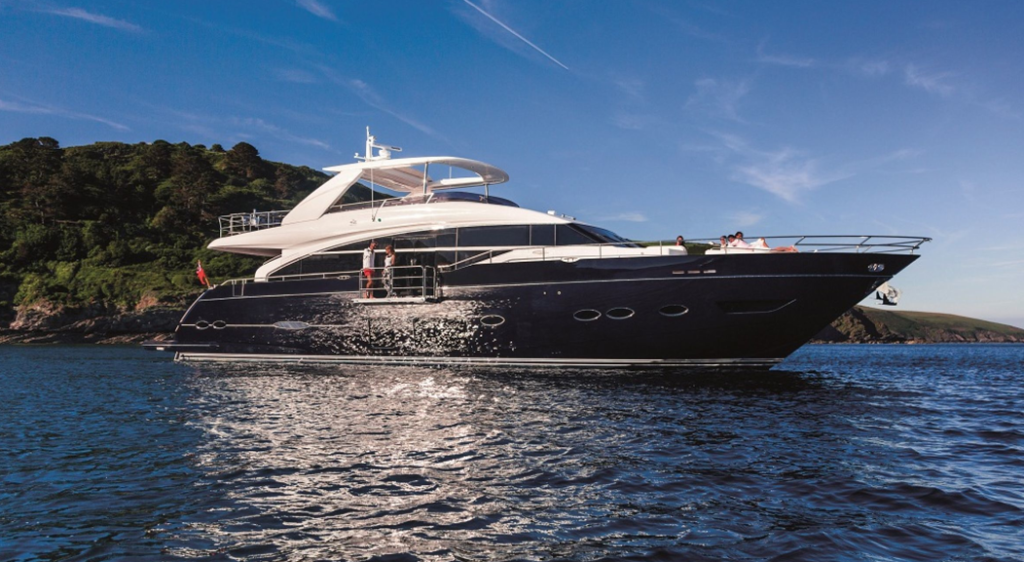 Influenced by the design of the flagship Princess 40M, the resin-infused hybrid hull shape balances strong performance and handling whilst also keeping a watchful eye on fuel efficiency.
A lovely new design feature on this luxury motor yacht is the optional folding balcony on the starboard side of the saloon. Sliding double doors connect this terrace to the saloon, so there truly is no better place to watch the sunset before stepping in for dinner!
Opposing benches and a spacious sunpad means that there is plenty of space at the bow of the ship. The vast flybridge and huge cockpit area means that there is plenty of space to dine and entertain. If you want to go that step further, there is the option of having a hot tub!
The interior styling and detailing is exceptional with the finest fabrics and finishes adopted throughout. The expansive saloon and formal dining area are exquisitely furnished and bathed in light from large panoramic windows either side. The wheelhouse and highly equipped galley are separated from the main guest areas with discrete crew access ensuring the utmost privacy, including an independent service access to the dining area.
Accommodation comprises four cabins with a VIP ensuite in the bow of the boat, a double and a twin as well as a sumptuous master cabin amidships. The new frameless hull windows as well as the his and hers sinks in the ensuite make this a truly special cabin. A five cabin layout is also possible with the master split into two smaller cabins.
There is a generous space for the crew aft of the machinery and three engine options. Another impressive feature of this motor yacht is its speed; a top speed of 30 knots – very impressive for a boat that displaces the best part of 70 tonnes!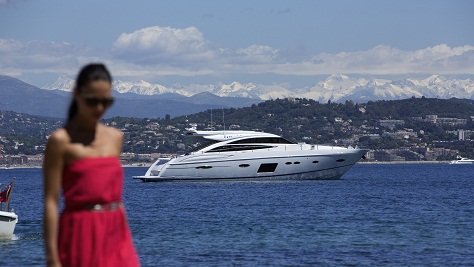 The V72 is an exceptional sports yacht delivering the perfect balance of high speed thrills and sophisticated elegance.
The latest infusion technology and modified deep-V hull delivers new levels of performance and handling while her sleek profile hides an incredibly spacious and beautifully detailed interior.
Sliding glass doors open from the saloon onto an expansive cockpit where the U-shaped sofa, teak dining table and substantial wetbar enjoy the shade from the extended superstructure above. A wide sunbed extends over the aft deck which also accommodates both the tender garage and spacious twin en-suite crew cabin.
The submersible bathing platform makes launching the tender or swimming from the anchorage a delight and is also large enough stow a tender or jet ski. Additional sunbathing and seating areas are located on the foredeck which is a perfect spot for a relaxing escape.
Central to her interior styling is the wonderful layout of the main deck, with its large enclosed saloon, panoramic windows and contemporary design. The focal point is an elegant circular dinette which sits beneath the sliding sunroof and creates an ideal place to enjoy breakfast or drink in the view, whether in harbour or underway.
Below decks, three beautifully appointed en-suite cabins provide highly spacious accommodation, all finished with the finest materials and detail. The starboard twin cabin can also be fitted with a powered sliding berth to create a third double making this a highly flexible layout.
Princess Yachts looks forward to welcoming guests to their stand D01 at Old Billingsgate and at the on-water event at St Katharine Docks during the London Yacht, Jet and Prestige Car Show 8-10 April.
For further information visit www.princessyachts.com
[divider style="dashed" top="20″ bottom="20″]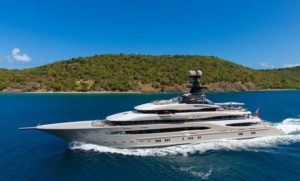 Lürssen – The largest yacht builder
Lürssen
 is the leading shipyard for the building of large luxury yachts. For five generations now and since 1875, 
Lürssen
 has been cultivating the most refined skills and advanced technologies to create truly outstanding vessels.
Their connection to shipbuilding is as deep-rooted and individual as only family bonds can be, the commitment is deep, the approach individual. When the company founder Friedrich Lürssen said, "Leading in quality and performance, that should be my company's reputation," he was expressing the values Lürssen continues to uphold to this day.
With several further yachts currently under contract, the shipyard continues to market and build yachts ranging in size from 60 m up to well over 150 m.
In the last quarter of 2014 Lürssen delivered three yachts:
66 m Ester III – Under clear directions from the Owner, Espen Oeino has given Ester III a very masculine appearance with strong character. With a length of 66 m and a beam of 11.90 m she accommodates all of the owner's requirements whilst still maintaining a very elegant appearance.
Her interior is designed by Reymond Langton and the elaborate design, the joinery work as well as the loose pieces of furniture made by Silver Lining, will stun those who will have the privilege to come aboard. She is currently cruising in the Caribbean and will have her debut in the Mediterranean at the Monaco Yacht Show in September.
95 m Kismet – She is built for a very experienced repeat client, who up-graded from his former 68 m Lürssen yacht. Espen Oeino has given Kismet very harmonious lines. Her external living spaces are numerous and generous and have been laid out for both charter and private use in mind. Interior designer Pascale Reymond is responsible for Kismet's luxurious interior which has very dramatic features. Kismet has everything any owner would aspire to.
Kismet will be an exciting addition to the global charter fleet and is available through Moran Yacht & Ship. She represents the very latest in high-end luxury cruising. With her experienced crew she will without doubt provide the ultimate experience to remember. She is currently cruising her first season in the Caribbean before she can be expected in Mediterranean waters in the summer.
104 m Quantum Blue – Tim Heywood has given Quantum Blue a most elegant and graceful exterior design and has ensured that despite her massive volume she maintains her elegant looks. Her interior design was created at the Alberto Pinto Design office and is in one word: spectacular. A unique mix of rare and striking materials will give Quantum Blue an exceptional look and feel as well as a feeling of luxury. Quantum Blue is a PYC certified yacht and is now preparing herself for her maiden cruise in the spring to the Mediterranean.
This summer Lürssen will deliver a further two custom-built yachts, one very different from the other:
The first is project Orchid – a 90 m yacht with a Reymond Langton exterior and interior design. The second is project Tatiana – a 123 m yacht with an exterior design by Martin Francis with Newman Stacey Design. It is Mr. Francis' first collaboration with Lürssen and as can be expected, Tatiana will have some great design features. The interior is designed by the Alberto Pinto Design office.
[divider style="dashed" top="20″ bottom="20″]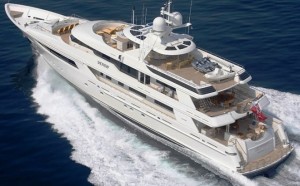 Westport – The leading US super yacht builder came to London!
Westport Yachts are one of America's top superyacht builders. The company's flagship, the 164 tri-deck, accommodates twelve guests in unsurpassed luxury. A vessel as prized for the artistry of its contours as for the substance of its construction, the Westport 164 represents an exceptional landmark achievement in large yacht design.
Developed using leading-edge three-dimensional modeling and structural software applications also used in the aviation industry, this new yacht has met every objective for speed, ride, maneuverability, integrity, quality and classing capability. As with every Westport yacht, the 164 delivers the uncommon luxuries of predictable performance, on-time delivery and a full complement of equipment and features for immediate enjoyment.
Westport's design and engineering teams have collaborated with world-renowned designer Donald Starkey and prominent naval architect William Garden to develop a refined hull form for exceptional ocean-going performance, an innovative accommodation plan which balances interior and on-deck spaces for maximum enjoyment and versatility, and a contemporary styling that ensures lasting appeal.
The six-stateroom layout with on-deck full-beam master suite affords everyone a luxurious private retreat incorporating the finest fabrics, cabinetry, stone and leathers. An innovative arrangement includes a top-deck VIP suite with its own sun deck, a large formal dining room adjacent to the commercial-grade galley, and a garage aft for tenders and water toys. Designed for entertaining and relaxed socializing, the salon opens to a large covered aft deck with lounge, conversation areas and wet bar.
Twin MTU 16V4000 diesels drive the Westport 164 to mid-20 knot top speeds, and throttle back to deliver transoceanic range. ABS-classed and MCA-compliant, the 164 is equally well suited for private use or charter service.

www.westportyachtsales.com
[divider style="dashed" top="20″ bottom="20″]
Azimut|Benetti, Luxury Excellence
As one of the most renown and leading Shipyard in the world, spokesman of the Italian style and elegance, the Azimut | Benetti Group Benetti took part for the first time at the next London Yacht, Jet & Prestige Car Show.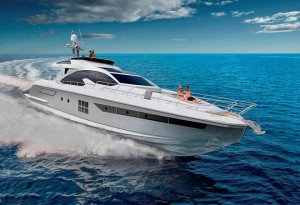 Azimut Yachts – The Italian Shipyard was among the participants in this extraordinary event, in collaboration with its new local official dealer Azimut Yacht London. In fact, after a 20 years long collaboration in France and Monaco as Azimut Yacht exclusive dealer, Philippe Blattès and his Team have recently signed a new agreement with the Shipyard, which led to the opening of a brand new representative office in London. The exhibition was therefore the perfect opportunity to celebrate the Mayfair headquarter inauguration, along with Mrs Elisabeth Curro appointment in charge of this new branch, entirely dedicate to the British market.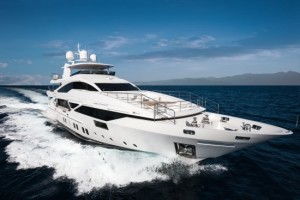 Benetti Yachts, icon of timeless Italian style and elegance united with renowned building excellence, launched last November its first example from Benetti's new fast displacement range of semicustom megayachts. Veloce 140' displays a distinctive design and several technological innovations in regards to both the hull and propulsion systems. The Displacement to Planing (D2P) hull itself is particularly notable for its energy saving and comfort enhancing properties, and was designed by Pierluigi Ausonio Naval Architecture Studio in conjunction with the Azimut|Benetti Research and Development Center. She features exterior design by Stefano Righini whilst RWD-Redman Whiteley Dixon was responsible for her luxurious interiors in cooperation with the owner's personal designer.
Powered by twin MTU 12V 4000 M93L 3500 mhp engines, she has a top speed of 22 knots and a range of 1,250 nm at a cruising speed of 12 knots and is also equipped with a system of CMC Marine electrical fin stabilisers. The size of the engines are somewhat of a landmark for the Benetti shipyard in Viareggio, marking the largest engines that have ever been mounted at the facility.
Fabio Ermetto, 
Benetti
 Chief Commercial Officer comments: 
"UK is key markets for Benetti in Europe and London is a main hub for our Clients. This area is extremely important and our products are highly appreciated. Here we have many important existing – and new potential – customers, and therefore one of our sales manager based in London. It is natural then to participate in this important event that we are sure will bring us excellent results".
[divider style="dashed" top="20″ bottom="20″]
CRN in the British Capital
CRN, a shipyard specialising in the construction of recreational craft made of steel and aluminium, in lengths of 50 to 90 metres, participated in the London Yacht, Jet & Prestige Car Show, demonstrating to a highly demanding public the Italian style and excellence that are expressed in CRN megayachts, which have been sailing the seas the world over for over 50 years, and will introduce the new designs and new products created by the shipyard.
[divider style="dashed" top="20″ bottom="20″]
Sunseeker London + Sunseeker Charters
Sunseeker London exhibited alongside Sunseeker Charters offering the latest information on the current Sunseeker model range, approved brokerage agreements and welcoming guests to learn more about Sunseeker. Alongside yacht sales, SunseekerCharters showcased their wide portfolio of yachts available to charter in the UK and international locations around the world.Laura Harrison, PR & Marketing Director at Sunseeker London comments: "Sunseeker London are very excited to be part of such a prestigious event, we look forward to welcoming clients and visitors to our stand over the course of the three days and being involved with other luxury brands who are attending."www.sunseekerlondon.com   |   www.sunseekercharters.net
[divider style="dashed" top="20″ bottom="20″]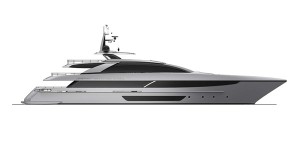 Spectacular RIVA
RIVA 50M – NEW GENERATION OF RIVA SUPERYACHTS
Carlo Riva, the mastermind behind the 20th century's most iconic wooden speedboats, always dreamed that one day there would be a Riva superyacht. Today, on the brink of Carlo's 93rd birthday, that dream is about to become a reality. Riva is embarking on a new chapter in its illustrious history, with the introduction of a range of displacement speed yachts, built in steel, beginning with the Riva 50m, to be followed in due course by a 68m and a 100m. The new range of Riva superyachts will of course have all the qualities that made Riva a worldwide legend of the boating world. From their design and construction, to the materials, fittings, furnishings and finish, everything about these new Riva superyachts will be of outstanding quality. But above all, they will be objects of exceptional grace and beauty. The first of the new series of Riva superyachts, the 50m, is a four-deck, 15-knot displacement yacht designed to deliver a blissfully smooth, quiet and graceful cruising experience. She will accommodate up to 12 guests and a crew of nine.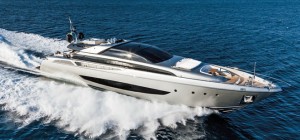 THE NEW RIVA 122 MYTHOS
The Riva 122 Mythos  marks the beginning of a new era for Riva. It is their first boat to be built in aluminium rather than GRP. This is partly because the Mythos is likely to be a rather exclusive yacht, and therefore not destined to be produced in any great numbers, but also because aluminium or steel yachts of this size are much quieter than their GRP equivalents. To ensure that noise and vibration are reduced to an absolute minimum, Riva even carried out a Finite Element Method (FEM) study. The results are truly remarkable.
As well as being the largest Riva to date, the Mythos is undoubtedly also the most spectacular. With her beautiful lines, exquisite design and sumptuous furnishings, she has that unique Riva wow factor in spades. Not to mention a standard of quality that is, as always from Riva, as near to perfection as physically possible.
[divider style="dashed" top="20″ bottom="20″]
JFA YACHTS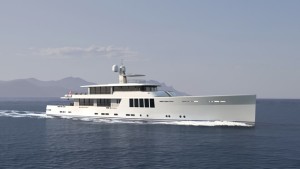 JFA Yachts is building or refitting both custom sailing yachts and custom motor yachts from 70' to 200' either monohulls or multihulls. Experienced in Aluminium, Steel & Composite (including carbon), JFA Yachts already built many different yachts. More known for sailing yachts at its beginning, JFA Yachts is building motor yachts. Boats such as Zeepaard, Bystander and Axantha II are Explorer boats that sailed a lot.
JFA Yachts has recently developed a 164' New Explorer Vessel new style, contemporary outside but also inside. This motor yacht, equipped with a diesel electric propulsion which combines fuel efficiency and low noise level, has been developed with Bill Dixon Design, as Naval Architect and the interior designer Franck Darnet Design. But this motor yacht is not radically modern: her low profile with classic lines and her nice bow shape make her timeless.
Launching the Long Island 85' in 2014 the first boat range of semi-custom catamarans, JFA Yachts has confirmed the importance of its presence on the multihull market with 3 catamarans over 80' already built. Currently under construction, the Long Island 100', is designed to sail far and in greatest comfort. Long Island catamarans offer groundbreaking arrangement with the master cabin on fore wet deck with panoramic view and direct access on the fore net.
Frédéric JAOUEN, CEO of JFA Yachts: "This show in London is very promising. We hope this will be a great success and will attract many visitors. Our great versatility (Motor Yachts, Sailing Yachts, Catamarans) permit us to be very innovative and reactive to one off yacht demands. We also propose semi-custom catamarans that offer great comfort. Ten months ago, WindQuest passed under the Tower Bridge. Such a great experience".
[divider style="dashed" top="20″ bottom="20″]
Fincantieri Yachts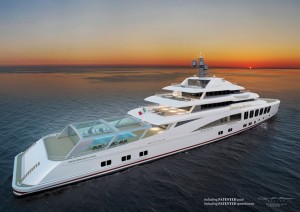 One of the world's largest shipbuilding groups, which in over 200 years of maritime history has built more than 7,000 vessels, Fincantieri is world leader in cruise ship construction and a reference player in other sectors, from naval vessels to cruise ferries, from mega-yachts to special high value-added vessels, ship repairs and conversions and offshore vessels. Headquartered in Trieste, the Group has a total of more than 20,000 employees, of whom 7,700 in Italy, 21 shipyards in 4 continents and total revenues of Euro 4 billion.
Fincantieri Yachts is an autonomous division, focused on designing and building first-class luxury yachts over 70 metres, based in the Muggiano shipyard near la Spezia. Fincantieri Yachts continuously develops modern and technologically advanced concept designs, ranging from 70 to 150 metres and above, in cooperation with the most prominent yacht exterior designers.
With a dedicated Yacht Design Department and a Project Management organization, the Muggiano shipyard can boast a reputation for excellence in high-tech and high-quality vessels. This is proved by the 134 metres motor yacht "Serene" delivered to the owner on July 2011, one of the top ten largest yachts in the world, and the 140 metres "Victory" designed by Espen Oeino and delivered in 2014.
Several new projects have been presented and were on display during the London Yacht, Jet and Prestige Car Show, such as the "Vanitas", 123 metres of luxury created by Andrea Vallicelli, the "Skyback with Crystal Beach"(80 m).
[divider style="dashed" top="20″ bottom="20″]
Outer Reef Yachts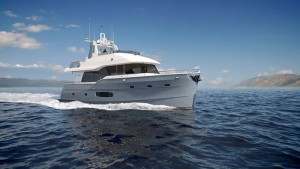 Outer Reef Yacht's Classic Series as well as the two newest model additions to the Outer Reef Yachts family, the Outer Reef Trident 550 and 980, took part part in the London Yacht, Jet & Prestige Car Show to capitalize on the large amount of interest around the new Trident Series, especially in Continental and Northern Europe.
As a leading manufacturer of long range motoryachts, Outer Reef Yachts combines excellence in building robust, blue-water yachts while offering luxury, efficiency, and technological ingenuity. Outer Reef Yacht's Classic Long Range Motoryacht Series, ranging from 63' – 115', as well as the newly launched Outer Reef Trident Series offered in 55, 65, 75, and 98 feet, are built for the convenience of the owner-operator. Also, Outer Reef Yachts are built to the highest classification standards for safety and stability. Outer Reef representatives will be attending the show to provide information on the full line of products.
With the concept launched in the summer of 2014, the Outer Reef Trident Series has already been enthusiastically welcomed and orders have been placed by many interested and qualified, prospective yacht owners who value stylistic innovation, technology and functionality. The attractive plumb bow hull design, chic styling elements, and new length options are first introduced with the 550 and 980 models, and also offered in 650 and 750 model sizes. Through thorough and repeated tank testing, Trident is slated to offer superior performance, heightened speeds and enhanced full efficiency that put her a cut-above any competitor within the same class.
Trevor de Faoite, European Sales Director for Outer Reef Yachts, stated, "This year, we are very pleased to take part in the inaugural show, and we are confident this show will play a crucial role in the introduction of the new Outer Reef Trident Series. This show allows us to get in direct contact with customers, journalists, and prospective owners in northern Europe, an area characterized by a high standard of living and a strong interest in what the Trident Series has to offer. This is based on our gathering statistics around the Trident Series that support efficiency and performance; we have a very appealing story to tell within the Long Range Motoryacht market, and we are certain people will discover an impeccably built yacht with state of the art technology and exquisite design."