[dropcap]M[/dropcap]ondo Marine presents the SF60 project, designed in collaboration with SF YACHTS and Luca Vallebona. In occasion of the Dubai Boat Show Mondomarine has unveiled the new 60 metres yacht, developed in collaboration with the Italian Designer Luca Vallebona and SF Yachts.
Likewise the other SF Line Mondomarine projects under development, the 60m provides a family feeling served with clean external and interior lines giving a non-conventional layout.
The section of the boat is conceptually developed on a long visual diagonal that unites all the bridges together. From the extreme stern up to the highest bridge. The first part between the beach deck area and the main deck is characterized by a rounded sofa floating on a thin water floor and an inside staircase leading to the salon.
The second part of this Line concept is taking place at the centre of the main salon leading to a staircase.
Going towards the bow area through the main deck you will find another staircase and a Lift. There are six cabins in total; two on the lower deck, three on the main deck, and the owners' cabin is located on the upper deck with its private access.
The lower deck cabins are identical but the ones on the main deck have really their own character and personality with the feeling to be in a boutique Hotel.
The owner's cabin has been set up with the philosophy "going to embrace" full beam, with two balconies and two extendable "wings" where the wardrobes and the bath have been placed.
On the forward section of the sundeck is the swimming pool with a very nice and comfortable sun bad area opening to an open salon & dining area. The sun deck offers as well a day head and a partially covered relaxing area to admire the beautiful panorama and sunset.
On the upper/bridge deck is positioned the touch and go Helipad.
On the under lower deck is located the garage for the tender(S) and a staircase giving access to all the areas dedicated to the crew and the captain.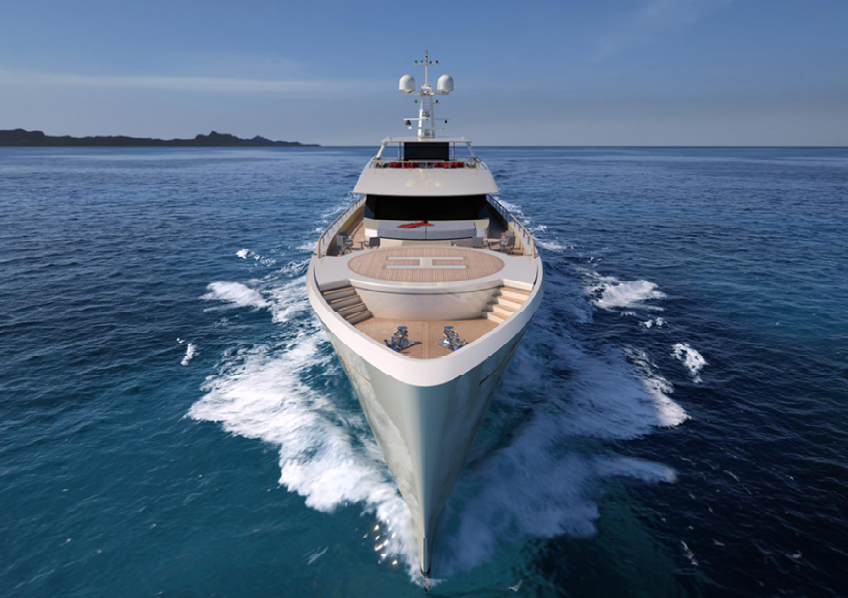 Entirely built in the historical shipyard Cantieri Navali Campanella, the Mondomarine yachts are Made in Italy from the first sketch to the last touches. The excellence of our Engineering division, the daily cooperation with our workforces and the constant striving for improvement made these masterpieces possible.
Each project is for Mondomarine the opportunity to create a unique product. With SF60 the shipyard is ready to launch a new standard.
[toggle title="About Mondo Marine" state="close"]Since 1915, Cantieri Navali Campanella shipyard represents a centre of excellence in ship and yacht building as well as in repairing. Anchored to the shipyard's strong heritage, the brand Mondomarine was created to sign the custom-made yachts over 40 metres made in aluminium alloy and steel. Two years ago Mr. Falciai and Mr. Zambrini, whose intentions are to enhance the uniqueness of each Mondomarine design, have acquired the brand and the production site. In the last months, the brand has faced a phase of redesign that has brought to a new logo and a new visual identity that will be followed by further enhancement of all the different communication materials in the next period. While the commercial and marketing duties of Mondomarine have been moved to the prestigious location of Monaco's Avenue des Ligures the new owners' will is to empower the Savona's shipyards with new vitality and modernity. Cantieri Navali Campanella will become the ideal set for the production, the repair and refit offer and the showroom's activities. The centenary, celebrated this year, will be the occasion to relaunch the shipyards' identity. Along with its tradition, Mondomarine carries on designing, engineering and building ships at the Savona Cantieri Navali Campanella production site still offering full-cycle production right from the cutting of the hull plates all the way to completion. 62 are the units built so far by Mondomarine in addition to the number previously reached by Cantieri Navali Campanella. During the last 8 years Mondo Marine delivered 10 yachts over 40m length and 6 over 50m including the well-known M/Y TRIBÙ, the first unit to be awarded Green Star certification by RINA. The upcoming years will see several important events, such as the delivery to his Owner in 2015 of the 40m SF40 and those, in 2016, of the 50m Superyacht M50 and of the M60s, the first 60m yacht built by the shipyard. All these latest projects are built entirely in aluminium, a distinguishing feature of Mondomarine's projects. The very custom builds, the increasing international attention and the guarantee of the Italian quality are just some of the pillars on which Mondomarine will leverage in its renewal while constantly seeking for continuous improvement.[/toggle]
[divider style="dashed" top="20″ bottom="20″]