[dropcap]W[/dropcap]hy seductive? Because there is no reason to say no. The new Falcon Rig Gallery presented in Monaco is irresistible. An entire product range spanning 56m to 92m models and inspired by the iconic Maltese Falcon, the 88m clipper with which Perini Navi revolutionised the sailing world in 2006. "Tailor Made", the new approach also announced at the Monaco Yacht Show, is a whole new direction for the yard, which with its long fame for reliability and meticulous attention to detail, will now be making its construction expertise available to sailing and motor projects by outside designers. And last but not the least, the genius of designer Ora Ito, who is now part of the Perini family with his interpreation of what a Perini is. You could say that there is something for everyone, yes, true, but only for the most refined palates!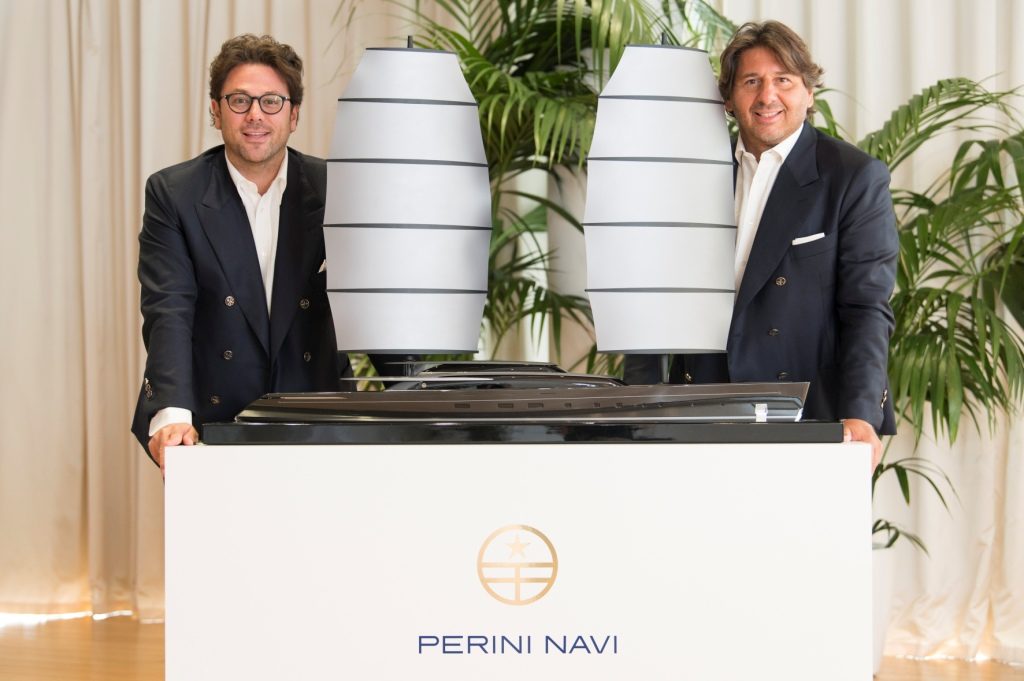 As precised by Perini Navi Majority Shareholder, Edoardo Tabacchi, at the press conference, the yard has always pushed the boundaries of technological research and today is presenting the market with a series of innovative products that are absolutely unique in the sailing sphere.  He added: "We are here at Monaco after two years of enormous transformation and major investment in R&D, in our staff and in upgrading our production sites. And we will continue investing over the coming years. Throughout its history, Perini Navi We have the largest output of 40-metre-plus sailing yachts in the world and have also just delivered the extraordinary Eco-tender, our research laboratory for sustainable innovation. We are proud that Perini Navi is continuing to develop whilst retaining the leadership position it deserves".
[divider style="dashed" top="20″ bottom="20″]
Currently at the yard there are 7 yachts in build: two motor, a 53m and a 56m, and five sailing, three 42ms, one 47m and one 60m. In addition to this, Perini Navi delivered the  25m Eco-tender in August. With an order book of EUR 160 million. After two years since the arrival of the yard's new shareholders and management.The yard is consolidating its technological and stylistic leadership as it focuses on an innovation-centred future.
The main strategies and operational plans of Perini Navi for the coming years are now developed on the basis of the yachts already entered in their portfolio, but as the yard has announced at their press conference in Monaco, three letters of intent have also been signed recently for a 92m sailing yacht from the Falcon Rig Gallery, a 47m E-volution sailing yacht and a 74m motoryacht.
Production values jumped from 35 million euro in 2017 to 66 million in 2018 with Perini Navi expecting to end 2019 on a figure of 80 million euro.  It has also consolidated its production areas and further strengthened the Viareggio-La Spezia-Turkey axis. Over the coming months, Perini Navi also plans to boost its coverage of the international markets by opening operational bases in Hong Kong and Monte Carlo.
[divider style="dashed" top="20″ bottom="20″]
THE FALCON RIG GALLERY – With this new collection of new models, Perini Navi offers to the market contemporary lines and an aerodynamic efficiency of the sail plan optimised to guarantee superior performance. As to automation, for which Perini Navi is well renowned worldwide, this has been further extended thanks to the implementation of new generation winches, resulting in even simpler operation and easier handling.
In these new contemporary design, generous volumes meet the aesthetic research which is typical of the Perini iconic superstructures. At aft we find huge comfortable areas which open onto a large beach area. The cockpit and saloon are on the same level and flow into one another to create a single open plan area, guaranteeing superb liveability both interior and exterior.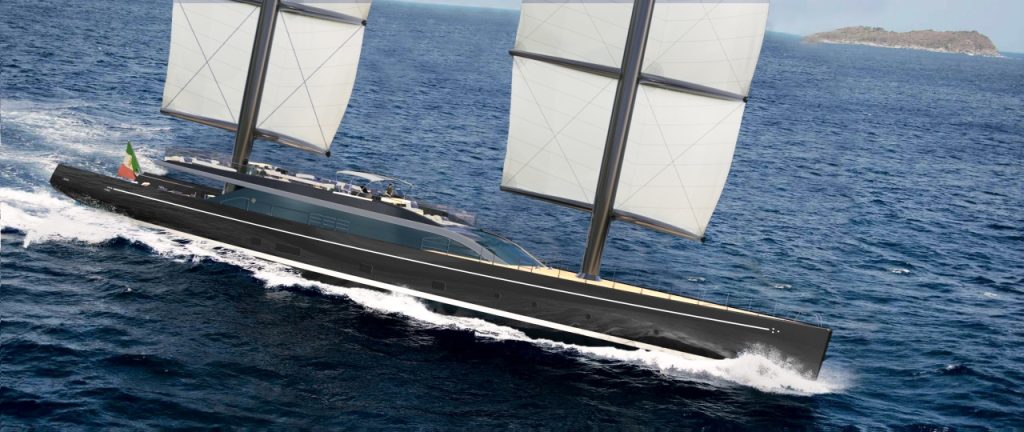 The Falcon Rig range comprises a 56m, 64m, 72m, 80m and a 92m model, which is subject of a letter of intent announced during the Monaco Yacht Show. The 92m yacht has carbon-fibre masts, a 2,400 sqm sail area and an innovative arrangement concept dominated by a master suite which takes up the entire upper deck. Extensive use has also been made of glass, including for the main staircase which links all four decks, yielding exceptionally bright interiors.

The new generation of Falcon Rigs for the global sailing yacht world will see Perini Navi, Dykstra Naval Architects and Magma Structures (global leader in carbon fibre technology) working together through a Joint Venture (named Falcon Rigs), aimed at designing, building and delivering unprecedented sail experiences, making yachts even more enjoyable and conceived for a new generation of superyacht owners.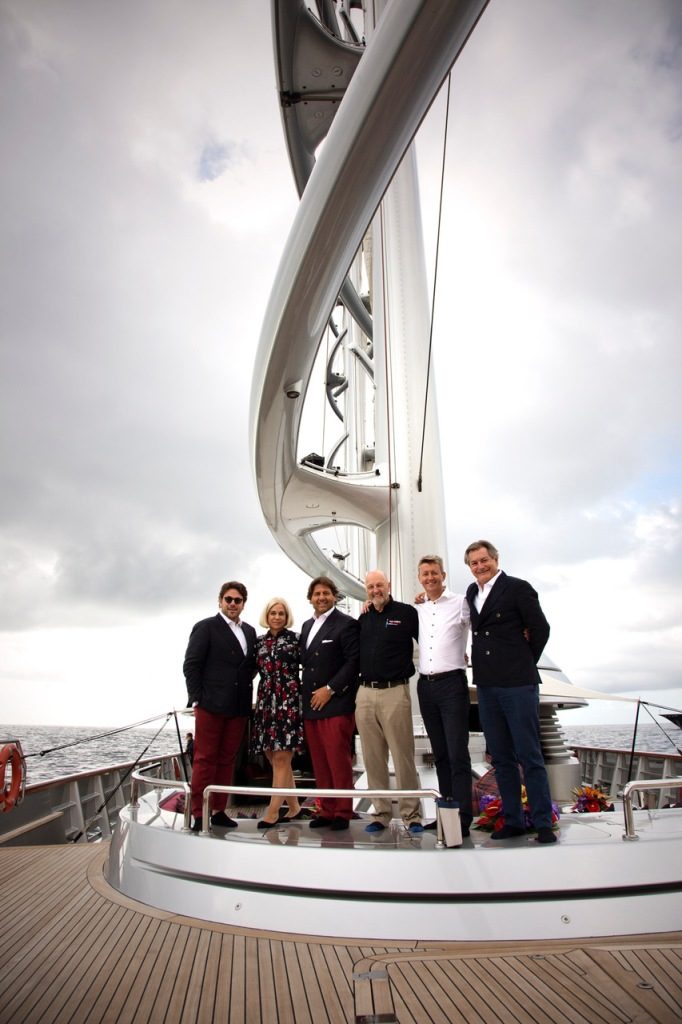 The Joint Venture will cement the knowledge of the three partners, honed from the development and decade-long in-service experience of the two superyachts sailing the oceans. The simple, efficient and elegant Falcon Rig masts will utilise the latest state of the art materials and production techniques to enhance the easy to handle and safe operation of Dyna Rigs uncluttered by stays – without compromising performance.
Dynarigged yachts have already demonstrated their exceptionally environmental friendly credentials, as they lower the threshold to employ sails as propulsion – even for short hops from bay to bay. Result: unprecedented potential to save fuel.
Burak Akgül, Chief Business Development Officer of Perini Navi commented "When Tom Perkins chose the Dyna Rig to dress his third Perini Navi sailing yacht, the breakthrough was clear to all that – on the very first time in June 2006 when the Maltese Falcon sailed effortlessly and as designed – Perini Navi and his partners had consolidated a watershed technology. Today we are pooling our technological prowess in this new venture to expand the Falcon Rig Fleet – first launched by our shipyard – encouraging prospective superyacht Owners to indulge their passion for Sailing and the Sea in this extraordinary manner."
"Our passion for sailing innovation has led us to be involved with some of the most exciting sailing yachts afloat – declared Thys Nikkels, Managing Director of Dykstra Naval Architects. "Bringing our expertise to the new Falcon Rig collaboration, we hope to pave the way for sailing yachts to be sailed easier, more often and safer. We wish to inspire a new generation of superyacht owners".
"Having been pioneers in the area of freestanding balanced rotating rigs, Magma Structures are delighted to be part of a team that will push forward the Dyna Rig technology to new levels of performance and elegance – said Damon Roberts, Technical Director of Magma Structures. This collaboration will make sailing on mega yachts to come even more enjoyable."
"TAILOR MADE" – Renowned worldwide not merely as an innovative designer but also a respected builder, Perini Navi also presented "Tailor Made". As regards this new generation of Perini yachts, the yard announced a letter of intent signed for a 74m motoryacht penned by Argentinean naval architect and designer Horacio Bozzo. The M/Y 74m Vanguard is the product of her owner's passion for Perini Navi styling cues which Bozzo has skilfully reinterpreted and transferred to the lines and details of this motoryacht.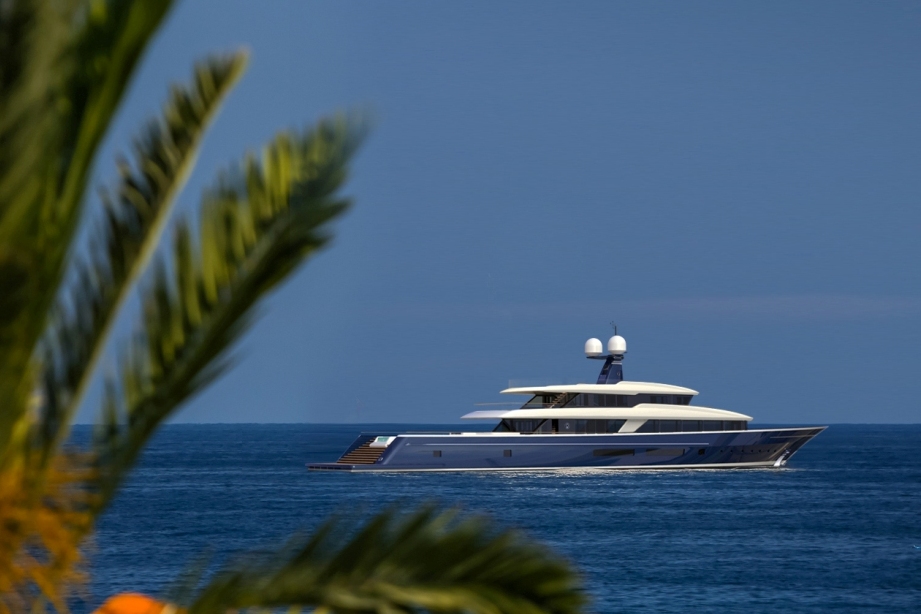 Perini Navi/Ora Ito CAPSULE COLLECTION – To reflect the creative, innovative spirit with which it revolutionised the sailing world, Perini Navi also presented the Perini Navi/Ora Ito capsule collection developed in partnership with the internationally acclaimed French designer.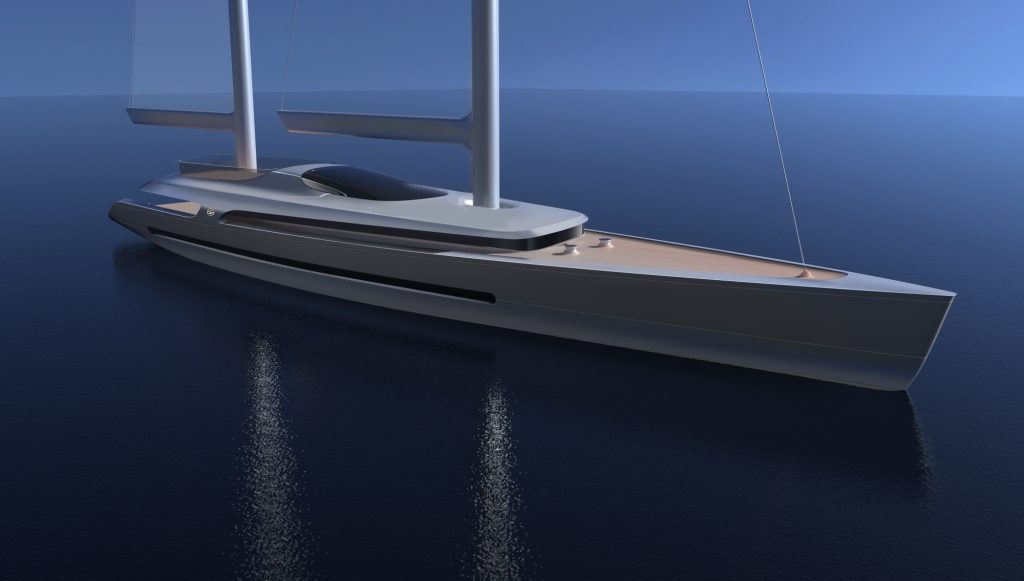 The eclectic, multidisciplinary Ora Ito has transformed his vision of the Perini Navi world into a capsule collection that is a reinterpretation of the iconic 56m flagship of the yard's fleet, producing two special designs in the process. The result is a contemporary, unfiltered reimagining by an outsider to the nautical world. A genuinely fascinating project. Ora Ito, in fact, has a passion for analysing the icons of our time and then creating radical new takes on them, something he has done for other historic brands from fashion to technology.
[divider style="solid" top="20″ bottom="20″]
In 1997, Ora ïto hijacked top brands with his virtual Vuitton and Apple products that instantly became global icons of the digital revolution. A phenomenon in pop culture, he is the youngest designer of his generation to collaborate with jewels of luxury goods and industry, after the huge multi-acclaimed success of his aluminium Heineken bottle. Cassina, Christofle, Artemide, Cappellini, Guerlain, Alstom and Accor highly rate his sculptural design that has become a mark of modernity. The multidisciplinary, transversal Ora ïto studio has since gone from telephone to architecture, from furniture to the hotel industry, from perfume to tramways and from flying saucers to restaurants, manipulating symbols to simplify them. A tenacious methodology for which he has invented a neologism: 'simplexity,' decoding today's DNA to conceptualise future mutations. His fluid vocabulary materialises movement reinventing streamlining in the digital era and giving shape to the desires of our contemporary society.
[divider style="solid" top="20″ bottom="20″]
Lamberto Tacoli,  Chairman and CEO of Perini Navi, commented on the position of Perini Navi in the market: "The last two intense, challenging years have produced positive results. The market is rewarding our efforts as confirmed by three letters of intent for a 92m Falcon Rig SY, a 47m E-volution SY and a 74m motor yacht. We are now looking to the future with optimism and enthusiasm, driven by the same spirit with which Perini Navi revolutionised the nautical world almost four decades ago. We are very proud to be presenting the new Falcon Rig Gallery to the market too. Created in-house in Perini Navi and inspired by the iconic Maltese Falcon, it  is a complete product range that hails a new opportunity for the sailing superyacht world, thanks to its cutting-edge new generation technologies, contemporary styling cues and unprecedented volumes". "A special thank to Ora Ito, for reinterpreting our iconic 56m with his eclectic style".