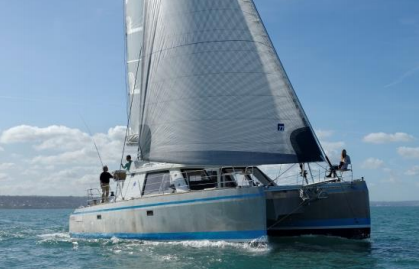 [dropcap]R[/dropcap]ecognized all over the world for their expertise in metal and wood work, Garcia Yachting will introduce their new aluminium catamaran, the SC48, at the Multihull Boat Show in La Grande Motte. This catamaran is designed to sail long distances under the best safety, comfort and performance conditions.
Benefiting from the know-how of the various Grand Large Yachting boatyard and from the feedback of numerous yachtsmen, this new 15 m catamaran intended for long-distance cruising combines many advantages:
Aluminium structure, 2 crash boxes and watertight bulkheads providing sturdiness
Streamlined hulls ensuring high performance
Helm control centralized making steering easy and comfortable
Ingenious fittings providing comfort and functionality

The aluminium catamaran designed for long-distance cruising!
Unprecedented for this size of catamaran, Garcia Yachting offers semi-custom aluminium adapted to the owner's needs. The SC48 includes numerous clever features that make life on board easier, in particular:
A central saloon that is all on one level with a 2nd cockpit fitted out on the foredeck (Portuguese bridge)
Site boarding gates at cockpit and saloon level, making it easier to board the boat, especially when carrying load
A practical technical room at the entrance of the saloon
Several on-board trunks and storage areas to store all necessary equipment for long-distance cruising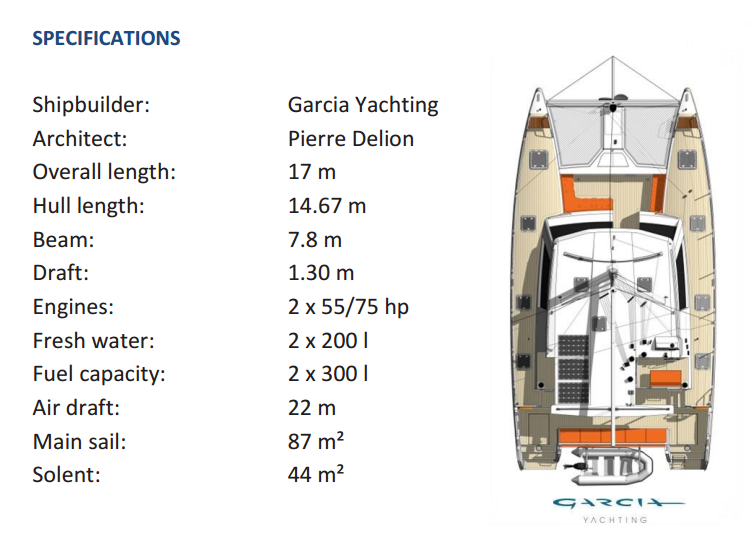 [divider style="dashed" top="20″ bottom="20″]