MISSONI HOME, iconic brand in luxury fashion and decor with its always recognizable zigzag patter, presented its new collection at Salone del Mobile MILANO.
[dropcap]C[/dropcap]reativity, design and colours for an abstract, floral crossover, that perfectly matches old traditions and new spaces. Tangibly incisive texture alternating with virtual ethereality. Décor potential is heightened by different solutions on the same pattern. The hyperrealism of the flowers together with vibrant stripes and mellow shades. Themes and elements transmute from furnishings to linens, and again from indoors to outdoors.
Strong and light plus artistic and precise symbols coexist in the eclectic luminous world of Fiore Pop. Interwoven effects in multicolored dégradé designs cover loungers. Explosive yet daintily delicate pop flowers on curtains and poufs radiate wellbeing and sunny tones. The modern twist of vintage houndstooth in pepperand-salt relief adds pure elegance to the Adar modular sofa, and to the seating ranging from single-seater armchairs to geometric diamond and cylinder poufs.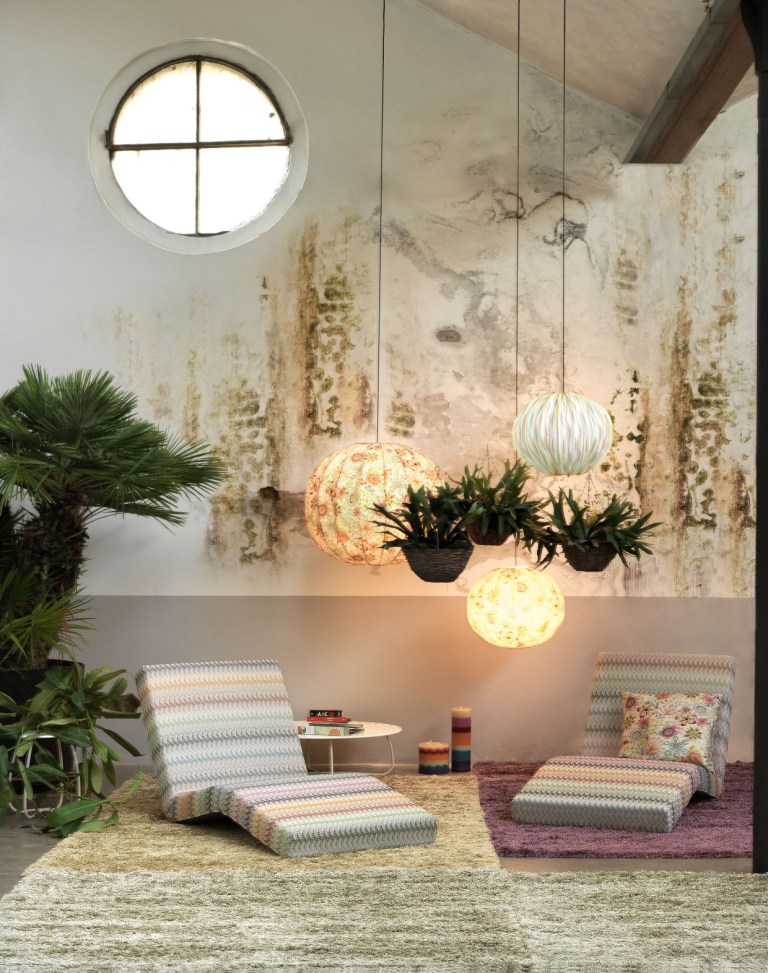 FIORE POP
Dense lines support stylized flowers with a colored heart and felt pen outlines Poppies Outdoor. Threads of intuitions project black and white into the outdoor as simple lines, whose irregular spacing and rhythm lend to different aspects. In this mood, the contrast becomes sharper and more sustained.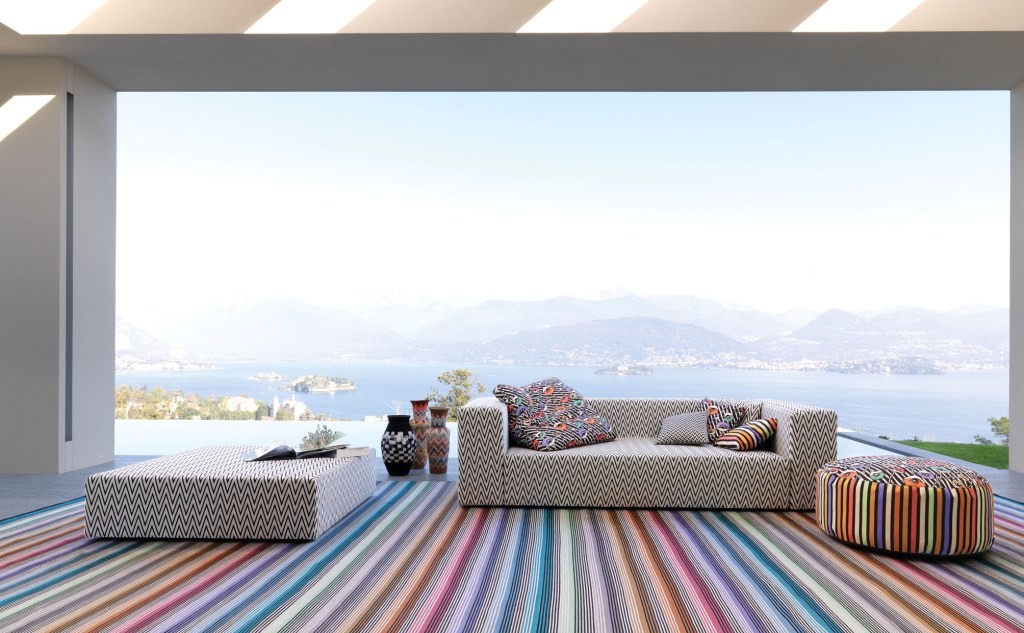 POPPIES OUTDOOR
Colors with cool intensity: spark explosions, animated shades and morphing faded tones. From rugs to divider screens and beds to poufs, the interplay unfurls between the varying weaves of fabrics and colors. Intricate jacquards, a magical array of digital prints, richly textured fabrics, fading hues. The new contemporary and joyful dimension inspired by Lilium can be multicolor or cream/brown outlined shades.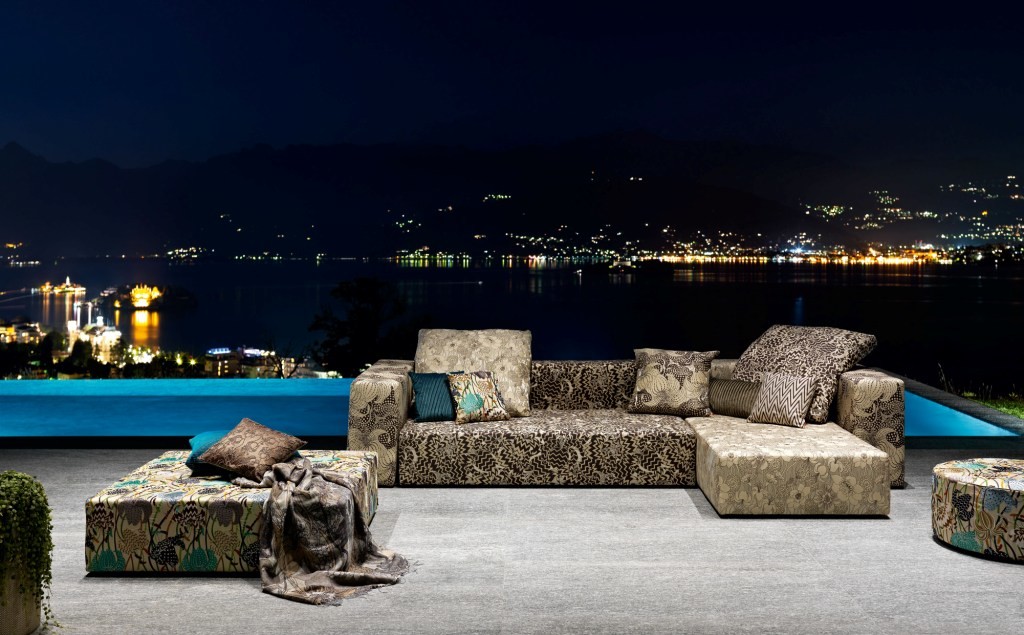 LILIUM
LILIUM MULTICOLOR
A portrayal featuring many actors plays out in the indoor shadows and outdoor light in an interplay that encourages morphing effects, fusing fresh intensities with light shading. A day/night version also for the lace on jacquard, which stands out in exquisite raised patterns on sofas and poufs. Velvety reverberations or matelassé designs lend a fresh new look to the traditional chevron. Among the stars of this story, the lace lamp and flowery spherical lamp.
Even the small satin glass table enhances the space with extra light.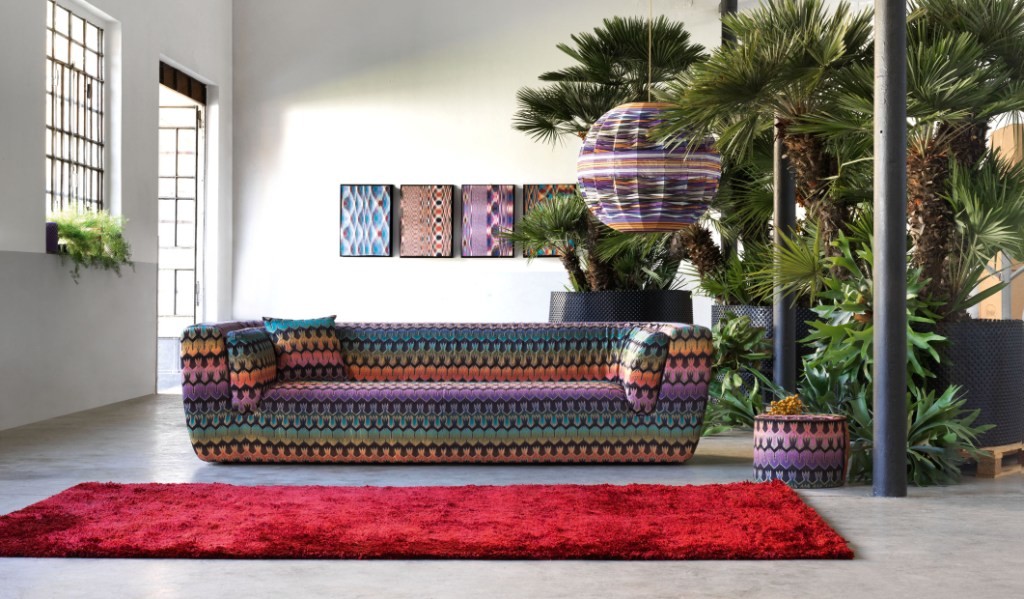 GOLDAN AGE JEWEL 
Hand-tufted wool rug RANI
ZIG ZAG FLOWERS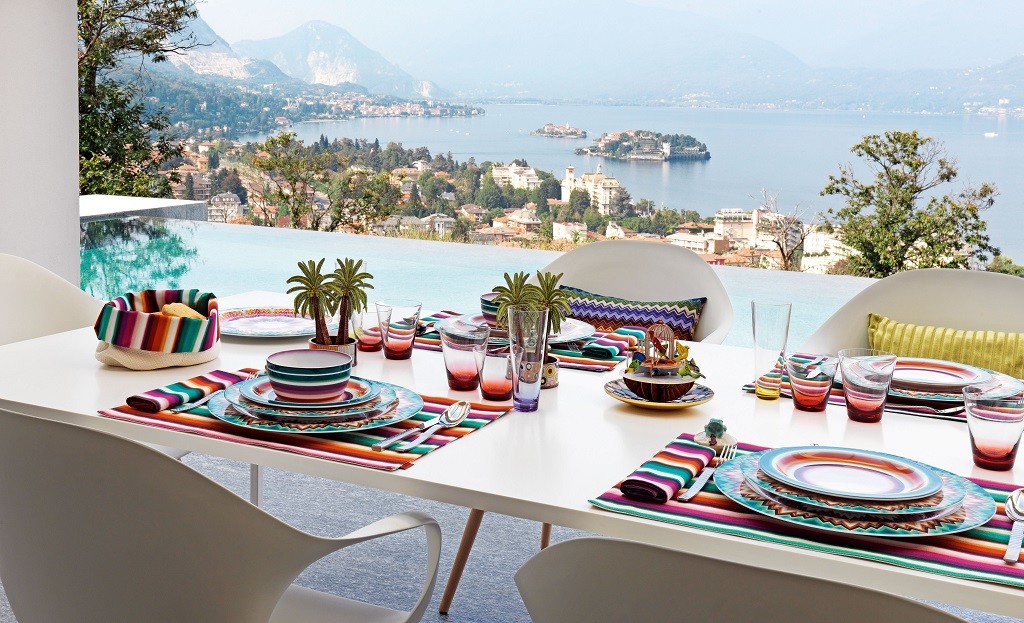 [divider style="dashed" top="20″ bottom="20″]
Designer: Rosita Missoni