[dropcap]A[/dropcap]nother journey has just started and a new adventure for the Viareggio-based shipyard is about to be written with the build of a new flagship, the Vismara V100 DS.
The new Vismara V100 DS brings Vismara Marine into the world of mega yachts. The new Vismara Marine flagship offers the best technology package at the service of the owner, with many living spaces offering a seamless live at sea while sailing or at the anchor. The ultimate expression of the deck saloon from Vismara Marine, a very advanced yacht that will change the world of 100 footer sailing yacht market.
A boat designed and taylor made to the owner requirements, built in lightweight composite materials, as result of more than 30 years technology development in the Vismara Marine shipyard of Viareggio, Italy.
Vismara reinvented the way to go at sea with a new concept for the structures and the volume, to provide a practical and intelligent living space on a long distance cruise.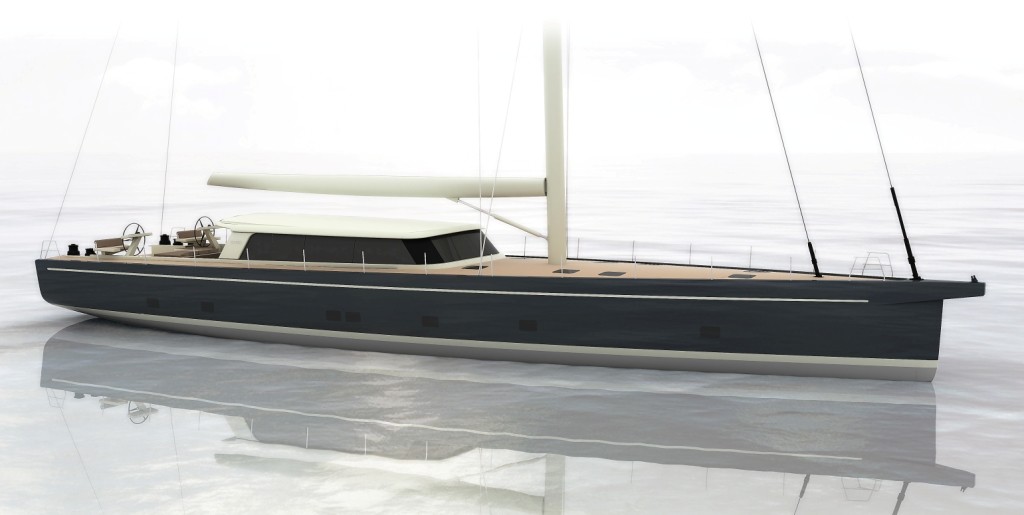 A new vessel built with the technology to offer to the owner and its guests the truly Vismara style. No complications but simplicity to make this boat easy for living at sea. The three steps retractable keel is perfectly integrated in the boat structures as well as in the interior layout: with a minum draft of 2.60 m, it offers shallow draft when entering in marinas or in a secluded creek, to a maximum draft of 4.60m when the keel is down when sailing windward. The owner can choose also intermediate drafts to offer stabily and perfomances to the boat as while sailing well as more comfort at the anchor.
The hydraulically controlled carbon in-boom fuller allows a small crew to operate the generous sail plan. If required, a back-up system allows to operate the main competely manual.
A large under deck garage equipped with a dinghy crane offers easy launching and storage for the dinghy and the toys.

As to the interiors, they are inspired by rationality and comfort for the owner and its guests in a exquisite marine style that perfectly offer a balanced comfort between the interior and the exterior life. All interiors were conceived to provide an unmatched harmony and balance with the exterior volume.
The Master stateroom is at the main beam of the vessel, a real suite on the sea. The deck saloon, which is also at the main vessel beam, offers plenty of luminosity in the cozy dinette while at the anchor as well as an excellent visibility while on navigation. The crew quarter is located aft of the engine room. The navigation station, galley and the surronding large area, allow the crew to carry out their duties without interfering with owner and guests life on board.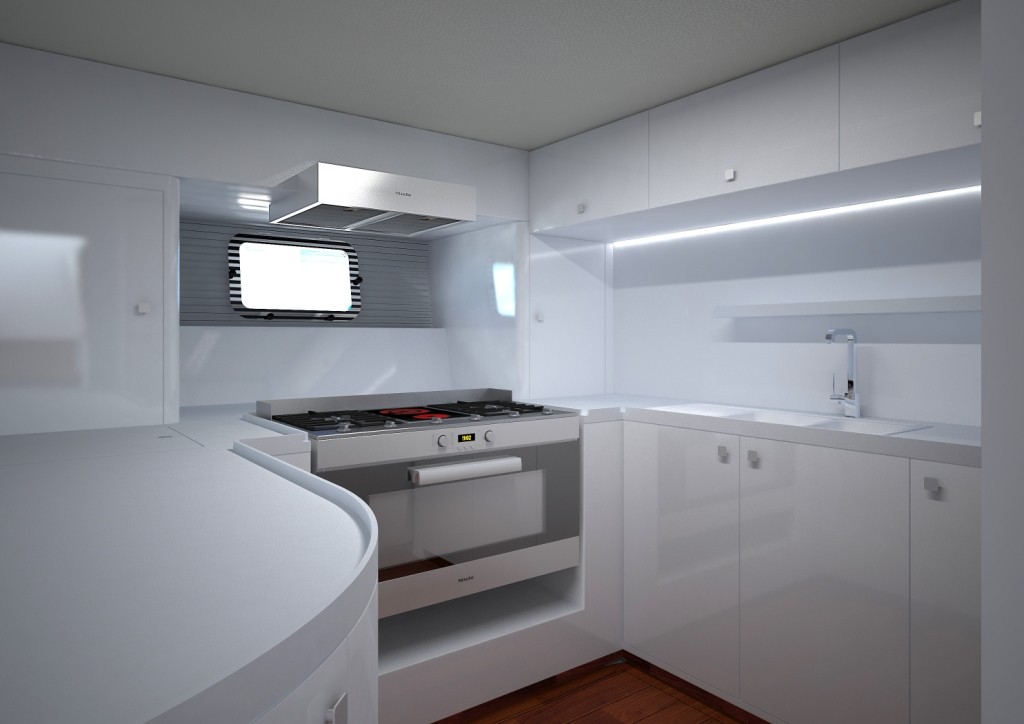 [divider style="dashed" top="20″ bottom="20″]
Attachment: Sail Plan, General Arrangements
[divider style="dashed" top="20″ bottom="20″]
Main Data:
Design: Vismara Marine Spa
L.O.A./L.H. 30,00 m / 29,00 m
L.W.L. 27,36 m
Beam 7,00 m
Draft 2,60 – 4,60 m
Ballast 18000 kg
Engines 2 x Cummins QSB 6.7 300 hp
Generator 2 x Onan da 33 Kw
Mast Carbon fiber Maxspar
P 36,00 m
E 12,00 m
IG 35,00 m
J 10,50 m
Mainsail 279 mq
Genoa 200 mq
Deck Equipment Ronstan, Harken, Bamar
Hull E-Glass sandwich construction
Deck Carbon-fiber sandwich construction
Interior Core Material