Unveiled the new logo and look with the pay-off "Remade in Italy"
[dropcap]A[/dropcap]fter a period of renewal and of important investments in facilities, doubling both receptive capacity and company turnover, the Genoa based superyacht refit & repair shipyard Amico & Co has officially presented its new restyled company logo.
Whilst remaining faithful to the solid, historical identity of the company, legibility has been improved by a horizontal layout, which also permits univocal branding on all communication tools. The Amico family name is emphasised by the rectangle encapsulating the logo, which also draws attention to the importance of the partners and of the production network represented by the lettering & Co.
"Our new logo looks clear and consistent, absolutely in line with our company mission", commented Alberto Amico, Chairman of Amico & Co.

Amico & Co's previous logo was created in 2006 and has served the company for almost a decade. During that period, the market in which Amico & Co operates has expanded radically – in 2005, just 6% of newly built yachts were longer than 60 meters but by 2013, this number had doubled. The fresh direction in communications aims to underline the Amico & Co brand's core values of high specialisation and professionalism, whilst at the same time appraising the brand's strong connotations with Italian excellence in the field of engineering, applied to the international yacht refit & repair market.
This is the starting point for the new ad concept: "Remade in Italy".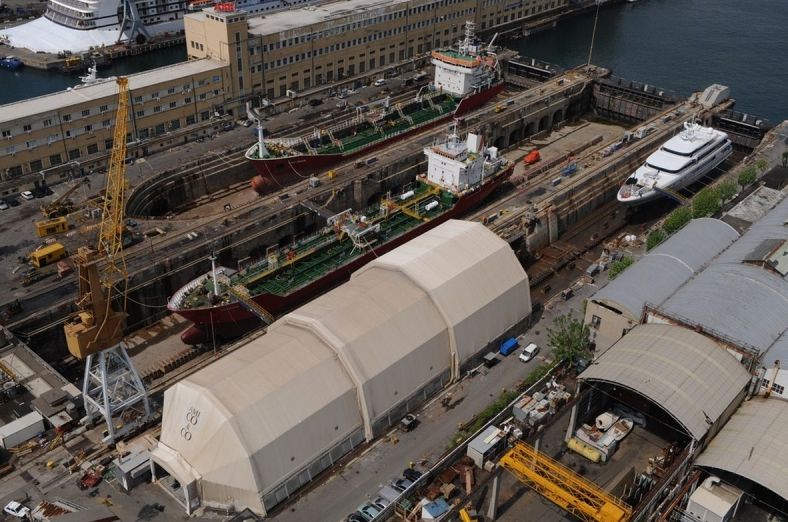 Amico & Co is one of the top three companies in the world in the superyacht refit & repair field, looking to improve its standing in 2015. Constant growth has been driven both by client satisfaction and by continuous investments in facilities and personnel for the last 20 years. In November 2014, Amico & Co inaugurated a new covered 102m dry-dock inside the yard which immediately went operative with a major order on an 85m yacht, undergoing extensive refitting and lengthening up to 93 metres.
[divider style="dashed" top="20″ bottom="20″]