Gucci has recently announced the launch of Gucci Décor, an eclectic collection of items with which customers can dress their own spaces.
The idea is not to prescribe a particular decorative look, but to provide elements that allow for living spaces to be customised. Gucci Creative Director Alessandro Michele's philosophy for personalising the home is therefore similar to his DIY programme for clothes and accessories, where you are invited to customise pieces by applying decorative details. Likewise, his collection of items for interiors is also intended to allow for a flexible and personal approach to decoration, bringing an accent of Gucci's contemporary romanticism into the home.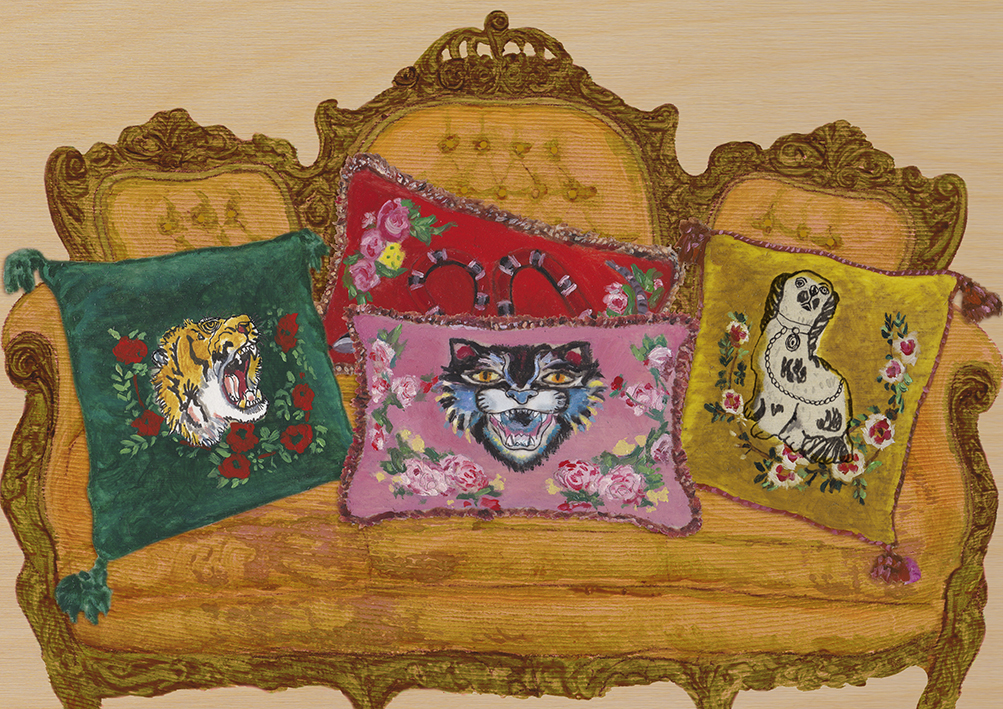 As with his magpie attitude to fashion design, the pieces in the new Gucci Décor collection display a multitude of design motifs now familiar from Michele's catwalk. All the patterns, colours, designs and decorative tropes have been inspired by his fashion collections and are here reimagined for furniture, furnishings and crockery. The overall effect is one of a surprising, joyous combination of hue, pattern and design, where there are no rules. Pieces of text make occasional appearances and the influence of the Gucci Garden lexicon is ubiquitous, with flora blooming abundantly and creatures appearing everywhere, whether on screens, cushions or teapots.
The smaller pieces of the collection are of porcelain and are produced by Richard Ginori, the renowned Florentine company founded in 1735. With access to the skills of this historic porcelain factory, Michele has designed a range of distinctive, patterned crockery featuring a green and white Herbarium decoration. There are also idiosyncratic Richard Ginori-made porcelain scented-candle holders, which display House patterns. The Herbarium floral print is in evidence here, as are geometric chevrons, a striking, solid pink colour and the 'eye' design. Animals from the Gucci Garden – bees, butterflies and cockerel heads – are rendered in porcelain in 3D and are attached to the pots and their lids. There are also small incense holders where 3D stag beetles and bees support incense sticks.
Four scents – for both candles and incense – have been developed by Michele, intended for a discerning olfactory palette: Inventum (a delicate note of ancient damask rose, blended with voluptuous and distinctive Taif rose); Fumus (the dark and intense scent of birch, mingled with that of orange leaves and beeswax); Herbosum (the fresh, intense scents of tomato leaves and aromatic plants, mixed with the fragrance of long grass peppered with basil and lemongrass); and Esotericum (the bitter aroma of Seville oranges, intricately intertwined with notes of jasmine, leather and salt).
Vivid metal trays introduce strong colours and prints; these can be used practically, or, in the case of smaller circular models, as unorthodox ornaments for display. The metal theme is extended to folding side-tables, which also have brightly decorated tops. These epitomise Michele's imaginative notion that if you make pieces easily moveable, you can constantly dress and re-dress your environment.
An uncommon vanity seat in a bright floral jacquard with silver details is the only upholstered chair, the others in the collection being better suited to dining – wooden and high-backed, with lacquered, colourful frames and padded seats displaying a number of House motifs: the cat, tiger, Staffordshire ceramic dog, moth, bee and roaring tiger. Sumptuous cushions come in a variety of different shapes and thicknesses, some with tassels, some with border trim. All have unexpectedly contrasting fronts and backs, where the fronts come in rich velvet and are decorated with designs like roses, snakes and tigers, or are in brightly-coloured capitonné, and the backs feature dazzling jacquards.
To partition living spaces, there are boldly decorative folding screens. These have striking patterns on both sides of their panels, some with different designs on front and back. A garden print, a pineapple print, geometrics, and patterns featuring octopuses or leaves all revive designs originally seen in Gucci's fashion collections, while a screen faced with pink velvet capitonné echoes the look of the House's store interiors and window displays.
Finally, there is a range of unconventional wallpapers for those who want to make a strong statement. These come in silk, vinyl and paper. A postcard design taken from the pre-fall 2017 collection sits alongside a floral pattern from fall/winter 2015-16. The premium wallpaper is in silk and displays Michele's take on the famous Gucci Flora design.
Gucci Décor will be launched from September with a progressive global roll-out in Gucci flagship stores, online at gucci.com and selected specialty stores.
Significantly, there will be no dedicated area for the collection within Gucci stores. Instead, to emphasise Alessandro Michele's notion that these pieces are simply another way to dress in Gucci, they will be spread throughout Gucci store interiors, integrated with clothing, accessories and shop fittings.