[dropcap]T[/dropcap]he first SHERPA XL is currently under construction and its international debut will be at the 2019 Cannes Yachting Festival. With SHERPA XL, the Italian shipyard evolves the concept of "pocket megayacht" onto a larger scale, further enhancing some of the design elements typical of the range and introducing new ones at the same time.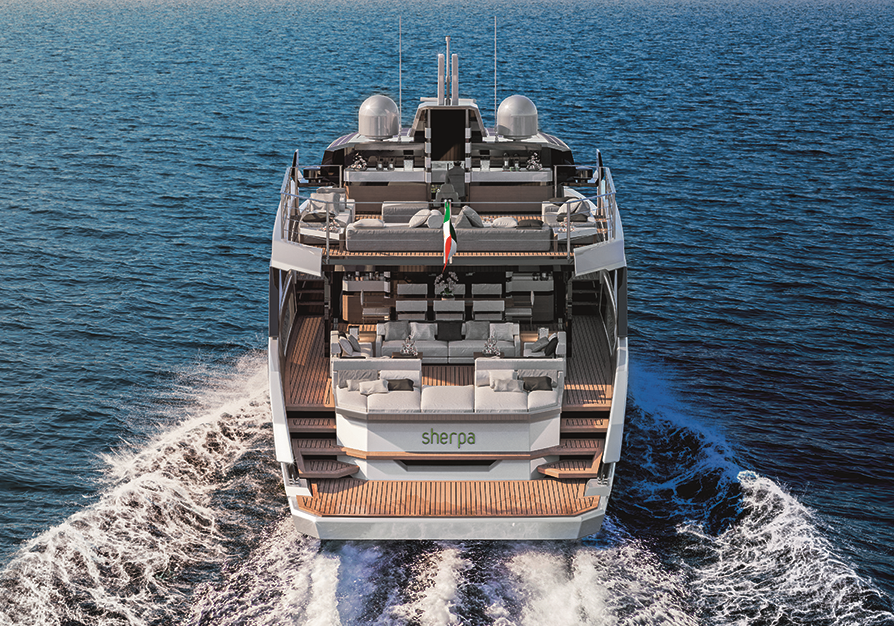 SHERPA XL is a 78 foot yacht that can offer the comfort and space you would expect in larger yachts. Its engineering is now almost complete and the on spec construction of the first unit has already begun – ready for its international debut at the 2019 Cannes Yachting Festival.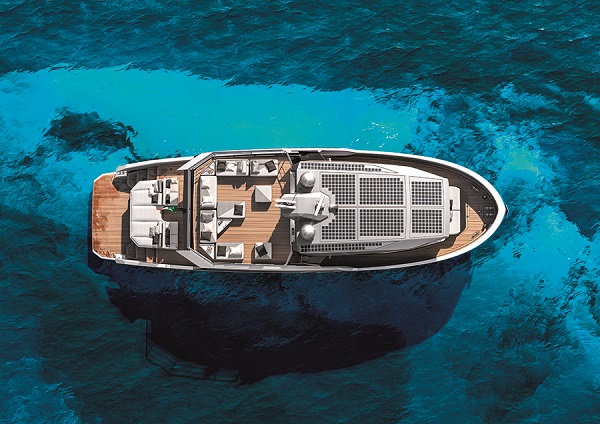 Ugo Pellegrino, the Sole Director of ARCADIA YACHTS,says:
"SHERPA XL retains all of ARCADIA's fundamental brand values – comfort, performance, easy handling, eco-friendly technology and personalization options in terms of layout and décor. This new project means a great deal to me, personally, because I spent a lot of time on SHERPA and fully appreciated its qualities. I would like this new model to be another step towards the creation of a new concept of yacht, which gives the green light to a new line and is not simply a SHERPA on a larger scale. The latter would have been a quicker and easier solution for us, but we fully intend to keep our role as innovators and to continue to push our industry further."
SHERPA XL is 23.80 metres long, six metres longer than its entry level cousin.
With a beam wider than 6.9 metres this yacht offers an incredible 220 square metres of interior and exterior living space – 25% more than other yachts in the same class.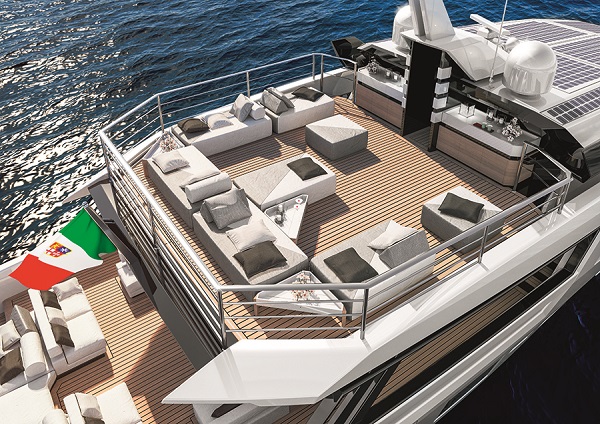 The innovative design of SHERPA XL was developed by the Milan based Hot Lab design studio, with the aim of preserving the characteristic ARCADIA DNA.
Michele Dragoni, Exterior Chief Designer of Hot Lab, explains:
"The concept of the SHERPA XL develops around the special layout of the decks. The bow decks are split to develop a central flight of stairs with small differences in height. This particular 'jigsaw' layout, in addition to providing considerable space in what is actually not a great height, has allowed us to play with volumes and create an immediately recognisable profile."
The aft cockpit is directly connected to the control panel by a short scenic sequence of steps, which gracefully interlock between the narrow topsides and the low volume that supports the sundeck. Forward is a large living area with elegant sofas and even a table that can seat up to ten diners.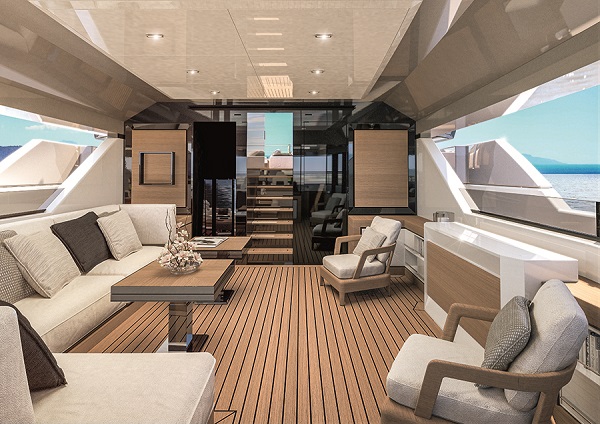 The narrow bulwarks surrounding the entire cockpit have openings that allow guests to enjoy the view and the closeness of the sea.
The entire area is made even more comfortable by the lack of any visible handling equipment for launching the tender, which is stored just forward of the engine room and is launched through a side hatch, without bothering the guests. On the upper deck, the generous sunlounge with bar and pantry facilities extends the open-air philosophy still further.
Unlike traditional fly deck arrangements with an exterior helm station, this area is dedicated entirely to guests.
The interior design is contemporary and essential. Owners can choose among many options in terms of materials and finishes.
ARCADIA also offers the option of choosing furniture designed by a careful selection of the best Made in Italy design brands.
Enrico Lumini, Interior Chief Designer of Hot Lab, explains:
"With regard to interior design, our intent was to bring this project as close as possible to the requests of potential Owners – large spaces, great interaction with the surrounding environment and a contemporary, simple and essential style. Simple geometries maximise volumes and if, on the one hand, this leads us to forgetting where we are, i.e. on an almost 24-metre yacht, on the other hand it allows to make the best use of the available space, providing guests with greater comfort while living on board."
Different Owners have different needs, so SHERPA XL was designed with a four or three cabin layout.
In both cases, great attention has been given to ensuring an efficient yet discreet on board service, by separating crew service areas from the areas reserved for guests.
The master suite is over 22 square metres in size and extends into the bathroom, with no partitions or division, which provides the Owner with an almost home-like layout – large, open and full of light.
The VIP cabin in the bow follows the same principle, successfully broadening spatial perception in an almost theatrical manner.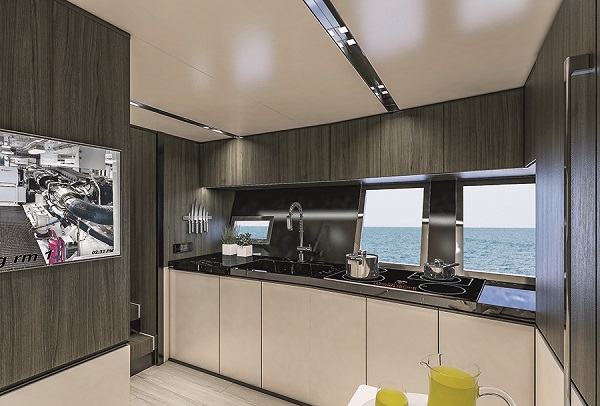 Powered by twin Volvo Penta IPS 1050 main engines, the yacht can reach a top speed of approximately 22 knots. Preliminary studies also estimate that at a long range speed of 10-12 knots, the semi-displacement hull will be more than 30-35% more efficient than other yachts in its class.
To minimise environmental impact with renewable energy sources, SHERPA XL is equipped with ARCADIA's trademark solar panels, which provide up to 2kW of clean electricity.