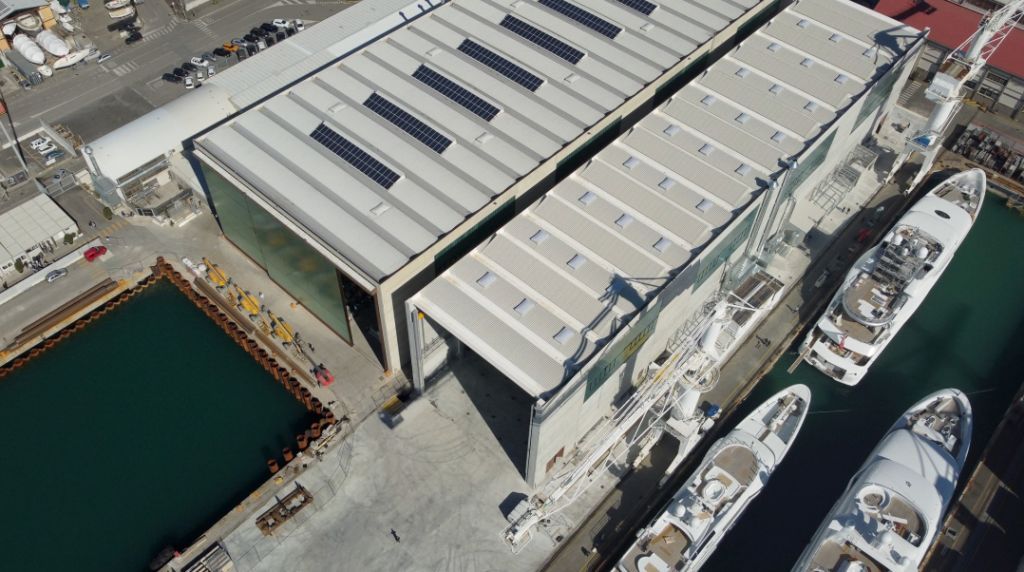 The Italian Sea Group opens a new shed able to accommodate the construction of vessels up to 80 meters. The shed, which develops on a single span, is 126 meters long and 26 meters wide. It is equipped with two overhead cranes with a total capacity of 60 tons and with avant garde air cleaning plants for smokes and dust particles.
Furthermore, the shed will feature a photovoltaic system with a power coverage of 100 kW, an electrical conversion cabinet and a block of side workshops to support activities.
The shed allows the outfitting of up to two 75 meter vessels at the same time. The vessels are able to be launched thanks to the floating dock and they are able to exit the facility through a strategic boat-door facing the forecourt, which measures about 6000 mq.
The activities include the coverage of the existing dock through a fixed structure, which will allow the new shed to host the construction of vessels up to 130 meters LOA, and the construction, already in progress, of a new 145 meter long and 50 meter wide construction dock, equipped with a new boat-door allowing the refit of about 8 yachts at the same time.