[dropcap]H[/dropcap]osted by design et al, a leading UK interior design magazine, The International Yacht & Aviation Awards 2015 will be held on Friday 15th May 2015 at Hotel Cipriani, Venice. Design et al, whose aim is to commend design, recognize talent, create opportunities and quite simply offer inspiration, have selected the best in design in the world of yachts and aviation.
The International Yacht & Aviation Awards are not judged by a panel. Short listed entries are presented online, and voting is open to industry professionals as well as design et al readers, clients and customers. Whether the project is conceptual or has already been built, the focus is on outstanding interior and exterior designs.
Falcon 50
This complete refurbishment of a Falcon 50 N96UJ was undertaken by the Fort Lauderdale-based Aviation Resource Group, Inc. The Falcon 50 is considered to be one of the best-designed corporate jets in the world.Aviation Resource Group, Inc.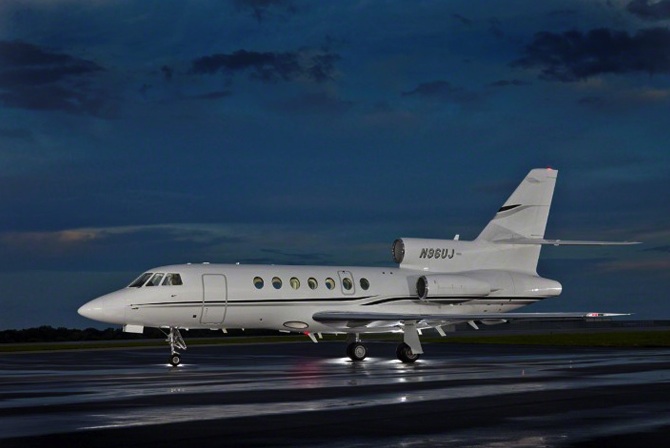 The 9 passenger executive configuration features a four place forward cabin. The same craftsman sewed each seat ensuring the same hand and attention to detail throughout the interior. The clean, uncluttered and functional lines has allowed for maximum onboard comfort. The luxurious finish and harmonious blend of discreet and elegant colors coupled with natural materials are combined to create a timeless aircraft interior. Modern forms and essential design cues create a soothing cabin environment and a unique and intimate relationship directly with the sky.
Aviation Resource Group, Inc. have defied the industry norm with this Falcon 50 interior by using a gray oak veneer finish in matte clear coat. Organic and natural colours were incorporated to create a very contemporary yet soothing in-flight environment. The Falcon 50 was built from 1980 through 2004 and yet even today many aviators and professionals consider it to be an iconic design that will always be regarded as well before its time. The wing of the aircraft is considered the best wing ever designed for a corporate jet and the tri-engine configuration.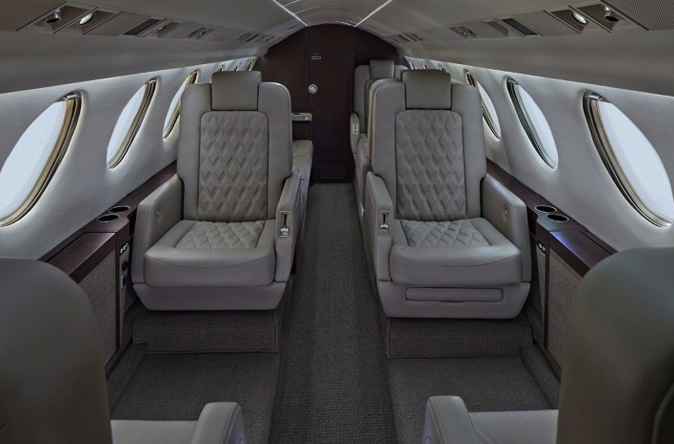 President of Aviation Resource Group, Milan Rakic added:
"It is the reason why we selected this aircraft to incorporate our special interior design, to celebrate and recognise an industry icon and refit it to 2018 standard, just as its design is still ahead of its time."
Completion Centre: Eagle Aviation Inc. Columbia, South Carolina
Interior designer: Milan Rakic of Aviation Resource Group with the assistance of Karen Nelson of Eagle Aviation.
Niki Lauda's Global 6000
Completed in February 2015, Niki Lauda's tailored Global 6000 features a spectacular interior design to match his European taste. Bombardier collaborated with Mr. Lauda's own personal designer – Hannes Rausch to conceive and complete this unique project. As the focus point of the overall design, the inspiration for styling was a small grey pinstripe fabric.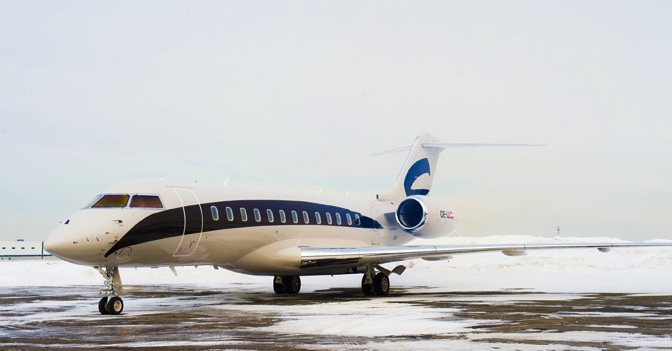 Although the veneer, to some tastes, could be considered quite busy, the fact that all the rest of the materials for the most part have all the same pattern and colour makes it look more relaxed. At the same time it has a very elegant and "manly" feel like a nice worsted wool or pinstriped suit. It makes one wonder if the entire scheme could be viewed as a window into Niki Lauda's secret alter ego. The Global 6000 sets the performance benchmark in the ultra-long range jet category. Created to answer the needs of the world's most discerning travellers, the 6000 is an advanced, comfortable and luxurious business jet. With a state-of-the-art cockpit, luxurious cabin and the tranquil sanctuary of its aft stateroom, the Global 6000 seizes the opportunity to demonstrate leadership in style, ingenuity, comfort and convenience – nothing has been overlooked.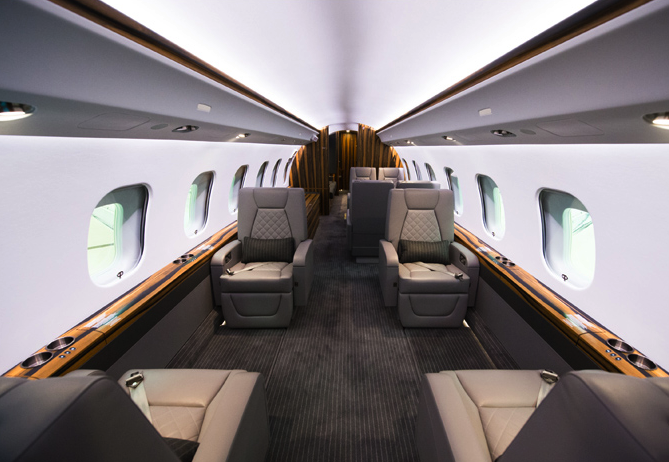 Global Completion Centre, Dorval, Canada
Interior designer: Hannes Rausch, Veronique Ferrari & Ashley Norton
Exterior designer: Hannes Rausch
Legacy 450-500
Launched in October 2014, the Legacy 500 is the game changer of the business jet industry. The interior design takes the high-tech capability of the cockpit (fly-by-wire / glass cockpit) into the cabin zones.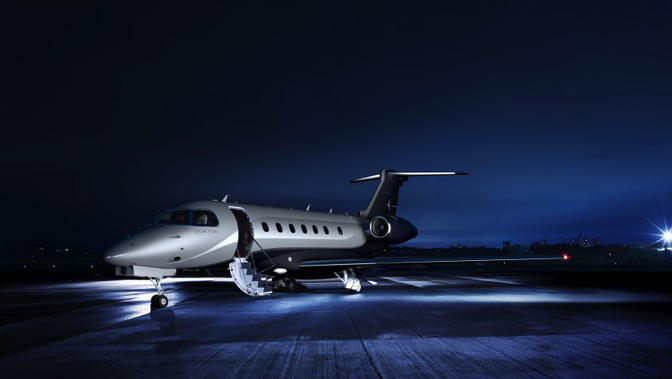 A blend of state of the art technology and meticulous, detail oriented craftsmanship makes it a modern, comfortable and user friendly environment. Large glass panels in the valance sections feature touch-screen control and information monitors that merge modern styling with improved ergonomic function as well as reliable redundancy. Storage zones on the side ledges open like jewel boxes, framed by complex shaped machined accents. Floating surfaces allow for tasteful separation of materials that are crafted in the spirit of individually tailored elements chosen by the Owner. All this wealth of interior exploration is governed by an overlying architecture that uses GD&T principles for maximum fit and finish and accessibility reducing assembly and maintenance cost. This new look introduces high-tech elements in regards to user interface as well as manufacturing and assembly methods and maintaining a comfortable, high luxury environment. The architecture allows for an increased variety of material combinations coming close to a one of a kind design tailored to each individual customer.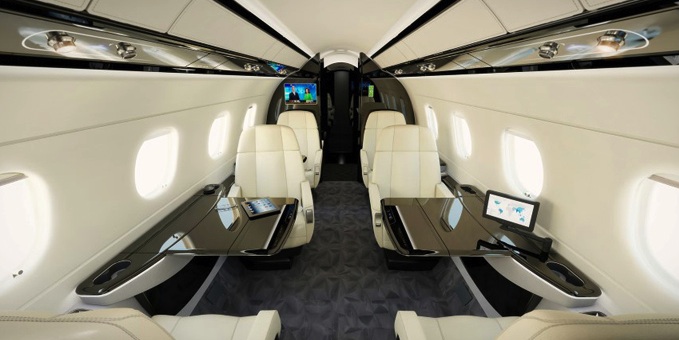 Embraer Executive Jets, Inc.
Interior designer: Embraer Industrial Design Team: Joshua Rea, Jay Beever, Bruno Kimura Castanha, Celso Aparecido Cruz Gueiros, OliverTurci de Camargo, Rainer Zierer
Engineer: Fernando Henrique da Silva
Phenom Ace
As one of the most delivered business jets worldwide in 2013, the Phenom 300 is the category leader in performance and reliability. Embraer decided to honour this great aircraft with a hallmark design reflecting both automotive and aerospace racing heritage.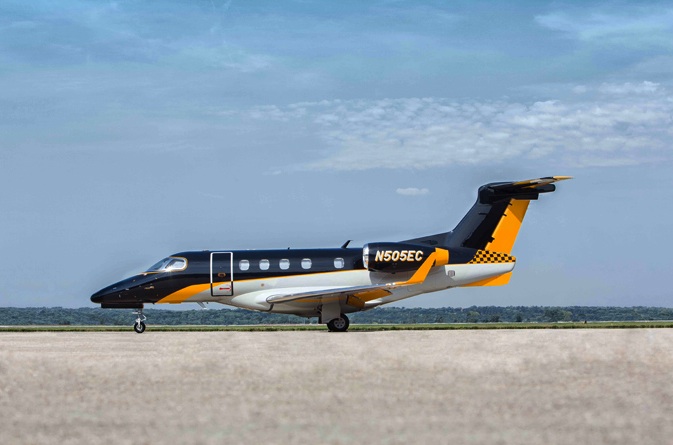 Many customers are entrepreneurs who believe in a performance lifestyle and a "no excuse for failure" work ethic, reminiscent of the brave men and women who continue to push the boundaries in the air and on the ground for the sole purpose of a First Place finish.
The Phenom 300 is a very comfortable and sporty aircraft. Owners are often the pilots who feel the paint scheme is an extension of themselves and their passion for flight and speed.
The innovative features of this custom Phenom 300 include contrasting stitched seats and asymmetrically placed serial number on the left wing. The custom exterior paint and interior finishes celebrates aerospace and automotive racing heritage.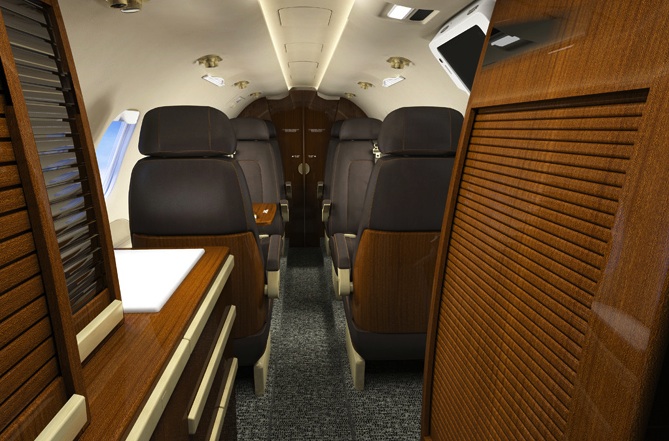 Embraer Executive Jets, Inc.
Completion Centre: Melbourne, FL, United States – Embraer
Interior designer: Joshua Rea
Exterior designer: Joshua Rea / Rodrigo Castaman