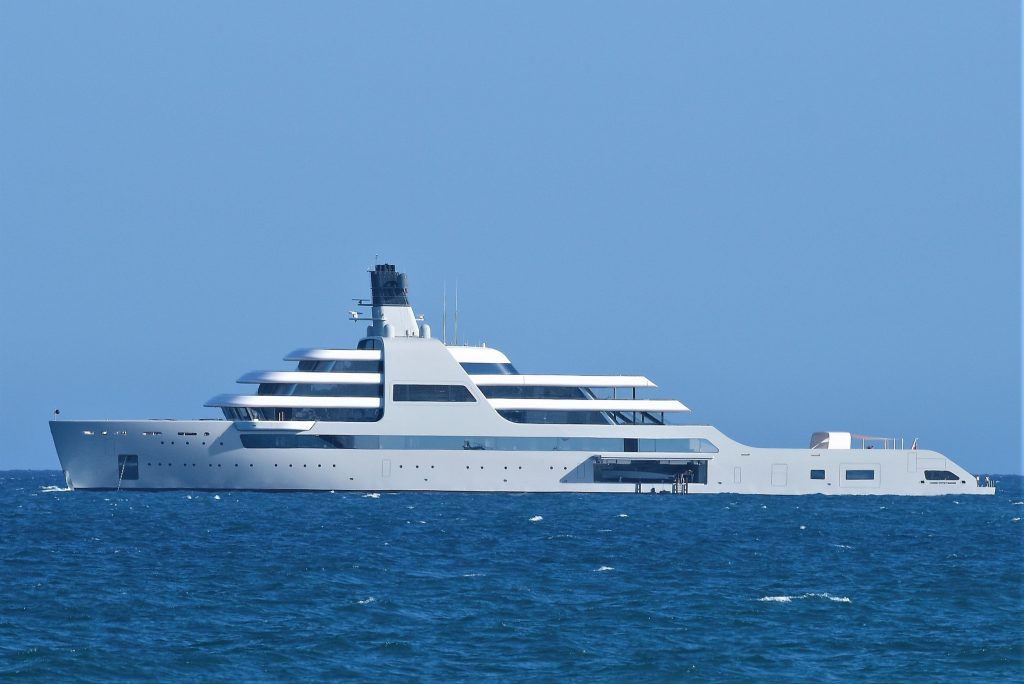 This morning the European Parliament President Roberta Metsola delivered a rousing speech in the European Parliament about the Russian invasion of Ukraine, setting out 'important principles for our future'. Firstly, she said, Europe can no longer remain reliant on Kremlin gas. Secondly, Europe can no longer welcome Kremlin cash and pretend there are no strings attached, she said. "Putin's oligarchs and those who bankroll him should no longer be able to use their purchasing power to hide behind a veneer of respectability – in our cities, communities…or our sports clubs." "Their super yachts should find no harbour in our Europe. And we can no longer sell passports to Putin's friends allowing them to circumvent our security. No more," she said.
What are the potential effects her words can have on shipbuilding and how can this strong position against Russian billionaire class impact on the entire superyacht economy? Given that this is not a war moved by economic reasons but politican power and crazy expansionist aims, Russian superyachts are the symbol of that Russian power that European Union, UK and US want to undermine in order to create as much dissent as possible within the Putin oligarchy. Russia's ultra-rich are among the biggest owners of private jets and superyachts, two of the most opulent displays of massive wealth. And in fact European Union has also shut down airspace to Russian private jets. Superyachts and jets, together with the Russian elite's UK property (which in London range from Chelsea penthouses to Highgate mansions), are the immoral objects subject to the sanctions approved by the U.K. against 100 Russian individuals and entities, as part of a coordinated push by Western countries against Russian companies and oligarchs in the wake of that nation's invasion of Ukraine.
The number of U.K. properties whose owners' principal correspondence address is in Russia reached 1,127 in August, according to data released by the Land Registry under Freedom of Information laws last year. That's up from 86 at the start of 2010 — a 1,200% increase. The U.K. measures, which target everything from banks to Russia's national air carrier, also include a new unit in the National Crime Agency to target "Russian assets hidden in the U.K.," Johnson said. It will mean "oligarchs in London have nowhere to hide."
The effort comes as the United States and the Europe Union vowed Saturday to block Moscow'saccess to its sizable foreign currency reserves in the West and sever some Russian banks from SWIFT, a global messaging network that enables banks to communicate their financial transactions in a secure manner.
In London, a registry of overseas property owners would be a marked shift for the U.K.'s often opaque real estate market, where offshore entities can shield the identities of owners. More than 85,000 properties are owned by offshore entities, according to Transparency International, a nonprofit organization. That's despite a series of tax measures introduced since 2013 that punish owners who hold properties through companies rather than in their own names.
But behind these multi-million-pound symbols of luxury – especially superyachts – that are now in the crosshairs of economic penalties brought in by the US, Britain and European Union – there are hundreds of genuine European companies that generate good profit for their country. Superyachts are mainly built in central Europe, Italy, The Netherlands and Germany and the supply chain is very complex.
Russian oligarchs' superyachts usually dominate ports in European cities, but Ukraine sanctions may change this scenario. Data from Marine Traffic show that at least four massive yachts owned by Russian business leaders have been moving toward Montenegro and the Maldives since a wide array of sanctions were announced in recent days by leaders from around the world, including the U.S. Treasury targeting Russia's central bank.
Three superyachts, in particular, owned by Russian oligarchs, have attracted the interests of public opinion in the last few days: Solaris, the 139-metre Bermudan-flagged yacht, the 74-metre Aurora and the 70-metre Galactica Super Nova.
Three weeks ago, the same Putin's superyacht was spotted leaving a German port, for a cleaning and overhaul, before possible Western sanctions against Ukraine were implemented. Today Anonymous' Hackers have renamed Vladimir Putin's yacht, Graceful, and sent it to Hell. According to Bloomberg, a group of Anonymous hackers changed the name of Putin's luxury yacht from Graceful to "FCKPTN" (Fuck Putin). The hackers "figured out a way to mess with maritime traffic data and made it look like the yacht had crashed into Ukraine's Snake Island." Hackers even changed the destination of the $97 million-yacht to "hell", showing a few screenshots from the website Vesseltracker with the information about the yacht's Callsign, destination and location.
Superyachts have always been at the center of media attention, they are objects of desire so unattainable for all those who do not have the pleasure of being a billionaire, that just talking about them on the one hand exorcizes the desire to possess, on the other it undermines any ambition.
The truth is that general media talk much about yachts, but very often without underlying the importance of the sector and the complexity of the industry behind it. A complex system benefiting thousands of workers across Europe. Striking the superyachts as if they were heretical objects and products of evil does nothing but produce a boomerang effect on the same countries that are approving the sanctions. Superyachts are not produced in Russia, but in Germany, Holland and Italy.
Now, pointing the finger at few units of superyachts only risks generating instability in a sector made up of small and medium-sized enterprises. And be careful, the problem is not limited to these few units, the risk that all these warnings against luxury goods, we also drive away small owners, where by small we mean a boat below 80 meters. Owning a yacht is not mandatory, it is a pleasure for oneself and for pride. Be careful not to discourage honest billionaires who want nothing more than to build the family boat to enjoy themselves in the sun after the hardships of a whole year.
So the real question is whether it is so effective to cure the "symptom of wealth" (properties) rather than the cause of it (illegal or unclear fiscal activities). In short, it is not that the properties of the oligarchs, on land, in the air and at sea, have only now begun to disturb public opinion or politics.
No doubt this aggressive situation against Russian oligarchs represents a further, maybe the most difficult, challenge for the industry. The new sanctions will negatively impact on the sector, discouraging many new and repeat clients. Let's hope this current crisis does not last long.