SWAROVSKI ARCHITECTURAL SOLUTIONS UNVEILED NEW INNOVATIVE CRYSTAL LIGHTING DESIGNS AT EUROLUCE, MILAN (APRIL 2015).
[dropcap]P[/dropcap]ositioned as the partner of choice for extraordinary lighting design solutions, Swarovski Architectural Solutions – Specialists' division of Swarovski Lighting, represented by an expert team of architects, interior and product designers, whose aim is to create uniquely integrated crystalline features that are in harmony with both the architecture and style of the building – unveiled three cutting-edge decorative crystal lighting innovations for the first time at Euroluce, the exhibition devoted to global lighting excellence, in Milan, Italy.
Making their international debut at the 54th edition of the Salone del Mobile were the breath-taking customized Crystal Art Pieces Shimmering Sea and Prismatic, as well as the luminaire Urban Spheres. Crystal Bamboo, Honeycomb, Crystal Panel and the stunning Crystal Art Piece Crystal Morphology were showcased once again on the world stage. The specialized team of crystal lighting experts at Swarovski conceptualized, developed, rendered, and produced each of these innovative – and illuminating – creations to add sparkling brilliance to hospitality, residential and commercial architectural project commissions worldwide.
Johannes Oberdanner, Head of Business Operations and Swarovski Architectural Solutions Europe, says,
"The Swarovski Architectural Solutions products displayed at Euroluce this year continue to reflect the longstanding competence and expertise of our highly skilled team of lighting planners, designers and engineers. They combine finest craft with extraordinary and bespoke turnkey design solutions that maximize the expressive, emotional, and transformative power of Swarovski Crystals. This is our core competence on which we will draw on and widen in the future."
Shimmering Sea
Shimmering Sea is a mediation on the many moods of the ocean, as various light sources work to transform and abstract it into a crystal medley of watery art.
Prismatic
Inspired by principles of pure geometry and parametric design, Prismatic reflects the natural crystalline structure of precious stones – the sharp edges and cubic shapes meld together with a bright clear radiance to create uniquely shaped crystals. Its modular system allows for versatile assembly leading to several different kinds of forms in a variety of sizes.
Urban Spheres
These luminaires are inspired by nothing less than the earth itself.  Each sphere of Murano glass translates the fragility, purity and sheer beauty of our planet into a dreamscape of ideas and aspirations. The light source representing earth's core transforms Urban Spheres into invisible projection screens rather than a mere globes.

Crystal Morphology
Visually stunning, this design floats in wave-like fashion, virtually weightless. Its smooth organic shape, comprised of twenty-eight thousand Swarovski crystal beads, presents eye-catching perspectives from any angle that are simply impossible to photograph.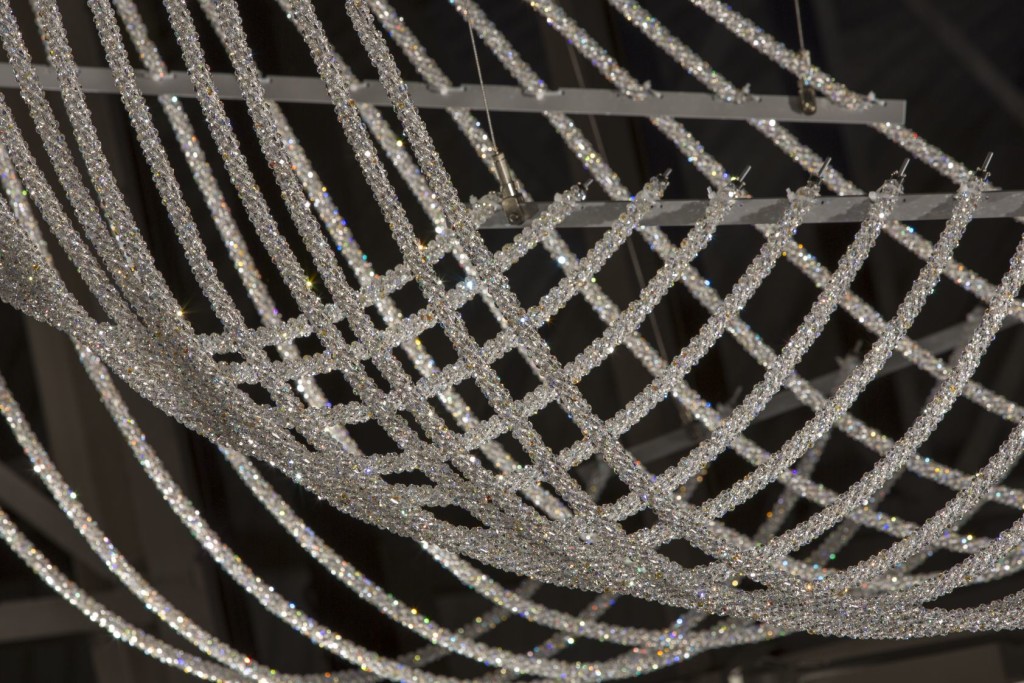 Crystal Bamboo
Extremely versatile and applicable to ceilings, Crystal Bamboo allows for the creation of individualized installations. Diverse color effects can be applied to the crystals to create a surprising range of sparkling atmospheres.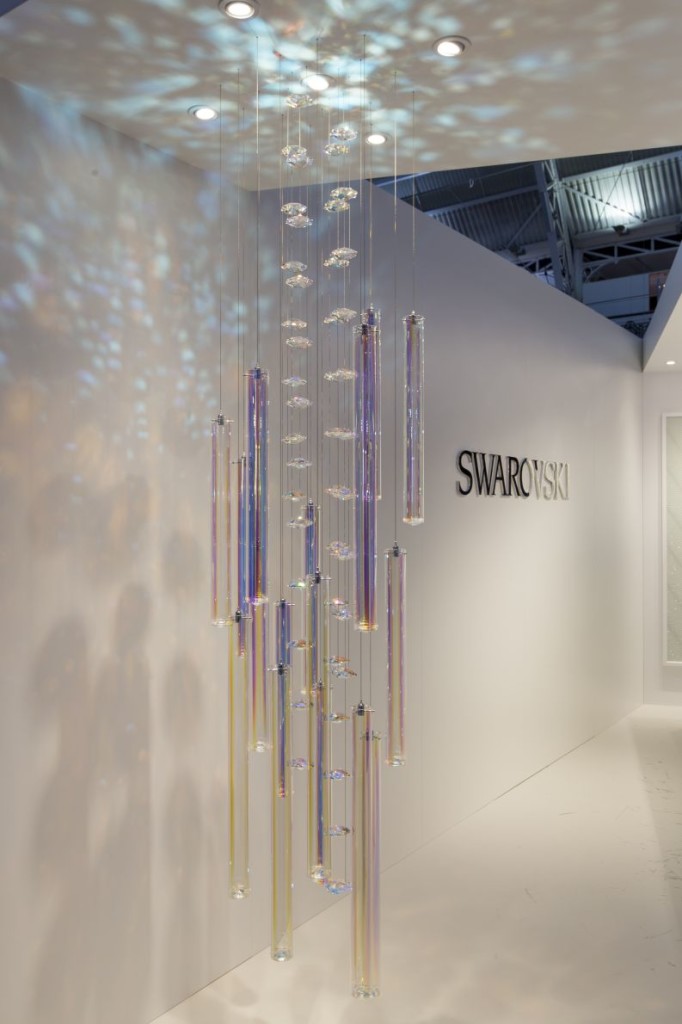 Crystal Panel
Realms of fantasy dazzle the eyes, as Crystal Panel alters spatial perception, making rooms appear wider and more spacious. Highly skilled hands precisely set each individual crystal into place, uniquely transforming walls, ceilings, stairs and facades. Whatever the source of illumination, Crystal Panel takes on a radiance that seems to spring from within.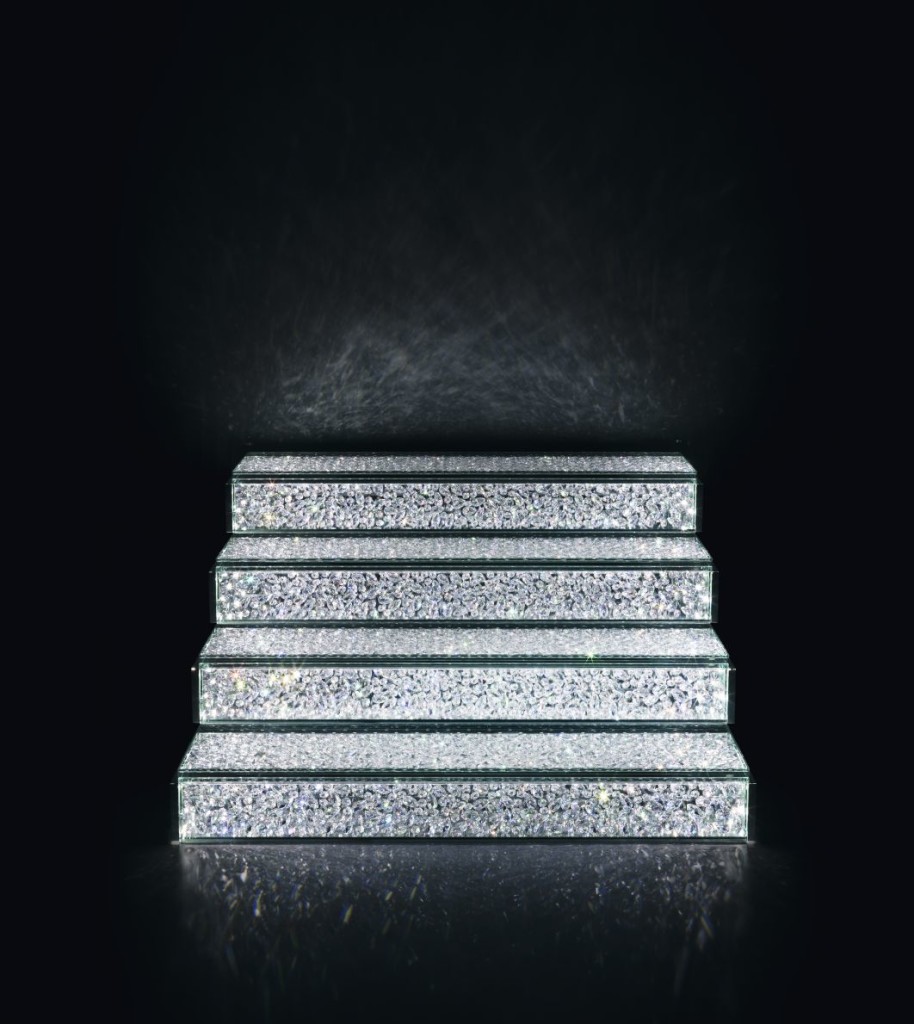 Honeycomb
Honeycomb combines crystal and light in completely new ways. With a wide range of applications Honeycomb incorporates 13,500 Swarovski crystals per square meter and is backlit by LEDs. Its soft light and changing color moods impart a magical, almost celestial atmosphere.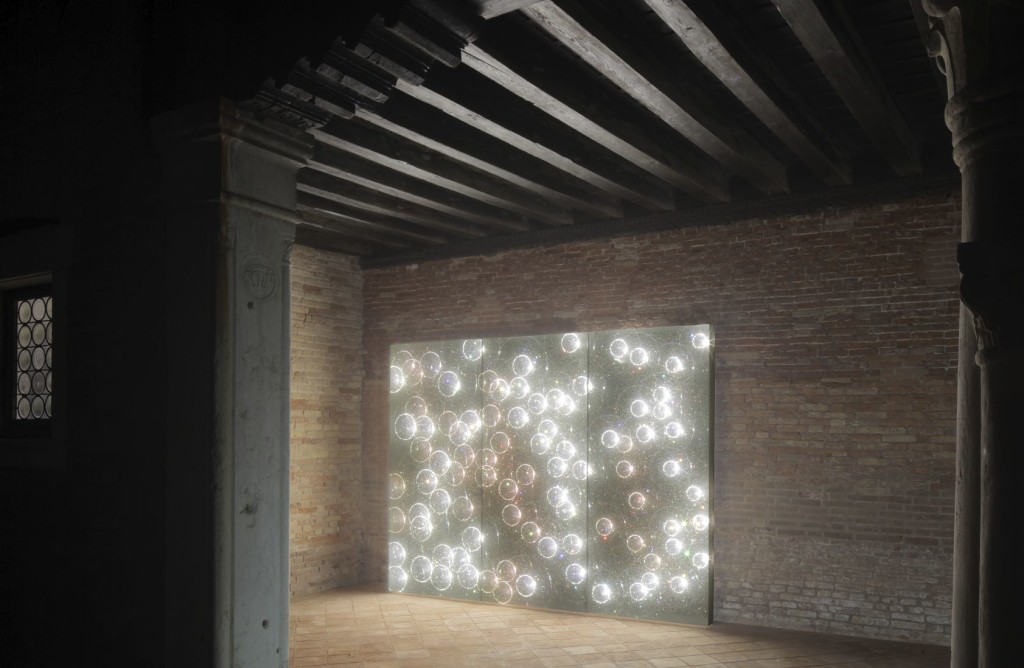 [divider style="dashed" top="20″ bottom="20″]