[dropcap]T[/dropcap]he 6th edition of the Hainan Rendez-Vous will be held in November 2015: the organization committee has recently annouced that they are working to offer an improved platform for branding, culture and art communication. The 6th edition, under the theme of "Dream, Art, Life" will be a more international and professional exhibition, as well as a communication platform for leading brands from all over the world.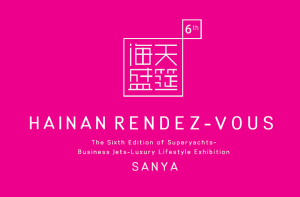 The exhibition area of 2015 Hainan Rendez-Vous will expand 30% from 4589 square meters as in 2014 to 6000 square meters.Number of exhibitors will also increase 33%, from 90 to 120. Meanwhile, with more VIPs and social elites from Hong Kong, Macau and other Asia regions attending 2015 Hainan Rendez-Vous, it is going to be more international.
Compared to business jets and luxury lifestyles, yacht brands are taking up the major part of exhibitors in Hainan Rendez-Vous.Hainan Rendez-Vous has provided tremendous contribution to international yacht manufactures, helping them start business in China market and promoting communication between global and domestic yacht industry, which also internationalize the yacht industry in China. As the organizer of Hainan Rendez-Vous, Visun Royal Yacht Club, which located at the mouth of Sanya River, is committed to provide sufficient supporting to the booming exhibition brands by upgrading port plan, expanding exhibition area from east coast to west coast and providing additional yacht exhibition sites and docks.
On 16th January 2015, Sanya Visun Tuscany Yachting Co Ltd., co-founded by Visun Royal Yacht Club andToscana Refit S.R.L. was launched. The newly launched service center is the first service company in China that provides world-class professional services. This service center will provide supporting services for international yacht manufactures attending 2015 t Hainan Rendez-Vous with better facilities as well as world-class maintenance services. In addition, during 2015 Hainan Rendez-Vous, the Italian National Delegation will take its maiden voyage with theItalian Pavilion. Guests will be able to experience the authentic Italian culture, along with a rich collection of Italian brands, furniture, handcraft and fine cuisine. And the "Solute to the Ocean" marina art exhibition will be another highlight of 2015 Hainan Rendez-Vous. The exhibition will present both domestic and foreign photographic works and designs of marina cultured and promote the positive energy of marina culture, recruiting more people to participate in ocean environment protection.
According to the organization committee of Hainan Rendez-Vous, climate factors, such as weather and temperature, have been taken into consideration to decide the date of 2015 Rendez-Vous. November is a time that most suitable for tourism in Sanya. Every November, tourists from all over the world will come to Sanya to escape the cold weather and embrace the warm sea, nice beaches and sunshine. And this year, guests in Sanya will also have the opportunity to attend 2015 Hainan Rendez-Vous to experience luxury yachts, fashion, culture and art.
The organization committee of Hainan Rendez-Vous also confirmed that Chou Tai Fook, the most well-known and scaled jewelry brand in China and Hong Kong, has confirmed their sponsorship for 2015 Hainan Rendez-Vous. Known as "the Oscar in Jewelry", Chou Tai Fook has been pursuing the number one Chi nese jewelry brand. To realize such ambition, Chou Tai Fook adopts artistic features from Western jewelry design with modern jewelry design perspective and promotes Chinese culture to domestic and foreign jewelry lovers by defining the Chinese fashion trend as worldwide fashion trend. What attracts Chou Tai Fook most to join 2015 Hainan Rendez-Vous is the increasing achievement and awareness of Hainan Rendez-Vous in industry. Chou Tai Fook hopes to bring the fine Chou Tai Fook jewelry inspired by Chinese culture to a global stage and seek partnership with international brands, enhancing the competitiveness and influence of "made in China" over global market. During 2015 Hainan Rendez-Vous, Chou Tai Fook will bring an artistic fine jewelry gallery for guests from all over the world. In the gallery, Chou Tai Fook will demonstrate the fusion and clash of Western and Chinese culture via the art and delicacy of fine jewelry.
What's more, HUBLOT, the world-renowned watch brand, will continue to participate in Hainan Rendez-Vo u s i n 2 0 1 5. HUBOLT will extend its brilliancy via the theme: "Communication of Time and Space", with a collection of products, expressing the artistic spirit and the desire for marine adventure. The decision HUBOLT made to attend 2015 Hainan Rendez-Vous, is based on sharing the love of ocean and the idea of promoting the spirit of "Fusion Art". With the influence of Hainan Rendez-Vous, HUBOLT wishes to attract more attention from China elites and widen its market awareness. The HUBOLT exhibition in 2015 Hainan Rendez-Vous will provide the all the guests new piece of 2015 Geneva and Barcelona collection. We can all look forward to opening the window (HUBOLT in French) of our heart with HUBOLT, with the delicacy, royalty and art of HUBOLT collection.
2015 Hainan Rendez-Vous will include more luxury lifestyle exhibitions and events, such as art shows, fashion shows and golf tournaments. 2015 Hainan Rendez-Vous, Sanya, Hainan – 27th November 2015.
[divider style="dashed" top="20″ bottom="20″]