[dropcap]F[/dropcap]ive show-stopping new crystal lighting designs and two crystal lighting re-imaginations by Swarovski were on display at the Milan Furniture Fair (Salone Internazionale del Mobile), the world's largest home design exhibition.
Swarovski, the world leader in high-quality, precision-cut crystal revealed its latest crystal lighting designs at Euroluce, exhibition devoted to global lighting excellence (inside Milan Furniture Fair). The luminous new collection – the first in two years – highlights the expertise of Swarovski's in-house team of international product designers.  This team of Swarovski specialists realized the magic of crystal and light in new families Amaca, Apta, Brillet, Candesco and Inlay, while Circle and Crystalon were re-imagined with additional features. This new collection joins an established line of Swarovski crystal lighting pieces, which aim to evolve ordinary spaces into illuminating atmospheres through the transformative qualities of crystal.
Amaca
Amaca by Swarovski is a harmonious unison of precision-cut crystal with an organic-inspired frame. Up to 400 Swarovski crystals are gracefully cradled by LED light, forming captivating light and crystal refractions in the space below. Available as a pendant and wall sconce, Amaca is perfect for contemporary spirits.
Apta
Evoking scenes of tree branches blooming with flowers, Apta by Swarovski is a nature-inspired emotive pendant design. Light passing through precise cut-outs filled with crystal forms intriguing light reflections. Apta is available in three special pendant shapes and four classic Swarovski finishes.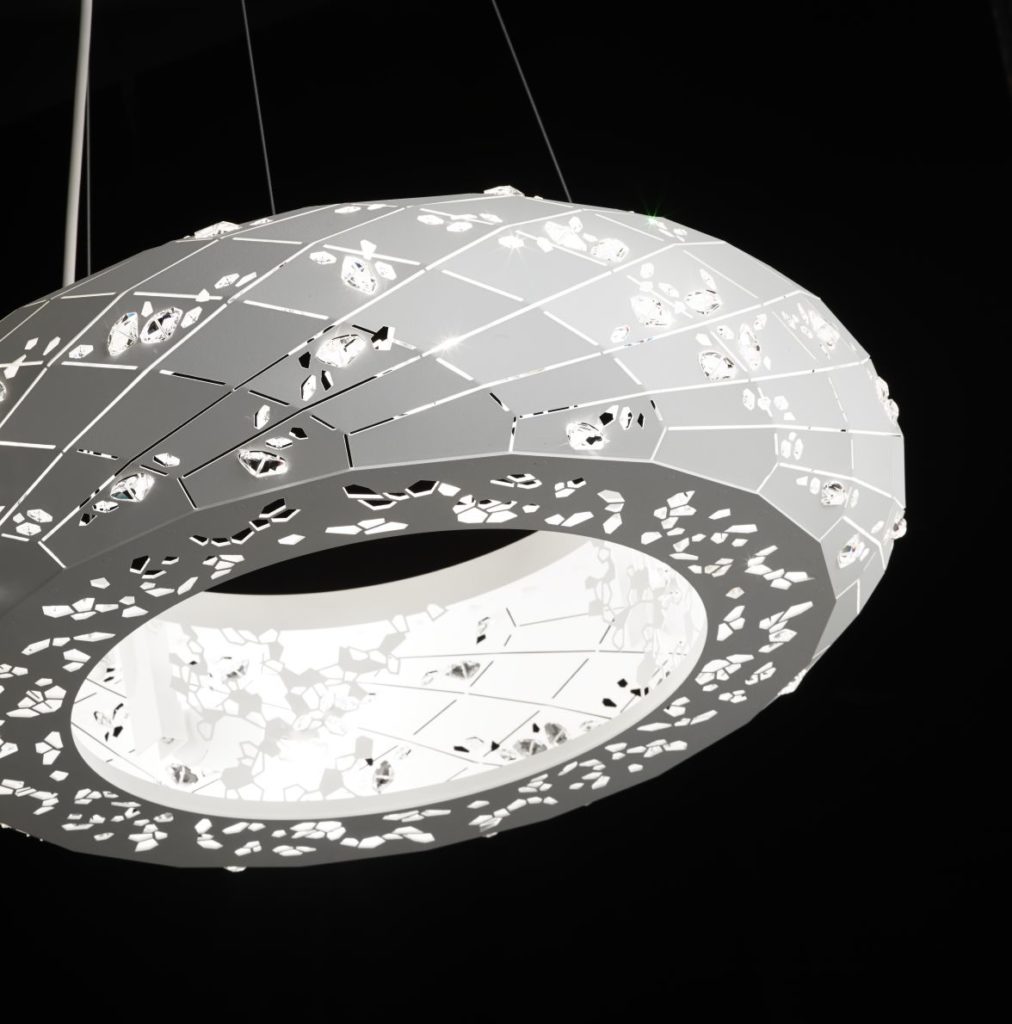 Brillet
Brillet by Swarovski is a minimally-styled table lamp with a delicate trace of crystal. Three unique crystal patterns in Geo, Sunburst, or Swirl at Brillet's touch-dimming base interact with light guided by its shade, sparking a dance of reflective sparkle. Offered in 162 unique crystal patterns, crystal color, finish and shade combinations, Brillet ensures personalized mood lighting for all environs
Candesco
Candesco by Swarovski is a light box concept which combines gentle linear patterns with sparkling crystal to create functional ambiance with flair. Inset, energy-efficient LEDs shine from all directions to showcase crystal patterns in Floral, Intersection, and Lightning. Candesco's pearly white finish and bright illumination inspired its name "to become bright white" in Latin.
Inlay
An assortment of rounded pendants inspired by jewelry beads make up the playful grouping of Inlay by Swarovski. Lively illumination emitted by each pendant constructs functional environments for a multitude of spaces. Inlay's viewers are graced with subtle sparkle in two unique crystal-application styles in one, three or five light pendant groupings and five luminous finish options.
FAMILY RE-IMAGINATIONS
Circle
Circle appears to hover in the room as if by magic. Its light radiates outward from within: a simple crystal and high-quality stainless steel ring with a mysterious effect. Swarovski increased Circle's aura by opening up the bottom to allow more light to pass through. What was once a decorative luminaire now provides contemporary functionality in rooms and is available in two sizes.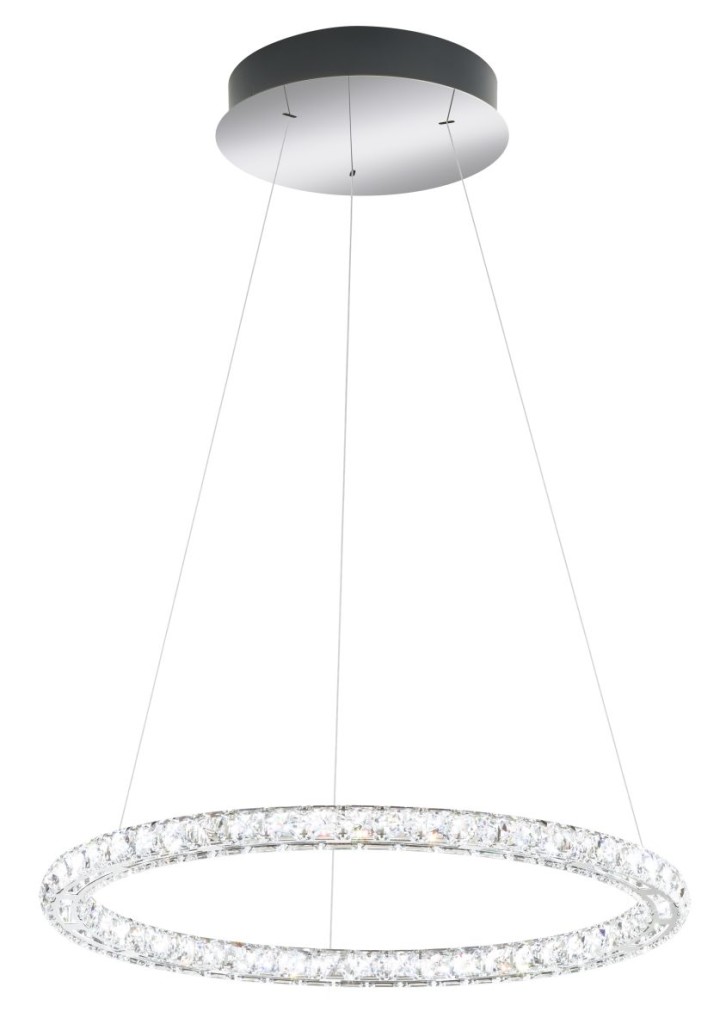 Crystalon
Crystalon expresses the decoding of a crystal's DNA in this lustrous creation. A composition of lightly fused crystals, an asymmetrical pattern converges, mimicking an elemental base. Re-designed to be a dimmable product, Crystalon can be set to any mood or tone creating an explosion of fascination.
[divider style="dashed" top="20″ bottom="20″]