[dropcap]B[/dropcap]orn as merchant navy training vessel, the 70m built is now one of the most popular and adventurous charter vessels. Originally built in 1966 as a maritime school vessel, a three-year project converted the Prinses Margriet into a head-turning superyacht.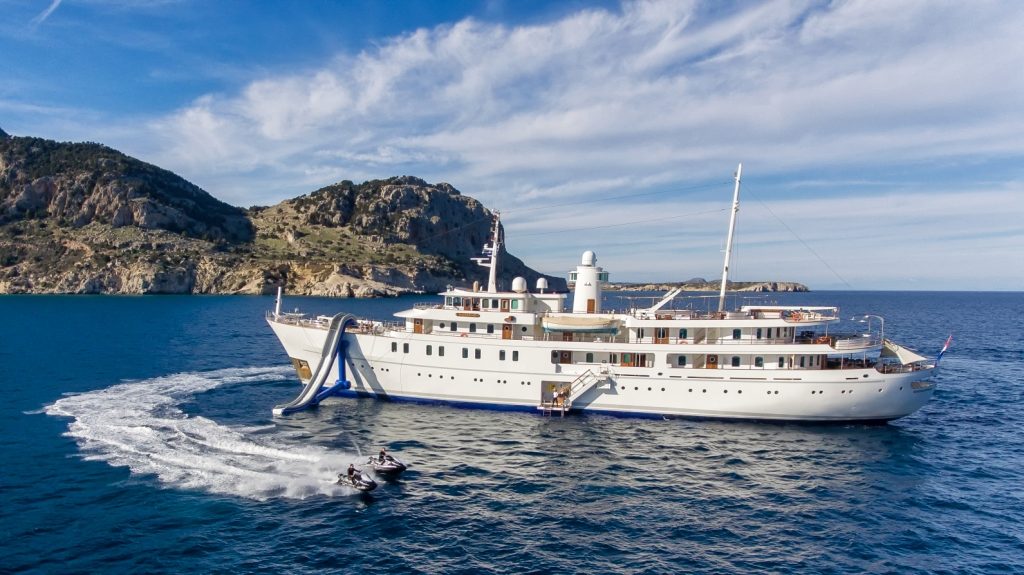 It is not uncommon for large yachts to have an interesting history, but the fascinating tale of Sherakhan's transformation is unique in every way. From humble beginnings as a merchant navy training vessel to show-stopping superyacht status, she is now one of the most popular and adventurous charter vessels able to accommodate more than 12 guests. She is available for charter to groups of up to 26 guests through central agent Tom DeBuse at Y.CO for a weekly rate of €425,000 (plus APA). Here, we reveal the remarkable details of how Jan Verkerk, a visionary businessman and passionate sailor, turned his dream of creating a ground-breaking charter yacht into reality.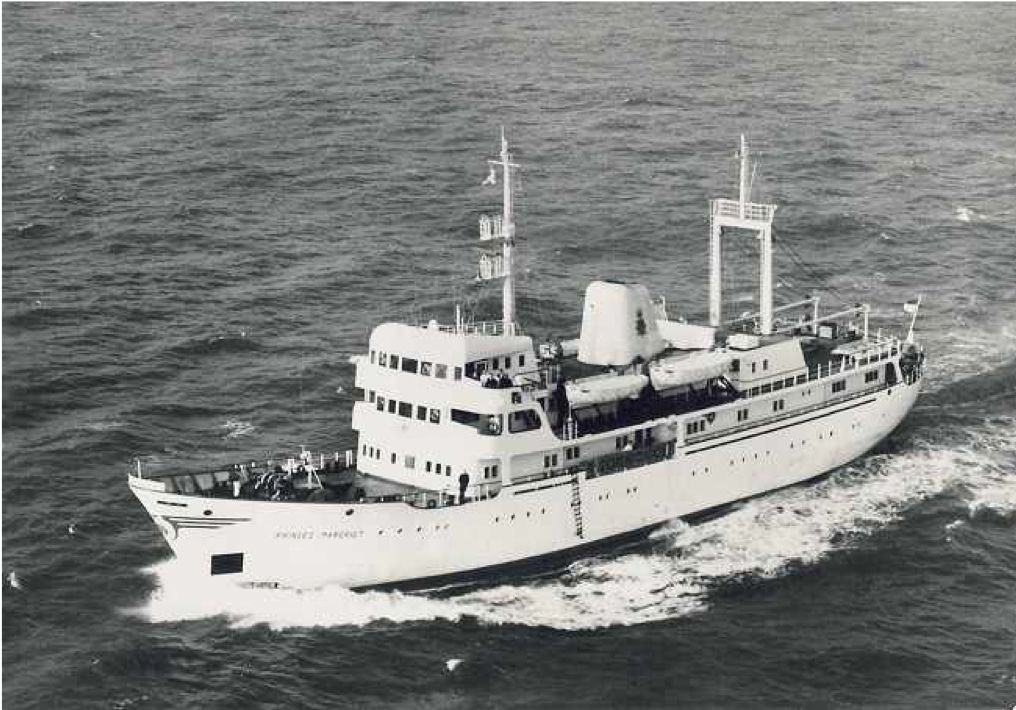 A symbol of national pride
Sherakhan's first incarnation was as the Prinses Margriet, a famous training ship for the Netherlands' merchant navy that was launched in 1966 for the Dutch Maritime Institute Willem Barentsz, operating out of Terschelling. She served her country by preparing the nation's seafarers for a safe career on the water, first as a training vessel and latterly as a hostel for the cadets. But after four decades of service, the Prinses Margriet was decommissioned and left moored off the coast of Terschelling with an uncertain future ahead of her.
A top-heavy and bulky double-bridged training ship, she offered little obvious aesthetic appeal and, to the uninitiated, she was an unlikely target for a major overhaul. But most importantly, her steel hull was in perfect order despite some 45 years of hard work in the salty ocean environment. The galvanised metal had deteriorated by just one millimetre since her launch and was still three centimetres thick (compared to many modern yacht hulls, which need only be eight millimetres).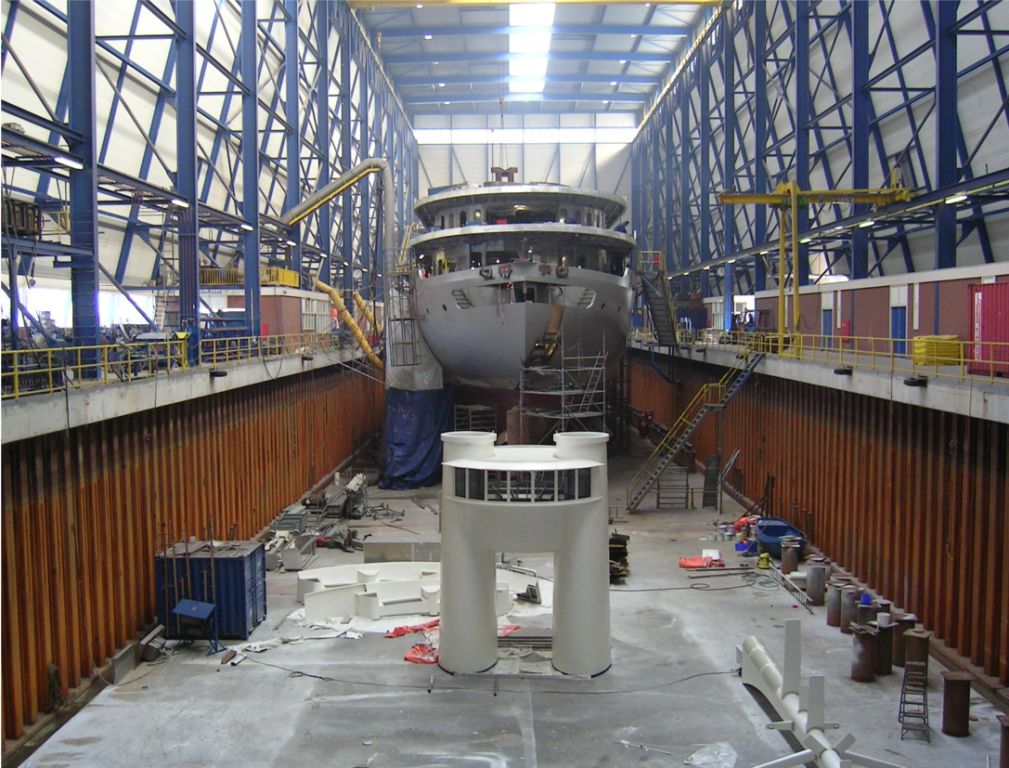 An astute business mind
After decades of refitting, converting and building many boats and yachts, backed up by his extensive background in mechanics, a lifetime of sailing, a canny eye for potential and love for challenge , Jan Verkerk, was set to start a new project.
His first international commercially operated vessel was M/Y Jaguar; a 38.1m (125ft) deep-draft displacement yacht. Jaguar was bought and refitted by Verkerk with the expertise and advice of ms. Anne Sterringa. It is safe to say Jaguar was one of the first superyachts to hit the charter scene! Once arrived in the Mediterranean and ran by both Verkerk and Rijntjes, Jaguar quickly became one of the most popular yachts on the buzzing Mediterranean scene.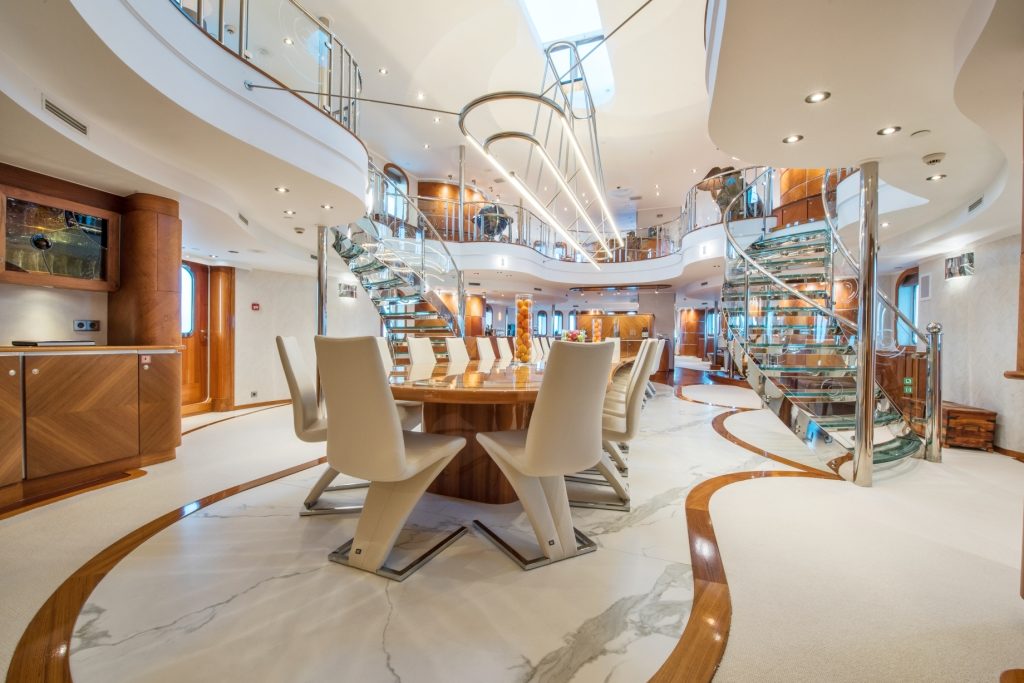 Leaping a few decades into the future, along comes Legend. A a 77.1m (253ft) Dutch-built former Russian ice-breaker with a short yacht-career as Giant I, bought in 2013 by Verkerk. With this project, we could almost call Verkerk a visionary since Legend turned out to be the very first super yacht able to navigate polar waters without support vessels while hosting groups of up to 26 guests onboard!  Legend had a complete interior and exterior overhaul that Verkerk himself project managed. This extensive rebuilt took almost 3 years and included the addition of the swimming platform, elongating the vessel with a stunning 4 metres! The yacht won a Boat International Award for Best Rebuilt Yacht and went on to circumnavigate the globe multiple times with Verkerk at the helm.
Back to 2002, when curiosity and ambition grew and Verkerk and Rijntjes went searching for a larger yacht to charter.  The both of them saw the potential for a new project: one that could accommodate more than the number of guests allowed on yacht-certified vessels, to offer luxury and comfort in a homely environment without the shackles of a 12-person limit. Designs were drawn up for a new-build project  and when Verkerk came across the Prinses Margriet lying dormant and in such an outstanding condition, he knew she offered the perfect solution. Her hull condition was the main reason for buying her, says Verkerk, but her existing SOLAS compliance was also of huge benefit. It meant she had the potential to be adapted to look like a superyacht but would be legally allowed to take more than 12 passengers, as long as any adaptations stayed within the strict regulatory standards.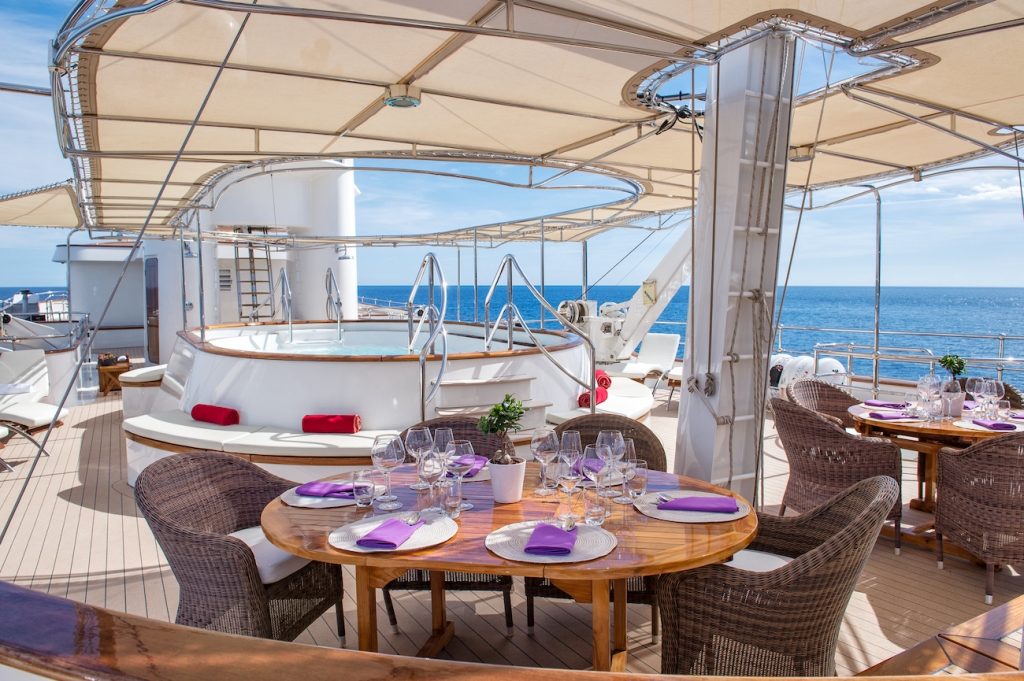 Technical challenges
And so, in 2002, Verkerk undertook the most technical challenge of his career so far: a three-year project to convert the Prinses Margriet into a head-turning superyacht that would make a significant impact on the charter market.  Verkerk worked tirelessly with Rijntjes to plan everything to the last detail, calling on his engineering background to inform the technical decisions while Rijntjes immersed herself in the interior's overhaul.
"Successful yacht building is about calculating, calculating and calculating again," Verkerk remarks. Final designs were drawn up with KMC & KHMB Enkhuizen, which involved major restructuring of the superstructure as well as the stern.
Having a very top-heavy look as Prinses Margriet, she was in need of skilful remodelling to befit her new yachting role. Verkerk was inspired by the lines and styling of a 1936 classic yacht he had seen in the Mediterranean, and set about redrawing the boat's exterior from the main deck up. The heavy steel would be replaced by aluminium, and the bow would be raised to make it more prominent and in line with classic yacht proportions. A large area was removed from the canoe stern to allow for a boarding passerelle and an opening section for stern-to boarding.
"With such a major conversion needed, it was imperative to get the style of the vessel right, as so many conversions can look rather clumpy and incongruous," wisely comments Verkerk of the challenge faced by the design team.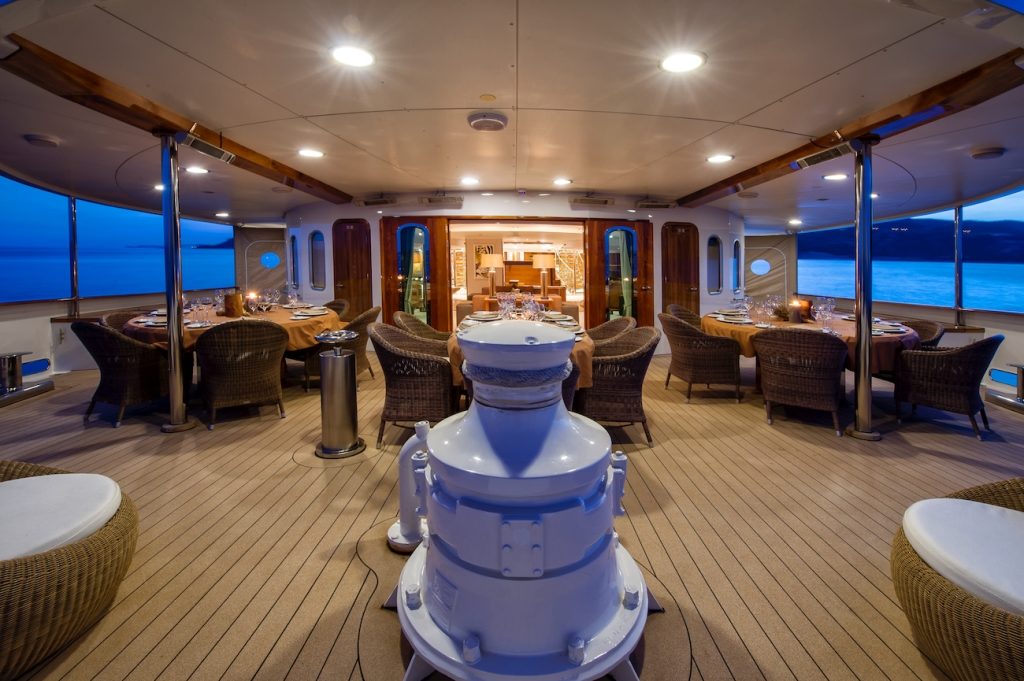 In total, some 200 tonnes of steel superstructure were replaced with 60 tonnes of aluminium. The completed project called for 75 tonnes of aluminium, 40 tonnes of steel and 10 tonnes of stainless steel to be used.
From the main deck down, all technical equipment and systems needed to be replaced except the 212mm diameter oil-bath propeller shaft, an emergency generator, three ballast pumps, some newly restored launching cranes and the original white SOLAS-compliant lifeboats (meaning unsightly new bright orange SOLAS lifeboats did not need to be installed).
Verkerk decided to keep the engine room in its original location, but its contents were due a complete update. Over the 45 years of service that the engine had provided, it had built up more than 100,000 hours, and so needed to be replaced. A single 1,014kW Caterpillar 2512 B DI-TA was carefully selected to meet the new needs of the yacht's operations; having successfully run on a single engine for more than four decades, Verkerk decided that the redundancy provided by a second engine was unnecessary. As a steel displacement superyacht, Sherakhan's new maximum speed would be a respectable 13 knots, while she would cruise comfortably at 11 knots.
Three new generators were installed alongside the original emergency generator, as well as a suite of modern hotel systems and fire and safety measures. Particular attention and countless man hours were spent on reduction of noise and vibration to provide the ultimate comfort to guests onboard, to the point where they would not even be able to tell if the generator or air conditioning were on.
Although these may seem less obvious to guests, it is the technical challenges that often prove the most tough when undertaking a project on this scale, says Verkerk: "The art of building mega yachts is in making wishes come true. The problem is the technical realisation. For example, you need to make water for the hot tubs. We use 20,000 litres a day!"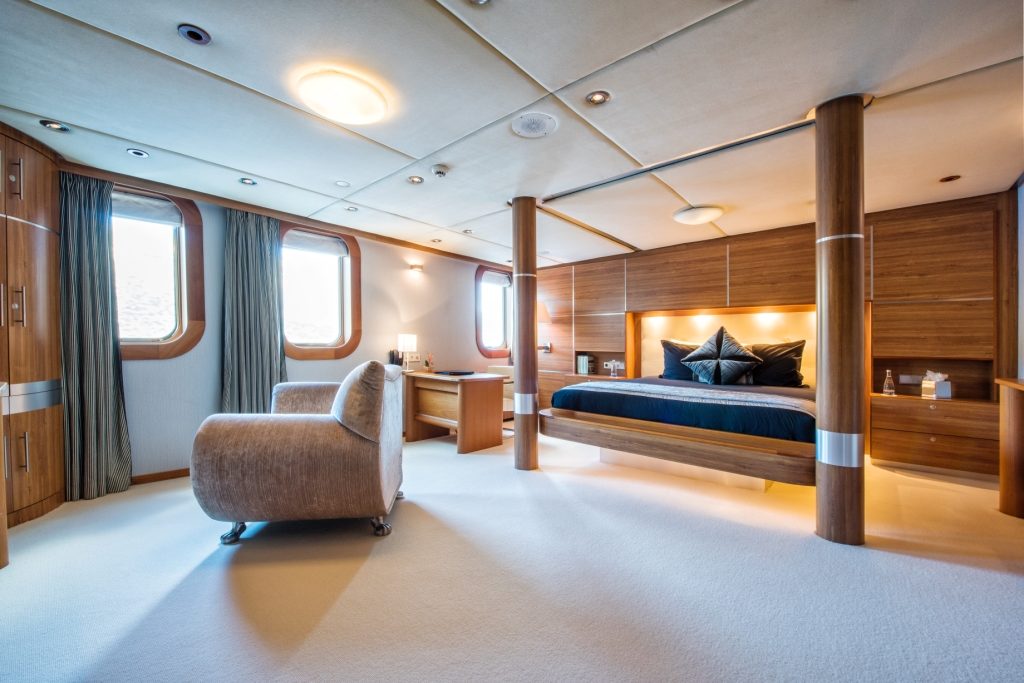 Showstopping interiors
The interior design of Sherakhan was carried out entirely on instinct by Rijntjes and Verkerk, calling on their extensive experience of renovating smaller yachts rather than taking inspiration from books or yachting magazines. Due to the limitations of SOLAS compliance, there were many creative challenges when it came to the selection of materials that were permitted to be used. A combination of natural tones and finishes offset by striking artwork lend a comfortable and homely atmosphere that has been popular with countless repeat charter guests. Sherakhan is a home away from home for all those who enjoy time on her.
Undoubtedly the most eminent feature of the yacht is her stunning saloon, which takes pride of place in the centre of the yacht's main and upper decks. At 20m in length and 9m in width, it is made all the more grand thanks to its double-height ceiling extending up 7m past a minstrel's gallery accessed by two open-tread sweeping staircases of glass and steel. Light bathes the room from above through the opaque glass bottom of an enormous spa pool, which was specially cut into the superstructure with expert design and engineering skill, due to its 350kg weight. By day the room is flooded with natural sunlight while at night, diners enjoy the playful twinkling of the spa's underwater lights.
The 7.5m curved wooden dining table mirrors the shape of the gallery, inlaid with wenge, white ash and teak in geometric patterns, and a pair of stunning Italian sculptural lights illuminate from above. The Greek butterscotch-hue marble floor trimmed with varnished teak is surrounded by a sumptuous off-white deep-pile carpet. To the aft of the saloon is a lounging area with two asymmetrical seating areas facing a large television and fireplace, respectively. A white baby grand piano sits next to the bar and a bijou dancefloor for after-dinner fun, while the gallery above serves as an excellent spot for  quiet reflection in the day or pre-dinner evening cocktails. Double doors off the saloon lead to a large alfresco dining area with three wooden tables and seating for 26 guests.
The expansive sundeck features the splendid glass-bottomed, 18-person spa pool with a fixed bimini for shade, surrounded by loungers. A barbecue area and bar to the aft of the sundeck is the perfect spot for a sundowner cocktail, while there is ample space for the  tenders and jetskis to be stowed. Another stand-out feature on Sherakhan is the unique circular observation lounge in the funnel, known as the "crow's nest", which stands some 20m above the waterline to offer perfect views of the ever-changing surroundings with protection from the elements.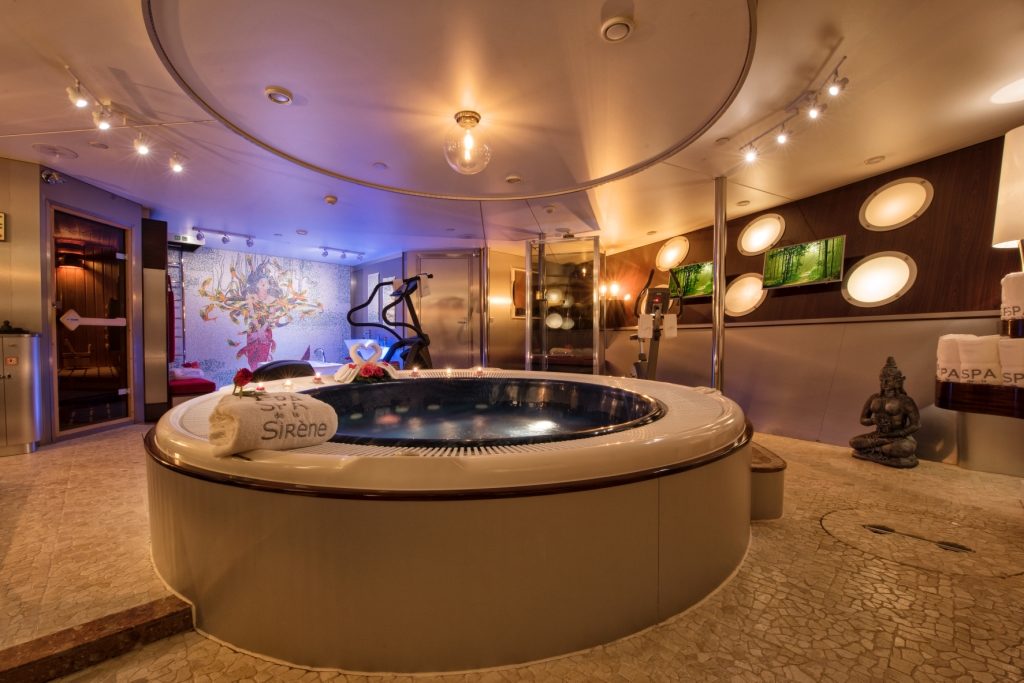 Fit for a king
The yacht's staterooms range in size from 30m2 (323ft2) to the 50m2 (538ft2) master suite, located at the front of the yacht for the best views onboard. It comprises a lounge, ensuite his' and her's bathrooms and study (which can be converted to an additional cabin) to complement the large bedroom. The bedroom also features a private terrace.
The additional 10 staterooms (four on the main deck and six on the lower deck) each have king-sized double or twin beds, two of which feature a connected double-bunked children's room. Named after celebrated authors, each of the bedrooms is decorated uniquely and given adequate space for comfortable lounging, should guests prefer some privacy. Also found on the lower deck is the library, decorated in the style of a gentlemen's club, as well as a beauty salon permanently staffed with certified personnel.
Adding to the wellness amenities available is the Spa de la Sirene on the lower deck, a vast space incorporating a sauna and raised central spa pool, with metallic mosaic tiles depicting a mermaid looking down over a freestanding bath. A gym completes the offering, conveniently located next to the post-workout sauna and bathing options. As this space is located below the waterline, Rijntjes cleverly incorporated faux backlit portholes and coloured lights to ensure a relaxing atmosphere.
Since her initial conversion and relaunch in 2005, Sherakhan has benefitted from a number of updates and smaller refits to ensure she is always in  optimal condition for guests. The latest and most extensive refit was completed at Dutch shipyard ICON Yachts in December 2017, incorporating a crisp and contemporary palette of understated whites and off-whites, complemented by a range of refined textures. These 2017-designs were envisioned and created by Verkerk together with Sherakhan's long-term hotel manager ms. Manon de Wit. Her hull was given a fresh new look, changing from classic navy blue into a timeless white, clearly showing all features and lines.  Many of her technical systems were given an update, including the audio-visual entertainment, internet and communications systems.
Sherakhan continues to evolve with contemporary tastes and the new technologies that are available but she continues to remain true to her original essence, as created by Verkerk over those countless hours spent envisaging the perfect yacht for entertainment. A home away from home, she is and will always be the consummate host to all those who charter her.