Simpson Marine announced the partnership between Sanlorenzo Yachts and Steve Leung for the project of interior design for the superyacht Sanlorenzo SL106dedicated to the Asian market. The project was unveiled at the 2016 Visun Hainan Rendezvous in Sanya and will be presented further to Hong Kong audience middle of January 2017. Following this first collaboration on the Sanlorenzo SL106, Steve Leung Designers will offer their services to all the other Sanlorenzo yachts from SL, SD and Superyacht ranges.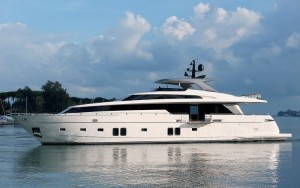 Represented in Asia since May 2015 by Simpson Marine, the most reputable yacht dealer and services company in Asia established by Mike Simpson over 30 years ago, Sanlorenzo yachts are very much appreciated by Asian buyers. On regular occasions Sanlorenzo works with world's most renowned designers to create unique yacht decors for their owners. This time the partnership has been established with Steve Leung. Steve Leung is a leading award-winning designer, founder and chairman of Steve Leung Designers (SLD) with headquarters in Hong Kong since 1997. Currently one of the biggest interior design consultancies in Asia, the company has branches in Beijing, Shanghai, Guangzhou and Chengdu and employs over 400 staff including architects and interior designers.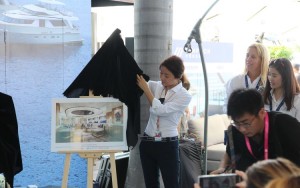 The partnership among the companies consists of a design project for the superyacht Sanlorenzo SL106 and will focus on three main living areas: saloon, master cabin and its en-suite bathroom. The design stems from a human-oriented principle to create a space that caters to the needs of the high-end users in Asia. With the spatial configuration re-imagined based on the Asian lifestyle, the main deck is given a refreshing new look that is a perfect combination of sumptuousness, elegance and sophistication.
"Yacht design has long been dominated by the western lifestyle which is very different from the way we live in Asia, especially in China. Our collaboration with Simpson Marine and Sanlorenzo serves a wonderful opportunity to demonstrate a new take on yacht design – an international yet localized design that suits the needs and custom in the Asian market," explains Steve Leung. "We've come up with two schemes, one with a more refined, luxury sensibility and the other a minimalistic, elegant touch."
"I'm convinced that this collaboration on the Sanlorenzo Asian Edition together with Steve Leung will be the starting point for many more successful projects for the Asia market. Steve Leung Designers interpretation of the local desires and aspirations for sophisticated Asian interiors will find its immaculate execution at the Sanlorenzo premises in Italy, as all the other Sanlorenzo yachts we have handed over to our clients", says Mike Simpson, Managing Director of Simpson Marine.
STEVE LEUNG – Profile of a leading architect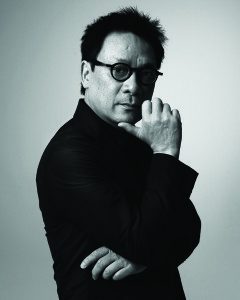 Recognized internationally, Steve Leung is a leading architect, interior and product designer born in Hong Kong in 1957. As a dedicated contemporary-style advocate, Steve's works reflect a sophisticated and unique character of minimalism, with skilful adoption of Asian culture and arts.
Over the past 19 years, Steve has led extensive famed projects in China and overseas and received high acclaim worldwide. In 2015, Steve has been honoured as the winner of the Andrew Martin International Interior Designer of the Year Award and won the Andrew Martin International Interior Design Awards for 13 times since 1999. He was also included a firm position on The 50 Most Influential Person of the Year 2015 by INTERNI and The 30 Most Influential Designers by FORBES China. Steve and his team have been credited with over 130 design and corporate awards in Asia Pacific region and worldwide, such as Asia Pacific Property Awards, Commercial Interior Design Awards, FX International Interior Design Awards, IIDA Annual Interior Design Competition, Interior Design Best of Year Awards, Gold Key Awards, US Hospitality Design Awards, etc. Steve has also been invited to be the juror of some of the most authoritative design awards, such as the Asia Pacific Interior Design Awards, iF Design Award China, red dot award: product design, China Property Awards and iF Communication Design Award.
With a worldwide recognition, Steve was invited to join yoo, an international acclaimed design company founded by property entrepreneur John Hitchcox and Philippe Starck, as Creative Director of 'Steve Leung & yoo'. Steve has served the interior design industry in many capacities with enthusiasm. Steve is the President-elect in 2015-2017 and President in 2017-2019 of International Federation of Interior Architects/Designers (IFI), the Executive Director of Design Committee at China National Interior Decoration Association (CIDA) and Adjunct Professor of HKU SPACE. In 2014, he joined hands with interior designers from Mainland China, Hong Kong and Taiwan to established "C Foundation" to promote the education and the development of the design industry.
[divider style="dashed" top="20″ bottom="20″]
www.simpsonmarine.com | www.steveleung.com