[dropcap]A[/dropcap]rt is art and business is business, but sometimes they cooperate and so, in the end, they find ways to create convivial moments, exploiting marketing synergies and personal passions. Art collectors and yacht owners are often the same people, so it makes sense that finding common values between these two different sectors is a good strategy. But sometimes some artworks would deserve a better location and the right lighting system to best express their meaning.
During the recent Art Basel Miami Beach 2016 – North America's foremost international modern and contemporary art fair  –  Sanlorenzo joined forces with Tornabuoni Art, hosting a floating exhibition on board one of the shipyard's SD112. The 34 metres yacht, moored in front of the beautiful Casa Clara mansion – on Miami's Venetian Islands – was turned into a proper "art gallery". The exhibition, named ""1958, the birth of two legends: Italian monochrome and Sanlorenzo shipyard", was dedicated to the masters of the Italian Monochrome movement, one of the essential pictorial themes of the 20th century, which developed in the same years that witnessed the estabilishment of Sanlorenzo shipyards.
[divider style="dashed" top="20″ bottom="20″]
Monochrome describes paintings, drawings, design, or photographs in one color or values of one color. A monochromatic object or image reflects colors in shades of limited colors or hues. Images using only shades of grey (with or without black or white) are called grayscale or black-and-white. The monochromatic painting has been an important component of avant-garde visual art throughout the 20th century and into the 21st century. Painters have created the exploration of one color, the examination of values changing across a surface, the expressivity of texture and nuance, expressing a wide variety of emotions, intentions and meanings in a wide variety of ways and means.[From geometric precision to expressionism, the monochrome has proved to be a durable idiom in Contemporary art.
[divider style="dashed" top="20″ bottom="20″]
During the opening night, the villa came alive with an exclusive pool-side cocktail party, that saw the participation of numerous international guests. This union between boating and art gave life to an exhibition of inestimable value, highlighting Sanlorenzo's always deeper involvement in the world of fine arts.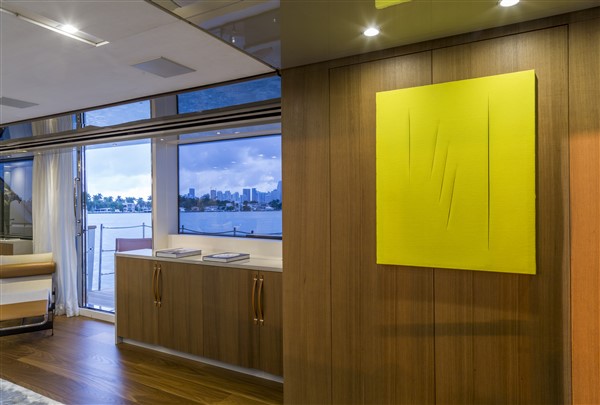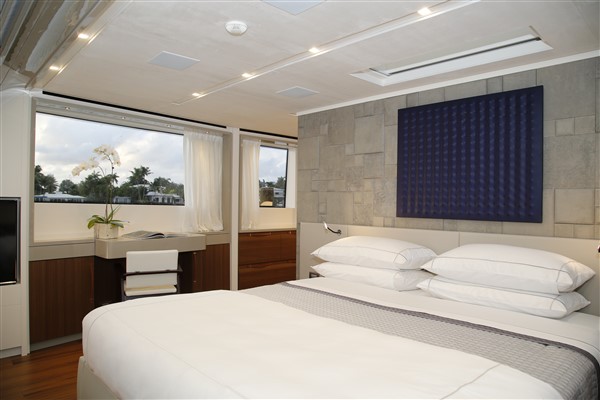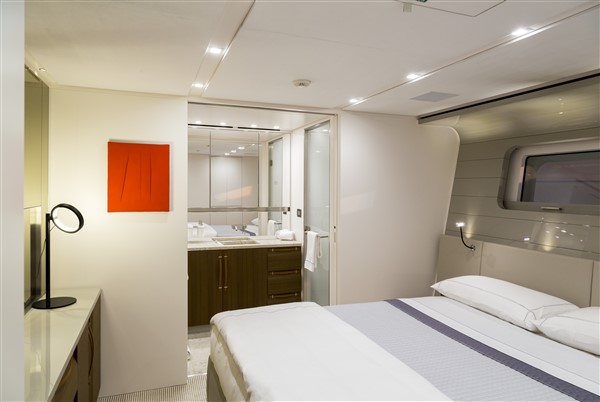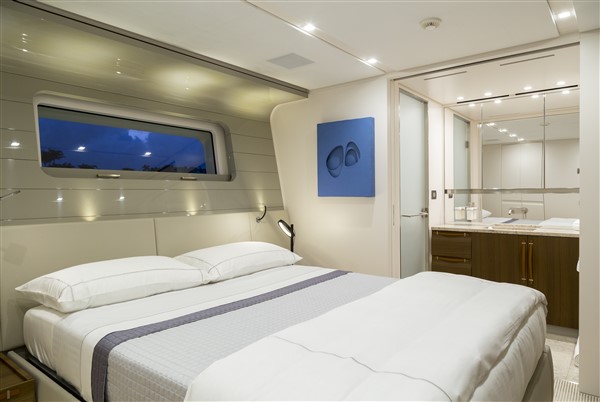 [divider style="dashed" top="20″ bottom="20″]
PHOTO COVER: Lucio Fontana, Concetto spaziale, attese, 1966