(photos by Superyacht Digest | Art Basel 2018)
[dropcap]C[/dropcap]onfirming its relation with the world of art by partnering with Art Basel 2018, Sanlorenzo presented an installation curated by Piero Lissoni, paying tribute to Emilio Isgrò, one of the best-known Italian  artists, best known for his erasures. Emilio Isgrò is considered to be among the greatest innovators of the artistic language after WWII.
Sanlorenzo has engaged in several collaborations with important galleries and cultural institutions like Milan's Triennale, during FuoriSalone 2017 and 2018, and with Galleria Tornabuoni Arte, with which it already collaborated during Art Basel Miami Beach in 2016 and on the occasion of the 57th edition of Venice's Biennale D'Arte.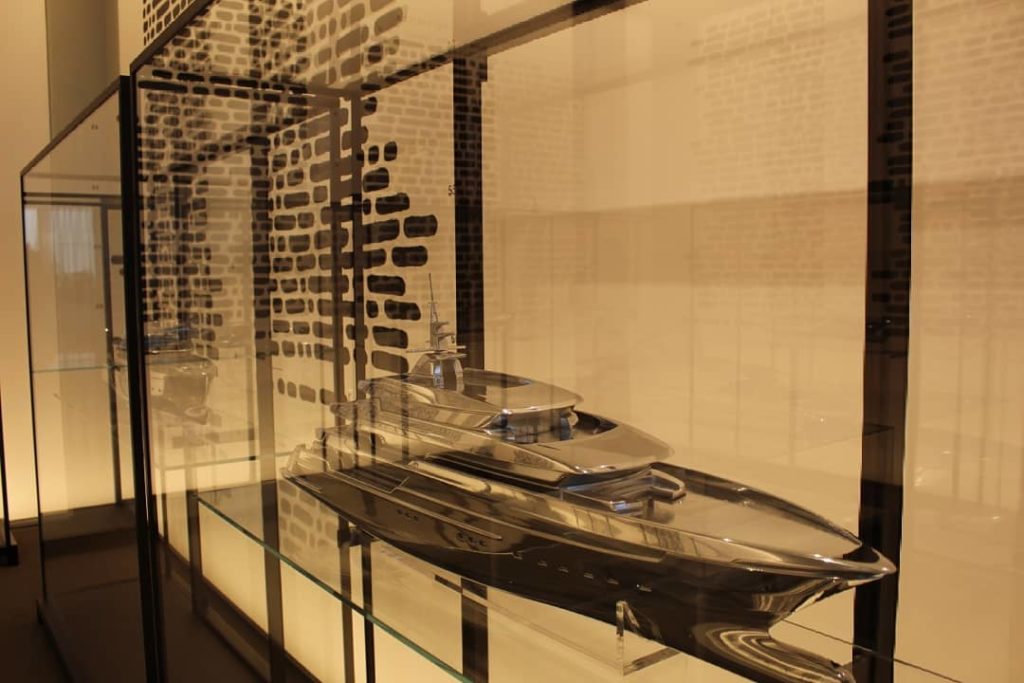 On a consistent, transversal pathway which has brought it closer and closer to the world of art, during the year of its 60th anniversary Sanlorenzo has chosen the Art Basel show in Basel to tell the international audience about itself through the impressive installation set up at the Collectors Lounge.
An ethereal, suspended space whose perimeter is marked by Isgrò's "erasures" reproduced on its walls. A sea made up of lines, signs, words through which the models of Sanlorenzo's superyachts, displayed inside glass cases, seem to sail around the work "I viaggi della mente" ("The travels of the mind") by Emilio Isgrò, which is exhibited at the centre of the installation.
"Ulysses, the Greek hero from the Odyssey, is an explorer who sets out to discover the world with his own boat and his crew, as well as a traveller who longs for knowledge.
His desire to learn and understand leads him to unknown destinations.
Emilio Isgrò's Odyssey also recounts a discovery, the revelation of a hidden meaning behind the words erased by the poem. The artist takes a cultural journey, a pathway capable of lighting up by contrasts and to bring new light, new meanings to Homer's verses.
Because each traveller is a contemporary Ulysses who reflects on the world and wants to discover it. Likewise, each journey is a discovery of places, people, cultures: a wonderful journey which begins from one's mind and continues at sea.""The travels of the mind – A tribute to Emilio Isgró".
Through the cases, visitors were invited to discover Sanlorenzo's projects firsthand, from a unique point of view toward each detail, recalling the theme of transparency, the aesthetic, functional motif of Sanlorenzo's yachts which have firstly introduced large, floor-to-ceiling windows, making it possible to enhance the sense of liveableness on board, creating a strong connection between interiors and exteriors.
Thus Piero Lissoni describes the natural connection between Sanlorenzo and art, honouring Emilio isgrò and creating a wunderkammer, with an iperminimalistic approach which is typical of Lissoni's style, highlighting the company's experience, artisanship and innovation, embodied by six different superyacht models, a type of boat that offers the shipowner the most authentic sense of adventure at sea, providing large, complex spaces on board combined with the latest technologies so to make exploring far, untouched destinations a completely independent experience.
Each model results from a totally transversal, innovative project, where the creation of the boat, forged by metal as if it were a work of art, goes alongside interior design, a sartorial creation signed by famous architects, customised in detail to obtain the desired effect. A project where elegance and attention to detail merge with living comfort and space optimisation, revealing a strong sense of coherence and unity, thanks to its meticulous care for lighting, furniture, accessories and materials, which make up the overall setting.