SABRINA MONTE-CARLO AND THE CHALLENGE OF A REAL ESTATE PROJECT IN THE HEART OF MONACO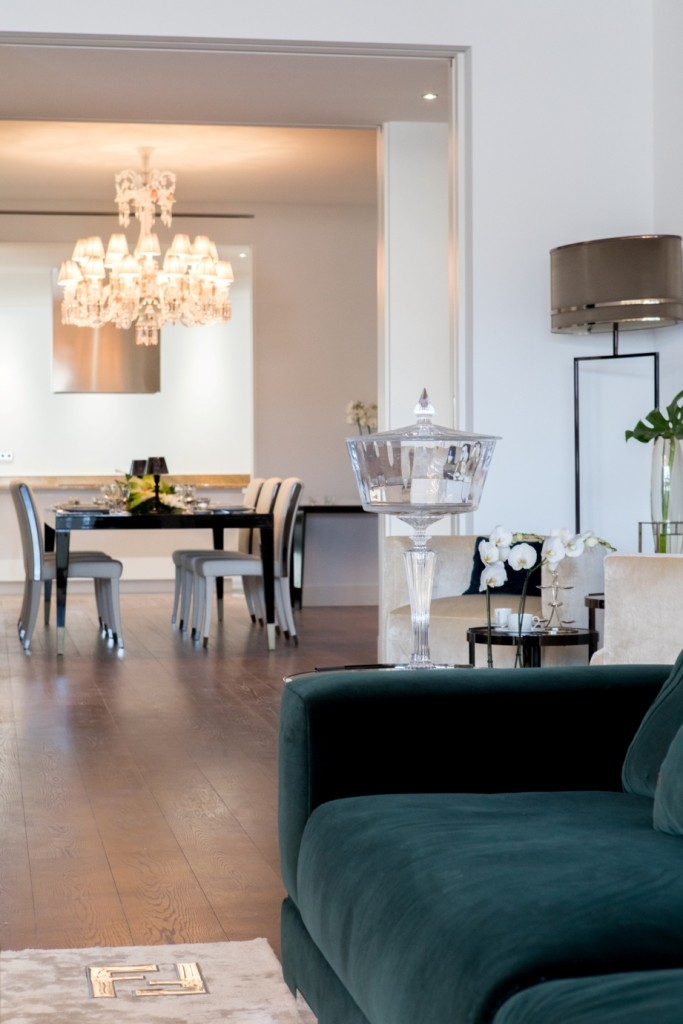 Sabrina Monte-Carlo in the real estate. The company cooperated with the agency López de la Osa & Franco Real Estate for an important project in the heart of Monaco: a vast apartment of more than 500m² with numerous white walls and oak floors, where Sabrina and her team created an intimate and warm decor, with neutral shades and styles to appeal to the greatest number of visitors.
The challenge was also to create a "coup de coeur" from the very first steps. After the kitchen, the dining room is the first room to discover. The Fendi black lacquered table with chrome legs – surrounded by six matching beige fabric chairs, with lateral inserts and bronze feet – seems to dance in the middle of the room, very symmetrically surrounded by two diamond-shaped cabinets and two consoles, all black lacquered.
The 24-light Baccarat crystal chandelier, with its pale pink lampshades, diffuses a delicate glow that softens the strong contrast of the predominant black and white of this room. The tableware also plays the card of contrast with Hermes plates, Baccarat glasses, Baccarat black crystal candle-jars and Puiforcat cutlery.
In the impressive living room of approximately 80m², two Fendi sofas in dark velvet – marine and forest green – surround a magnificent modular coffee table composed of four rounded parts, with black marble top and bronze polished stainless steel structure. The whole set is sitting on a beige-grey Fendi carpet and surmounted by an impressive Baccarat crystal chandelier. Additionally, dressing two of the opposite corners of the living room, two pairs of Fendi armchairs in clear velvet beckon visitors to sit, rest and read. A grey beige lacquered cupboard opposes a black lacquered wooden bookcase with leather details, tone on tone and always from Fendi. This harmonious blend of dark colours and soft materials soothes this beautiful very bright room.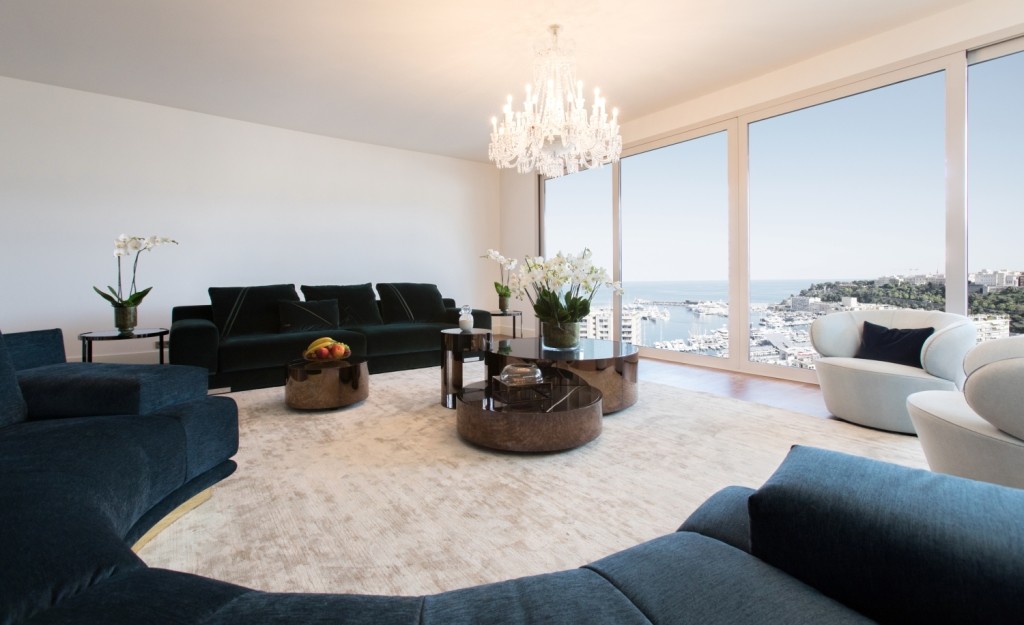 Sabrina Monte-Carlo created a cosy ambiance, in spite of its volume. A large terrace that borders the apartment offers unobstructed views of the Roc and the Port Hercules. The white Fendi furnishings with navy seat and backrest with tropical foliage cushions, bring an exotic touch, like a tropical garden suspended in the air.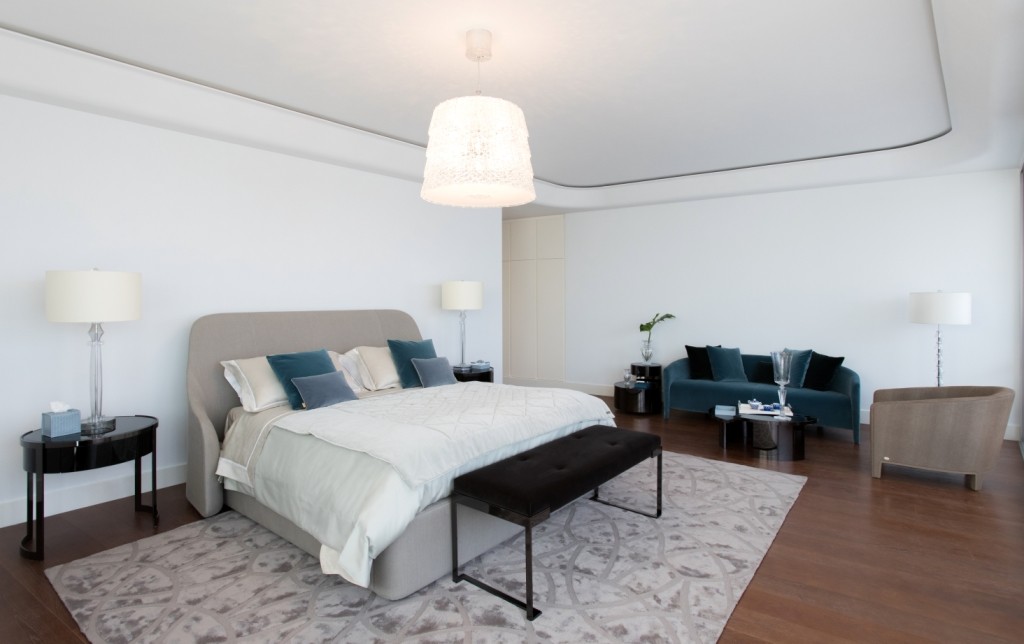 In the master bedroom one can find the plush softness of velvet in shades of beige, green and blue, which counterbalances the bronze-coloured metallic finishes of the furniture and lamp bases. A small teal sofa, and its moss green cushions, accompanied by its sand lounge chair, complete the room where many points of light warm the white walls. Covered with a soft quilt and numerous cushions and pillows, the bed inspires long and sweet nights. The soft matt velvet, which absorbs the light, and the metallic finishes that reflects it, create a perfect and harmonious balance that immediately seduces all visitors. Elegance and comfort are the key words that describe at best this apartment of very high standing.
Photo credits: Yvan GRUBSKI/Sabrina Monte-Carlo