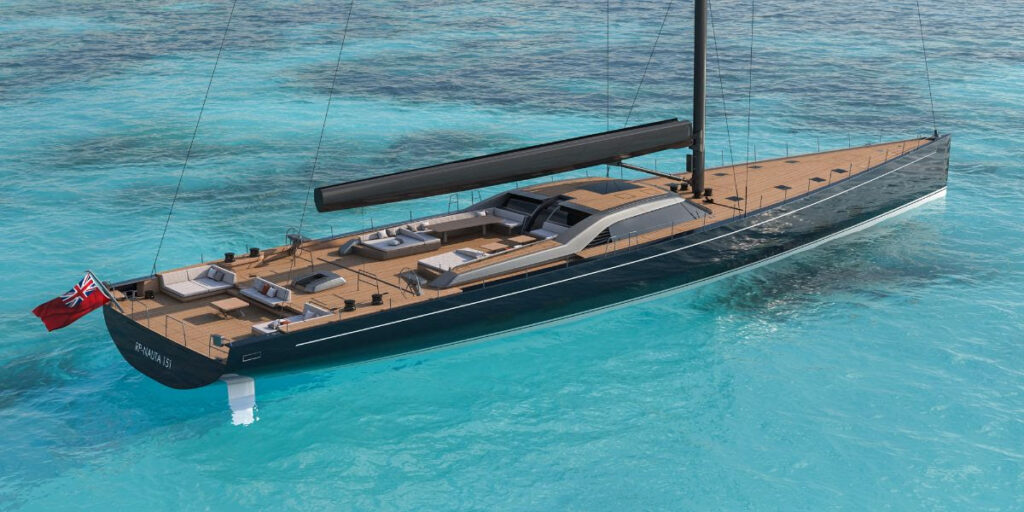 Royal Huisman has announced that construction of Project 405 will start this month. The project was announced last spring, introducing Nauta Design for exterior and interior design and Reichel/Pugh for yacht's naval architecture. The shipyard has also revealed its full-scale mockup for the 46-metre high-performance Reichel/Pugh–Nauta 151 cruiser sloop. The vision with which every project starts has, for Project 405, now been brought to life with a full scale mockup of the aft half of the yacht's main deck. To accommodate this very sizable mockup, a paint hall on the 30,000 m2 shipyard premises was temporarily made available.
The Reichel/Pugh–Nauta 151 sailing yacht was designed and built for very experienced owners to explore the world in comfort and safety in an extremely lightweight structure and ensure victories in superyacht regattas.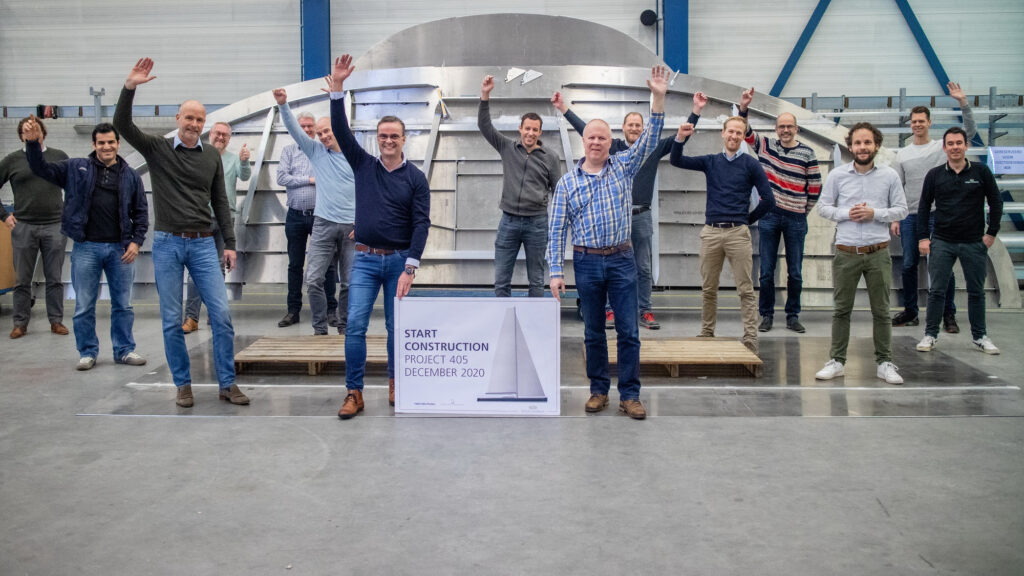 The owners' representative, Nigel Ingram of MCM Newport, comments: "Building 1:1 scale mockups has proven to be a fundamental part of the design process, enabling the owners and their team of architects, designers and builders to fine tune the deck layout down to the smallest details with the greatest confidence."
Royal Huisman's full-scale mockups support the design and decision-making process from vision to concept. At first glance, a detailed creation in a substitute material might seem just for fun, or perhaps even excessive, but shipyards consider it a very constructive and practical tool to review and experience the design during the creation process.
The hull construction of Royal Huisman Project 405, aka Reichel/Pugh–Nauta 151, commenced earlier this month. Her structure is based on a new, innovative method developed by the shipyard to make her extremely lightweight, thanks to the optimal use of materials.
Royal Huisman's CEO Jan Timmerman says: "In spite of Covid-19 restrictions, work on all aspects of Project 405 continues as planned. The full project team, designers, architects, our engineers are on schedule – mostly working remotely from home – so the development of the design and systems continues while our inhouse craftsmen have made a start with the production. The team meets regularly in online meetings and we are all pleased with progress so far. At this moment we are looking forward to the next milestone: the hull turning at Royal Huisman's headquarters in Vollenhove."