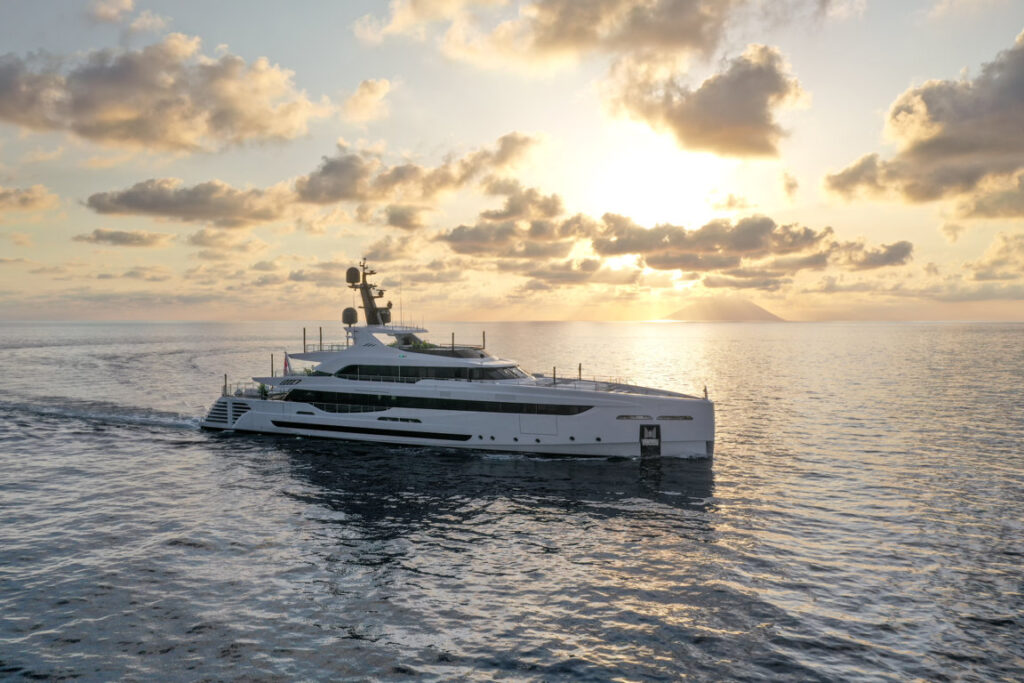 With 20 yachts built to date, Rossinavi has delivered three stunning megayachts this year working with four different design studios. Federico Rossi unveils more about these new builds in a very generous interview with Superyacht Digest (January Issue 2021).
Let's imagine for a moment that 2020 was not a tough year for everyone and on all levels; that it was not a year that we will hardly forget because of the pandemic. Let's just forget about COVID-19 for a while. What's left? The answer is: everything that has been created during this troubled and puzzling chaos, despite all the difficulties due to restrictions on social gathering and on travel, and to production and logistic shut downs. Shipyards are always and constantly under pressure, actually: being such a niche industry, its clients are so few in number that every year this segment faces unique challenges, having to deal with different scenarios and unexpected events of all kinds.
Rossinavi is the Viareggo-based shipyard established by the Rossi family in 1980. Starting out as subcontractors (Fratelli Rossi shipyard), they eventually specialized in building full-custom superyachts, in both steel and aluminium. The yard started to build vessels on its own under the brand name Rossinavi in 2007, and since then it has become a superyachts atelier delivering unique boats, all different from one another. We are talking about real tailor-made creations, built to fulfil their owners' desire to own a unique, crafted, ad hoc and irreplaceable vessel. This uniqueness in the market is a key feature for a hypothetical resale of the vessel.
2020 was quite a unique year for Rossinavi: the yard has never experienced the construction of three huge boats like these before, and in such a short period of time. In the first 6 months of the year, 50-meter LEL, 48-meter EIV and 52-meter Florentia hit the water in this order. Their interior and exterior styling is the result of the collaboration between a group of four design studios. In terms of naval architecture, all three projects were signed by the Arrabito Naval Architects Studio, which with Rossinavi has always collaborated. Now let's discover the three vessels and learn something more about their most relevant features in this interview with Rossinavi's COO Federico Rossi, who gave us some extra details about them.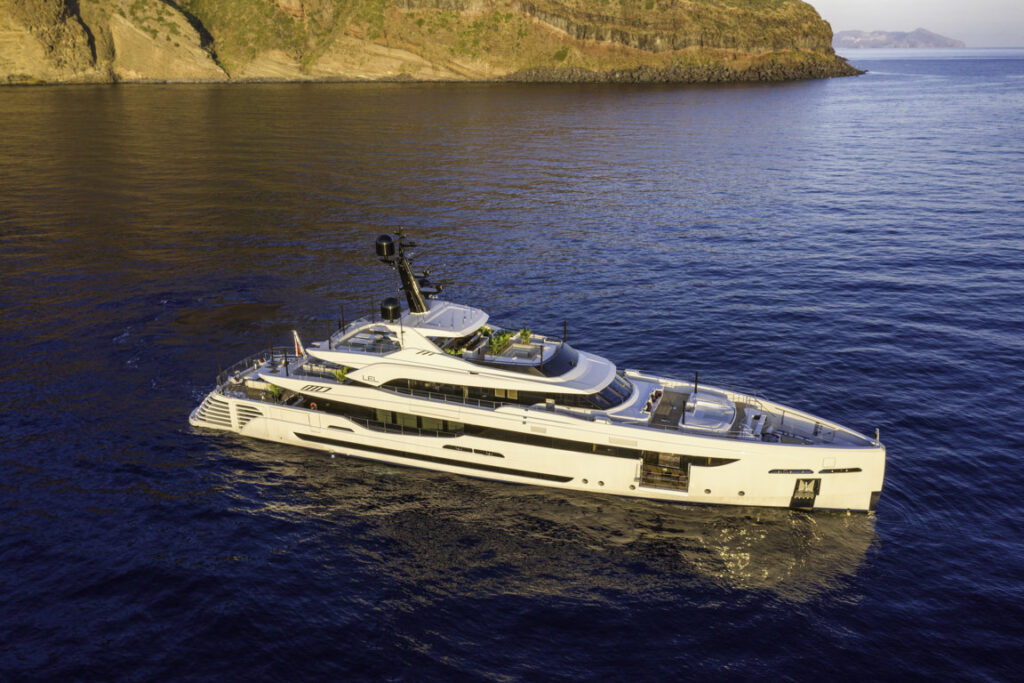 M/Y LEL
Consegnato a luglio scorso, il 50-metri M/Y LEL was developed by Kurt Lehmann, Chairman of Yacht Moments, and is described as the perfect balance between sporty exterior lines and contemporary interiors. The design of the exteriors was signed by renowned design firm Luca Dini Design & Architecture, which was also responsible for the interior styling. LEL marks the the first collaboration between Rossinavi and the Florence-based studio. Completely built in aluminium, LEL is a celebration of fluid forms, thanks to a dynamic silhouette that harmonically culminate into both decks and hull. The generous size of the main common areas makes LEL one of a kind in the segment of superyachts with similar gross tonnage, giving her a substantial competitive advantage.
LEL boasts a rather large beach club that allows for a dynamic and natural interaction with the surrounding environment. When the side and stern doors are lowered, interiors and exteriors organically merge into one vast and comfortable entertaining space featuring an indoor bar area where the tender can also be accommodated.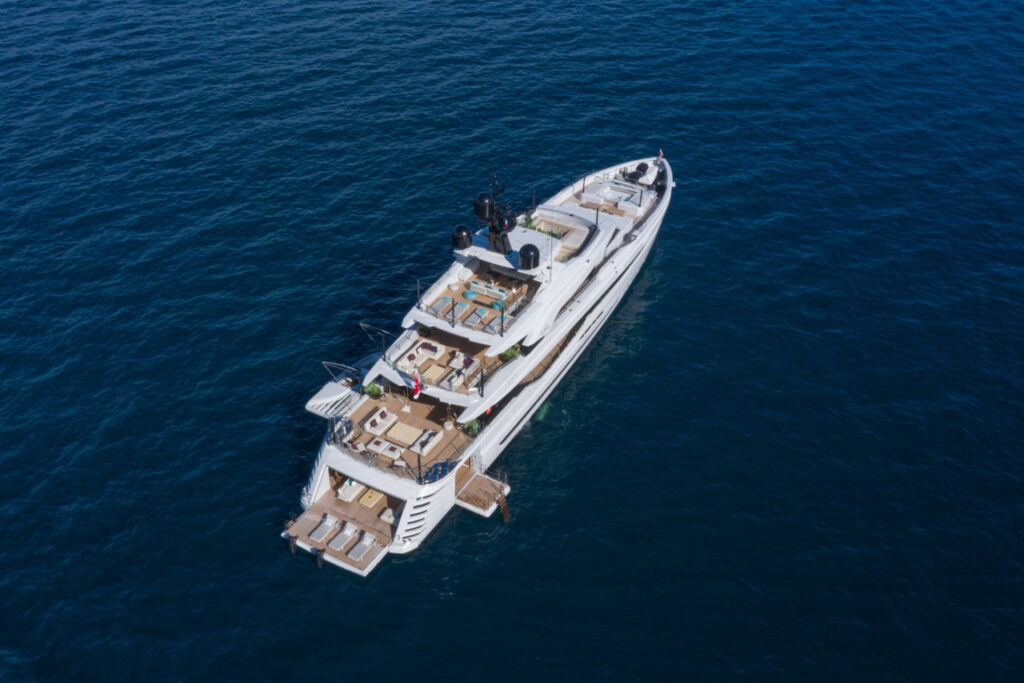 The upper deck features a tranquil dining area which can be transformed into a private and protected environment with a removable veranda. This innovation features outdoor heating lights and a room air conditioning system which allows for the boat to be enjoyed throughout the year and in different weather conditions.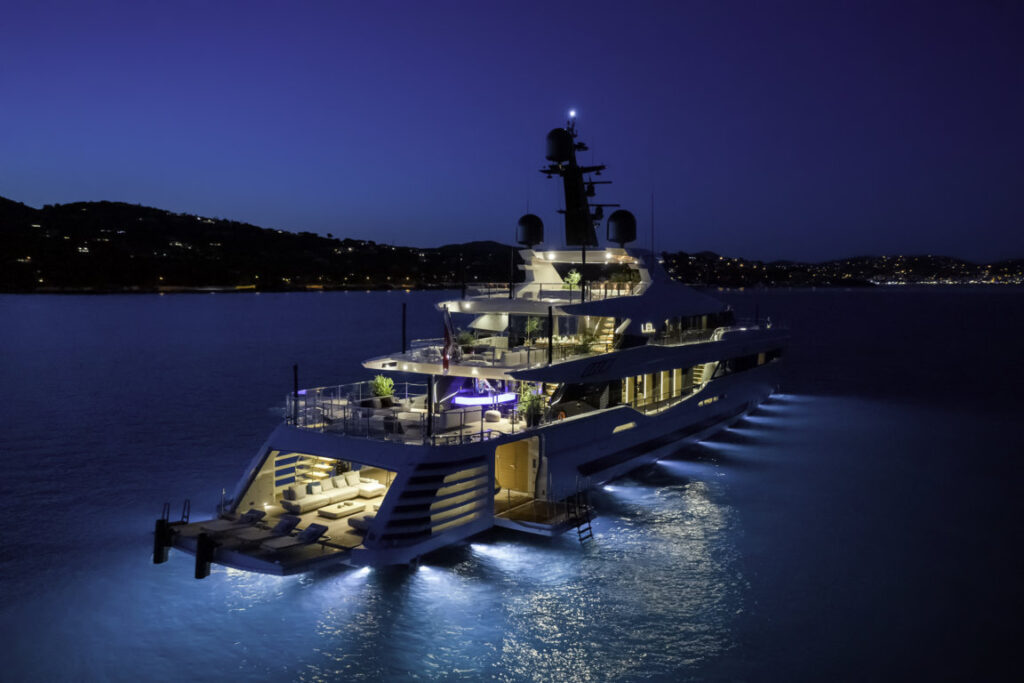 At the top of LEL is the sundeck fitted with sunbathing and relax areas by the pool pointing towards horizon and equipped with a dedicated bar station.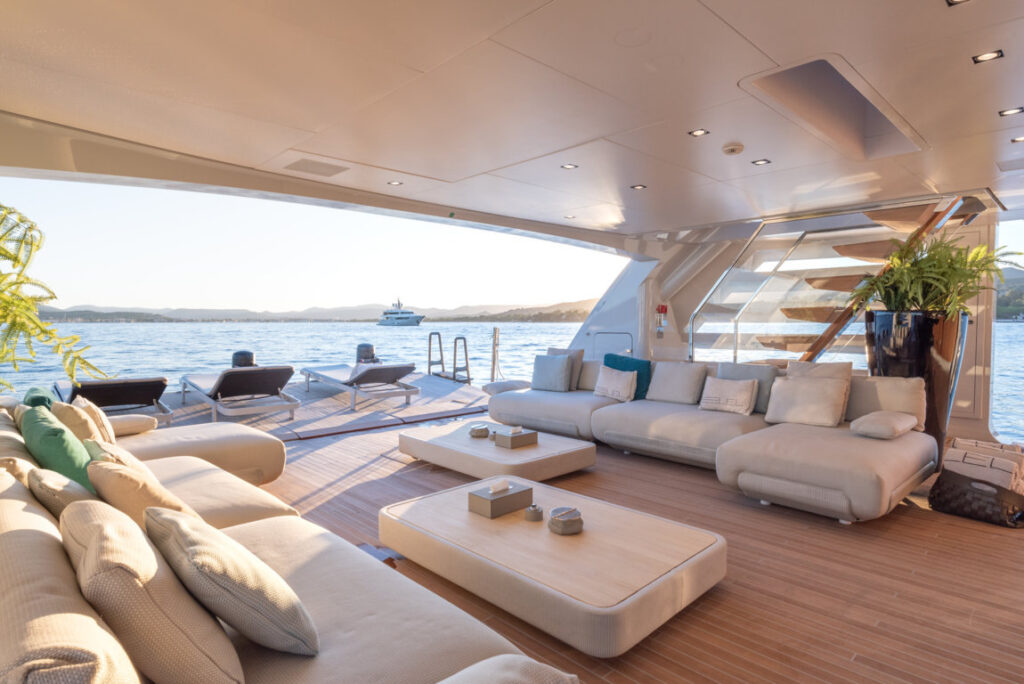 Indoor, the main saloon features refined luxury interiors, which combine a contemporary design furniture, elegant textiles, precious leathers and bespoke finishes for a tactile perception of timeless elegance. The owner's suite is located forward on the main deck and is of generous size. In order to increase the comfort of this area, a large walk-in-closet has been installed and the cabin also features a private balcony directly suspended on the sea. Adjacent to this suite is located a VIP stateroom. On the lower deck, four guest cabins are all well-equipped with the latest comforts and merry the character of LEL. Powered by two MTU 12V 4000 M93L 2,580 kW diesel engines, LEL has a top speed of 25 kn and a cruising range of 4,000 nm.
"The owner's main request was to emphasise the open spaces to make the most of the open air and water, and I believe I achieved the objective because LEL is like an actual terrace overlooking the sea, 'un pied dans l'eau', where nature meets technology." – Luca Dini –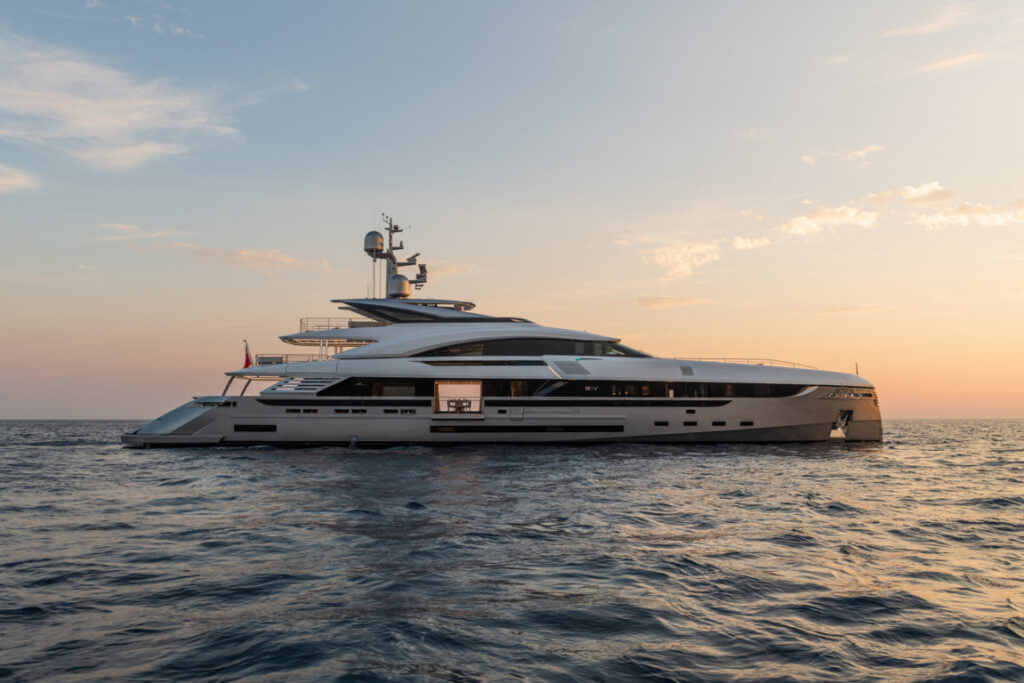 M/Y EIV
Delivered in november 2020, M/Y EIV is a full-custom 48.8m superyacht commissioned by an U.S. client, introduced to the yard by Dean Anthony of Allied Marine's Superyacht Division. Built as Project Vector 50, EIV has been designed by Venice-based studio Team for Design – Enrico Gobbi and has seen the cooperation of the United States for some technological and mechanical components. As the yards states, a particular attention to US standards has been given, since the vessel will be based in US and Caribbean waters. Among the client's desires, the ergonomic function and elegant interiors.
The unique elements that make EIV one of a kind include timeless elegance of its neat lines and balanced proportions that naturally connect to natural elements bearing stylish details. Inspired by elements of the automotive industry such as the air vent grills of a sport coupé, EIV boasts a well-proportioned and slender silhouette enriched by continuous glass surfaces. Despite its sleek volume, EIV embodies an impressively spacious interior layout that can accommodate up to an owner's party of 8 in four generous double cabins, situated on the lower deck and each one with en-suite facilities. The full beam master suite is located at the front of the main deck and includes an intimate private terrace on the starboard side.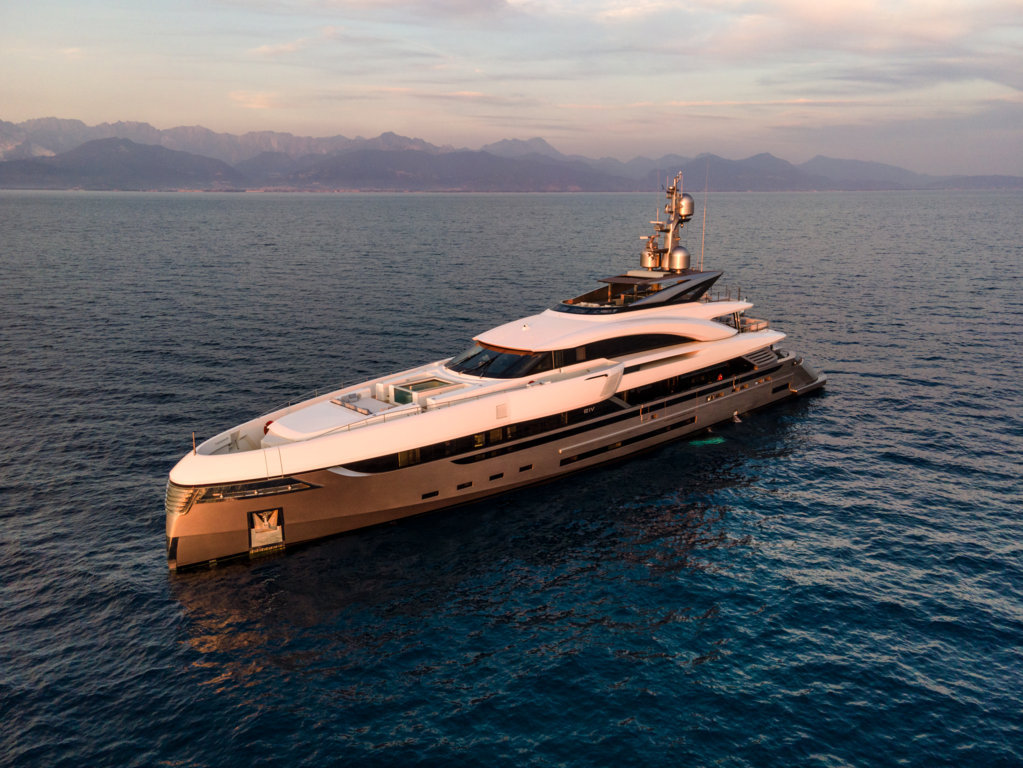 EIV's design ensures an ongoing dialogue between exterior and interior thanks to its floor-to-ceiling glass windows along the main deck. Portions of the glass slide open for a flood of natural light and for better enjoying the surroundings.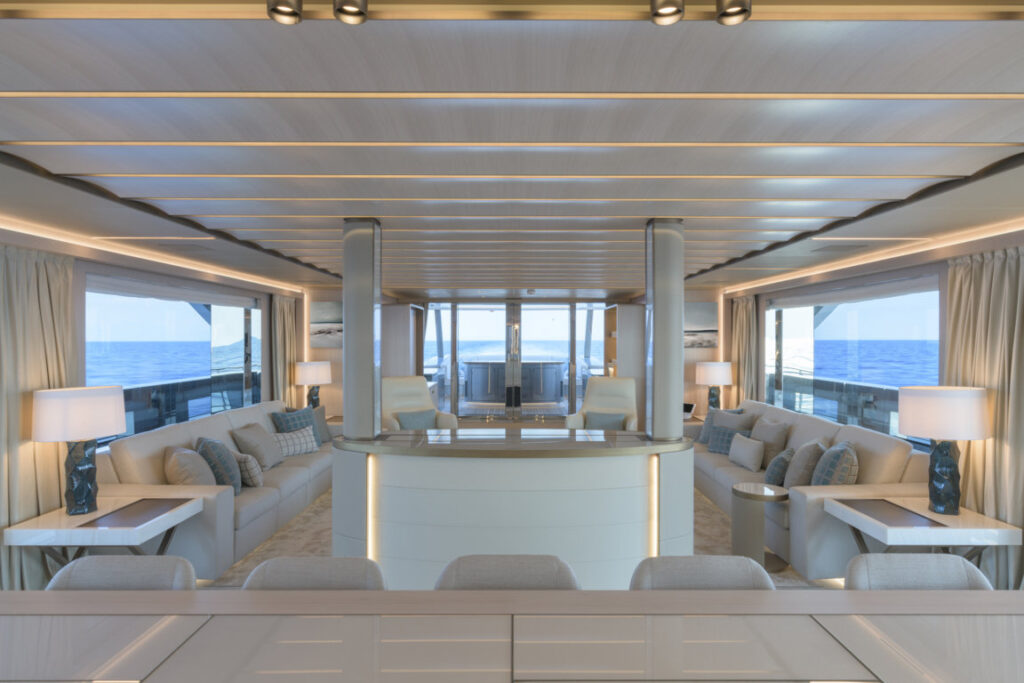 The interior design is a thoughtful mix of contemporary and modern, expressing class, energy, style and dynamism. Here bright and natural nuances of wood and fabrics are cleverly combined with prestigious coating materials, such as onyx and leathers, and sophisticated details in bronzed brass metal. Custom carpentry details by Enrico Gobbi are mixed with contemporary European furniture, decorative lighting art pieces and exclusive Italian-made fabrics; the impression is of a relaxed, welcoming, elegant interior with plenty of light. Most of the furniture has been personally designed by Enrico Gobbi and upholstered with high end fabrics of leading international brands such as Hermès, Rubelli and Armani Casa.
"EIV is the 'little sister' of Utopia IV. The success of this concept lies in its balance between a generous layout and its sporty lines. the fast-displacement aluminium hull allows EIV to cross the oceans and cruising in shallow waters. Performance, luxury and sea-attitude are the key words that best describe this new Rossinavi." – Federico Rossi –
M/Y Florentia
Presented with a strictly private ceremony in Pisa last June, the largest of the three vessels which touched the water this year at the Rossinavi yard, is a 52-metre masterpiece named Florentia. With a volume of 800GT, Florentia has a steel full-displacement hull and aluminium superstructure with the exterior design by Rome-based architecture firm Studio Vafiadis and interior by Italian designer Carlo Colombo together with his Design Studio A++. Florentia is a vessel in which functionality and efficiency are a testament to style, as states Federico Rossi. The boat's external lines are elegant and sinuous; durable materials and functional design merge into the silhouette of the yacht to create comfortable and sheltered places for the owners and their guests.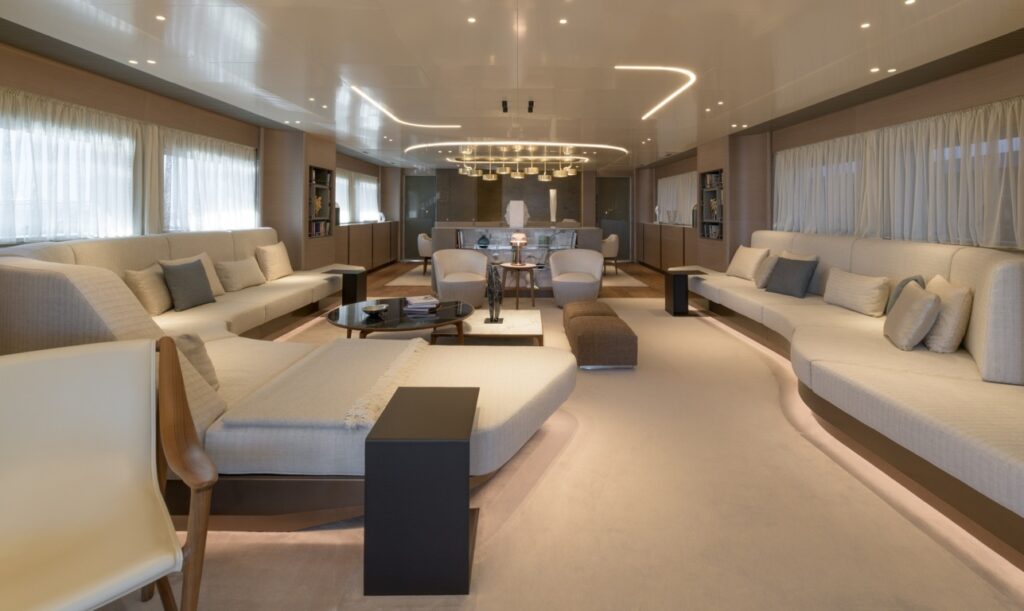 "Florentia is a fully bespoke superyacht made in Italy, entirely designed and built around the owner and his needs. We've been challenged with the difficult brief to create a timeless gem where classic features and shapes meet modern details." – Stefano Vafiadis –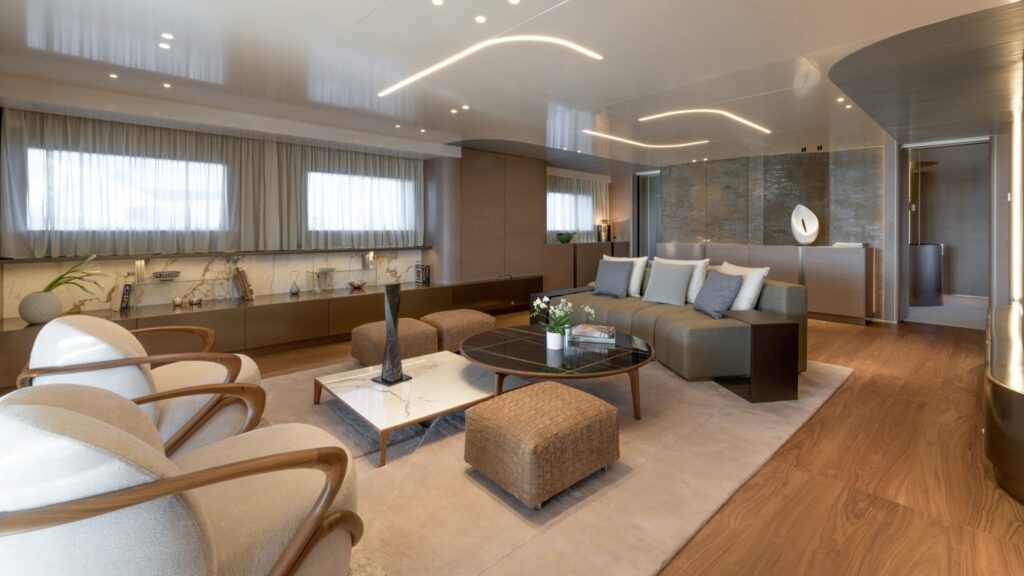 As Carlo Colombo explains, Florentia's interior design is inspired by the shapes of nature and ocean waves combined with technology and continuous research of design functionality. The soft lines of the boat's architecture style pervade the space complementing neutral colours and precious materials contributing to a unique and refined yacht for a peaceful and relaxing experience. Similar to a proper home, Florentia features very generous spaces and is thought for the guests to move around easily and comfortably. Key areas include the main deck, the upper deck featuring a multi-functional salon, the fly deck boasting a VIP Suite, and finally a lower deck where the remaining guest cabins and crew area are located.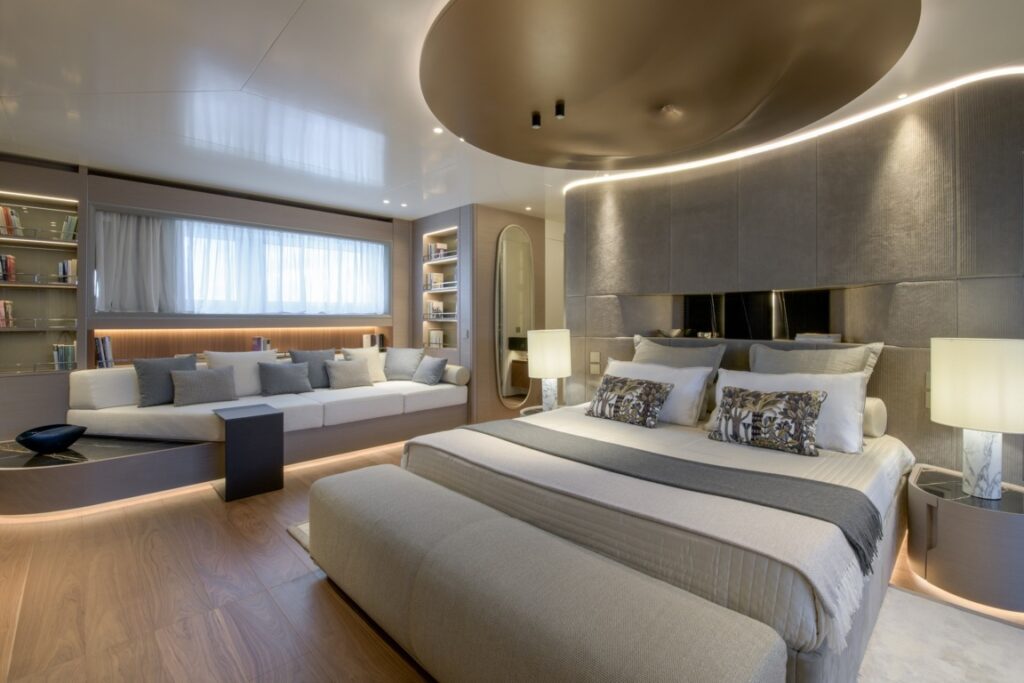 Florentia is special for different reasons: the staircase, originating from the main deck and complimented by a blend of warm colours, leathers and light wood, is the beating heart of the boat, together with the lobby. The main salon and the dining room are both majestic spaces, formally divided by a structural bespoke cabinet. The owner's cabin has a private balcony and two walk-in wardrobes. The upper deck is a multi-functional space easily convertible to a cinema lounge. Another special space is the VIP Suite, which boasts a private balcony at bow and access to the outdoor jacuzzi at stern. In Florentia, to conclude with the yard's words, the multi-scenic approach leads to the creation of a symbiotic language, which characterises this special yacht design line.
Q&A with FEDERICO ROSSI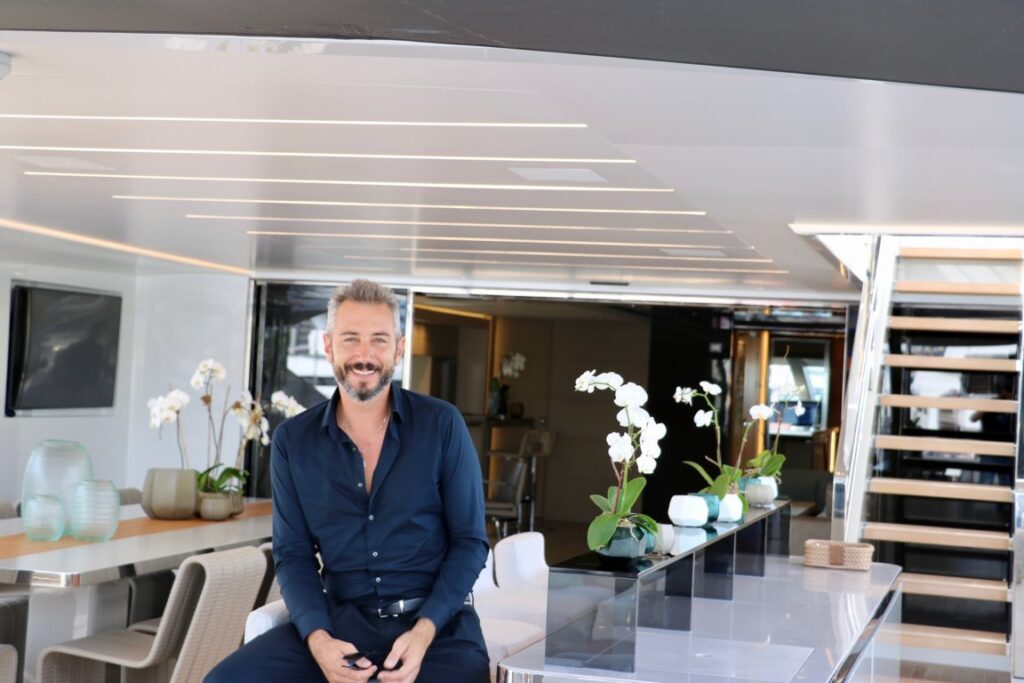 SD: "What can we say about this 2020? How did COVID-19 affect you as a yard and how did you handle it?"
FR: "2020 has been a tough and complicated year, but at the same time we have worked a lot and very well from all points of view. Because of COVID-19, we have certainly experienced a shut down that caused first of all a long delay in the deliveries scheduled for the spring: LEL was delivered to her owner in June, while EIV and Florentia in August. Their three owners are from different countries (America, Germany and Russia) and all of them showed us great support and sympathy. They immediately understood the situation especially at the beginning, when Italy seemed to be the only country facing the emergency. We found ourselves in a very complicated situation, so that a temporary shut down was necessary. They showed us true solidarity and this too helped us to carry on faithfully.
The pandemic also affected us economically, since progress payments were therefore delayed, but luckily we are a strong company. I have to say that we have also suffered psychologically. We are used to work constantly, I mean we basically live in the yard and we never stop; that's why not being able to do our job all of a sudden definitely caught us off guard.
On the other hand, this period also offered us the chance to rethink our strategies and develop new projects. In my opinion, COVID-19 impact on the megayachts segment was minor compared to that on smaller boats. What occurred was a delay in our rhythms; however, that also resulted in more time available to interact with our clients. Technology helped us to improve as well, but not only for connecting us: it also helped us to focus on what matters, to think faster. Online conversation and digital tools leave no room for empty words: you go straight to the point and this makes our work easier.
We are currently working on the delivery of a 70-metre ice-class yacht with a diesel-electric propulsion system, a 50-metre full-displacement yacht, a 66-metre and also a 50-metre yacht. This is what we have in the pipeline right now. 2021 is going to be a challenging year for us, that will follow a 2020 just as busy: we have been working a lot, countless hours of work, both on the production and the development of new concepts, but on the commercial side as well. Deliveries scheduled for 2021: We concluded 147 negotiations this year. More that we have ever had. We got them through new channels. We are more digital now and we have more time at our disposal".
SD: "From 2007 to date, how do you think you contributed to the history of design in the nautical world?"
FR: "With a 'conceptual' design. Let me explain what I mean. We don't have an in-house design studio, so we always collaborate with outside designers. With our creations we bring the architects' vision, building yachts that I like to define 'purebred'. If we are building an expedition yacht, then it has to be capable of sailing around the world, without compromises. That's how we built Endeavour, a technical boat, or rather, a sailing boat dressed up as a yacht. When building Utopia we were aiming at a super sport yacht instead, something that we could compare to a Porsche 911 of the sea. That's what I mean with 'conceptual' design: we gave our contribution by constructing very subjective vessels".
SD: "Some yards claim that it is really important for the market to understand the difference between a purely custom product and a customized product. As a matter of fact, the first one refers to a project born from scratch, while the second one is a project designed together with the client, but technically limited by a series of choices imposed by the yard. What is the position of Rossinavi in this matter? Can we define your production as 'pure custom'?"
FR: "Yes, definitely. And let me emphasise that this is a matter of responsibility. What I mean is, as a builder we offer clients our experience, but at the same time we listen to their requests, fulfilling their wishes in a functional way. A full-custom approach allows us not to make mistakes. We don't work on fixed-hull platforms, that we would necessarily have to change in order to respect our clients' requests. In doing so, we will probably build the wrong boat, especially in those cases where the client asks for changes to the beach club. In fact, to meet this request it's necessary to shift the centre of gravity significantly. Hence our decision to develop the hull starting from a precise general plan, with responsibility".
SD: "What advice or stylistic and design suggestions do you feel you can give your clients to help them make more conscious, targeted and better choices, which are more in line with the market, considering, for example, a hypothetical reselling of the boat?"
FR: "I always recommend a nautical approach for a boat, in order to preserve its nature. More then a megayacht, a smaller vessel is what we immediately associate to the idea of a life in contact with the sea. A megayacht suggests the concept of exclusive luxury before anything else. That's why when I say 'nautical approach' I only refer to the stylistic aspect of the project, not to its purpose. We are used to work with different cultures worldwide, from America to Asia, and everyone has in mind his own idea of experiencing the sea and of luxury. As builders, we always recommend a balance between the two concepts, without exaggerating in one direction or another. We always recommend not choosing too unusual lines, but going for a design that can be understood by everyone instead".
SD: "Can you try to describe these three projects by using only one word for each?"
FR: "I would like to answer this question without using the usual adjectives, like elegant, ground-breaking and so on. With regard to LEL, I would define her as 'The taste of the Sea': she is an open boat that breaths sea air. Onboard it's possible to see and enjoy the water element from every angle, and we ourselves experienced it this summer, when we spent a couple of days on board. Even when you are indoors, the wide windows let you enjoy the sea all day long. EIV, which is a very complex boat instead, was built for a client that was looking for a very sporty vessel. As a matter of fact, EIV can be considered Utopia's 'younger sister'. This all-aluminium boat doesn't accept compromises and boasts several impressive features, such as a low draft and a fast-displacement hull. She features four big cabins, a huge master suite, a crystal lift, a staircase just as impressive, a spa and a swimming-pool. She has everything you need and more, she is fast and strong in every way. I want to define her as a 'Limitless Vessel'. Let's finish off with Florentia, a boat that I would describe as 'Romantic'. She boasts very clean lines, while conveying a sense of delicacy both through the exteriors and interiors. On the fly there is a suite that we even called 'romantic room', as if it were the perfect love nest accessible to everyone, without excesses".
SD: "What can you tell us about the owners of these three vessels?"
FR: "The owner of Florentia asked for a boat not exceeding 50 metres, while still boasting great spaces. She also had to offer shelters and protection, with fewer outdoor spaces. The owner is not a sun lover: he wants to be in contact with the sea, but safely. With regard to this vessel, I also would like to add that after visiting our client's house, I realised that Carlo Colombo would be the best person to design the interiors. It has proved to be the right choice, indeed. With LEL the idea was to build a boat that could blossom like a flower, opening from all angles and offering guests an outstanding liveability, both in terms of indoor and outdoor spaces. The vessel had to aim at the pleasure of being outdoor and at offering the opportunity to live in the open air both day and night. She features a terrace where you can relax also at night when the air is more humid, since she is equipped with heat lamps that provide a pleasant climate. On the other hand, EIV was specifically requested to be a vessel that could be anchored off Fisher Island, a place that overlooks Miami Downtown. That's why we decided to equip the dining room with wide windows, so that Miami could be the perfect background, serving as a "natural poster" and offering guests this amazing view".
SD: "Going back to the market, how do you compete today in this niche? Did you detect any important change in the customer base?"
FR: "Actually, that's not quite true. The point is that, being such a niche market, we only have a few numbers at our disposal and that's what makes analysing the trends so difficult. I started working in this sector a couple of years ago, but I have already had the opportunity to meet with clients of different cultures and kinds. However, most of these clients belong to the so called new generation of 'rich kids'. They are precisely those – more than anyone else – who show the desire to build something unique, pushing us into breaking the traditional patterns of design. The new generation wants a direct dialogue with the yard and, most of all, immediate answers. They are not interested in wasting their time on empty talks. Thanks to them, we are exploring new worlds, especially because in their eyes we are not a simple showcase for luxury: we are builders, craftsmen. We are a shipyard. The experience we provide our clients with, allows us to create something unique and this is what the new generation is looking for".
SD: "Did you already assess the effects of COVID-19? What kind of evaluation did you make and what are you expecting from 2021?"
FR: "COVID-19 has been a blessing to our business, actually. It may sound strange, but it's true. We have rediscovered the importance of dialogue, as I said earlier. Of course one effect we are experiencing is that families are going to increasingly look for self-isolation, which means a safe place, a shelter were to feel secure, instead of seeking the usual 'jam-packed summer'. So the boat appears to be the perfect solution. Moreover, the cancellation of this year's boat shows somehow gave us the opportunity to save some money and stop investing in those events we are actually not interested in, while still maintaining our leading position in the business. As a matter of fact, we are lucky enough to be based in Viareggio which, in terms of yacht district, is already a boat show by its very nature. So, it's no surprise that many clients came here spontaneously to visit us. Maybe we could say that the pandemic has brought some more clarity to this sector. Visiting the yard gives them a better understanding of several aspects, such as the brand value but also the gained experience. Often expertise is precisely what they value the most when looking for a fair listing. A good reputation, clear facts, a sound approach and a fair price: this is what brings clarity to the market".
SD: "Overall, since 2007 you have built 20 boats. Which is the one you remember as the biggest challenge for your yard in terms of design and engineering? And which was, instead, the most satisfying one with regard to the relationship with the client?"
FR: "Without a doubt it's Numptia, a 70-metre yacht delivered in 2011, the year following the crisis. Until Rossinavi builds a submarine, Numptia – of all the projects – will continue to be the biggest challenge we have ever faced. We didn't have the Rossinavi brand yet, but as a yard we had a long experience as builders under contract. One day, an American man came to us, asking for a 70-metre. So, what to do? How do you say 'no' to that? That's when we decided to create a brand and to come up with a design and a style. That's how we started to build Numptia. When we first presented her at the boat shows, many visitors thought we had been on the market since forever. This project was a real showcase for us".
SD: "Speaking of the new generation of 'rich kids' – who in most cases didn't inherit any nautical tradition from their fathers – why should they own a yacht? I mean, apart from luxury and all the 'cool' aspects related to that, what are the emotional and financial reasons why to own a yacht for those who can afford one?"
FR: "This is a very complex question. There are many reasons: nowadays the first one is definitely to make your status very clear, and the second one is to enjoy an exclusive lifestyle. You can reach a certain position, but you can also upgrade it. All rich people can afford many mansions and an expensive lifestyle which includes the best vacations, destinations, hotel, cars, clothes, watches and so on. But very few of them can afford to buy a 50-metre yacht. A yacht means luxury, but in the sense of 'being powerful'. Secondly, a yacht gives you the opportunity to visit whoever you want, wherever you want, the way you want it. It lets you travel according to your own lifestyle. Many people want to travel to those destinations whose culture and traditions can collide with theirs. That's why a yacht is the perfect private place, wherever you want to be".
SD: "What are your plans for the future? What aspects do you still need to explore or improve?"
FR: "We are working on new concepts that we will soon reveal. We are developing new technologies as well, and I'm not talking about hybrid engines or diesel-electric. I'm talking about artificial intelligence, but not the one we already use for entertainment and functionality. We aim at an artificial intelligence for educational purpose: we want to use it to teach people on board how to make the best use of the boat, starting from energy efficiency and aspiring to become greener. With regard to improvements, we would like to make our production even more clear in the advertising field".
SD: "Last question. Since you often leave room for young designers, what advice would you give to the next generation of creative people in the nautical sector?"
FR: "Young designers usually come up with some very innovative and inspiring ideas, but ideas must be turned into concrete facts: in order to develop a general plan, knowing the boat and its usage very well is key. A fluid approach works best here: you need to know how the client is going to use the vessel and for how long, what to put on the boat in terms of storage (water, food, waste management and so on), but mostly of autonomy. So basically, young designers need to learn how to turn their 'artistic ideas' into scientific facts".