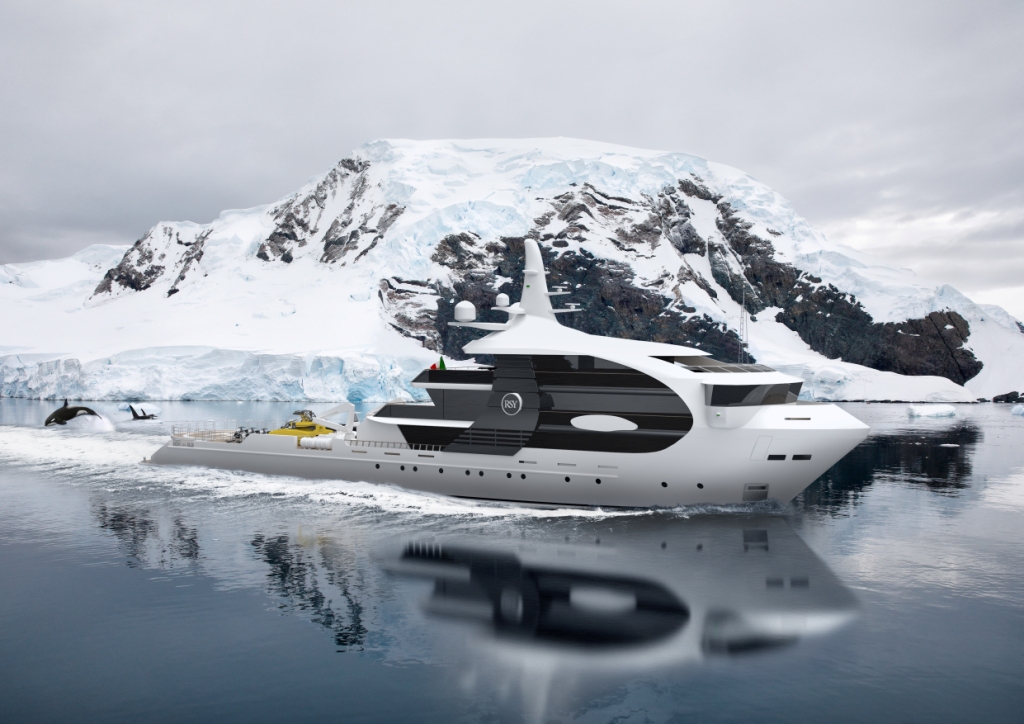 From Superyacht Digest OCTOBER ISSUE 2020 – by Julia Zaltzman
Rosetti Superyachts has delved into Mother Nature's archives to deliver a concept explorer yacht that borrows beauty from wildlife, provides explorer credentials and offers oceangoing engineering. Project Orca is an owner's customisable dream.
Inspired by nature, built for adventure. That is the mantra that fits the latest concept launched by Italian shipyard Rosetti Superyachts. Named Project Orca, so-called because the curved lines of the 65m explorer yacht closely resemble that of a killer whale, the combination of natural finishes and cutting-edge technology make this a highly exciting proposition.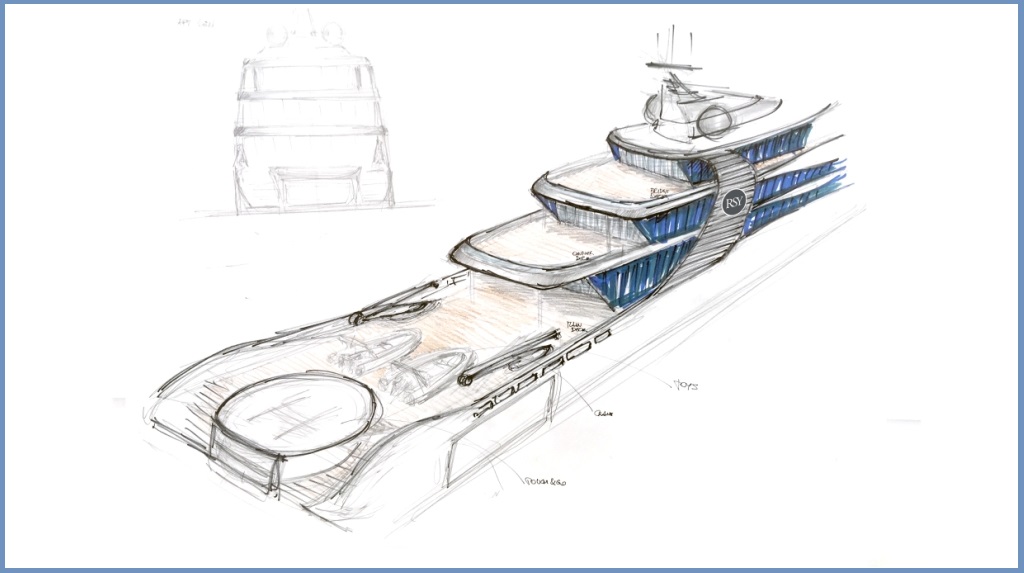 Billed as possessing strong supply vessel characteristics alongside its explorer yacht credentials, Project Orca is said to be a shining example of how design innovation is inspired by nature, and its inherent ability to adapt. These traits are most evident in the robust profile which features wrap-around glazing, bold superstructure styling and a radar mast resembling a tall dorsal fin. A classic white side patch at the owner's deck level that lights up at night also echoes the flank of an orca and presents extra 'wow' factor.
"The organic design traits mimic the orca or killer whale, the largest and most powerful member of the dolphin family", says Fulvio Dodich, now President of Rosetti Superyachts (previous article), in reference to the new design concept. "Instantly recognisable by their distinctive black-and-white colouring, these sea mammals roam the world's oceans from the Arctic and Antarctic to the tropics, which is exactly what our explorer yacht is designed to do".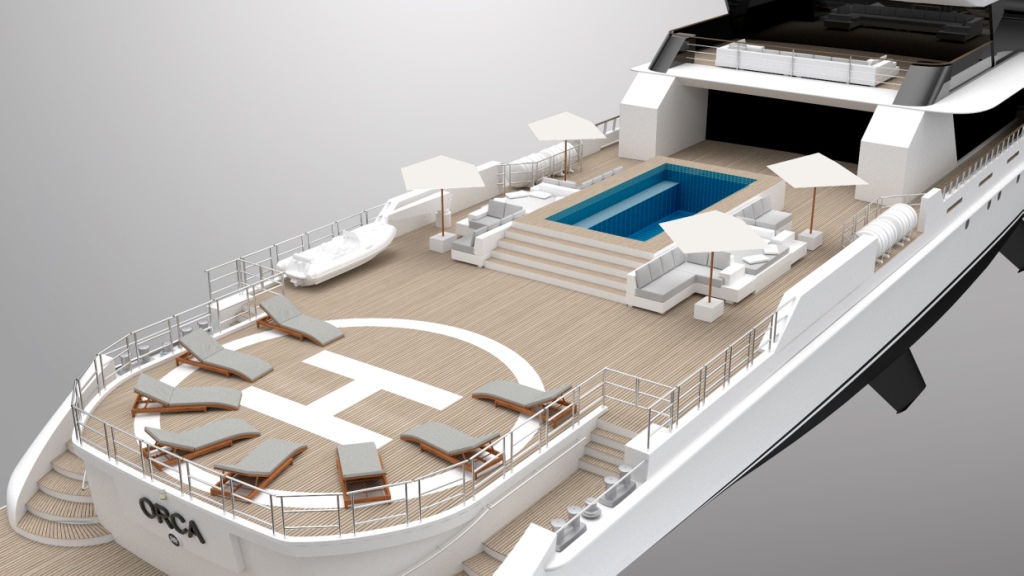 Project Orca if a four-deck yacht, with the addition of a tank-top deck, but the design gives owners the freedom to choose from various deck layouts, and customise to their needs and lifestyle, says Andrea Giora, Sales Director at Rosetti Superyachts. "We feel confident in stating that the concept behind Project Orca has broken the rules in terms of exterior design compared to other explorers", Giora continues. "Orca has a very recognisable shape developed in collaboration with the designer in order to offer something different and original to the market".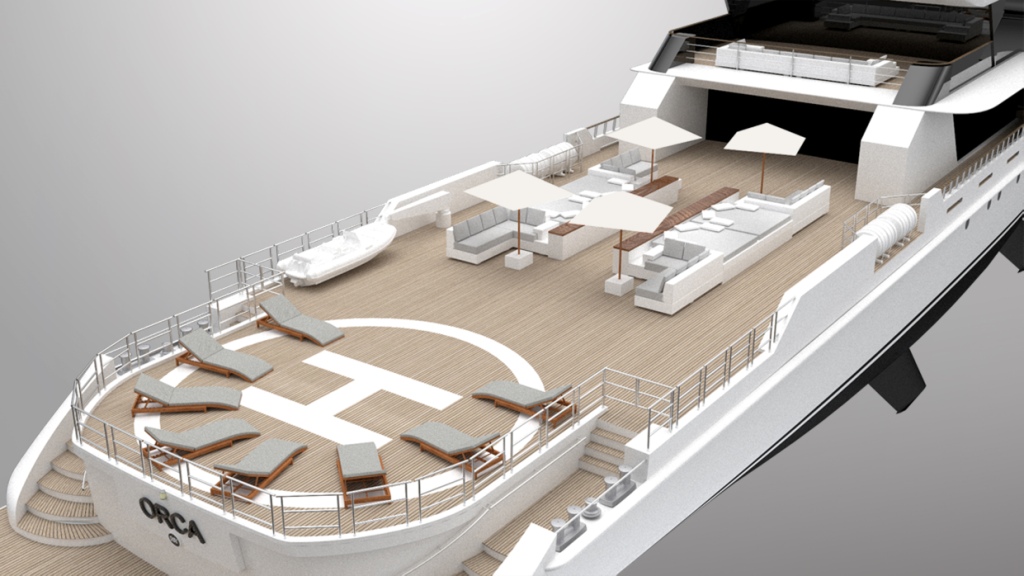 With a beam of 12 metres and an estimated gross tonnage of 1300GT, Project Orca offers owners the option of choosing from various layouts. Accommodating 12 guests in six cabins, the standard version has an open main deck at stern that allows to have both a touch-and-go helipad and a large space for storing tenders and toys. Alternatively, this area can feature an infinity pool overlooking the transom or a raised helipad with a pool and spa area underneath.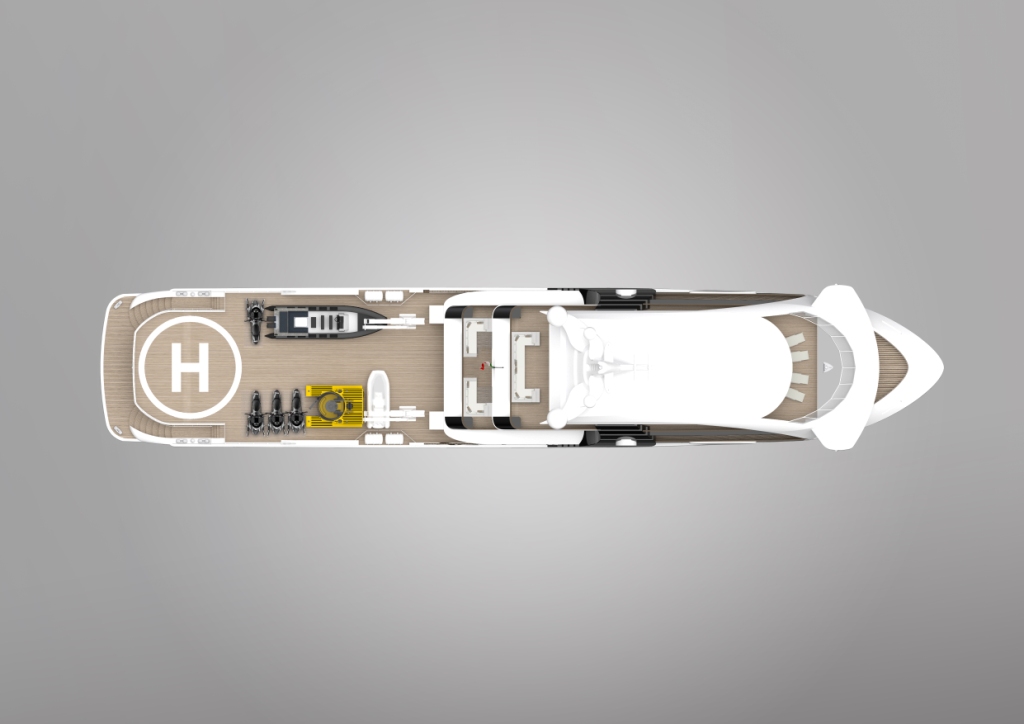 Internally, the main deck hosts a large main salon, dining area and a spacious VIP suite forward. The owner deck features the owner's apartment with his and her bathrooms, two walk-in wardrobes, the office and a large gym. The suite overlooks the open aft deck that serves as a private terrace and is a "great solution for feeling in direct contact with the sea", advises Andrea Giora. The captain's cabin is behind the wheelhouse.
Access to the mooring deck in the forepeak is via side companionways on the main deck. This area, covered for safety reasons in rough seas, accentuates the height of the imposing bow, while on the lower deck aft is a large garage that can hold two large tenders or several jet skis and other water toys, not to mention cranes, all designed to enhance the explorer experience.
The guest accommodation, comprising two VIP suites and two guest cabins, is located further ahead on the same deck level and is served by the main staircase and an elevator that connects with all deck levels up to the sun deck. The crew accommodation is in the bow.
Up top, the large sun deck is equipped with full dining facilities for that perfect al fresco experience, alongside a bar and sunbathing areas with elevator access for guests and separate stairs for crew. Powered by twin CAT 3512 engines (1398kW @ 1800 rpm), Project "Orca" is expected to have a range approximately 5,000 miles at an economical speed of 11 knots.
"This means that, despite the possibility for further personalisation also in terms of technology, we are able to kick-start production shortly after the signature of the contract. For instance, although it has been already designed as an Ice Class Vessel, if the client wishes to cruise in polar zones, the 65m EXP can be made compliant to higher Ice Class requirements in order to face any sea conditions in total safety".
Dodich, who believes construction time on the vessel would be 36 months, adds: "We have already done the concept engineering and completed the technical specifications for Project Orca, and if we sell the boat tomorrow and want to make a start on it, we can begin construction".
Based in in Ravenna in Italy, Rosetti Superyachts forms part of the Rosetti Marino Group, which has made a name for itself as a key player in the construction of high-tech ocean-going vessels. This gives the superyacht shipbuilder key access to state-of-the-art facilities, including a 160-metre dry dock and two 100-metre construction hangars.
Trieste-based Meccano Engineering, which is responsible for the engineering, naval architecture and exterior design on Project Orca, has been providing specialised engineering and consultancy services to the marine, shipbuilding and energy sectors for the last 20 years, and in 2018 Rosetti began work on its 38m steel and aluminium explorer.
Construction remains on track for delivery in summer 2021, and when complete the yacht will feature an interior by Italian studio BurdissoCapponi Yachts & Design. Select artworks and striking internal features, such as a three-storey sculpture on the central staircase illuminated by a skylight, promise to draw the eye. A custom 150-bottle wine cellar that serves as a divider between the guest areas and the owner's stateroom truly sets the interior apart, while a combination of white tones sit alongside light and dark woods.
"The owners had a precise idea of what they wanted. We want to build a really custom-made boat", says sales director Andrea Giora. "The owners didn't want to have any complicated balconies with hydraulic systems, they just wanted a space that was outside without having to get the crew involved".
The interplay of natural light and mood lighting features strongly throughout the design. The main deck provides a veranda style seating area with wide open sea views and a dining area that buys into the harmonious connection between indoor and outdoor.
Exterior design hails from the drawing boards of Sergio Cutolo's Hydro Tec, offering modern styling at every turn, and sharp, clean lines that create a bold profile. A beach club and generous swim platform have been accommodated by placing the seven-metre tender on the upper deck.
Powered by twin MAN D2868 LE 425 engines it is set to achieve a cruising speed of 11 knots and a top speed of 13 knots.
---
Q&A WITH ANDREA GIORA, SALES DIRECTOR AT ROSETTI SUPERYACHTS
SD: "What is the progress of the 38m EXP currently under construction?"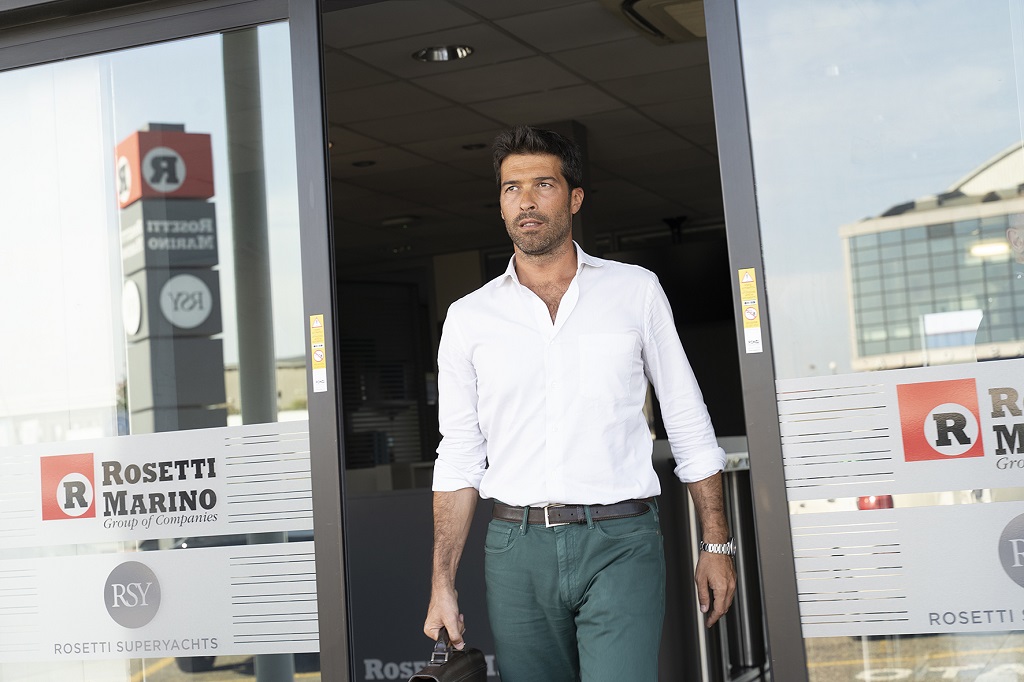 AG: "At present, we are working hard on the construction of the 38m EXP, which is progressing on schedule with all the steel and aluminium works finished, 95% of the welding, 70% of the piping, 30% of the electrics, 15% of the joinery, and the fairing and painting under way".
SD: "What other developments are in the pipeline at Rosetti Superyachts?"
AG: "In addition to the 38m EXP, we are working on several customised requests from clients looking for a reliable and financially strong shipyard able to effectively build their own projects. We are offering them our engineering, project management and building skills based on the long history and experience of the Rosetti Superyachts shipyard in producing strong commercial vessels".
SD: "What investment and reorganisation has Rosetti Superyachts undergone in recent times?"
AG: "In the past 12 months we have massively invested in the renovation of the yard and we are ready to further increase our production capability through the construction of new sheds.
We have strengthened the technical department appointing Paolo Cerisola as the new head of the engineering department and covered four other key roles within the production team. Our recently nominated CEO Ermanno Bellettini (previous article) has a clear vision about where the company must be in the near future, that is, proving to be one of the top players in terms of yachting excellence. Working closely with the New Build division, led by our Sales Director Andrea Giora, we are looking forward to entering the Refit market and we are currently quoting several units.
Although we missed the opportunity to attend the 2020 Cannes and Monaco yacht shows as they were cancelled, we are digging new paths and promoting activities to get closer to potential customers and catch their attention, as well as that of the most qualified brokers.
As soon as this period of global uncertainty is over and safer conditions will allow the market to take off again, we will surely be present at the most important boat shows worldwide. Finally, we will continue to work on rule-breaker concepts together with young yet ambitious designers who embrace Rosetti Superyachts' philosophy".