Evo Yachts, the new brand born at the beginning of 2015 from the passion, expertise and capabilities of the Sea Engineering Group, which has been operating in the pleasure boating industry since 2008 with more than 150 boats produced under the Blue Ice and Blue Martin brands, made its official début in the international boating industry at the 2015 Genoa Boat Show, after having introduced on the market its innovative project named "EVO 43″, on the occasion of the boat shows in Cannes and Monaco, as official tender for the Italian Shipyard Rossi Navi.
Designed, engineered and built in Italy by Sea Engineering Group, based on a project by Studio Tecnico Rivellini, with exterior and interior design by Valerio Rivellini, the EVO 43 is a fast, 13-metre day cruiser flaunting sculpted, muscular, yet sleek and minimalist lines. The hull, sporting a 18° deadrise, is designed to make the new EVO 43 a particularly efficient boat, with maximum speed up to 38 knots, cruising of 30, and a range of 300 nautical miles.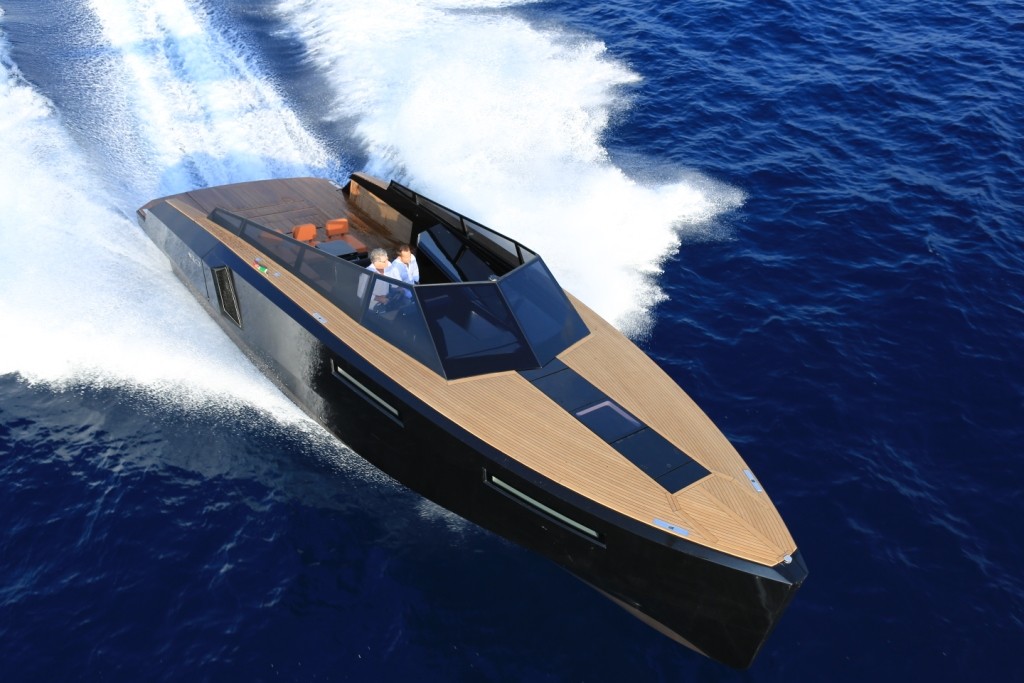 Summarising the concept of form&function (or functional design), the boat features a straight bow and high topsides that flow harmoniously towards the stern. The cleats and fenders disappear, leaving clean lines that fully comply with safety requirements on board. The straight-lined superstructure incorporates an 8mm wedge-shaped tempered glass windshield.
The minimalist pilot station features a curved dashboard in light wood with joystick for controlling the two powerful Volvo IPS 600 engines, rudder wheel, and all the electronics for control and command of the boat. The pilot has full ease and 360-degree view.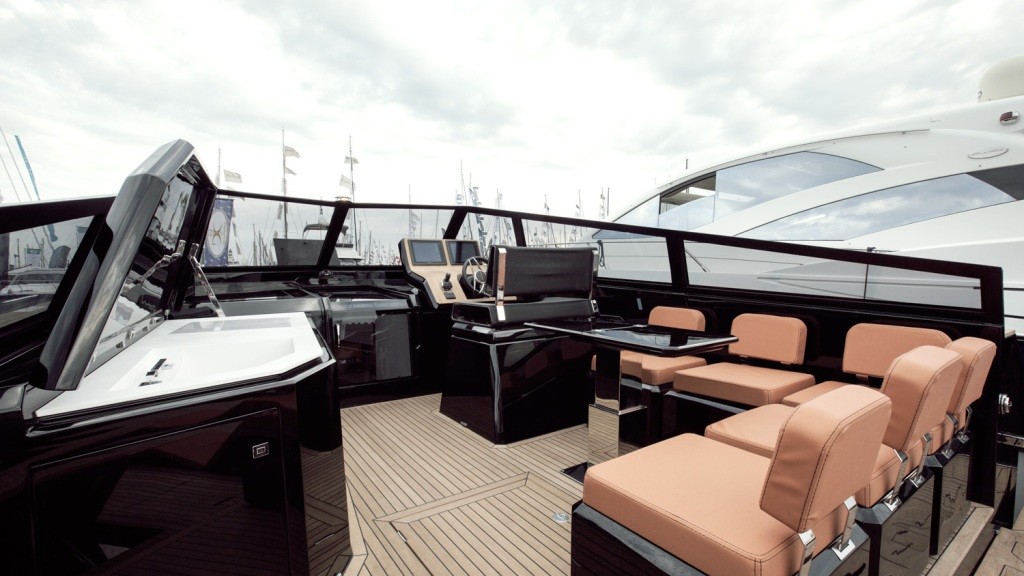 The cockpit – which, like the rest of the craft, is entirely covered in teak – features an area that can be easily arranged through modular cube-shaped seats with backrests in marine fabric featuring leather stitching, as well as an extensible dining table and a large wet bar: a foldaway piece of furniture containing an induction hob, countertop, sink and refrigerator. An icebox beneath the pilot's seat has a capacity of 180 litres.
The cockpit can be shaded by a large awning sail with pre-preg, carbon fiber nd carbon-look structure, or, in option, by an awning that slides from a carbon turret, or by a T-top, still made of carbon.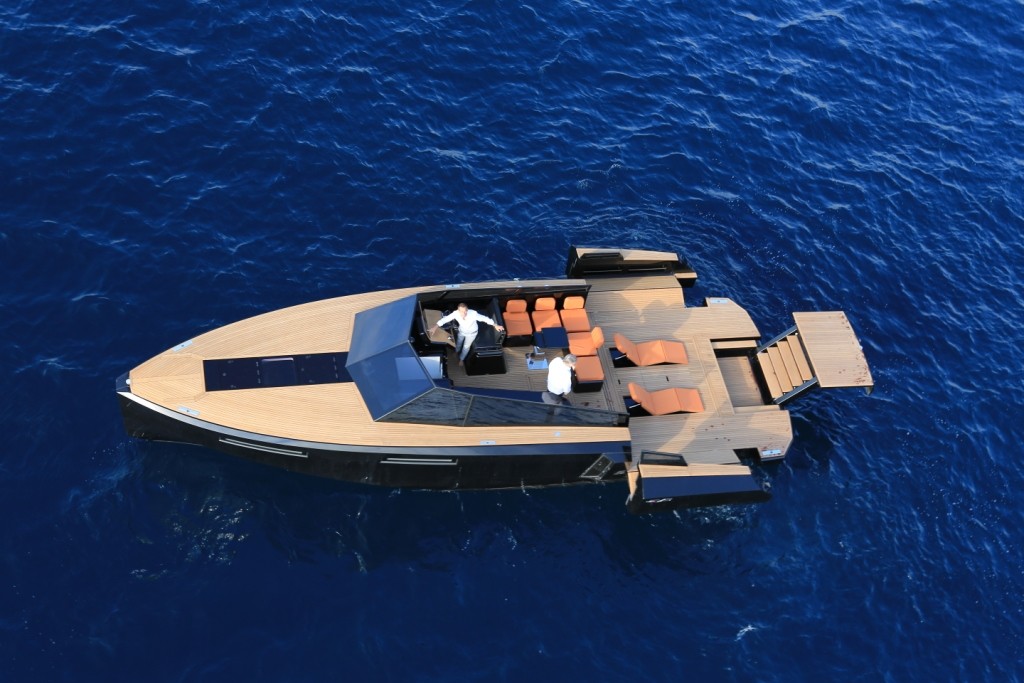 The stern features the craft's principal innovation. At the touch of a digital control, the beach area changes completely: the bulwarks open in less than thirty seconds, increasing the usable space by 40% and thus transforming the cockpit into a 25 sqm pieds dans l'eau terrace that can be used as a lounge, sitting room, sun deck with built-in deck chairs, or diving platform.
So Unique!
This is a small revolution and the key factor that makes the EVO 43 [highlight color="yellow"]unique on the market[/highlight]: guests on board can make use of this technically complex innovation simply at the touch of a screen, thanks to the engineering work of EVO Yachts designers, Studio Rivellini in collaboration with Sea Engineering Group. From the quay, the wow factor is also guaranteed by transforming the boat at the mere touch of an iPhone. This transformation is not an end in itself, but a means of achieving the comfort and space of a much bigger class (6.31m is the beam of vessels measuring twice the length of the EVO 43).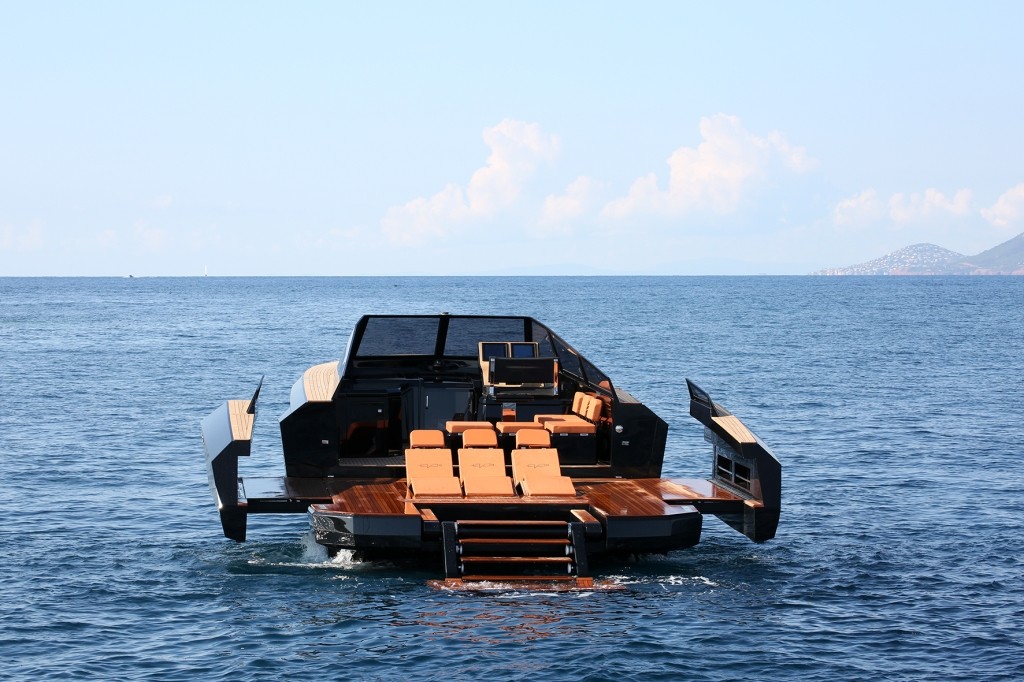 And the most demanding owners can even increase comfort with an additional distinctive feature: the large aft platform – built-in into the beach area – that can be mechanically extended and rotated on its longitudinal axis by almost 270°, providing great flexibility of use; this modular platform can be used as a precious aid while boarding or disembarking the craft at the quay, as a ladder for climbing back on board after a pleasant swim, or even as a diving platform with adjustable height.
Below deck, every detail is once again designed to ensure form and function. Fine materials, such as teak, glass, leather and exclusive fabrics, please the senses, providing an atmosphere of simple yet refined contemporary luxury.
A lockable door opens onto a designer companionway in tempered glass featuring large, lit-up steps. This leads to a double cabin on the left, with its own entrance door, stowage area and wardrobe. The bathroom is at starboard and features full height shower and sink finished in wood and ceramic. Straight ahead, there's the V-shaped dinette with foldaway table that makes space for another comfortable double bed; a 42' TV set by Bang & Olufsen integrated in a mirror completes the area. Surprisingly large for a 13-metre vessel, with its four beds and separated bathroom with shower, EVO 43 owes its size to the compact Volvo IPS engines and to an ergonomic layout designed with care by Sea Engineering Group.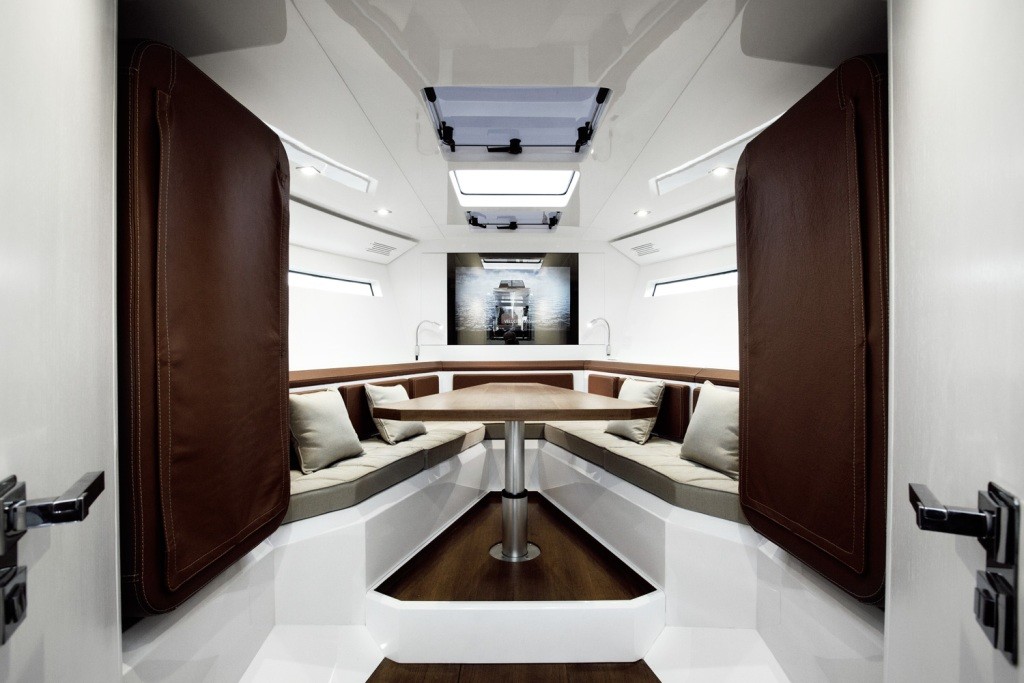 The boat is built in composite material – resin-infused fiberglass – that allows accurate control of thickness and weight, thus a 20% gain in displacement compared to boats of the same type and length and with the same engine. To propel the vessel, Sea Engineering Group has chosen two Volvo Penta IPS 600 engines (for a total of 870 hp); the best on the market in terms of performance, reliability, sound proofing, ease of use and reduced consumption, while also granting absolute safety and comfort for owner and guests on board. Safety aboard is also enhanced by warning alarms during all the automatic movements (hangar, hydraulic cockpit bulwarks, bow tilting platform).
[divider style="dashed" top="20″ bottom="20″]