[dropcap]T[/dropcap]he first 50-meter yacht by Riva will be built in the Group's shipyards in Ancona, which specialize in the construction of steel, aluminum and composite material yachts between 45 and 90 meters in length and which will witness the birth of this new yacht after building the brand's current flagship, the 122' Mythos.
THE NEW RIVA RANGE IN STEEL IS BORN.
THE FUTURE IS LARGER THAN EVER.

DURING THE 2014 MONACO BOAT SHOW RIVA PRESENTED
ITS INNOVATIVE FULL CUSTOM LINE, WHICH, STARTING FROM
THE FIRST 50-METER PROJECT, WILL DEVELOP FURTHER
WITH A SECOND 68-METER YACHT, AND WILL REACH
LENGTHS OF 100 METERS OVER THE NEXT FEW YEARS
"I'd love to try and cruise with her…" is the wish expressed by Eng. Carlo Riva himself. The same wish shared by the entire world of yachting, who is ready to welcome Riva's new jewel.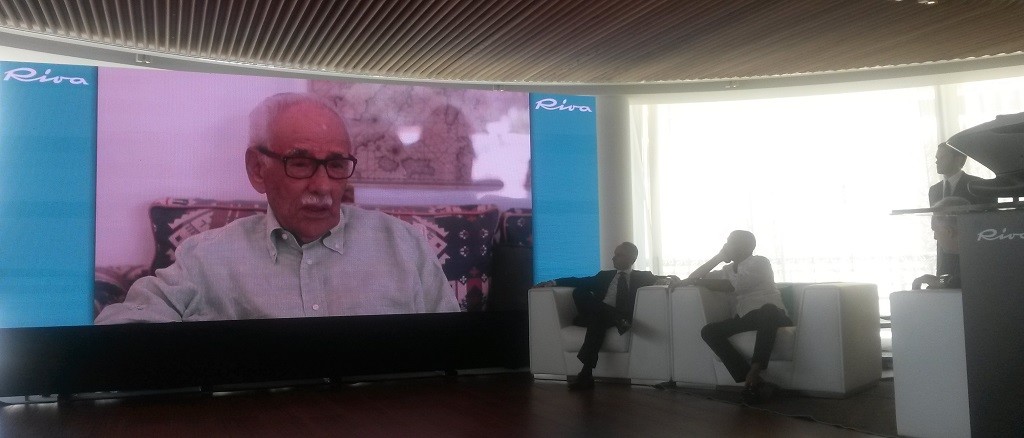 "Building in fiberglass is undoubtedly easier than building in wood. Building well, though, is difficult." Paraphrasing this statement made by Carlo Riva in the late 1960s by replacing the word fiberglass with the word steel would be enough to summarize the inextinguishable drive that has always pushed the iconic brand of worldwide yachting towards the future and innovation, heading for perfection.
Because this is Riva's DNA: it was in the past as much as it is in the present. Today, the brand has chosen one of its most beloved locations, Montecarlo, and particularly the charming Aquarama Lounge, on the terrace of the Yacht Club de Monaco, to announce that it is ready to seduce the world once more, making its debut in a market segment to which its reputation has naturally led it and to which it has ideally always belonged.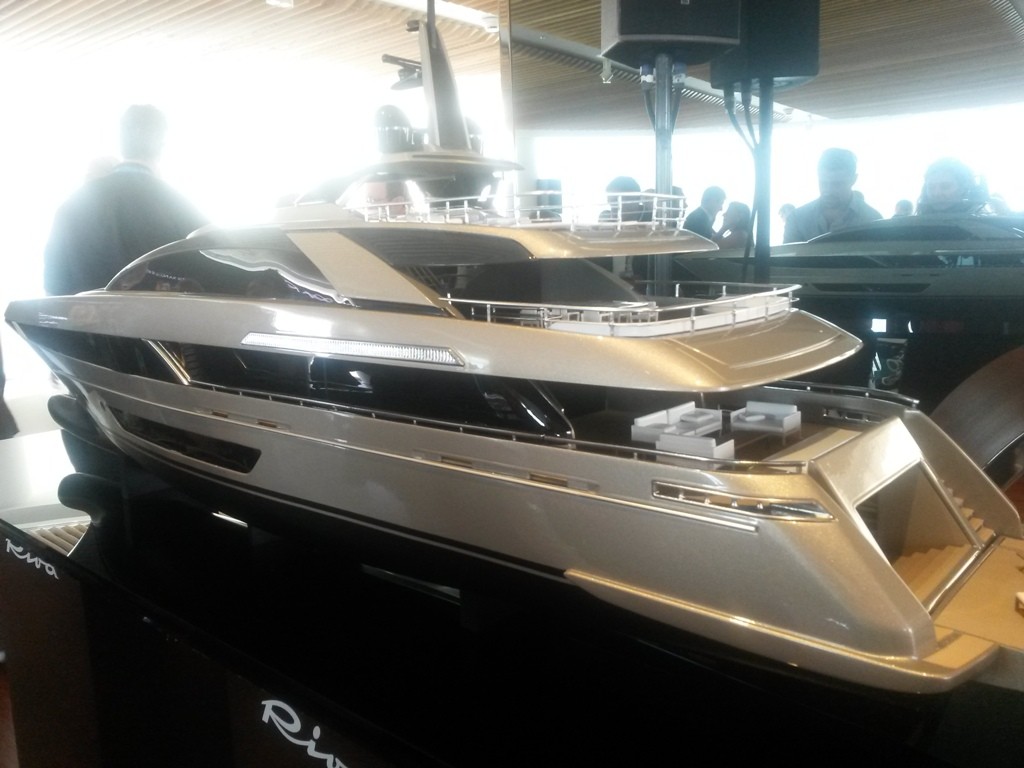 Riva is announcing the creation of its new full custom line in steel, which, starting off with a first 50-meter long project, followed by a second 68-meter yacht, will develop further over the next few years to include a range of crafts up to 100 meters in length. Between the 1960s and the 1970s, Eng. Carlo Riva, through his Yacht Division, had started to 'think big' – first by cooperating with Northern European shipyards and building the famous "Caravelle" and "Atlantic" M/Y series; then establishing a historic partnership with CRN, thanks to which six motor yachts exceeding 20 meters in length in the "Marco Polo" series and two 90-foot and 100-foot "Vespucci" crafts were built between1970 and 1978. Today, his project turns into reality. And the baton, in this relay, has ideally been taken by 'his' Riva company, now a member of the Ferretti Group.
 Alberto Galassi, Ferretti Group's CEO, is understandably very excited to present this new adventure: "Just over three months ago, again in Montecarlo, we celebrated the debut of the 122' Mythos, the flagship of the brand and Riva's first yacht to be entirely built using a light alloy. Today is another extraordinary day, because Carlo Riva's idea to build large yachts is finally turning into reality. Riva is ready to step into this market segment as a leader. Thanks to the support of our shareholders, who are truly in love with this brand, and thanks to the efforts of the numerous teams involved in this project, we will be able to offer owners magnificent works of art cruising the seas, characterized by Riva's unmistakable style. From now on, everybody will immediately recognize a Riva creation not only when looking at an Iseo, an 86' Domino or a 122' Mythos, but also when admiring one of these new yachts-to be."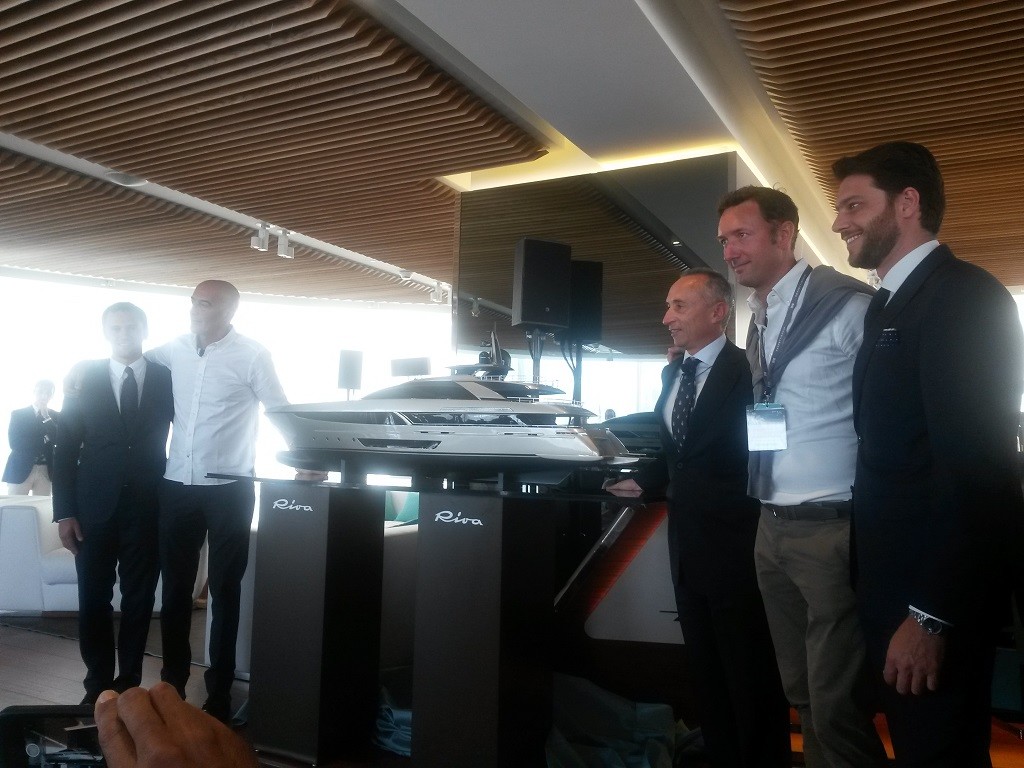 Riva's new line will include displacement yachts fully customizable by the owner in terms of fittings and interior decor and will be characterized by a very innovative look and style, somehow different from Riva's traditional classical lines. Featuring slender, streamlined and dynamic profiles and a very sober, clean design, these yachts will be truly unique works of art fully embodying Riva's DNA. Every owner will enjoy a unique experience: supported by Officina Italiana Design – the firm that deigns the brand's entire range – and by Ferretti Group's engineers, architects and designers, as well as by his own consultants, he will embark upon a fascinating path that, day after day, will lead him to owning something more than any other owner in the world – 'his own' Riva mega yacht, a unique creation by an iconic yachting brand.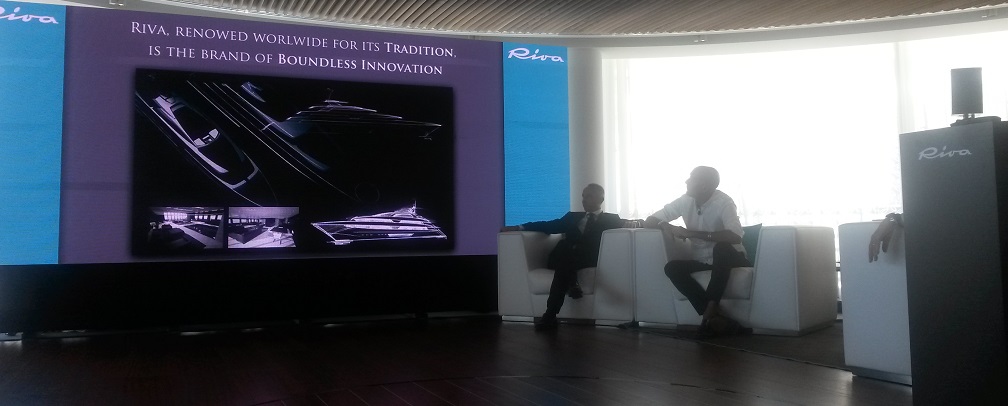 Mauro Micheli, the designer and co-founder, with Sergio Beretta, of Officina Italiana Design, is really enthusiastic about this project: "I am thrilled by this new challenge and can't wait to 'dive' into designing this new line. Riva – continues Micheli – is probably the only yachting brand that has been capable of creating, throughout its history, true icons which can be recognized everywhere in the world. And it managed to do so because it was always focused on innovation and perfection. Aquarama – only to mention the most famous model – was so innovative mainly as a result of its creators' constant search for flawless quality. Thus drive towards perfection is inextinguishable for us too, who have ideally taken the baton of Riva's tradition. This is why I am so eager to start. Riva is ready to 'leave its mark' also on these future 'giants of the sea'."
50-METER M/Y RIVA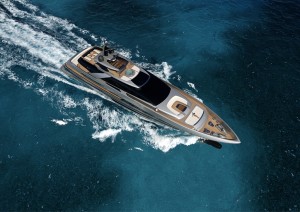 The new mega yacht, featuring an overall length of almost 50 meters and a 9-meter beam, will be a displacement yacht with 4 decks, capable of hosting up to 12 people plus 9 crew members. It will preserve the unique style typical of all Riva yachts while offering the huge and comfortable spaces of a mega yacht conceived for long, pleasant cruises.
Various very spacious areas will be devoted to relaxation and entertainment, to make sure all guests can enjoy onboard life to the fullest and in the utmost comfort during both daytime and nighttime. While the large outdoor dinette at the bow (located just before a garage fitting thesecond tender and the technical area with two jet skis), will ensure the utmost privacy, the aft part of each deck will be fitted with large outdoor spaces to be used for meals or simply relaxation.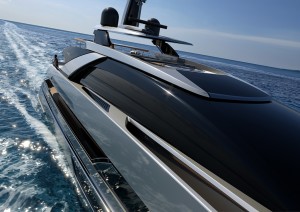 The cockpit on the main deck will include a lounge area with fixed sofas facing each other, while the upper deck may be furnished with a large dining table; the sun deck will feature freestanding seats plus a Jacuzzi with sun pads and loungers arranged around it at the bow. The aft area on the lower deck is really magnificent – a real beach club with a cocktail bar and an indoor living room that can be further extended outside, both towards the stern – thanks to the collapsible door turning into a swimming platform – and to starboard, thanks to a second optional door converting into a terrace at the sea level. The innovative float-in garage, which can store a tender up to almost 6 meters in length, will in turn open on the left bulwark, allowing for very easy launching and haulage operations.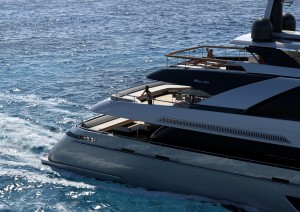 The interior decor and fittings will be fully customizable to the owner's taste. The shipyard will propose several layout versions for the main deck and the upper deck, which may be entirely arranged as living areas or include alternating lounge areas and stylishly furnished dining areas. The true protagonist on the main deck will be the master stateroom, which will be located across the entire bow area and will include four different sections: a private living room, a large walk-in wardrobe, a double room, and, at the extreme bow, an amazingly wide bathroom with two toilets and twin washbasins. Both bulwarks in this suite may be collapsible upon request, thus creating exclusive terraces overlooking the sea. The guest area, below deck, includes four VIP cabins, all having similar sizes and features and fitted with a double bed, a vanity set-desk area, and a large private head. Upon request, the guest cabins can be replaced by other rooms allowing the owner and his guests to enjoy their spare time in total relaxation, for example a gym or a SPA, or even a second master cabin.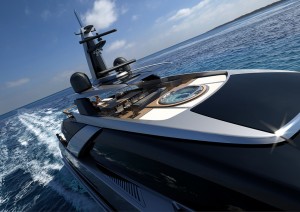 Great care has been devoted to the crew quarters too. The galley, located on the main deck, the pilot station on the upper deck, and the sailor cabins on the lower deck will all be connected, thereby allowing the crew to move unseen without affecting the guests' privacy. While the owner will be able to enjoy almost 'royal' spaces, the captain too will benefit from a carefully designed and very comfortable en-suite cabin, located to starboard on the upper deck. This will be part of a larger area entirely devoted to technical operations and strategically arranged behind the pilot station room. The crew cabins, located on the lower deck, will host up to eight more staff members in one en-suite cabin for the hostesses and two more double cabins, with bunk beds, for the sailors. The crew quarters will also include a large dinette with a galley.
The new 50-meter Riva may be equipped with two possible engine sets: either two CAT C32 2100 rpm engines or two MAN D2862 LE 466 2100 rpm engines, both capable of pushing the yacht to a maximum speed of 15 knots and a cruising speed of 14 knots (preliminary data). The transatlantic range at a cost-saving cruising speed of 11 knots is extremely interesting, as it will reach 3,800 nautical miles. Two zero speed stabilizing fins will be installed standard, to ensure maximum comfort and stability even when the yacht is at anchor.
[divider style="dashed" top="20″ bottom="20″]