RM 19-02 Tourbillon Fleur. Only 30 pieces worldwide.
No one can debate the hundreds of years of Swiss fascination with the art of fine horology that we all appreciate today. Yet, many will be unaware of the refined and equally age-old Swiss tradition regarding the creation of mimetic mechanical objects of art that imitate nature, thus blurring the dividing lines between artistic creativity and life itself.
This idea of being able to capture the very substance of life using mechanical means was born during the Age of Reason, motivated by the concepts presented by philosophers in their attempts to comprehend the mysterious inner workings of nature.
In this manner exquisite miniature animal, insect and flower automata of all kinds were created in precious metals and lacquer work to amuse and delight royal patrons in Europe and around the globe. The new RM 19-02 Tourbillon Fleur epitomizes these traditions of horological artistry in a vibrant expression of watchmaking distinctive to Richard Mille's vision of timekeeping in the 21st century.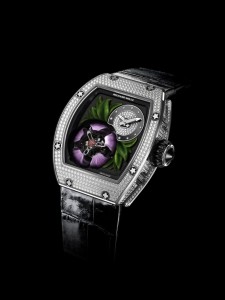 For the creation of this timepiece a special flower, the Magnolia, was chosen as its existence marks millions of years on the earth even before the emergence of bees within the environment, flowering in an endless cycle of birth and regeneration. The Magnolia's delicate appearance stands in sharp contrast to its strong organic structure and resilience in difficult environments.
At the lower left of the dial on the RM 19-02 we see the Magnolia surrounding a flying tourbillon escapement with five delicate, hand created and colored petals. Working either in passing, or on demand using the pusher at 9 o'clock, the Magnolia opens and closes with rhythmic regularity in a delicate kinetic ballet.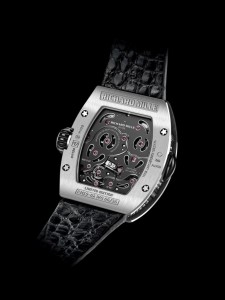 However, if you look very closely, you will see that Richard Mille chose to imitate nature in the most exquisitely extreme manner possible… The Magnolia does not just open, the entire flying tourbillon with its stone set stamen actually moves upwards 1mm when fully opened, exactly copying the natural motion of the flower's arching upwards of its stamen to increase its chances of pollination. Attention to details such as these exemplify the Richard Mille approach to watchmaking artistry on every level.
For those interested in the technical mastery behind this unique grade 5 titanium tourbillon caliber, a complex mechanism comprising 5 levers surrounds the underside of the petals, and yet another system combined with a long pinion is used to raise the flying tourbillon and stamen upwards within the flower's circumference – all using energy supplied by a separate, second winding barrel. As an added attention to the tiniest details, it is even possible to adjust the opening and closing cycle.
[divider style="dashed" top="20″ bottom="20″]