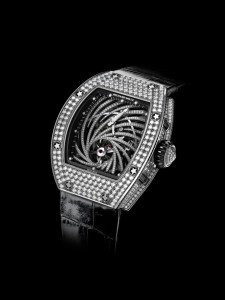 [dropcap]T[/dropcap]his new high jewelry tourbillon takes all of its cues from the swirling form of a twisting spiral, a shape expressed in many organic forms around us in the natural environment. The spray of diamonds emanating outwards in 14 rays from the tourbillon escapement at 6 o'clock can also be associated with the spiraling vortex one perceives in myriad galaxies of the Milky Way, an allusion to a whirlwind (the English translation of the French word tourbillon) or the spirally formed patterns of organic growth found within certain sea creatures, plants, trees and animals.
The baseplate of the manual winding tourbillon has been created of Black Onyx, a variety of cryptocrystalline quartz chalcedony composed of silicium dioxide, (SiO2). Onyx varieties with rectilinear black and white parallel stripes are actually a part of the agate family, whereas the fully black type is what one commonly calls true Black Onyx.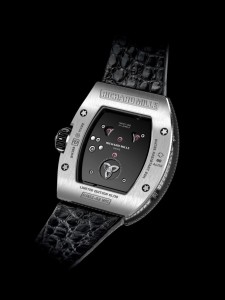 Keeping with the technical nature of all watches created by the brand, the RM 51-02 has a free sprung balance and skeletonized bridges in PVD treated grade 5 titanium with various hand finishing techniques such as anglage and black polish used throughout the movement. An additional security system in the form of a torque limiting crown prevents any possibility of accidental overwinding that might damage to the winding stem or exert extreme pressure on the mainspring barrel.
Each spiral ray of the RM 51-02 is perfectly set with a single row of diamonds; the case is set with white diamonds, and black sapphires have been added to accentuate case details. As a final flourish and with an eye for detail typical of Richard Mille's fastidious approach, the crown has also been set with 3 rows of diamonds to complete the brilliant richness of this shimmering new timepiece.
The RM 51-02 Diamond Twister will be available in an edition of 30 pieces.
[divider style="dashed" top="20″ bottom="20″]