A meeting with Raffaella Vignatelli as she takes on the reins of her father's extensive legacy. "A great artisan company" where sophisticated bespoke creations are cut and sewn by hand with passion, dedication and skill. Articles destined for over 300 worldwide stores and 10 showrooms along the Milan-Los Angeles-Beijing corridor.
Published on Superyacht Digest | The January issue 2019

[dropcap]W[/dropcap]elcome to the home of Luxury Living Group in Palazzo Orsi Mangelli in the historic centre of Forlì, a town in Northern Italy with an ancient feel, distinguished by people-friendly architecture, with a medieval, modern and contemporary aspects. It is famous for its artisanal traditions, and is rich in culture and endowed with a unique heritage of entrepreneurship. Here we find Luxury Living Group, The Maison of the world of interior design. The pulsating core of the company founded by Alberto Vignatelli in the early 1960s, is housed in an elegant, noble building dating back to the 17th century.
The building was given a new lease of life after extensive restoration works undertaken by the company itself, supported by architect Roberto Pistolesi, and under the supervision of the Superintendent for Cultural Heritage of Ravenna.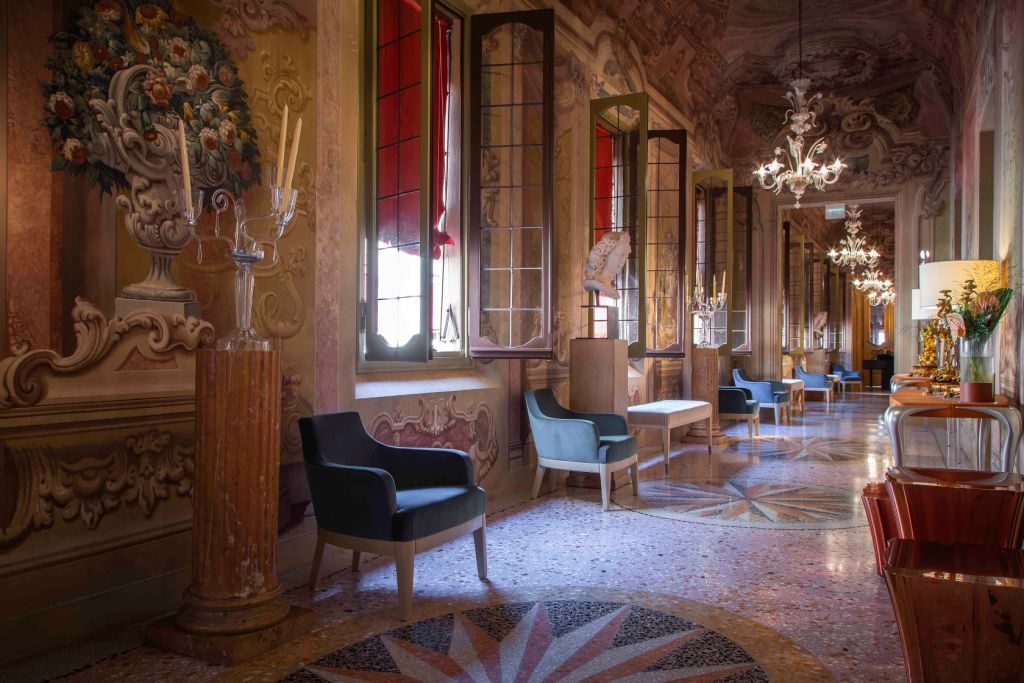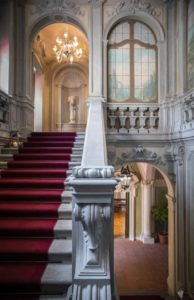 Walking through the magnificent rooms on two spacious floors, the ground floor (with courtyard and loggia) and the upper floor, we are captivated by the series of rooms that we cross, looking up also to admire the splendor of the beautiful original ceilings. We are surrounded by walls adorned with frescoes, decorations, columns and capitals, arches, Venetian floors and walls covered with restored period fabrics, as well as paintings and antiques.
We find, at a glance, all the glamour of classical and contemporary art: here in a charming, timeless, peaceful and sumptuous ambiance, sometimes a little austere but very welcoming, the sumptuous and refined interior collections made by Luxury Living Group for some of the most important international brands, reign supreme.
The collections are the result of a perfect combination of exquisite Italian craftsmanship and technological innovation and are conceived, developed and produced to the highest standards of quality and craftsmanship. The Luxury Living Group lifestyle embodies elegance and creativity, shaping exclusive settings with distinctive charm, where luxury and style are in perfect harmony.
Each collection has a distinct identity: Fendi Casa celebrates the expressive style of the Maison Romana in a harmonious union of fashion and design.
Contemporary luxury distinguishes the Bentley Home range, with its sought-after youthful design characteristic of the English car maker, while the dynamic compositions and typically Italian feel of Trussardi Casa mirror the style of the Maison del Levriero.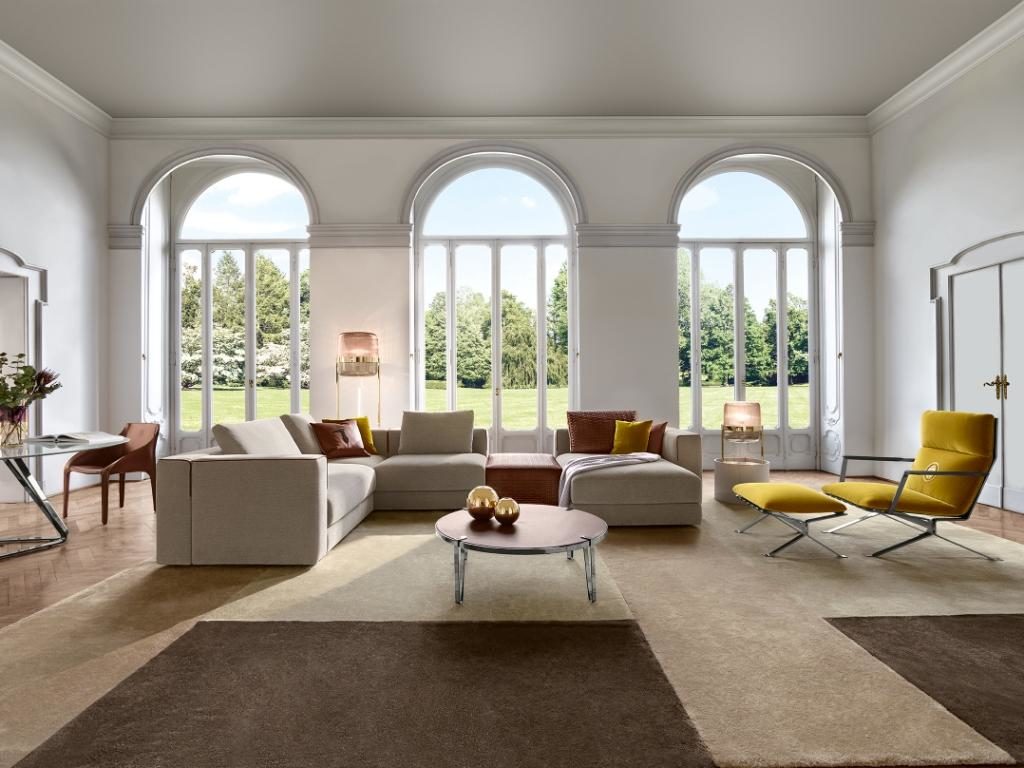 The elegant and timeless style that identify the sophisticated collections of the Heritage Collection and Paul Mathieu for Luxury Living Collections, stand alongside the high class lifestyle of the Bugatti Home collections, with technological features in typical Bugatti style, and the recent Ritz Paris Home Collection, which convey the unique and sophisticated style of the iconic Ritz Paris.
The latest addition to the group will be the Baccarat La Maison, with its official launch taking place in January at Maison & Objet in Paris.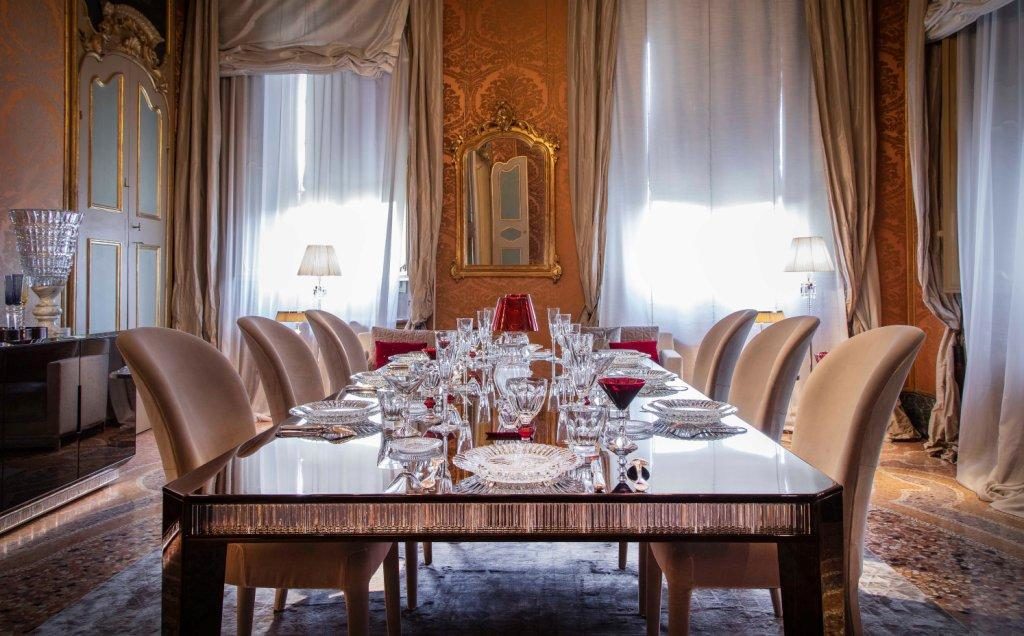 THE BRAND OF BRANDS
Raffaella Vignatelli's first-hand account of the story of Luxury Living Group reveals that it started with a meeting in 1987 between Alberto Vignatelli, an adventurous entrepreneur, a "Dreamer", a courageous man, undoubtably ambitious, with a tough and decisive character, and Anna Fendi. From this the concept of the first brand, FENDI Casa, was born, which in the following years gave life to the Luxury Living Group, "The Brand of Brands". It quickly proved to be a successful concept, a revolutionary vision that took Fendi's style from the catwalk to new levels. Whilst maintaining the fashion house's design style Alberto Vignatelli initially designed cushions, then sofas, beds, tables, other furniture and luxury accessories.
Brilliant, progressive, visionary, a trailblazer of fashion and a creator of styles – to use a modern expression – "a farsighted trendsetter of interior design". "The first great influencer in the world of luxury furniture", in the words of his daughter Raffaella Vignatelli, who worked with her father for thirty years during the expansion of the company. A man clearly inspired and inspiring, who has certainly contributed to the success of Made in Italy who, above all, launched an innovative business model in the world of interior design. It was unique and successful, hard to imitate, and it today has a turnover of about 120 million Euros.
His idea was to transport, or rather interpret and transfer the DNA of fashion houses into exclusive and refined furnishing collections, destined for a global market, taking charge of design, production and development, together with manufacturing risk, and he was the sole player, despite some attempts by other brands to use the same approach.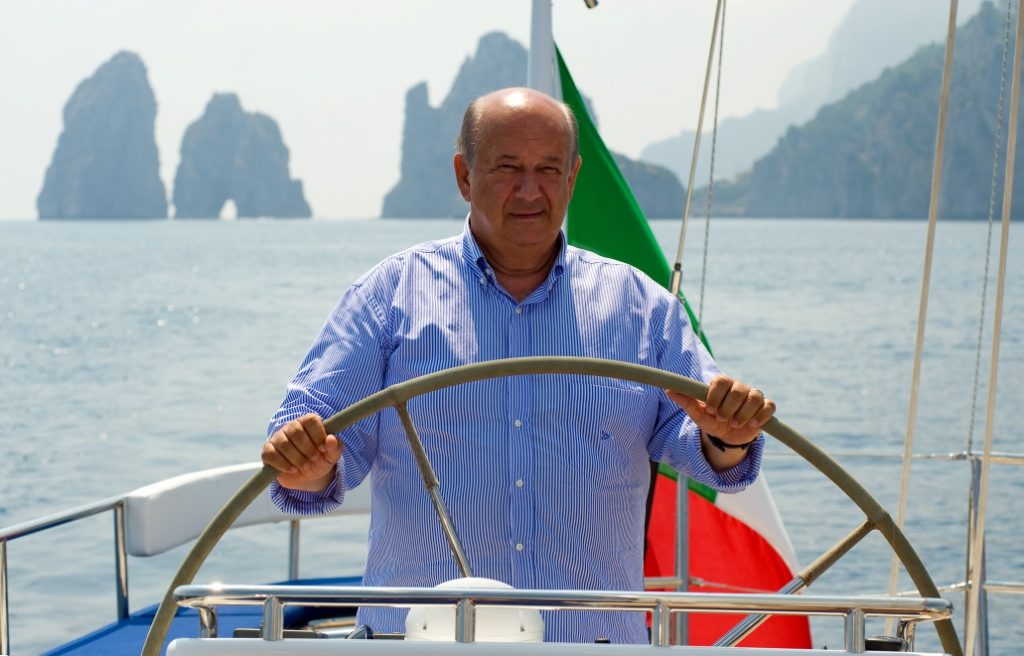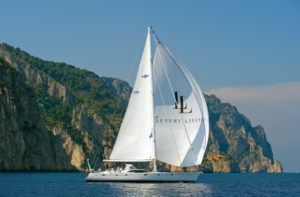 Now a year after the sudden death of her father, Raffaella Vignatelli, together with Daniele Vignatelli and Olga Vignatelli, continues his work. She describes her father's character as follows: "A man who sailed at the helm of his company without respite, not afraid of the unpredictability of the seas. He was perfectly well aware of the risks, and he was just as sure of finding his way home when it was no longer possible to continue". Alberto Vignatelli was an insatiable lover of sailing on his Oyster 72 (S/Y Albertone 3) where he was always at the helm, and on which he spent all his precious free time with his family. A passion that gave rise to his best lifelong friendships. "A place so dear to him that the photograph he wanted for his last farewell pictures him at sea," reveals Raffaella Vignatelli.
The metaphor of life on a sailing boat, with which she describes her father – with some evident emotion – allows us to glimpse some of their family intimacy, and this is an gift for our readers. Storms are part of adventures at sea as well as of business ventures, and it also hints at the sometimes complex journeys that all companies have to face. "But my father knew how to fall and how to pick himself up and rise again. He loved yachts which, unlike motor boats, will always get you back home."
[divider style="solid" top="20″ bottom="20″]
INTERVIEW
Q: TODAY YOU ARE BRINGING TOGETHER AND TAKING FORWARD A SIGNIFICANT ENTREPRENEURIAL INHERITANCE. WHAT IS YOUR VISION FOR THE FUTURE AS REGARDS THE DIFFERENT BRANDS OF THE GROUP, AND WHAT ARE YOUR HOPES FOR THE VARIOUS MARKETS?
A: "We are shaping up the next moves for each brand in line with the strategic vision set by my father: maintaining the separate identities, style and mission of each brand is a must. As for the markets, today we no longer refer to them geographically: there is no Chinese market, for example, there are Chinese customers. So we talk about cultures, populations and people who travel, and who are also getting used to buying in countries that are not those from where they have originated. It is important to keep a very open mind when establishing relationships; the market has a strong cultural dimension.
We are considering buying other brands to include in our portfolio, so the question we are asking ourselves is whether we need more and if so, what exactly. We are certainly interested in investing, but it is not easy to make this choice, for several reasons. We have done appraisals of globally known brands, which are the focus of mass marketing, luxury products of course, but aimed at a less elitist audience. We are in the brainstorming phase: we must study the style of the brand, its detail, its language, to be able to transfer them and adapt them to an interior collection. Moving from a fashion collection to a furniture range is complex, we need to interpret the messages of the brand and its most recent range.
After each new fashion show, we study all the garments, as well as the styles, new designs and colours, including all the details, finishes and tailoring techniques. We also devote the same time and attention to the automobile industry, we have the Bugatti and Bentley home collections. The worlds of fashion and cars are different, but both are rich in specific concepts that embody the philosophy of the brand, and therefore the product. We work together with their design departments to gain a thorough understanding of their language and to transfer it into the world of interior design".
Q: SEVERAL BRANDS, A GROUP AND AT THE HEART A FAMILY. FROM THE VISION OF A SINGLE PERSON TODAY WE HAVE MOVED ON TO THE VISION OF A GROUP OF THREE, HOW HAS THE COMPANY ADJUSTED TO THIS NEW STRUCTURE?
A: "The loss of my father was unexpected, you are never prepared for such a difficult moment. We immediately gave ourselves very clear roles so that we didn't get involved in the same issues, we organized ourselves and gave ourselves roles based on what we were already used to, and based on our skills.
Daniele Vignatelli oversees the management and the business administration areas, with a significant sales and marketing responsibility and a passion for digital communication. Olga Vignatelli is engaged in sales and marketing in a role dedicated to public relations and individual customer relations. And then l take care of everything else".
Raffaella Vignatelli is the creative soul of the group, whose main role is Art Director – as well as being Chairman – she develops product ranges, oversees the coordination of styles and, like her father, shows the same DNA and passion for researching new trends: "to perceive the future needs of the market, always progressing together with the team, never alone", as she herself explains. "My father was a great influencer, the first in the field of luxury furniture design".
Q: DO YOU REMEMBER A PARTICULARLY DIFFICULT NEGOTIATION?
A: "Last April we unveiled our most recent partnership, and we are now ready to launch the Baccarat home range. We are very pleased with what we have achieved. For us Baccarat had classic messages and we were proposing to present it using this style. Instead, we were presented with a more contemporary model which the parent company had in mind, made of futuristic chrome finishes suitable for ultra-modern settings. Our job is also to bring two approaches together and find the right compromise. That's how the Baccarat La Maison collection was conceived, a timeless style with classic tones and tastes that adapt perfectly to any type of setting, or style of interior decor.
For us, the Baccarat La Maison collection was our first experience with a brand that symbolises the home without being a part of the furniture. The parent company's request made absolutely sense, it is a product that by its nature is made to be chosen by everyone, to be suitable for any type of setting, it can' t be just classic, it must be versatile".
Q: LET'S TALK ABOUT CRAFTSMANSHIP, A KEY ASPECT OF YOUR CORE VALUES. WHAT LIES BEHIND THIS CONCEPT TODAY?
A: "A whole world is hidden within this word. It means the continuous search for uniqueness. The desire to create absolute beauty. Our country is unique, capable of creating the very best, whether it is crafting stone, glass, iron or fabric.
Through our research, we establish relationships with the best Italian craftsmen and help to make Italy known throughout the world. Ours is an artisanal industrial group and an industrial artisan business. Craftsmen process the raw materials and produce the very best results possible. Even for us, who deal with highly customized bespoke projects, working with raw materials is a constant surprise.
For some of the processes, such as those that take place in the upholstery department, digital support can help the craftsman, but when it comes to carpentry, certain levels of excellence and refinement can only be achieved by manual work. This know-how gives us a great deal of reward and makes us difficult to imitate".