On 10th November 2018 Heesen has saw the hull and superstructure of YN 19150 Project Electra joining together at the facility in Oss. Electra is the second in the 50 metre 5000 class, which features an FDHF hull and hybrid propulsion.  Based on the success of her award-winning predecessor – YN 17850 Home – Project Electra marries performance and efficiency by using the slippery Fast Displacement Hull Form with Heesen's innovative hybrid solution, which combines diesel and electric propulsion. Project Electra is available for delivery in April 2020.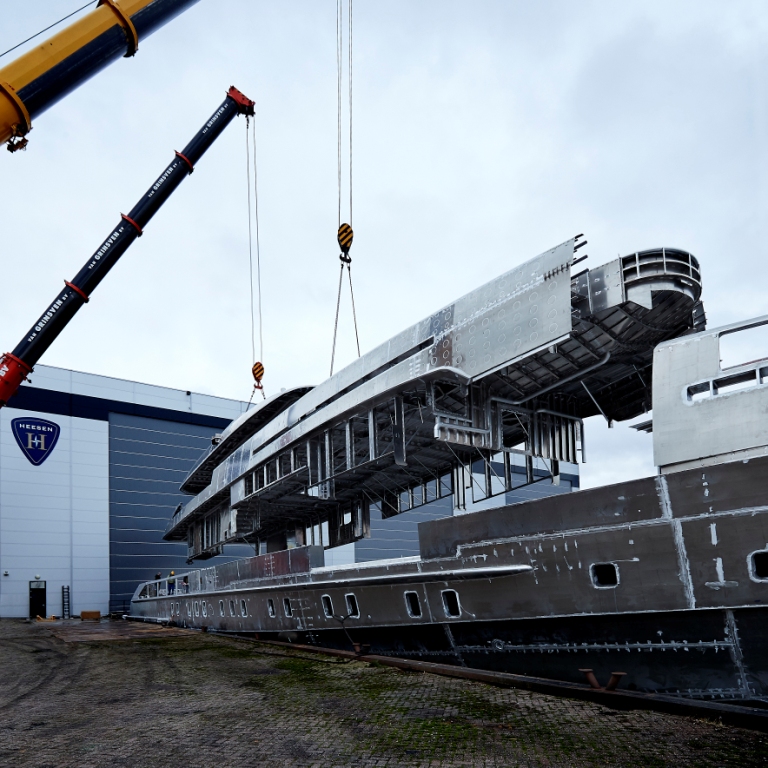 It is indicative of a core strength of Heesen, which offers progressive solutions and smart technologies to the market in new products while being able to draw on its financial strength to bring those products to market as spec builds. It is a 'hybrid' business methodology that offers the possibility of reduced build times and economic savings for clients while delivering cutting edge systems and full-custom options.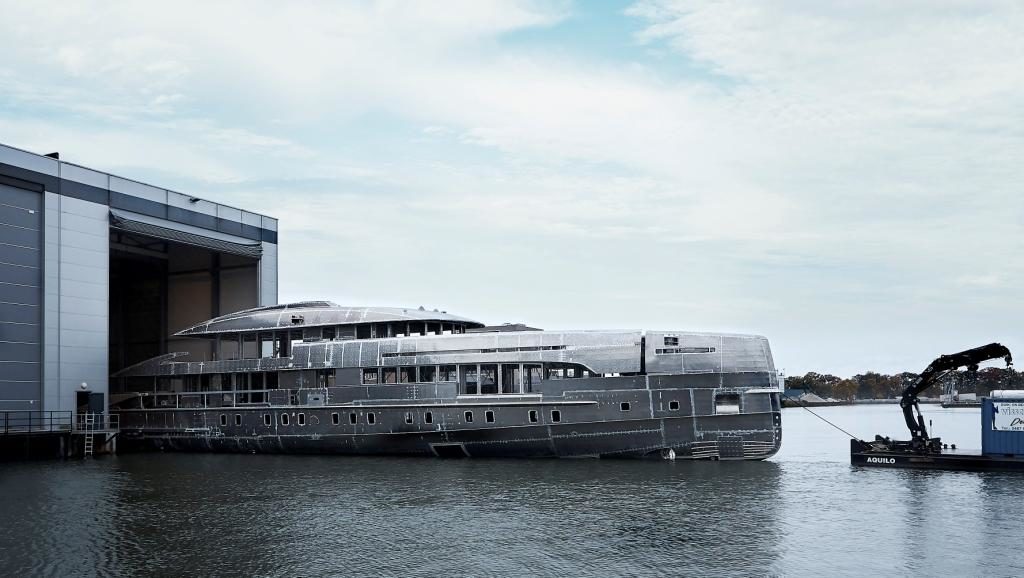 Compared to a traditional diesel engine arrangement, the hybrid power and propulsion system is quieter and more fuel efficient. In addition, it offers cost-reducing benefits and flexible power management, as the yacht can be operated in four different cruising modes:
Hybrid mode: up to 9 knots at noise levels of just 46dB, equivalent to soft rain! Two water-cooled DC electric shaft motors of 127kW each quietly power the yacht. The benefits are silent cruising and higher manoeuvrability in close quarters.
Economic Mode: 9-12 knots with main engines on and generators off. Ideal for longer passages, the economic mode comes with few interesting perks – frugal fuel consumption (at 12 knots the yacht burns just 98 litres per hour) and extended generator service life.
Cruising Mode: 12-15 knots. This is the traditional mode, where the diesel engines drive the yacht's propellers and the generators provide the hotel load.
Boost Mode: to achieve the max speed 16.3 knots, the generator-powered shaft motors are brought into service alongside the main engines to give an extra kick of power.
Electra's technological heart is wrapped in a contemporary design package that comes in just below the 500GT threshold. Frank Laupman of Omega Architects created a bold exterior design where aesthetics meet functionality. The vertical bow with spray rails is not only on-trend, it also serves a practical purpose by providing progressive buoyancy when carving through waves. The bow shape also means the crew accommodation can be set further forward.
Twelve guests are accommodated in five lower deck suites and a master stateroom located on the main deck forward. The interior design is by Cristiano Gatto, whose décor integrates organic shapes and emphasizes the indoor-outdoor connection with deep and low furniture, allowing the guests to fully enjoy the panoramic vistas from the floor-to-ceiling windows.