[dropcap]E[/dropcap]quipped with multiple mode hybrid propulsion and built in aluminium, the new Eco-Tender 25m is a superyacht quality build. It is the first Perini Navi's motoryacht launched since the company's rebranding and it is the first ever planing model in its fleet.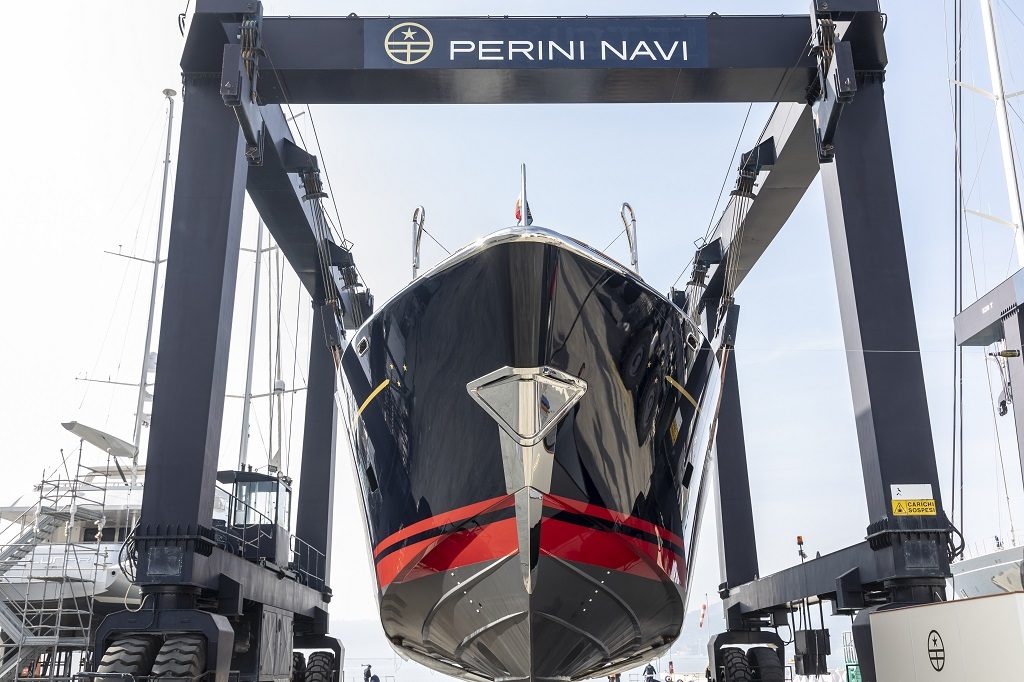 Built as a a mini superyacht tailored to the requests of her experienced Perini Navi owners, the project grew out of initial discussions with the owners for a bigger sailing boat. It emerged that the owners were very happy with their existing 52m Perini Navi sailing yacht, but their needs had evolved over the years and what they really wanted was not a bigger boat, but more flexible cabin space to accommodate single guests or children. As they prefer to anchor offshore, they also wanted to explore closer inshore in something more substantial than a conventional RIB.
The answer was a vessel with the same graceful looks, quality feel and luxurious comfort as the mother ship that could provide additional cabin space and be able to operate independently as an extension of the sailing yacht.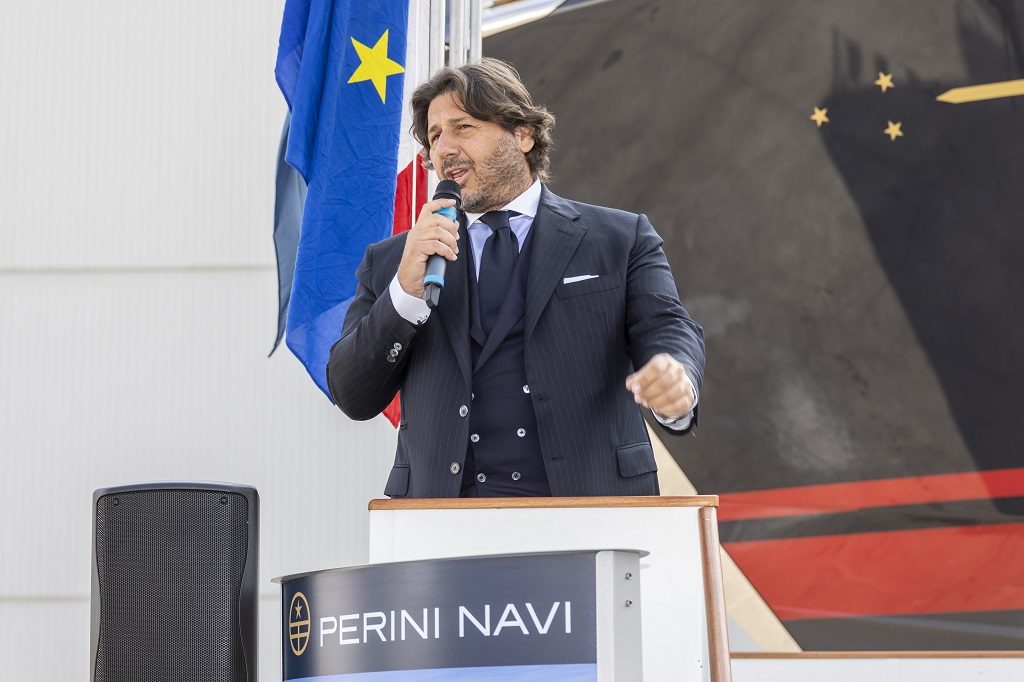 "The classic exterior styling of the Eco-tender shares the same family feeling as Perini Navi's historic sailing fleet, right down to the dark blue hull and red load line," says Lamberto Tacoli, Chairman and CEO of Perini Navi. "But it is clearly no ordinary tender and represents a new breed of super-tender with amenities and technologies to match. As a boat designed and built with a yacht mentality that mirrors all the high-quality hallmarks of Perini Navi, this cutting-edge tender breaks new ground as the brand continues to refine its product range to meet the evolving demands of the market."
[divider style="dashed" top="20″ bottom="20″]
4-mode hybrid propulsion
The innovations start with a sophisticated hybrid propulsion system developed by Siemens, which provides four operational modes for maximum flexibility.
Diesel mode: twin MAN diesel engines (2x1213kW) power two Hamilton waterjets for a maximum speed in excess of 30 knots.
Hybrid mode: one engine drives its neighbouring waterjet and also serves as a generator for an e-motor to power the other waterjet.
Diesel-electric mode: a 130kW generator supplies electricity for two e-motors to drive the waterjets.
Zero-emission mode: for completely silent and emissions-free manoeuvring or limited cruising, a battery bank can power both waterjets via the e-motors at around 8 knots for up to a hour.
In battery mode, for example, the tender will be able to cruise at low speed in marine parks or other environmentally sensitive areas with no emissions and no noise. But on request of the owner, close attention has been paid to minimising noise in all propulsion modes and contractual sound levels are below 55dB throughout.
"This is the first time such an avant-garde hybrid system has been installed on a superyacht tender," says Luca Boldrini, Sales Director – Motor yachts at Perini Navi. "The initial impetus came from the tech-savvy owners who wanted a vessel that impacted on the environment as little as possible, but the know-how we bring away from the project will be carried through into the future."
[divider style="dashed" top="20″ bottom="20″]
Advanced navigation and communications
Unique on a yacht of her size is the I-Bridge ® Multitouch navigation system by Team Italia. All the onboard systems, including the hybrid propulsion, can be managed using the high-res 4K touch screens, trackball and jogger. The monitors can be raised to different  heights in cockpit or navigation mode, and include an augmented reality function that overlaps navigation data with video images.
Moreover, an Anchor Watching System (AWS) system can display and control all the equipment necessary for monitoring the boat at anchor. In fact, it provides a 360° image around the boat and tracking of traffic using the radar systems, thermal camera or search light, and can be programmed to sound a proximity alarm.
Equipped with a double VSAT system for internet connection and three Iridium telephones, the Eco-tender can remain connected to the mother ship at over 100 Mbps even when tens of miles distant.
[divider style="dashed" top="20″ bottom="20″]
Functional and flexible design
Another request of the owners was that guests should be able to board or disembark from the tender easily and safely from the deck of the mother ship. The high hull bulwarks mean that guests can literally step across from one deck to the other.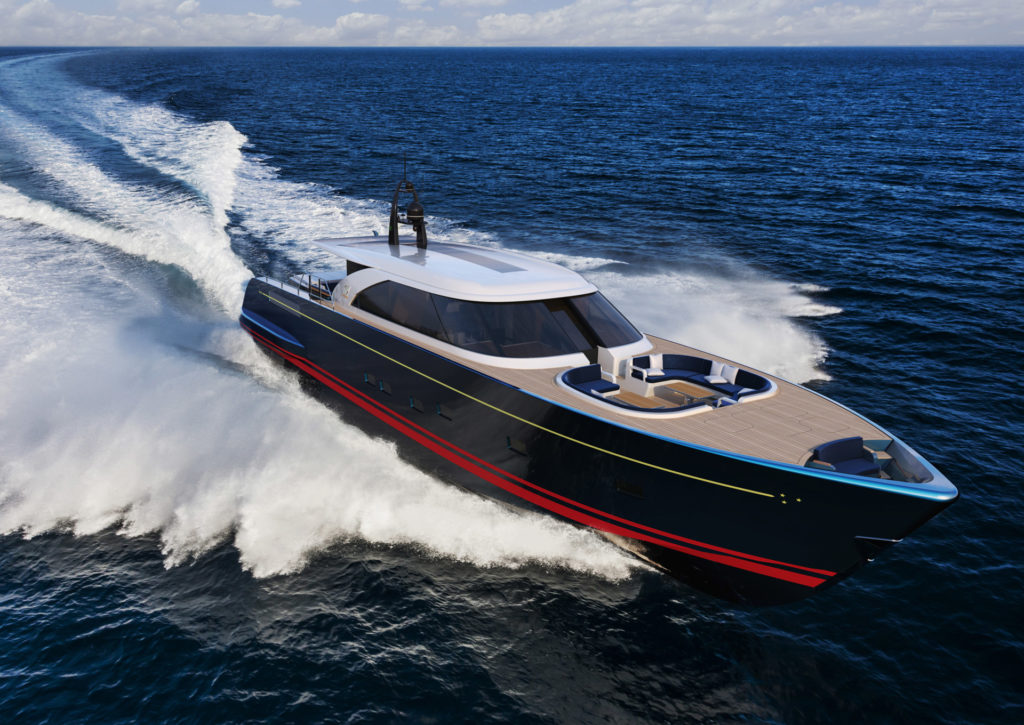 The innovations continue with the exterior layout and on-deck amenities. In addition to the comfy aft cockpit fitted with lounge seating, sunpads and a fixed swim platform, there is spacious dinette sunk into the foredeck that further serves as a viewing area from where the owner can pursue his hobby of nature photography.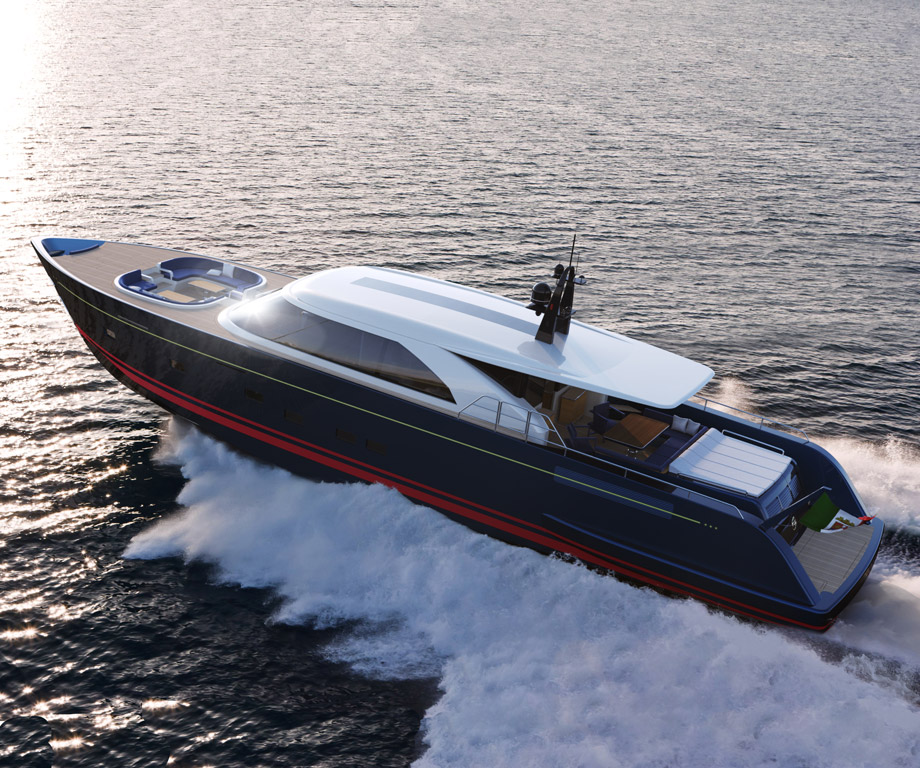 The fresh and contemporary interior, also designed in-house, is based on brushed teak and white lacquered joinery, and features a full dinette-salon and galley on main deck. Below deck, there is a full-beam VIP suite, a double cabin forward and a third cabin with twin single beds, all with en-suite bathrooms. A crew cabin with independent access is located forward of the engine room bulkhead.
The Eco-tender and her sophisticated propulsion system will undergo thorough testing and sea trails before delivery to the owner in April.
Simultaneously, the hull of the SY 42m E-volution has touched the water for the first time in Perini Navi's shipyard in Tuzla, Istanbul, and will reach the Viareggio shipyard in a couple of weeks.