[dropcap]P[/dropcap]erini Navi, the world's leading designer and builder of sailing and motor superyachts, will be in the spotlight at YARE 2018, the international refit and aftersales trade fair, now in its eighth year, held in Viareggio from April 18 to 21.
This year, the show takes the form of an extended event organised in the heart of one of the world's most important yachting industry districts. Participating shipyards, including Perini Navi, will host events organised by the trade fair for visitors, including over one hundred sail and motor yacht captains from around the world.
Click here for the THE PROGRAMME | For detailled info, email us @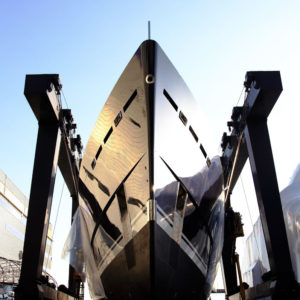 Perini Navi will play host to one of the three workshops for captains, yacht managers and companies, who will have the chance to exchange views about subjects of special interest to the refit market: after-sales services, maintenance plans, contracts, legal affairs and much more.
Attending captains will also be able to visit the shipyard and see the new 60m S/Y now under construction.
Perini Navi's Service and Refit activities form an integral part of the shipyard's business and represent another point of excellence for it, based on expertise, specialisation, the passion of a dedicated team and cutting-edge infrastructure. Perini Navi performs Service & Refit work at its shipyards in Viareggio and La Spezia in Italy and Tuzla Bay in Turkey, offering a total of 9 hangars from 45 to 126 meters and 56,000 square meters of industrial sheds.
YARE 2018, a must-attend event in the sector, is organised by NAVIGO, the service centre for innovation and development in the yachting industry, with the support of the Tuscany Yachting and Port District, and sponsored by SYBAss, the prestigious international association of superyacht builders.