From Superyacht Digest | January Issue 2020
[divider style="solid" top="20″ bottom="20″]
SD96, the new project born from the meeting between Patricia Urquiola and Sanlorenzo. The Spanish designer interprets the interiors of the new entry level of the SD line.
[divider style="solid" top="20″ bottom="20″]
[dropcap]A[/dropcap]fter the prestigious collaborations with Dordoni Architetti, Antonio Citterio Patricia Viel and Piero Lissoni (Art Director of Sanlorenzo since 2018), thanks to which the Italian yard has introduced new visions to rethink the concept of space on board, through innovations and new stylistic features, Sanlorenzo has entrusted another big star in the international firmament of design and architecture, with a new project for the interior design: it is the turn of Patricia Urquiola who signs the SD96, the new 29-meter model officially presented at the Cannes Yachting Festival 2019. The internationally renowned architect and designer makes his debut in the luxury yachting sector and marks a winning point.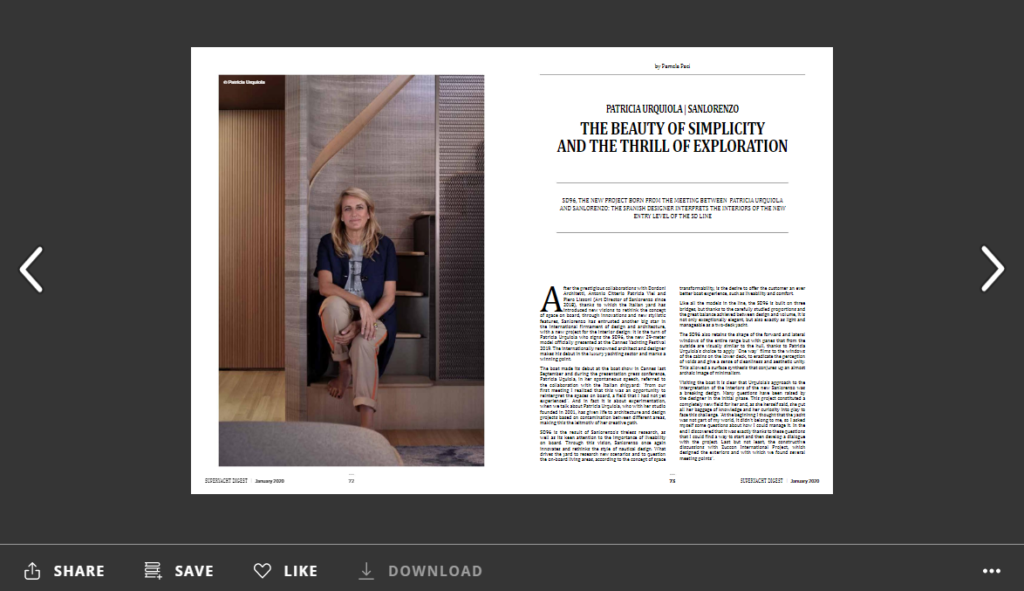 The boat made its debut at the boat show in Cannes last September and during the presentation press conference, Patricia Uquiola, in her spontaneous speech, referred to the collaboration with the Italian shipyard: "from our first meeting I realized that this was an opportunity to reinterpret the spaces on board, a field that I had not yet experienced". And in fact it is about experimentation, when we talk about Patricia Urquiola, who with her studio founded in 2001, has given life to architecture and design projects based on contamination between different areas, making this the leitmotiv of her creative path.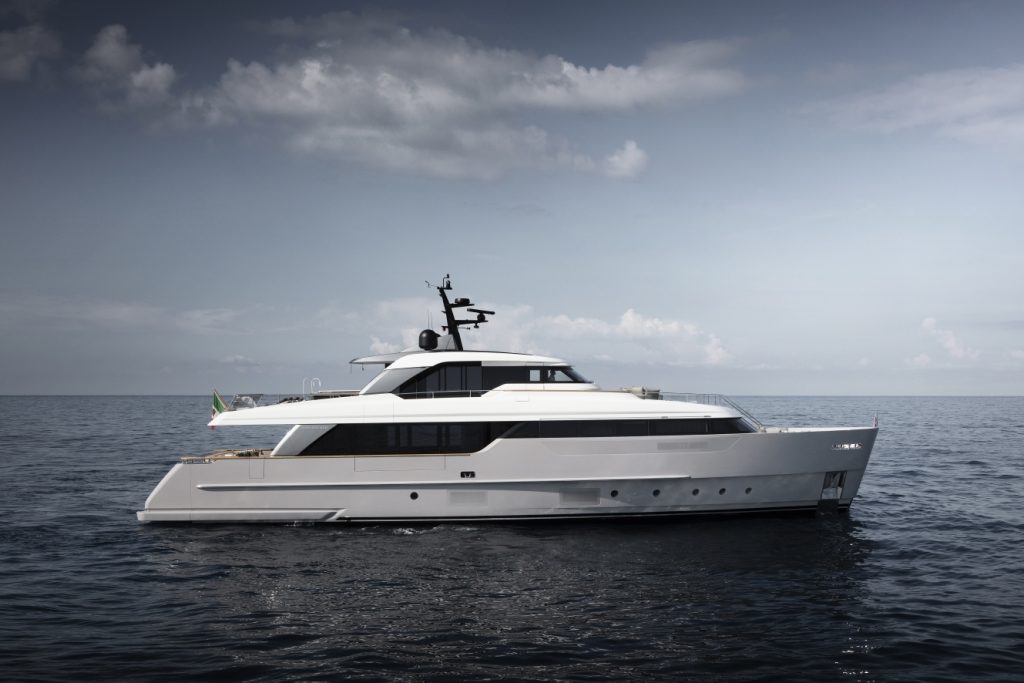 SD96 is the result of Sanlorenzo's tireless research, as well as its keen attention to the importance of liveability on board. Through this vision, Sanlorenzo once again innovates and rethinks the style of nautical design. What drives the yard to research new scenarios and to question the on-board living areas, according to the concept of space transformability, is the desire to offer the customer an ever better boat experience, such as liveability and comfort.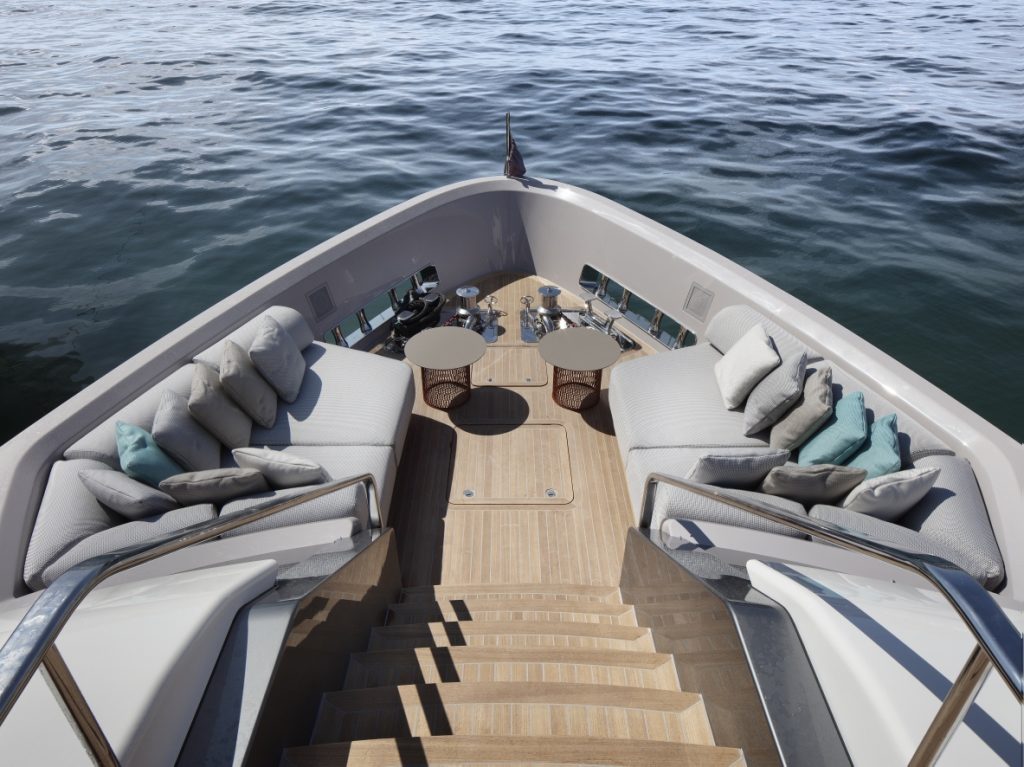 Like all the models in the line, the SD96 is built on three bridges, but thanks to the carefully studied proportions and the great balance achieved between design and volume, it is not only exceptionally elegant, but also exactly as light and manageable as a two-deck yacht.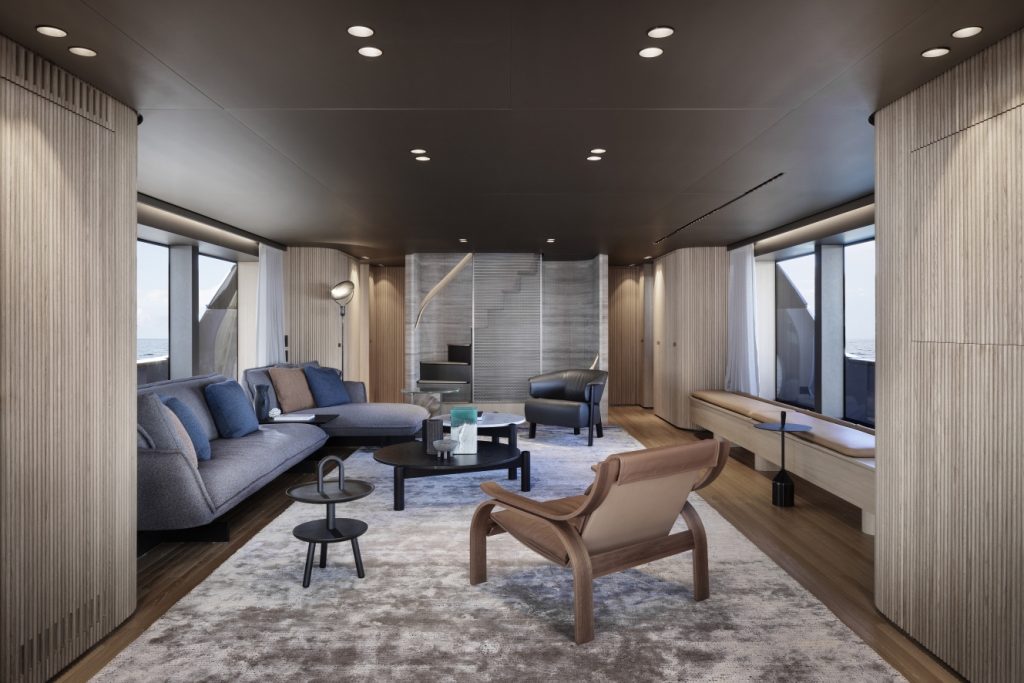 The SD96 also retains the shape of the forward and lateral windows of the entire range but with panes that from the outside are visually similar to the hull, thanks to Patricia Urquiola's choice to apply "One way" films to the windows of the cabins on the lower deck, to eradicate the perception of voids and give a sense of cleanliness and aesthetic unity. This allowed a surface synthesis that conjures up an almost archaic image of minimalism.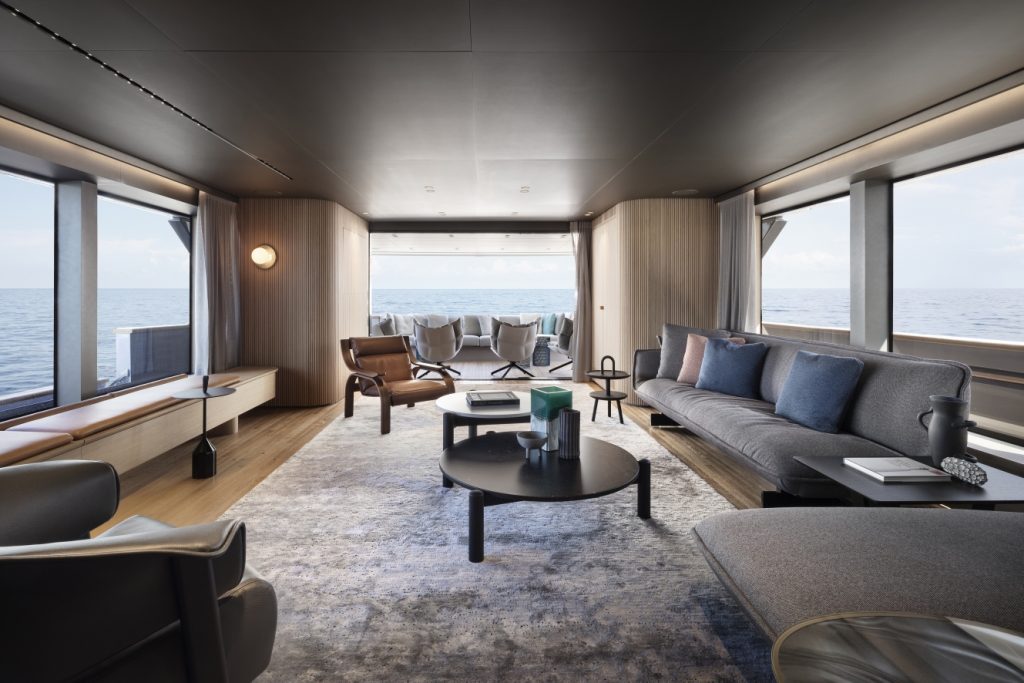 Visiting the boat it is clear that Urquiola's approach to the interpretation of the interiors of the new Sanlorenzo was a breaking design. Many questions have been raised by the designer in the initial phase. This project constituted a completely new field for her and, as she herself said, she put all her baggage of knowledge and her curiosity into play to face this challenge. "At the begininng I thought that the yacht was not part of my world, it didn't belong to me, so I asked myself some questions about how I could manage it. In the end I discovered that it was exactly thanks to these questions that I could find a way to start and then develop a dialogue with the project. Last but not least, the constructive discussions with Zuccon International Project, which designed the exteriors and with which we found several meeting points".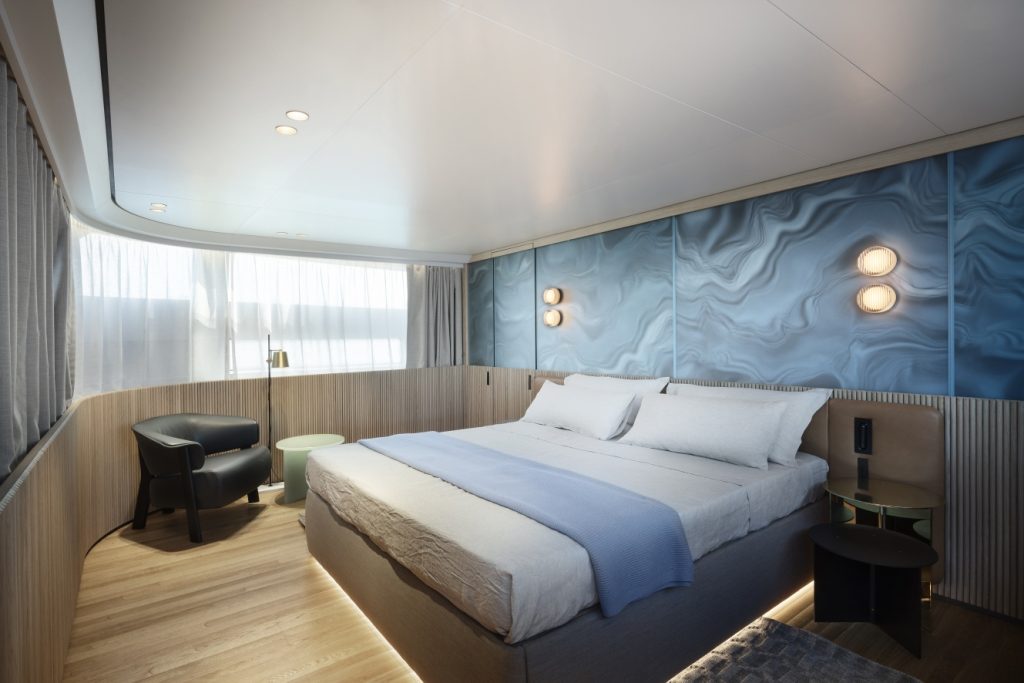 The concept of flexibility and modularity – transformability in one word – which permeates the SD96 project, governs the interior spaces designed by Patricia Urquiola. A fluid space in which the distinctive style of the Spanish architect and designer emerges, combining a minimalist approach with a mix of carefully selected materials that evoke the sea.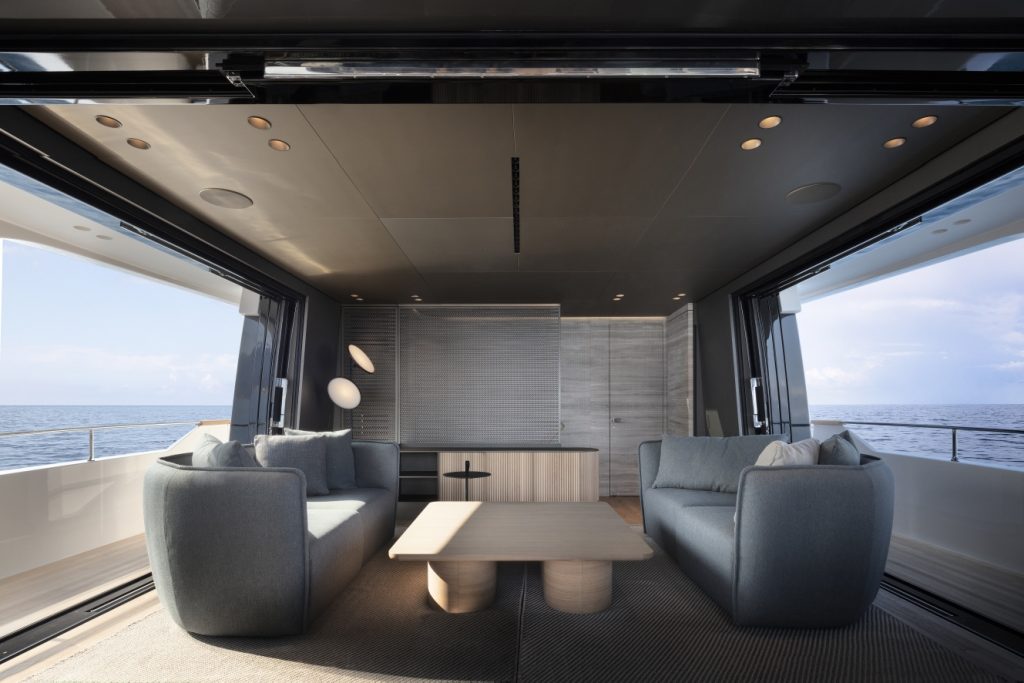 With SD96, Sanlorenzo once again shows its ability to respond to the needs of a constantly evolving market, through a lot of careful research and innovation, while at the same time never betraying the image for which it is known: timeless elegance and linear simplicity, light and streamlined, everlasting expression of refined luxury, never loud, which is evident in the choice of materials and in the care given to the smallest details.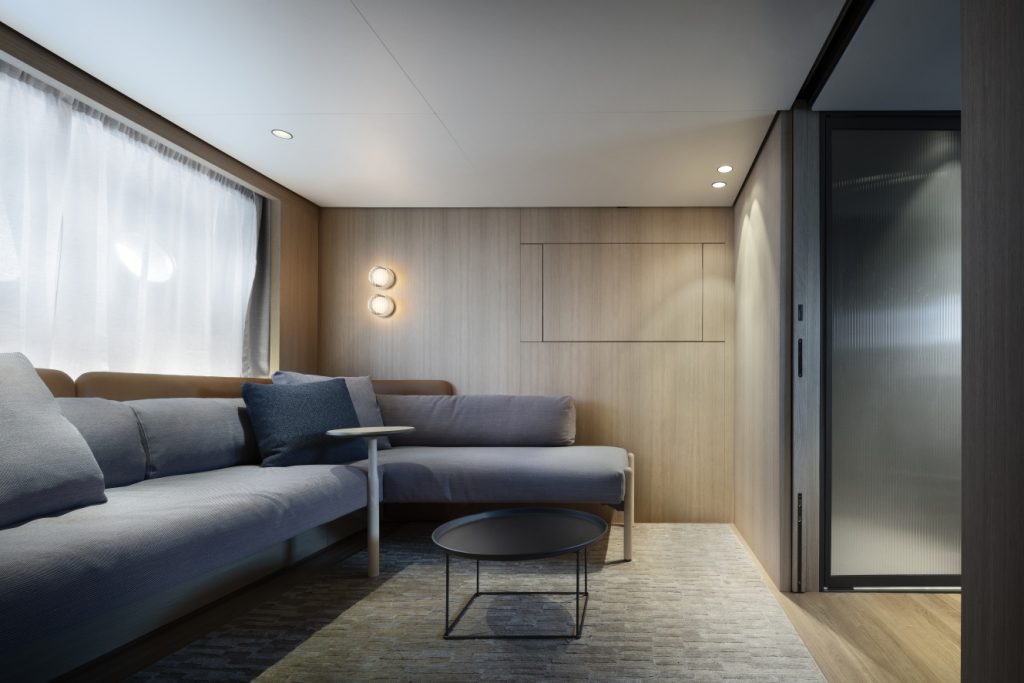 In a balance between severity and irony, between an industrial and artisan approach, Patricia Urquiola creates different styles and furnishings via her search for material sensibility and attention to detail that makes SD96's interiors warm and welcoming yet with a modern sophisticated, elegant overall look, meaning we can enjoy these spaces as a symbol of both past and present. The choice of furnishings made by companies that symbolise the excellence of international design and that have studied ad hoc solutions, where necessary adapting their products to the technical characteristics, materials and constructive solutions to fit our design requirements is also fundamental to our interior design.
The project is based on the flexibility and multi-functionality of the space to ensure that it could be adapted to the needs of anyone who lives it. Very dear to architects who come from the residential sector is the theme of living, even if in this case it is on board a yacht: a theme that conceives the space according to the true use that the final guest will make of it. An approach to design that aims not only at the aesthetic appeal but that shapes it according to its real function.
Greater importance was therefore given to the living area (the principal one is located on the main deck), secondly to the dining area, hence the choice of a bench on the starboard side (to the right) of the yacht, that when needed can be transformed into a large table for 10 people, a true example of the concept of modularity.
We then move on to the central staircase, in bronzed steel and wood and enclosed in a travertine shell, it is designed to reach the other two bridges, and is a focal and iconic point that connects all the floors and also serves to divide the areas via a metal mesh screen.
The owner's cabin is located on the main deck. Much wider in width than those offered on yachts of similar sizes, it has large windows that, together with the glass wall with a Liquefy motif that evokes the sea, create a feeling of uniformity with the surrounding environment.
The travertine bathroom with ribbed glass walls coupled with a bronzed mirror amplifies this feeling in a game of pleasant reflections.
Moving on to the upper deck we find the Sky lounge, with fully opening windows that can be used as a living room, dining area or cinema thanks to modular furniture. The uniformity of finishes between interior and exterior, such as the parquet floor with Biscuit pattern creates a unique environment with the fly bridge, which can also be used as a lounge or outdoor dining area thanks to the coffee table which can be converted to a dining table if desired.
The principle of flexibility returns to the lower deck where the living room can be totally transformed by closing a system of sliding panels, creating a VIP cabin with bathroom. On the same level we also find two guest cabins.
Q&A with Patricia Uquiola
SD: "How do you think you have contributed to the history of yacht design? Are you going to continue this adventure with other yachting projects?"
PU: "I have always been very attached to the sea, it is part of my deepest roots. Working with Sanlorenzo was therefore a natural choice as well as an honor, I was immediately struck by their desire to look for a new way to design a boat with the same care, comfort and customization with which a house is designed, enhancing the relationship with the sea, light, functionality and flexibility. In this I believe that the SD96 stands out in the world of yachting. It was a wonderful journey that we undertook with the shipyard, with a continuous and very fruitful exchange of opinions. For the future, I can say that I am very interested in research in the field of hulls, environmental impact, efficiency and technology".
SD: "Going beyond the boundaries of yachting… As a woman, female professional, do you find that the design and architecture sectors, mainly dominated by men, have presented a major difficulty for you as a woman?"
PU: "I've always tried to go beyond gender bias, it's a daily challenge. When I think back to the moment when I decided to open my studio, I think it was more than a personal challenge for me, I had to decide to go beyond my limits. I think I can say that in our field, sensitivity and talent are distributed equally between men and women".
"It is a world made up of mainly male entrepreneurs, technicians and managers, but we women are recognized for being multitasking, able to do more things at the same time, which is considered a useful talent in design.
The reality is that 70% of design students are women, but unfortunately only one in five works in this profession. And in the 100 largest architecture studios only 10% of senior positions are occupied by women.
There is therefore still a lot to do, but I believe that talent must be at the centre, this must be valued. I believe in a world of genderless design that we must all hope for, planning solely for people and their ever-evolving needs".
SD: "I would like to talk about inspirations. If we consider all of your innovative projects, have you ever been inspired by trends coming from fashion or atmospheres related to artistic projects?"
PU: "Definitely, there is a very strong creative link between the different areas of creativity. Personally, I am very receptive and intrigued by everything and I like to take inspiration from different environments and situations. My interests are always intertwined, in an intuitive way: I love fashion – with which we often work for retail projects – but also art, cinema, theatre. All this is for me an important source of inspirations for all of my projects".
SD: "Your studio is involved at all levels, from residential to buildings, from stores to exhibition spaces, from furnishing products to accessories. In a global market like the world of design, that has as its capital Milan and secondary offices Paris, Moscow, Shanghai, New York…, how do you manage to create an object that adapts to different lifestyles, cultures and habits. Does the creativity of the designer must then also take into consideration the commercial aspect?"
PU: "I am a designer and an architect so every day I have to face different and complex design challenges. For me the most important aspect of every project is to be able to find solutions that especially create a sort of emphaty with those who will use it and live it. The emotional level is fundamental. What makes your project valid and universal is the empathy that develops with the user, if this exists, then you are sure you have done well. Each project is a challenge in itself, but it is created always through a dialogue with the client, trying to interpret his vision, while remaining within the constraints necessary for functionality. I strongly believe that every project shall be the result of a four-handed development, this leads you to the success of a project, even at commercial level".
SD: "This nautical experience completes your portfolio. Is there still an area that remains unexplored for you, and that you would like to enter?"
PU: "I do not know exactly, I consider myself very lucky for having been able to work with very different companies over the years, developing very varied projects. I can say that the field of the Internet of Things interests me a lot, in fact we don't relate only with people and objects, but also with those we define "hyperobjects", connected online and intelligent. It is a fascinating and very complex area that must be studied and on which we must reflect as designers because this is and will be more and more an integral part of our lives".