[dropcap]O[/dropcap]tam sells the SD 35, unit #1 of the all new, all-aluminum, semidisplacement product line.
OTAM Yachts has announced the sale of the first unit of its new, all-aluminum, semi-displacement product line, the OTAM SD 35. Designed by Tommaso Spadolini, the 35meter tri-deck has a 7,80meter beam and will be built for an experienced Italian Client who was searching for an all aluminum semi-custom ship that would be tailor-made to match his lifestyle requirements.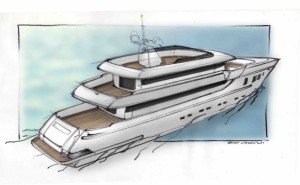 Zero speed stabilized and at 295GT, the voluminous new SD 35 will be able to host 10 guests in 5 cabins, with the Owner's private apartment on the upper deck in unit no.1, and a generous 6 crew in 4 cabins for superior guest services.
Leveraging its internal engineering capabilities honed in designing and building the fast Millennium line, OTAM designed together with historical partner and Naval Architect Umberto Tagliavini a very efficient, semi-displacement hull that will allow the SD 35 to reach a top speed of 22knots but also a range of 1000 Nautical Miles at 11knots.
Gianfranco Zanoni, CEO of OTAM has declared: "We are extremely proud of this new contract, further proof of the quality of the shipyard's know how and of the "Made in Italy" – Owner, Designer, Architect and Shipyard – all Italian!" Aluminum fabrication is proceeding vigorously in the Genoa Shipyard and delivery is slated for 30 June 2016.
[divider style="dotted" top="20″ bottom="20″]