John Armleder interprets Ornellaia 2012 'L'Incanto'
An enchanted world which enfolds this vintage of Vendemmia d'Artista, in a benefit auction that donated 202,700 euros to the Fondation Bayeler of Basel.
[dropcap]F[/dropcap]or the 7th edition of Vendemmia d'Artista, the project that Ornellaia launched in 2009, which commissions an artist of world fame to interpret the distinctive character of each individual vintage, the producer selected Swiss artist John Armleder to exercise his creativity for Ornellaia 2012 "L'Incanto" (The Enchantment).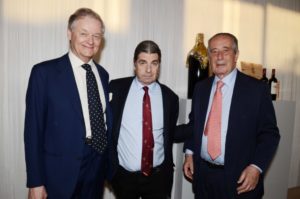 ORNELLAIA, on 23 April, organised an exclusive charity auction offering 9 lots, which included 9 of the special-edition bottles created by John Armleder for Ornellaia 2012 L'Incanto Vendemmia d'Artista. The auction took place at a gala dinner, during which Stephen Mould, Sotheby's Senior Director-Head of European Wine Department, oversaw the bidding, and all proceeds, 202,700 Euro,  were donated to the Fondation Beyeler in Basel, directed by Sam Keller. To date ORNELLAIA has donated more than 1,5 Milion of Euro in the world.
The project has gathered more than 1,5 million euros and the entire proceeds have been donated to organizations and foundations across the globe that support Art across the range of its expressions, including the Whitney Museum in New York, the Neue Nationalgalerie in Berlin, the Royal Opera House in London, and the H2 Foundation in Hong Kong and Shanghai, as well as the Museo Poldi Pezzoli in Milan and the AGO, Art Gallery of Ontario, in Toronto.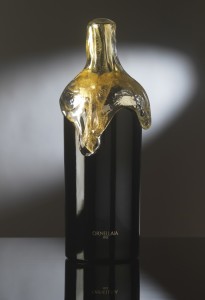 To interpret the unique character of 'L'Incanto' for Ornellaia 2012,  Swiss artist John Armleder was also commissioned to create a site-specific artwork for the Ornellaia  estate and an extremely exclusive series of  111 bottle labels, individually signed, consisting of: 100 3-litre double-magnums, 10 6-litre Imperials, and a unique 9-litre Salmanazar. In addition, for the first time, the artist created a special label for an individual 750-ml bottle of Ornellaia that will be included in every 6-bottle wood case.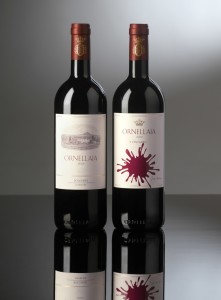 John Armleder stated:
"When I tasted Ornellaia 2012 for the first time, I was immediately transported to a world of dreams. It was unexpected and surprising; a moment that can never be repeated. The image represents the surprise and pleasure I felt, and I want people to experience that feeling for themselves. When they discover the label for the first time that unique experience will become their own."
Giovanni Geddes da Filicaja, CEO of ORNELLAIA, stated:
"Today Vendemmia d'Artista reaches its 7th edition, and its proceeds will continue to go towards restoration of artworks that are part of our international heritage. In six years, we have been successful in donating more than 1 million euros across the globe, just a very small part of what we have committed ourselves to raise in the future."
 Serena Sutcliffe, Master of Wine, Head of Sotheby's International Wine Department, concluded:
"An amazing, spicy, blueberries and blackberry taste, rich and all-enveloping. A great wine, with a sweet opulence all over the palate, truly an "enchantment," with coffee and cassis all through, and an espresso, luscious finish."
Axel Heinz, ORNELLAIA Estate Director and Winemaker, explained:
"Ornellaia 2012 provides an immediate sensation of pleasure that is both charming and engaging. Straightaway you can appreciate its deep ruby colour and warmth, as well as its bouquet of rich fruit and spice. The palate is well-rounded, full, and generous, with glossy tannins and a velvety texture. It has all the luxuriance that distinguishes Ornellaia's great vintages, but it conceals this richness behind an expansive and magnificent structure which concludes in a long-lasting finish. The 2012 growing season was characterized by an abundance of sunny, dry weather with some rain just before the harvest. The result was an even, consistent ripening that in the end yielded this generous, full-bodied wine that is remarkably appealing and seductive. This is why we chose the word 'L'Incanto' (The Enchantment) to describe this vintage of Ornellaia".
[divider style="dashed" top="20″ bottom="20″]
 Art Curators of ORNELLAIA Vendemmia d'Artista project are Bartolomeo Pietromarchi and Maria Alicata.
[divider style="dashed" top="20″ bottom="20″]