David Uessem is a German artist known for his very particular skill in the technique of realistic portraiture. He studied illustration, painting and graphic. After completing his free painting studies at IBKK Bochum, joining the master class of Prof. Dr. Qi Yang, he started his career specializing and refining his art more and more. It was Prof. Yang who inspired him to create a formal language that derives its core dynamic from opposition.
---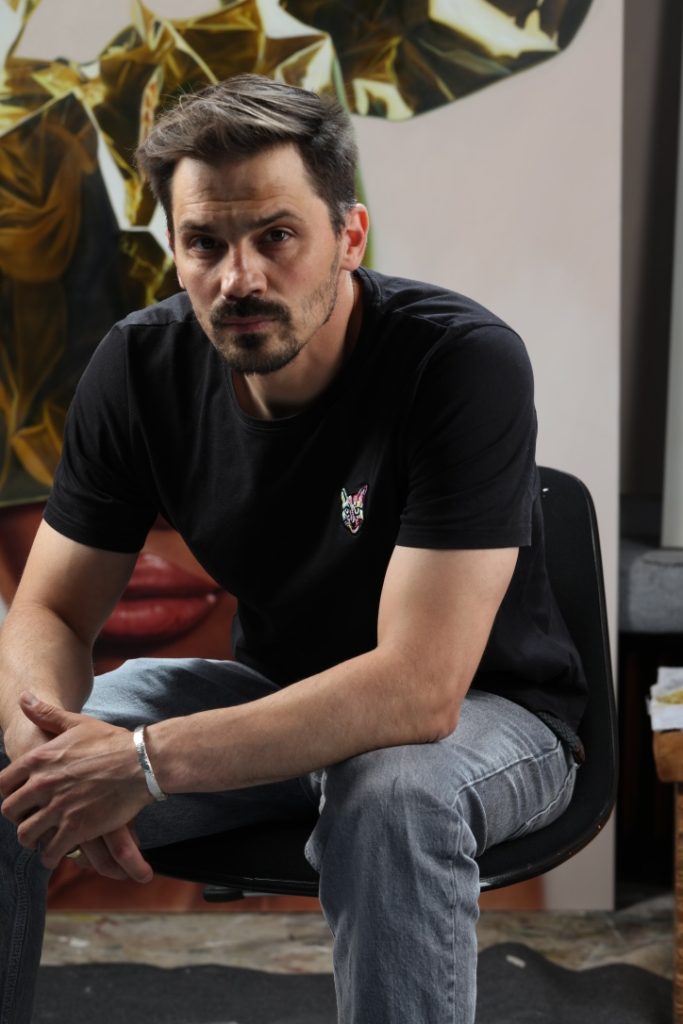 The German artist with his personal and highly distinctive style emanates a buoyant aesthetic. All the possible declinations of our emotions become the different and inescapable facets of human existence at the core of his work. Feelings such as insecurity, fear, vulnerability, but also pride, strength and interpersonal relationships are the protagonists of David's art scene.
His subjects with covered faces share the scene with shiny foils and sequins which, in full contrast with the subject whose gaze is turned off, shine and give light to the work. Some are even adorned with equally compelling elements as disco balls, or dressed in astronaut gear and covered in flower helmets. The masked protagonists of Uessem create an interplay of surreal visual worlds that blur reality and illusion.
Uessem's large portraits of veiled visages, coupled with a variety of animals and hidden objects set against picturesque backdrops are brought to life with contrasting, harmonious colors and bold compositions. Althought at the beginning his studies were focused on illustration, Uessem soon devoted himself to painting, with particular attention to portraiture and figurative paintings. Mixing acrylic and oil techniques in his artworks, he creates meticulously detailed paintings that look like a high-resolution photographs. His subjects look as though they are about to step out of his large-scale canvases and become a part of the real world.
The most striking things in Uessem's large-scale portraits are the expressions of his subjects, almost always look at the viewer straight in the eyes, as if they are going to share their moods and emotions.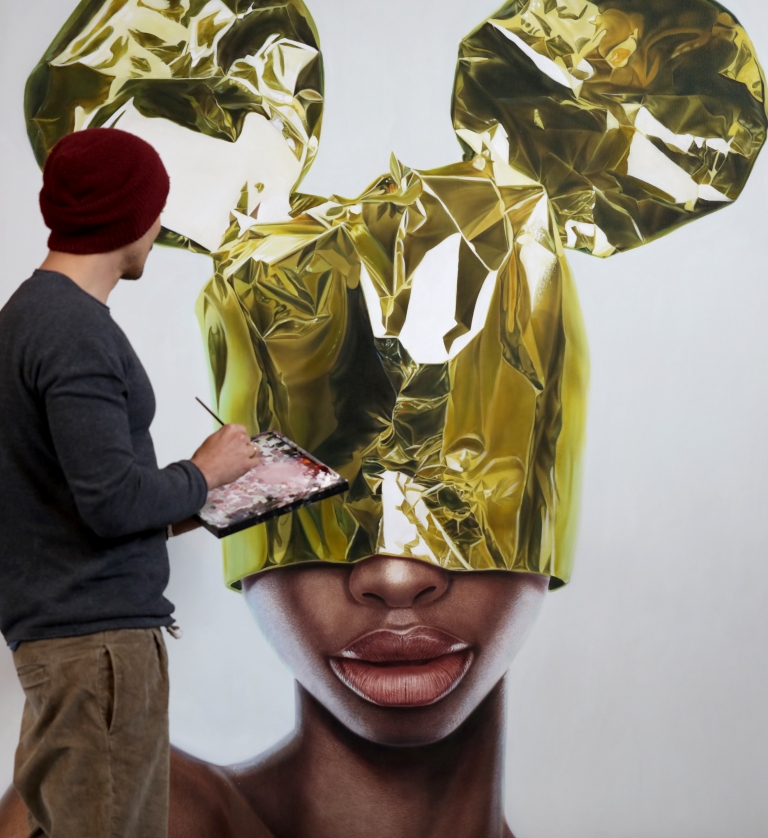 In recent years, Uessem's work has been included in many individual and collective exhibitions in Germany and abroad. In 2005 he won the Culture Prize of the Oberbergischer Kreis, in 2006 he was among the finalists of the Art Prize of the Cultural Forum Overath. From 2006 to 2012, Uessem was lecturer of Illustration at IBKK Bochum.
David Uessem is known for painting with a gripping forcefulness in an extraordinary fashion. His portraits and suggestive narrative scenes are the hallmarks of his artistic work where the aesthetics his creations are distinctive and unparalleled.
He positions his subjects up close, thus with a strong presence. They are commonly larger than life, so that all the details of the models can be observed: every pore, each facial hair, or the threads and quality of a fabric. He emphasises the extremes in the art of painting in an illusionistic manner.
With the help of specific techniques he succeeds in bringing the contrast between illusion and reality into being. The canvas as the dividing line between the spectator and the work of art is accentuated, through the blurring of specific details or by working with a palette knife – a dynamic scene emerges from the static image. The interactions of these contrasting techniques create immanent tensions, which convey an exceptional and subtle glimpse into reality.
David Uessem focuses on snapshots of everyday life. Selected elements like water or other liquids stress these sceneries, when they are for example flowing over a model's face and eyes. Split seconds are being captured on canvas. These situational perceptions combine with washy and blurred elements in his paintings to create vivid moments.
The masking of seeing
Words by Sarah Niesel, art historian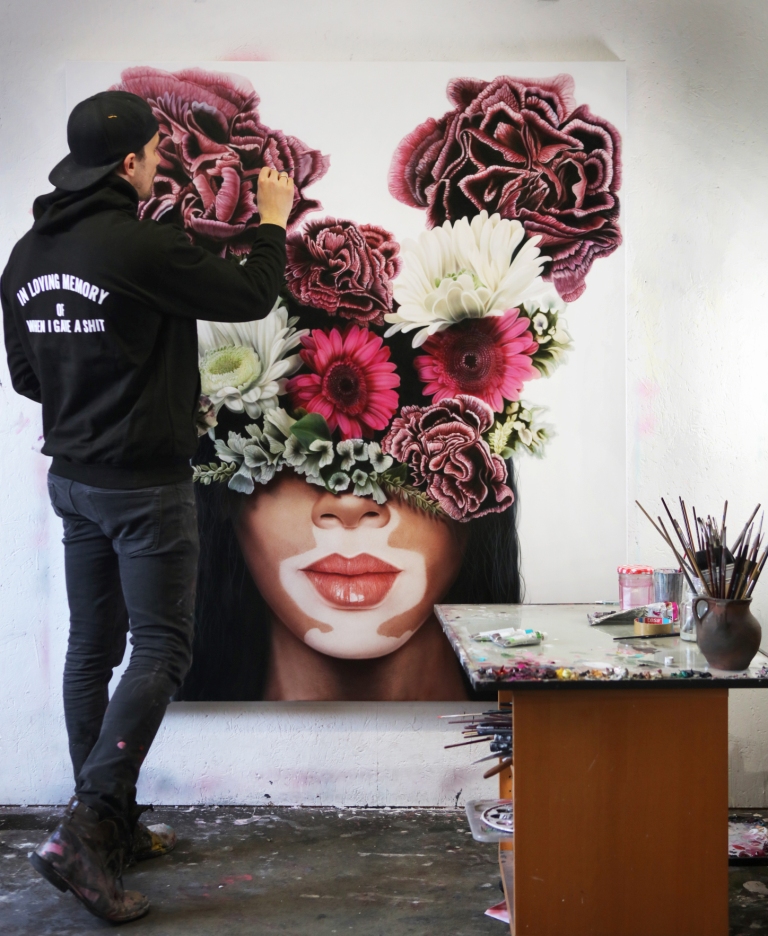 To grow with art and to take the viewer along with him in the process of seeing pervades the oeuvre and work of painter and sculptor David Uessem.
His large size paintings are exceptionally unique. The artist has developed his distinctive Uessem style – an unmistakable mix of hyper-realistic depiction and surreal pictorial composition. Again and again we experience the captivating and irritating combination of human portraits and their partly masking. Natural skin meets another, artificial material. A shiny foil that wraps around half the face with drapes, or shimmering gold, sparkling jewels or bouquets of flowers, in the form of a crown or pop culture motifs such as Walt Disney's Mickey Mouse. David Uessem uses these elements like recurring requisites that apply to his paintings and sculptures. The approach to the genre of sculpture once again illustrates David Uessem's curiosity, dedication and also the conscious exploration of medial and material boundaries.
What we see doesn't usually look at us with David Uessem, but we do experience his point of view. He basically offers the viewer a school of seeing and perceiving. He shows us how he technically dissects the gold in the representation in order to have represented the perfect material with a step back. The folds of the shiny foil become almost imperceptible brushstrokes, which are only visible when approaching very closely. Every work, every material impresses with its perfection and completion.
And at the same time, what is behind remains closed, masked – what we see is pure surface. As viewers, we experience a pleasurable perceptual game between visibility and concealment, between obviousness and masking – and perhaps a competition between art and reality.
David Uessem stands out with his high standards of technical excellence. With his self-developed oil and acrylic glaze techniques, he can create exact color properties and thus shape his image genesis precisely. With the partially colored primed canvases and a pencil underdrawing, Uessem stands not least in the tradition of the old and new masters of art history.
---
This article was published in Superyacht Digest / Summer Issue 2022 – ORDER YOUR COPY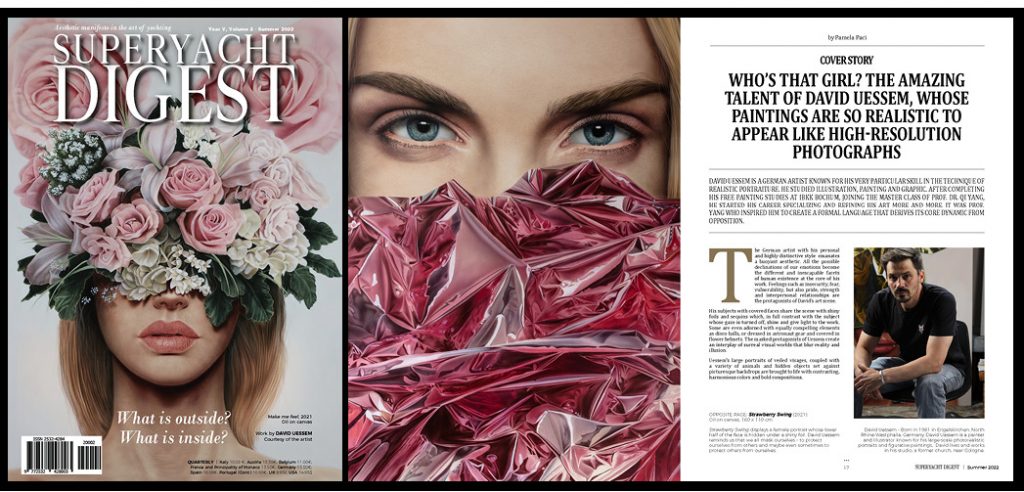 ---