By Ellie Brade – from Superyacht Digest | October Issue 2019
[divider style="solid" top="20″ bottom="20″]
AT THE 2019 MONACO YACHT SHOW ONE YACHT HAS, QUITE LITERALLY, STOOD OUT ABOVE THE REST. AT 106.1M, AMADEA WILL BE ONE OF THE VERY BIGGEST YACHTS ON DISPLAY AT THE SHOW AND A HEAD TURNER FOR ALL THE RIGHT REASONS. LITTLE INFORMATION HAS BEEN RELEASED ON THE TOP-SECRET AMADEA SINCE HER LAUNCH, BUT THAT IS ALL ABOUT TO CHANGE…
[divider style="solid" top="20″ bottom="20″]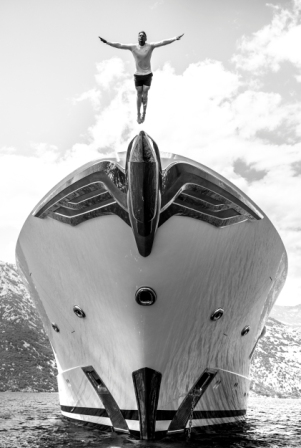 [dropcap]B[/dropcap]uilt by Lürssen, featuring exterior design by Espen Oeino and interior design by Francois Zuretti, and with Imperial as owner's reps, Amadea is a true masterpiece.
Lürssen has built a reputation for their expertise in creating gargantuan custom superyacht builds and Amadea is no exception. Originally known as Project Mistral, Amadea launched from the German yard in 2017. "Amadea is an absolutely unique superyacht; she cannot be compared to any other vessel in the world", says Julie Stewart, Director of Imperial. According to Stewart the project – as with all Imperial projects – was developed with all the key parties working in close conjunction to create a yacht that was entirely tailored to the owner and his family.
"We are proud to have worked with Espen Oeino and Francois Zuretti and to benefit from their creativity, with everyone involved bringing fresh ideas to the table", she adds. "Because our relationships are very strong and have become true friendships over the years, Amadea couldn't have been anything else than a fantastic achievement for all our respective companies. She is sophisticated and was developed with care, she remains the pride of our new construction team, and for our company in general. She is a testimony to Imperial's savoir-faire".
[divider style="dashed" top="20″ bottom="20″]
Superyacht Digest | October Issue 2019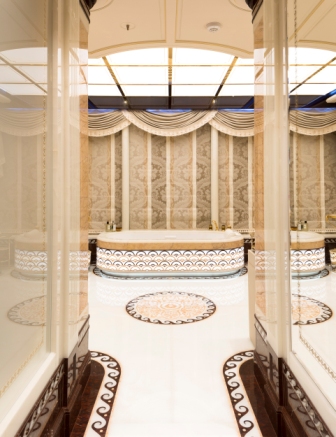 It is hard to do justice to the scale of Amadea until you see her in person. At 4420GT, with five decks and an 18m beam she offers a vast amount of space, and every area on board has been thoughtfully designed to maximize her generous proportions. Outside, Oeino's design is striking and the three dimensional profiles of the deck overhangs and covered balconies create an elegant exterior look. An ornamental albatross, which serves as the figurehead, sits above the anchor wingdoors.
Inside, Amadea's opulent interior is highly detailed, all hand finished by skilled craftsmen and women. A double-height atrium gives the feel of a ballroom and everywhere you turn a different detail catches your eye, including the stunning marquetry, marble inlays, polished woods and glasswork. The devil is in the detail and it is clear the sheer time and effort that was poured into making Amadea a reality. She is a masterpiece.
Once the client had conveyed their overall brief for the project to Imperial, he left it to the management team to craft a one-of-a-kind yacht with a huge number of spaces, each tailored to a different purpose. "The client trusted us to reflect his vision in Amadea and everything we did came back to the question of what he wanted to achieve with the yacht", says Stewart. The features on board are almost too numerous to mention individually but for Stewart a few key spaces stood out as particularly suiting the owner. "We created the ideal spa area for him, with a sea terrace offering the best point of view from the Moroccan salon; we developed with him a fantastic sun deck with the best AV/IT system for entertainment and built a bespoke Jacuzzi that could transform in a proper band stage at night to enjoy late parties; we also helped to achieve his vision of a luxurious but fully functional interior full of natural lights with larger social spaces". Stewart notes that the interior is particularly special. "Francois Zuretti and his experienced team did a fantastic job with the interior, from the double-height ceiling on the main deck with the atrium overlooking the owner's deck, to the exceptional winter garden on the sun deck", says Stewart. "Everything about Amadea's interior is a symphony of tailor-made furniture and the finest materials including leathers, fabrics, marbles and more".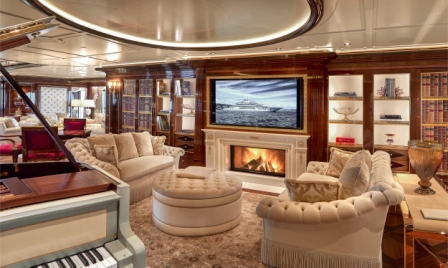 Lürssen applied their skill in yacht building to the project, using clever techniques to optimize the design and keep weights as low as possible. Superstructure decks were built entirely of aluminium, to save around 200T compared to steel, with the decks built upside down in a separate hall to avoid any contamination with steel. The top deck was fixed on after she departed the shed, due to her sheer height. Following final completion work she undertook sea trials before delivering to her happy owner. Powered by twin MTU 20V 4300KW (total 8600KW) engines, she has a range of 8000nm at 13 knots, and underwater stabilisers deliver exceptional comfort.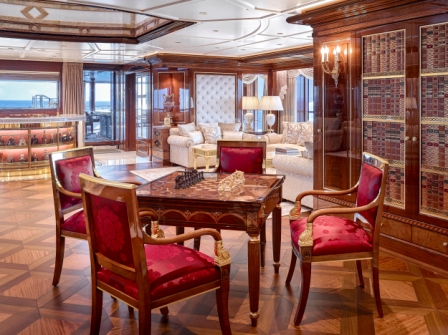 Able to welcome up to 16 guests and 36 crew, all guest accommodation on Amadea was designed around the motto "for the guest, only the best". There are seven spacious ensuite cabins in addition to the owner's suite. The VIP cabin has its own lobby and saloon, bedroom with two king beds and an expansive bathroom. Two double cabins are on the bridge deck and five guest suites, including three doubles, a twin and twin VIP, are on the main deck. A bonus space is the meeting room on the lower deck which has a single sofa bed and a private entrance, adding an additional sleeping option if needed.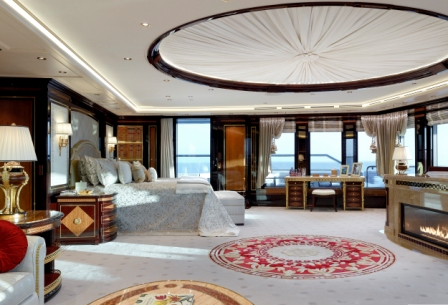 Of course the private owners deck is one of the most impressive spaces on board, stretching from bow to stern to create an entire apartment dedicated entirely to the owner. The build team designed this to be a real retreat, where the owner can live autonomously if needed and in total privacy. Private balconies overlook the sea and a separate staircase allows access to the bridge and main deck. The owner's many different spaces include an office, private gym and wellness hub, library, bar and deck that is ideally suited to hosting intimate dinner parties.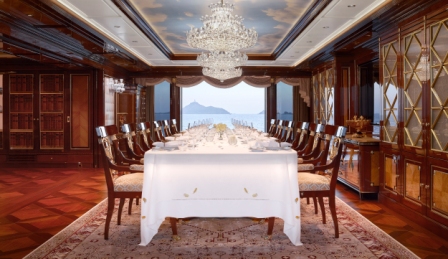 Throughout the rest of the vessel there are no shortage of different areas for guests to enjoy and a white marble staircase and glass lift connect the decks in a stylish way. Main gathering spots include the main saloon and the more relaxed skylounge. The main saloon connects with a social bar space that then flows neatly out to the main aft deck. A full length dining table stretches the full width of the main saloon and the intricately designed bar is kept well stocked by the extra-large wine cellar, located in the tank deck. Up in the skylounge the scene is set for luxurious relaxation with a real wood burning fire, relaxed lounge seating, games tables and much more.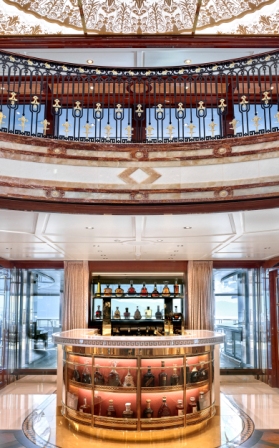 There are relaxation hubs on every deck. A particularly popular space is the main wellness hub with a sauna, hammam spa, chromotherapy room or massage room, and a recreation room that looks out on to a large sea terrace, inspiring serenity and a connection with nature.
Outdoor living is at the heart of life on board Amadea, across all decks. The aft main deck is a favoured space, with numerous layouts, and its mosaicked pool is a stunning centerpiece that looks out over the ocean. The aft terrace on the bridge deck, with a real fire pit, is a popular gathering spot, and leads directly into the cinema room – perfect for hosting movie nights. The sundeck boasts views across the ocean, a Jacuzzi and a breathtaking winter garden for year round use.
On the water's edge the multi-purpose swim platform was designed to be a base for multiple activities, from sunbathing to water sports. A vast tender garage is packed with watertoys and tenders, including two custom built tenders – a 11m Windy Custom Limousine tender and an 11m Windy Custom Open tender – each with an albatross figurehead to match the mother ship. Side boarding access allows guests to arrive and depart the yacht with ease, and the large helideck on the forward deck allows easy movement on and off the vessel and direct access to the owner's private quarters.
In conclusion, Amadea is an example of what can be achieved when some of the industry's finest come together to create a truly unique yacht. The creativity that has gone in to Amadea is a reflection of the incredible skillsets on offer to those who choose to build a custom yacht. "All our efforts were rewarded by seeing the happiness of our client enjoying his vessel on a daily basis", says Stewart. For Imperial, Amadea is a reflection of their personal commitment to absolute excellence, with the team ensuring that there is never any compromise on any aspect of the builds they work on. "This is how we work with all our clients and our reputation is based on this special care", finishes Stewart. "We are proud to have established new standards with every shipyard and designer we have worked with so far: we learn from them as they have learnt from us, it's a win-win process".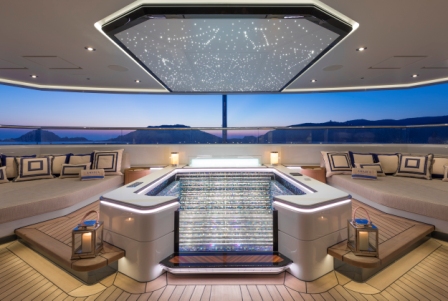 [divider style="dashed" top="20″ bottom="20″]
Q&A WITH IMPERIAL
What makes Amadea a must-see at MYS?
"Amadea will be one of the largest superyachts on display at MYS 2019, she will stand out by herself without any words! Her bow sculpture, depicting an albatross flying, is a good summary of her elegance and the high-standards she offers throughout all her decks, on both the exterior and interior. She is more than words, and the pride of Imperial. As a Monaco-based superyacht company, with her we prove that the Principality is at the cutting edge of the yachting industry, and Imperial is raising new standards with a never-seen-before attention to any detail on board Amadea: her level of finishing is above any other superyacht in existence!"
What are her most spectacular features?
"From your first step on board, the impressive design with striking caps above the front of each deck will immediately catch your eye. Her design is emotional, she is an eye-catching vessel created by the talented Espen Oeino, and her design by Francois Zuretti is breathtaking. On board, from the 10-metre infinity pool to her wide aft decks and hidden lounges everywhere, Amadea is made for those wanting privacy at sea. For those who visit, their attention will be immediately caught by the level of details on board, everywhere inside and outside".
Amadea's design cleverly incorporates a huge number of different spaces on board. How did the design team meet the challenge of ensuring that all the different spaces worked together and that there was a natural/logical flow between all areas on board?
"Imperial does not work on one-off projects for any of our clients, and it is the relationship we build with them through the years that bring us to their final dream: with Imperial, they let their emotions speak and we are here to translate these expectations into reality, with all the attention to detail that us possible. We don't think about a type of yacht for a type of client: we are here to pair the dream of our clients with the right partners who will be able to understand these expectations, and this motto hasn't changed since we delivered our first ever yacht in 2005".
This is an incredibly custom vessel. What were the most important features for the owner when the design was being developed?
"It would be too easy to sum-up too few areas: for Amadea, we let our client speak about his ideas, his mindset and what he was looking to achieve with this superyacht. Many of the yacht owners around the world would tell you they want a vessel which includes having liberty at sea to enjoy precious time with their family. For Amadea this is true: this vessel is thought, designed and built to have the most memorable family moments aboard, and this quality time was in the center of every discussion we had. From the sea terrace, to the Moroccan saloon and the bespoke Jacuzzi, everything was designed with the family in mind".