[dropcap]O[/dropcap]ceanco has announced to have delivered, after a period of extensive sea trials, S/Y Black Pearl, to date the largest dynarig sailing yacht in the world.
The 106.7m (350ft) three-masted sailing yacht Black Pearl is unlike any yacht the world has ever seen. This unique and complex vessel is the realization of a discerning Owner's vision. She is the result of an elaborate and successful collaboration on the part of an international group of designers, engineers, naval architects, builders, and project managers. The designers Ken Freivokh Design, Nuvolari Lenard and Villate Design all played a significant role in Black Pearl's design evolution. Dykstra Naval Architects designed Black Pearl's three 70 meter (230ft) DynaRig carbon masts and sailing system. The sail area is subdivided into smaller lesser-loaded sails and they can be set or furled by pushing a button. Astonishingly, all 2,900 square meter of sails can be set in 7 minutes.
BMT, Nigel Gee collaborated with Oceanco to create Black Pearl's hybrid propulsion system as well as other onboard systems such as waste heat recovery.
Since her launch, Black Pearl has proven to be a new generation landmark sailing yacht with a unique identity. Not only is she the largest sailing yacht in the world, but her unique features such as the state of the art DynaRig system, single level engine room, a hybrid propulsion installation and regeneration mode when under sail – she is set to turn heads the world over – and for decades to come.
Nuvolari-Lenard was engaged by the Owner of Black Pearl in 2012 to provide exterior styling and interior design services for the project – explains the studio.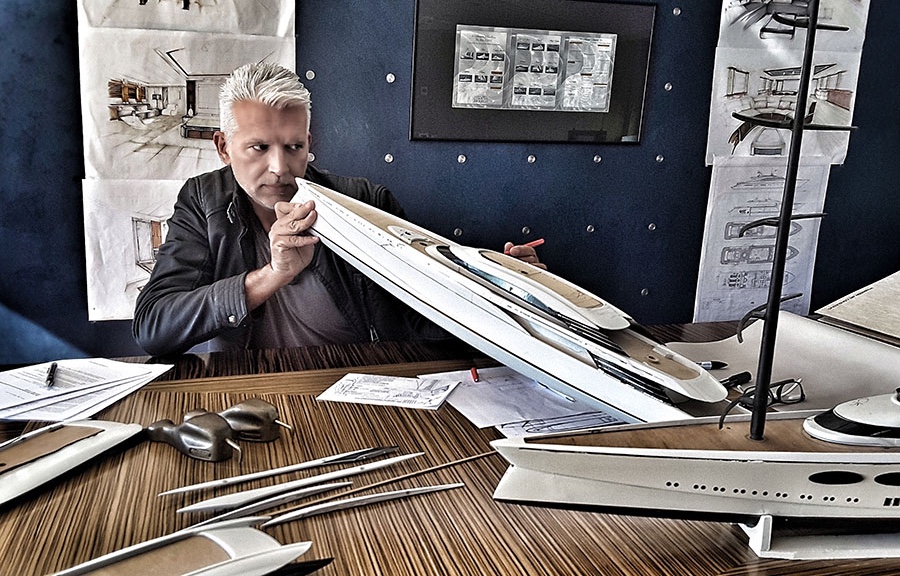 Nuvolari-Lenard created a layout for a 107-metre yacht, with proper construction heights and based upon the Owner's requirements. After many meetings with the Owner and an accurate and thorough study for the exterior style of the yacht, Nuvolari-Lenard finally produced the external shape of this mega-sailer, based on hull lines from Dykstra Naval Architects.
NL242 Black Pearl displays various unmistakable exterior design elements that are typical of Nuvolari-Lenard's characteristic Italian style. These include, for example, the original bow shape, which combines the longest possible waterline length with a flared bow. Muscular fashion plates, which give continuity to the lines of the yacht's superstructure, connecting it to the hull while also providing protection from side winds.

The yacht's interior  was entirely designed by Valentina Zannier, Partner and Head of Interior Design at Nuvolari-Lenard. She was assisted by French architect Gerard Villate, who designed some of the styling details. A huge amount of time was spent assisting the Owner in the design of the Black Pearl's particulars, conducting research, selecting materials and choosing colours, as is customary for any project of this magnitude, complexity and value.